In just over a month, legendary rock band The Who will perform live at the Totally Wicked Stadium in St.Helens!
The iconic band behind the timeless rock anthems like 'Baba O'Riley', 'Won't Get Fooled Again' and 'Pinball Wizard' are coming to the home of the Saints on Friday, 21st July 2023!
They will perform with a full orchestra and also joining them for the St.Helens gig will be UB40 featuring Ali Campbell.
To celebrate Father's Day this weekend we have a special 25% OFF offer for a limited time!
Just select 'Best Available Price' and click the 'Father's Day Admit' to claim your tickets today! Click the image below, or click HERE.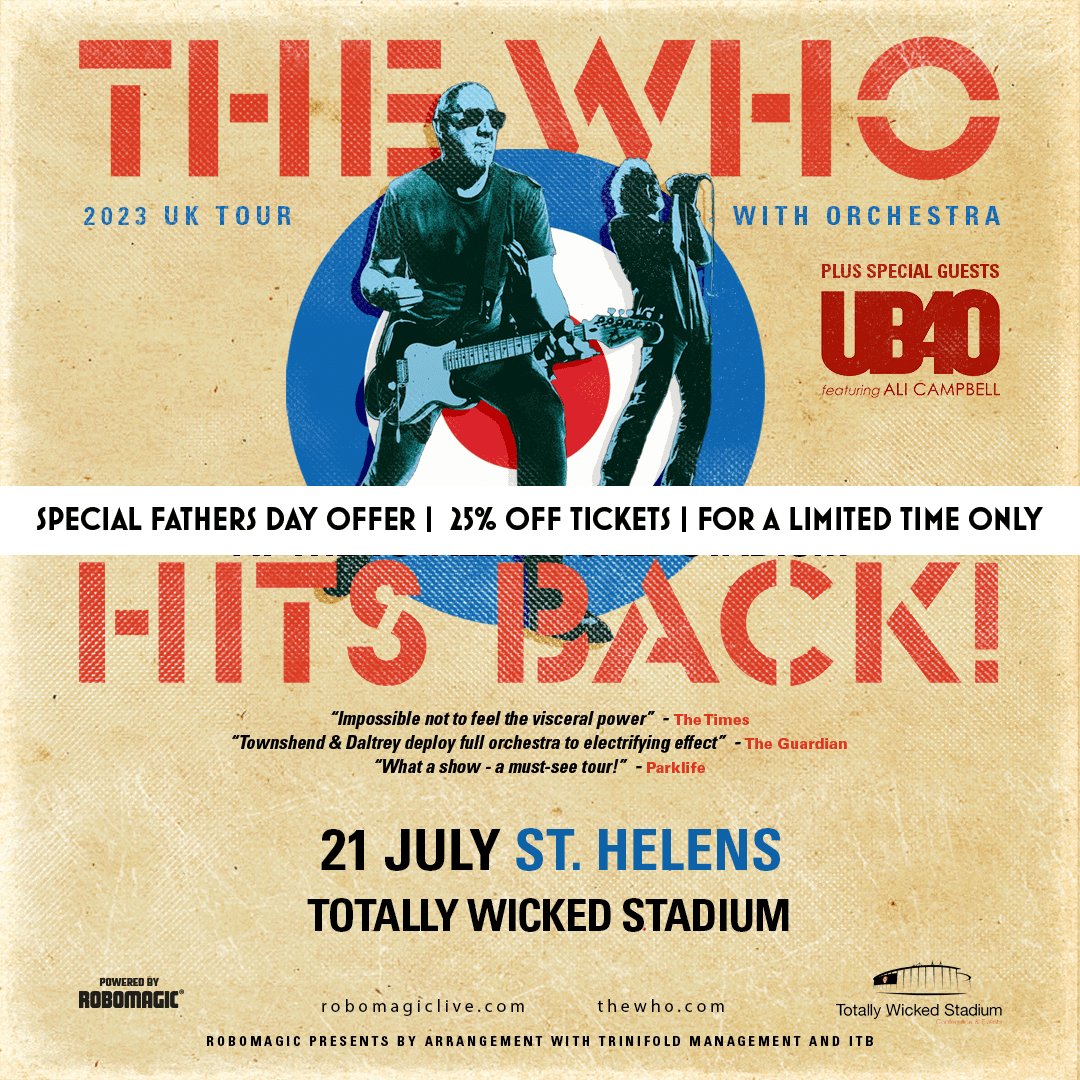 Pete Townshend, Roger Daltrey and band will be performing music from throughout the band's nearly 60-year career, including sections devoted to classic albums Tommy & Quadrophenia as well as other beloved Who tracks and songs from their 2019 WHO album, their first studio release in 13 years.
The gigs follow last year's highly acclaimed 'The Who Hits Back' tour of the US, where the band shared the with some of the finest orchestras in America.
The 2023 UK tour will feature THE WHO's full live band comprised of guitarist/backup singer Simon Townshend, keyboardist Loren Gold, second keyboardist Emily Marshall, bassist Jon Button, drummer Zak Starkey and backing vocals by Billy Nicholls, along with orchestra conductor Keith Levenson, lead violinist Katie Jacoby and lead cellist Audrey Snyder.
The Who wound up their Who Hits Back tour of the US in November last year having wowed audiences in over thirty cities, with media and fans agreeing that the band were as good as, if not better than ever and that the orchestral arrangements, most of which were done by the legendary David Campbell, brought a new depth and excitement to Pete Townshend's music.
Performing with The Who and an orchestra had been a long-held ambition for singer Roger Daltrey "Having not toured the UK for six years, it's great that at this time of our careers we have the chance to go to places that are not on the usual touring map Edinburgh Castle and Derby, as well as the other cities across the country that we haven't been to for decades, will make this very special for me. This opportunity will give our UK Who fans the chance to hear our current show, which, with the addition of an orchestra, takes our music to new heights."
Pete Townshend "Roger initially christened this tour with an orchestra 'Moving On!' I love it. It is what both of us want to do. Move on, with new music, classic Who music, all performed in new and exciting ways. Taking risks, nothing to lose. I'm really looking forward to bringing this show to the UK."