St Helens take on Castleford Tigers at the Totally Wicked Stadium in Friday night Betfred Super League action, with kick-off scheduled for 8pm. Turnstiles at the ground open from 4:45pm with kick-off of our Academy curtain raiser at 5:15pm.
TICKET INFORMATION
The quickest and easiest method of securing your spot at the Totally Wicked Stadium is by purchasing your ticket online by visiting eticketing.co.uk/saintsrlfc. You can secure a digital or 'Print at Home' ticket which would not require you to visit the Ticket Office.
Find out more about our stands, ticket prices and Ticket Office hours by clicking here.
UNDER 18'S UP FIRST
It's a fantastic Friday night with Double Header action for the Saints, so why not make more of your visit to the ground and cheer on our young stars?!
The Saints Academy side will also be facing Castleford with the aim to keep their undefeated start to 2023 going and a eighth win in as many games.
SQUAD NEWS
Paul Wellens makes two changes to the squad that was named for last week's league match, with Mark Percival returning after he missed out last week due to head injury protocols, and Sam Royle is also back in the 21.
Read more on the Saints' squad news by clicking on the image below.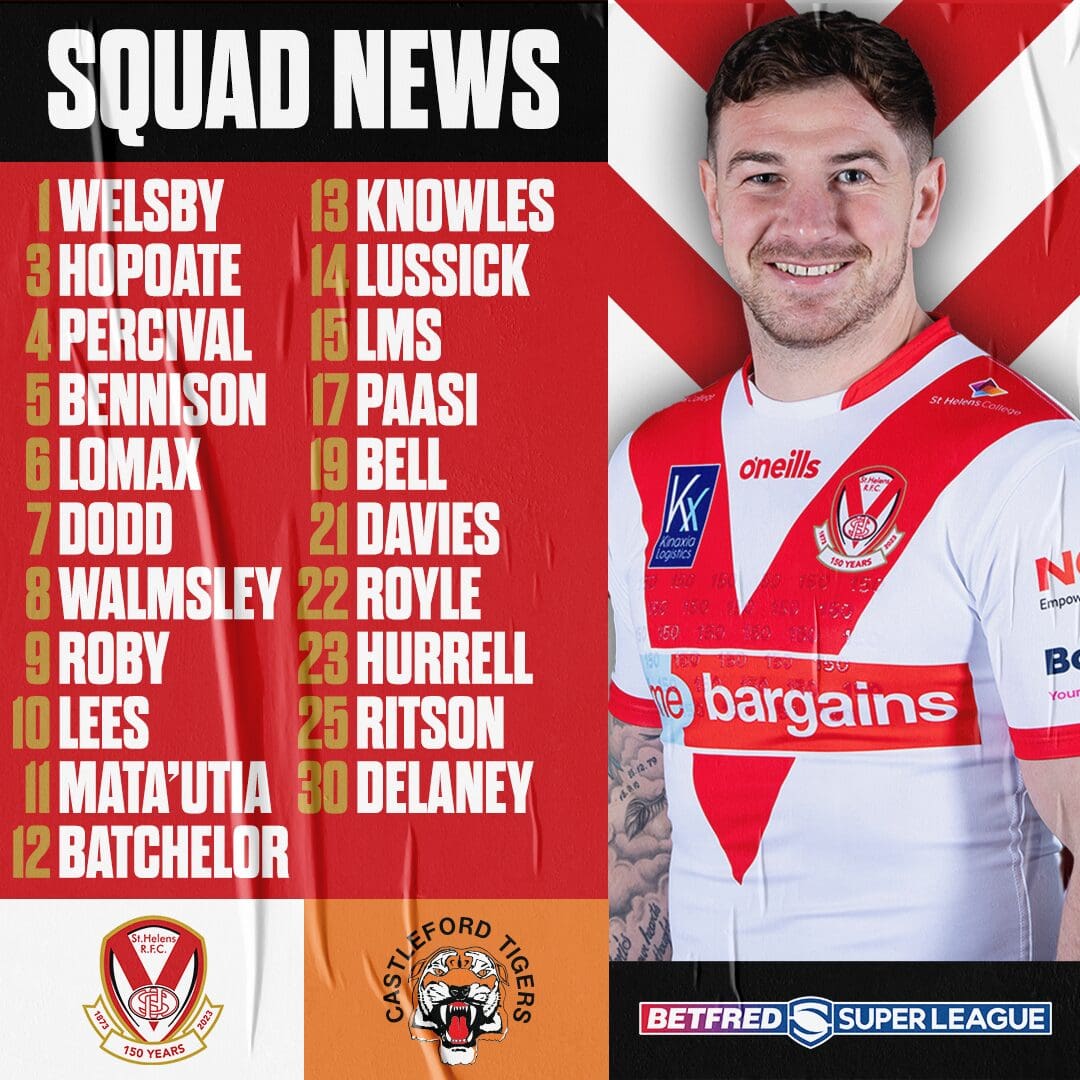 The Tigers have made three changes to the squad that got that big win over Wire, with Albert Vete, Mahe Fonua and loan signing Riley Dean coming in. Nathan Massey, George Hill and Aaron Willis step out.
Castleford Tigers 21-man squad vs St. Helens
3. Jordan Turner, 4. Mahe Fonua, 5. Bureta Faraimo, 6. Gareth Widdop, 7. Jacob Miller, 10. George Griffin, 11. Kenny Edwards, 12. Alex Mellor, 13. Joe Westerman, 15. Alex Sutcliffe, 17. Jack Broadbent, 19. Albert Vete, 20. Muizz Mustapha, 24. Cain Robb, 25. Brad Martin, 28. Sam Hall, 30. Jacob Hookem, 31. Jason Qareqare, 32. Liam Watts, 39. Will Tate, 40. Riley Dean.
SUPPORTER SAFETY
St Helens R.F.C. want to ensure that everyone who comes to enjoy game days at the Totally Wicked Stadium can do so in a safe and friendly environment!
The Club would like to reiterate to supporters that it operates a zero-tolerance approach to any anti-social behaviour, at both our own home ground and when visiting other clubs' stadiums. Misbehaviours that will not be tolerated include, but are not limited to; physical or verbal abuse, violent conduct, missile throwing, excessive alcohol misuse, and any drug misuse.
Furthermore, the use of pyrotechnics is strictly prohibited under both rugby and football ground regulations. They can cause serious injuries to those who carry them as well as fellow spectators, as well as damage to surfaces such as the playing pitch which can cost clubs thousands of pounds.
The Club during last season and this season has taken preventative actions for home fixtures, with additional stewarding and 'sniffer' dog patrols around the stadium. Supporters may encounter these dog patrols when approaching the stadium.
LIVERPOOL JOHN LENNON AIRPORT – CROSSBAR CHALLENGE
One lucky Saints 2023 Member at half time of our Super League match on Friday night will get the chance to win x2 return flights to Dublin from Liverpool with Ryanair*!
With the eyes of all the Saints faithful in the West Stand watching, the contesting Member will get three attempts to hit the crossbar from the 20m line.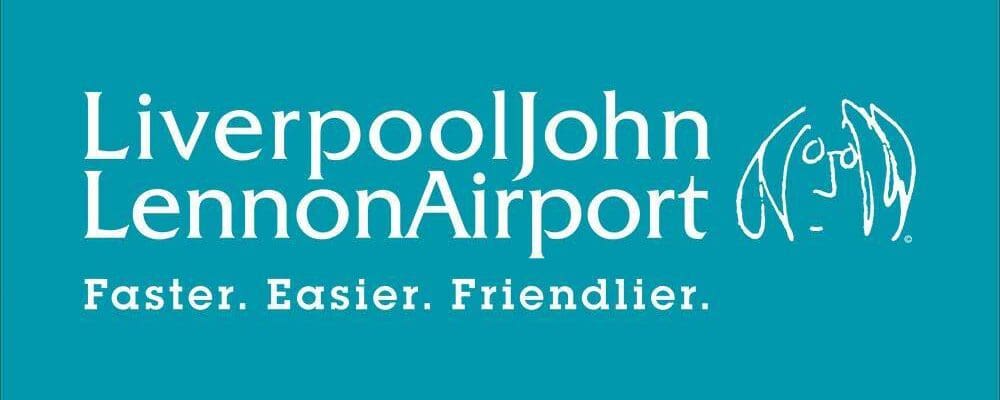 Our new half-time challenge with Liverpool John Lennon Airport will feature at every home match for the rest of the 2023 season, with outstanding destination flights to be won, so we as a Club are thrilled to be working with Liverpool Airport!
*T&C's apply.
WELLENS WANTS A RESPONSE
On the back of a disappointing league loss to Hull FC last Thursday, the Saints' boss discusses the areas of improvement he is looking to see such as ball discipline. With the play-off places tight, results are only becoming more important now in the second half of the season.
Saints TV subscribers can watch Paul Wellens' preview in full!
A LOOK AT CASTLEFORD…
It's been tough for the Tigers in 2023.
Lee Radford was the man in charge and looked to recruit in areas well after finishing just outside the play-off spots in 2022 in seventh place with additions such as; Gareth Widdop, Jacob Miller, Muizz Mustapha, Albert Vete and Jack Broadbent.
However, with an ageing squad, youngsters still developing to lay claim to a starting jersey, plus some hard luck with injuries the season has not panned out how Cas would have expected at all, with Radford parting ways with the club after just three games in the season – all of which resulted in losses.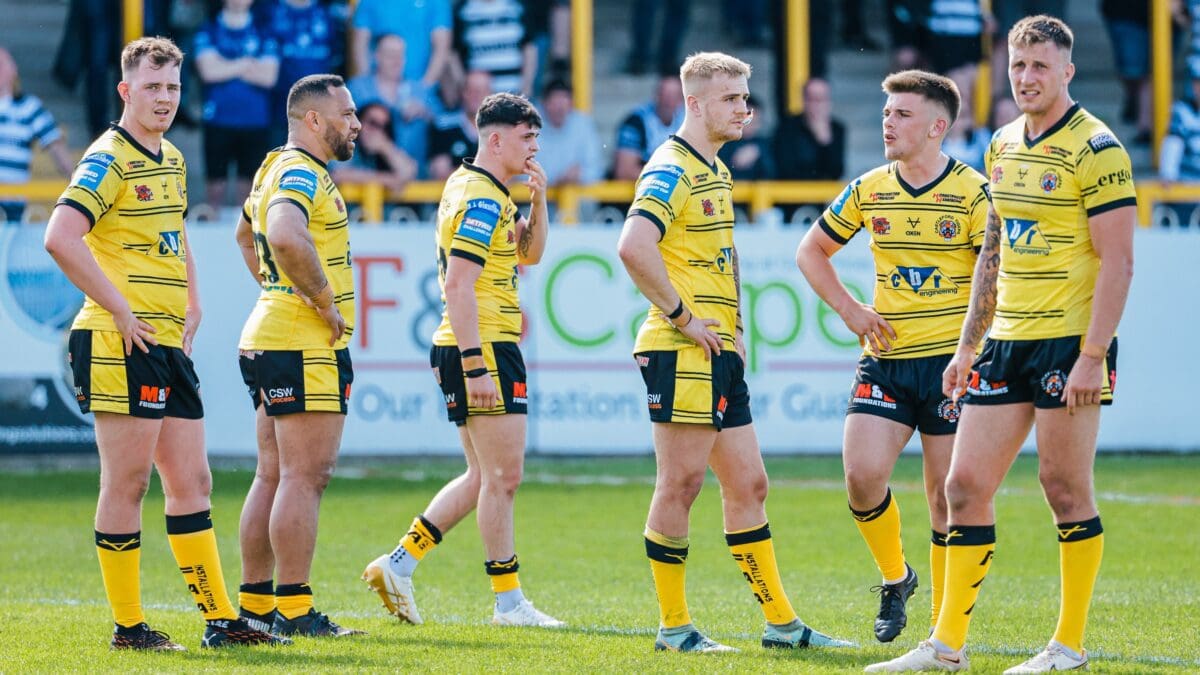 Up stepped Andy Last, a man who is held in high regard by his fellow coaches, including Saints boss Paul Wellens. He would get their first win of the season against Leeds Rhinos in Round 5, a team they would also beat at Magic Weekend, with a hugely important victory too over local rivals Wakefield Trinity at Easter also mixed in.
The Tigers have kept racking up losses with wins sparse, but green shoots of hope have been breaking through such as the emergence of that developing young talent such as hooker Cain Robb, forwards Sam Hall & Brad Martin, as well as speedster winger Jason Qareqare – all who are still learning their craft but doing so in a tough fight at present and putting strong efforts in.
Castleford will be weary of Wakefield who they still have to play at Belle Vue in the not too distant future, after they gained their first win of the year over Leeds earlier in June. However, despite a number of players missing the Tigers put in their season-best performance to topple 2nd placed Warrington Wolves last week.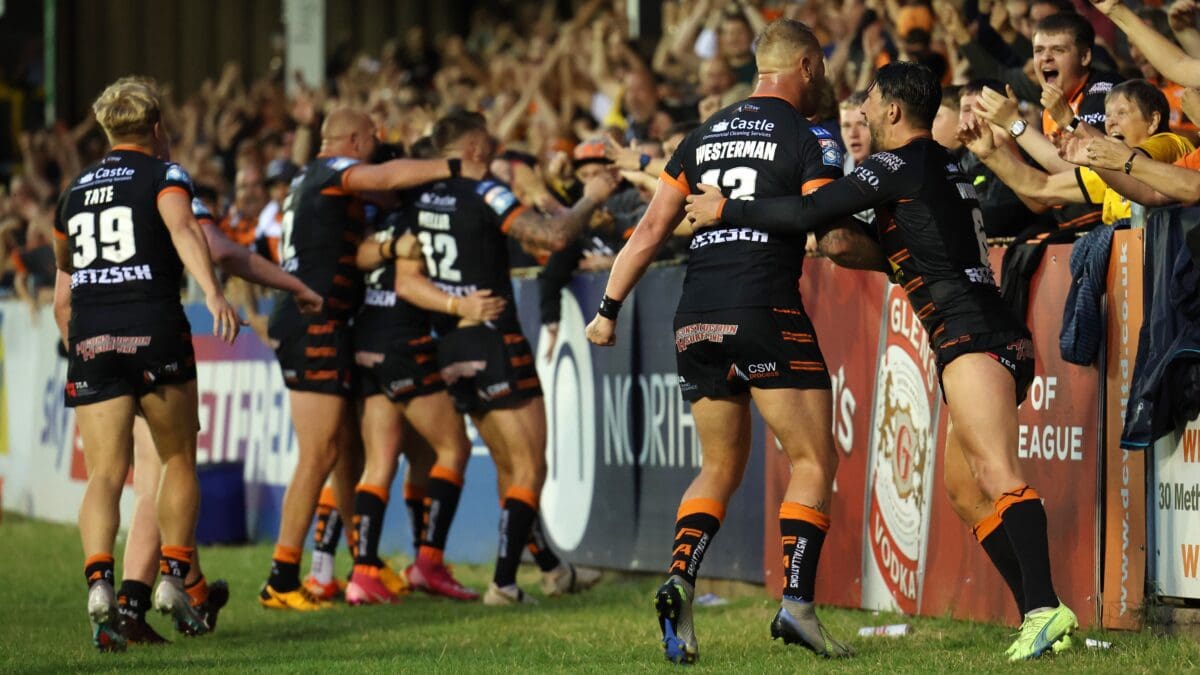 The Tigers of course face a big challenge coming to the Totally Wicked Stadium, a venue they have only got their first win against Saints at back in 2021, but they need to build consistency, they need more wins for sure, and they will therefore be a dangerous prospect on Friday night for the Red V. Typically, encounters between Saints and Cas in recent years have been top-quality affairs, this should be no different.
RECENT RECORD AGAINST THE TIGERS
The Saints/Tigers head-to-head battle in Super League weighs heavily in favour of St. Helens, 49-10 with 1 draw too, so a victory over Cas would be a 50th top-flight win over the Tigers. Within those 49 wins over the West Yorkshire club are victories in the 1999 and 2014 play-offs.
Our highest score over Castleford came in 2006 at The Jungle, 72-4, which is also our widest margin over the Tigers too.
Last ten meetings
Castleford 6, St Helens 24 (SLR2, 26/2/23)
St Helens 20, Castleford 12 (SLR22, 7/8/22)
Castleford 30, St Helens 10 (SLR10, 22/4/22)
St Helens 10, Castleford 20 (SLR19, 12/8/21)
Castleford 12, St Helens 26 (CCF, 17/7/21) (at Wembley Stadium)
St Helens 10, Castleford 0 (SLR16, 16/8/20)
Castleford 28, St Helens 14 (SLR7, 15/3/20)
St Helens 4, Castleford 0 (SLR27, 30/8/19)
Castleford 16, St Helens 36 (SLR16, 26/5/19) (at Anfield, Liverpool)
Castleford 12, St Helens 42 (SLR7, 22/3/19)
SAINTS & PROUD
Our official Match Programme is available for supporters to read with plenty of great Saints news and features to read!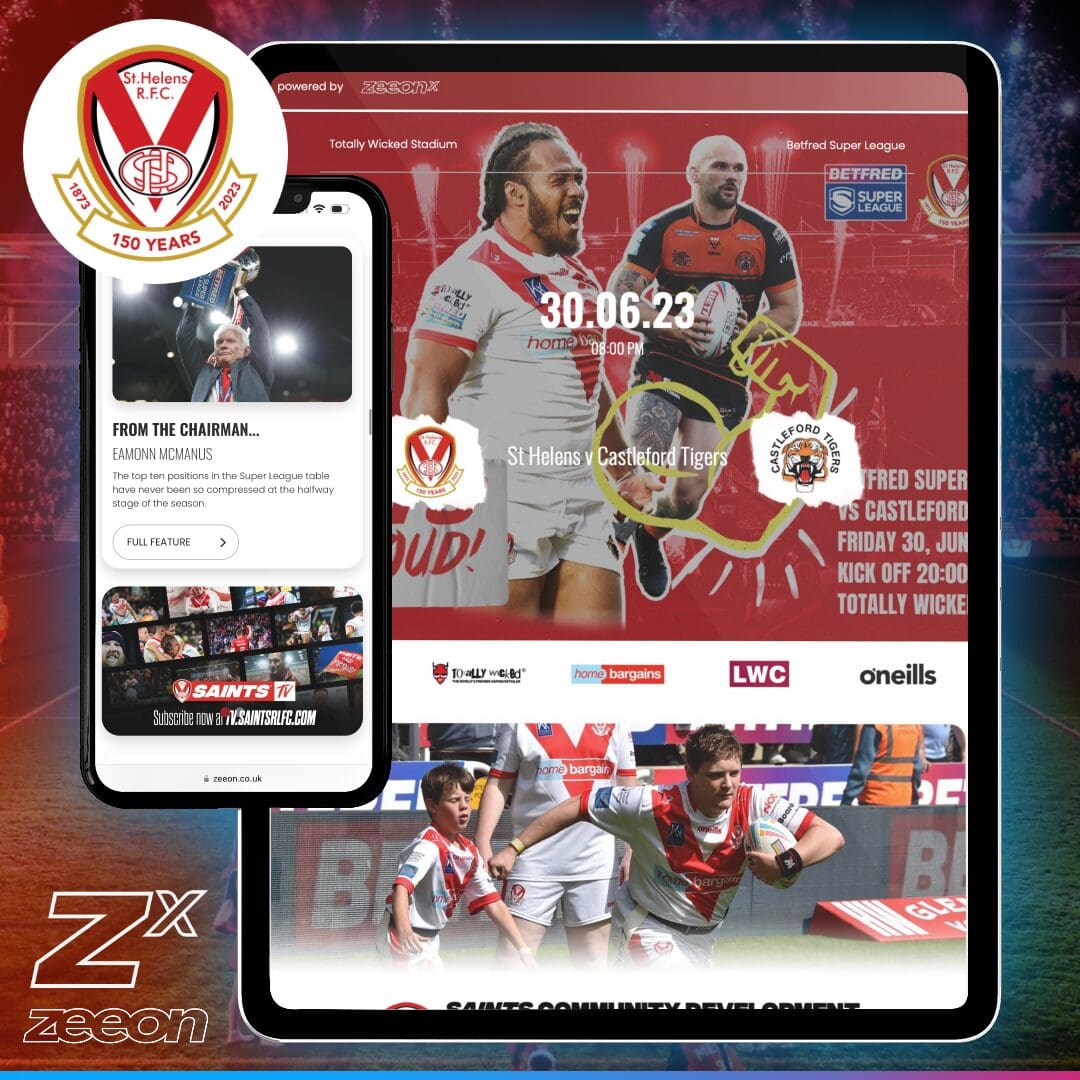 In our Round 17 edition of Saints & Proud, the Saints faithful can read:
Exclusive: THE BIG READ with Agnatius Paasi
Exclusive: St. Helens Women have made a new signing which is exclusively revealed first in this edition of Saints & Proud!
Exclusive columns from Head Coach Paul Wellens & Chairman Eamonn McManus
Saints 150: The first time we saw Mal Meninga
Konrad Hurrell's extended interview fresh after signing a new contract!
Saints 150: The first time we faced Castleford
Read all that plus so much more by clicking on the image above!
WHO WILL BE THE MAN IN THE MIDDLE?
A. Moore will be the referee for Friday evening's fixture, and he will be supported by Touch Judges J. Vella and A. Smith, with In Goal officials P. Brooke and G. Jones.
WHAT KIT WILL SAINTS BE WEARING?
Saints will be wearing the hugely popular 2023 Home Kit, which features our 150th year crest, along with an old-school, traditional Red-V.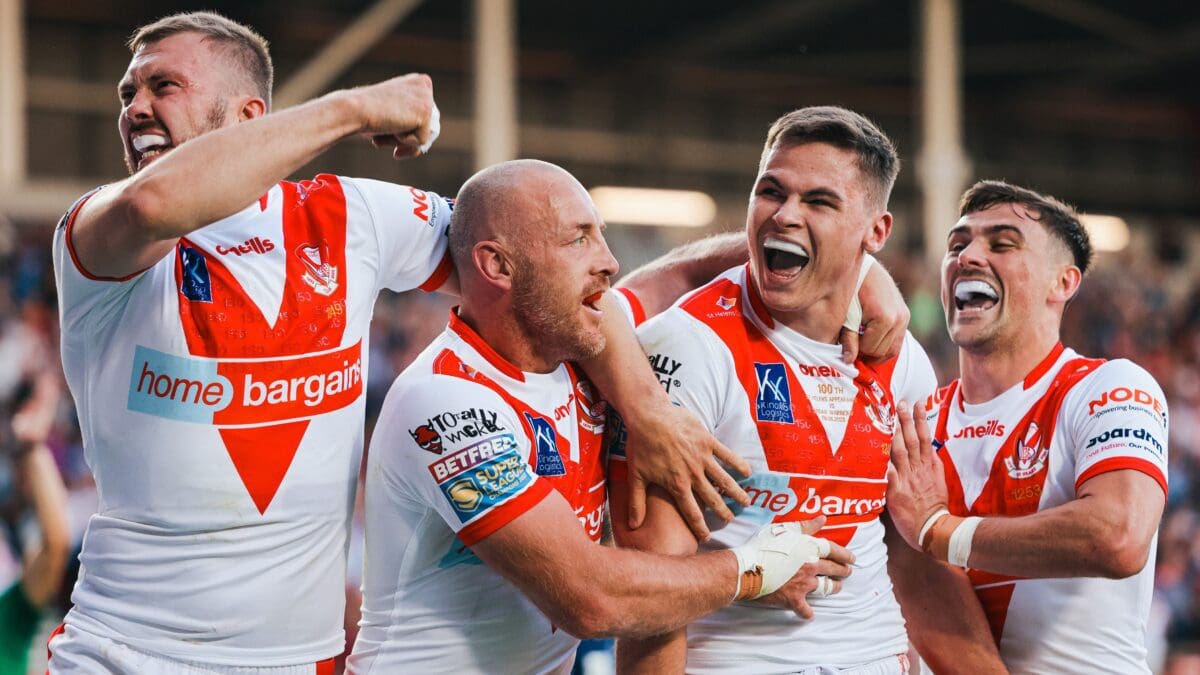 You can get yours online by visiting saintssuperstore.com.
JUNE'S MEMBERS' OFFER
One of the benefits of being a 2023 Member is being able to access a new monthly offer from Saints Superstore!
LUSSICK LOOKS FORWARD TO FACING CAS
With Joey missing out on selection last week, he's hoping to be back in the squad but knows "everyone wants to play for this team" and competition is fierce, but that's what makes us a champion side.
Watch the full player preview with Joey Lussick on Saints TV!
FOOD & DRINKS AT THE TOTALLY WICKED STADIUM!
Find out much more about what there is to eat and drink by clicking here or on the map below!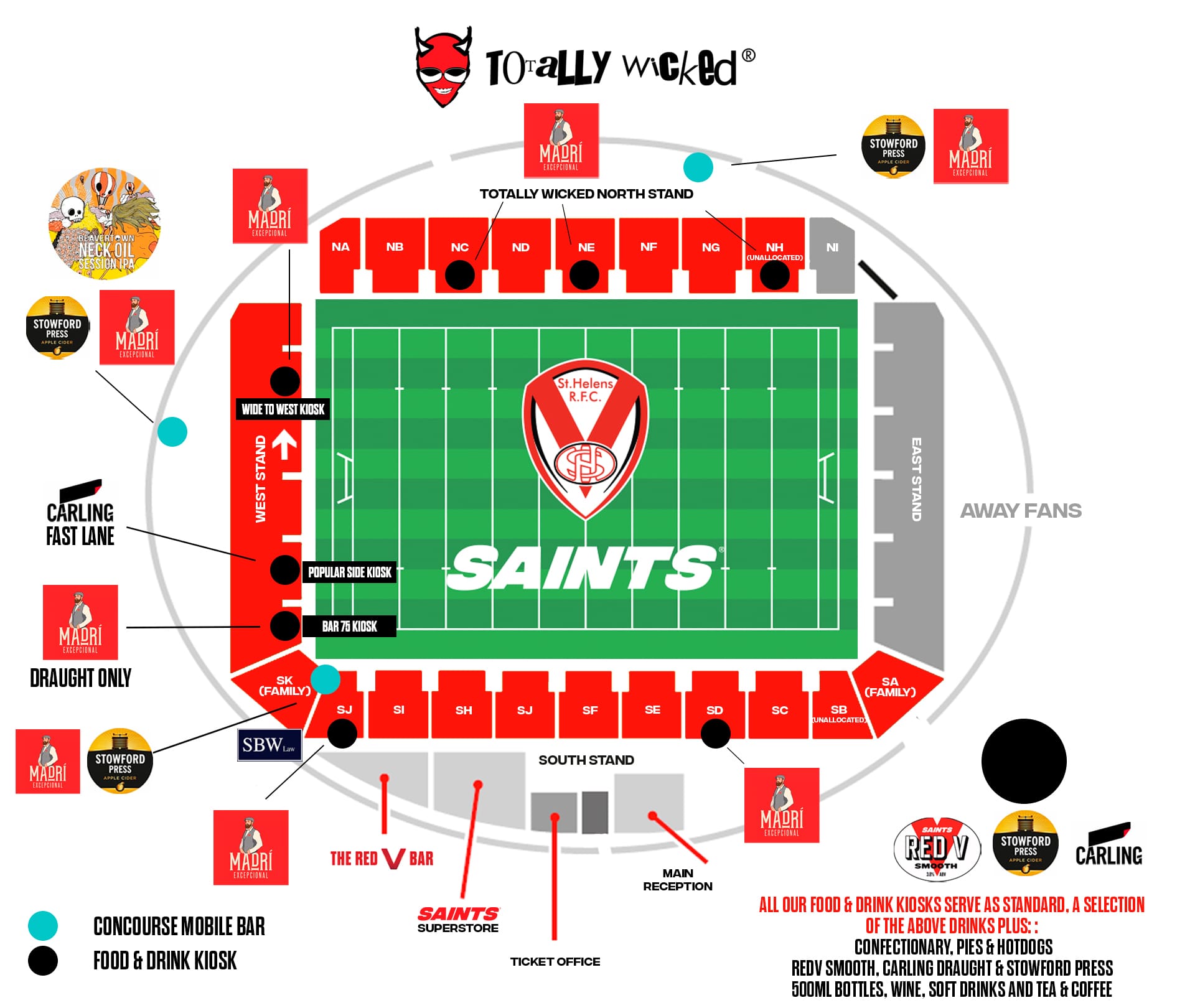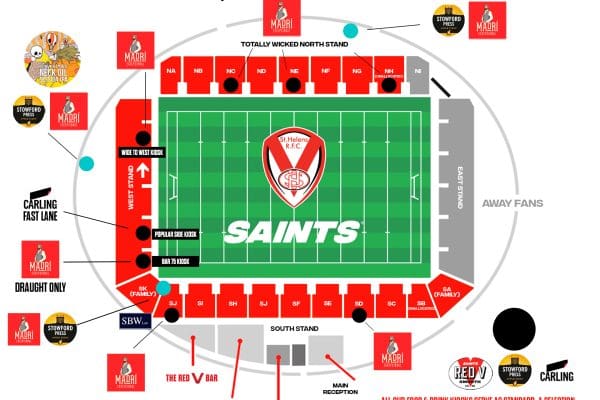 SAINTS KEEP KONI!
The Tongan superstar centre sits down with Saints TV to discuss his new contract, taking him into his third season in the Red V in 2024!
Saints TV subscribers can watch our catch-up with Koni in full!
THE REST OF ROUND 17 IN SUPER LEAGUE
Thursday
Warrington Wolves 6-22 Leeds Rhinos
Friday
Wakefield Trinity vs Salford Red Devils – 7:45pm
Leigh Leopards vs Hull KR – 8pm
Wigan Warriors vs Huddersfield Giants – 8pm
Saturday
Hull FC vs Catalans Dragons – 3pm
HOW CAN I FOLLOW THE GAME?
Saints will be covering the match in full across our live Match Centre where you can find out the team news, follow live game updates, get behind the scenes photos and catch up on all the stories of the game.
Our club social media accounts will also keep supporters updated. Follow us on: Twitter | Facebook | Instagram
Highlights and the full match replay will be available for Saints TV subscribers.