Three teams, two Semi-Finals, one very big week for St. Helens R.F.C!
Whilst The Who will be rocking the Totally Wicked Stadium on Friday night, this week's match action starts at the same time with our Reserves starting the week off at Ruskin Drive against Huddersfield Giants.
Then Semi-Final Saturday for our Women's and First Team, with both just eighty minutes away from booking their spots at Wembley.
Find out all the key details for each game below.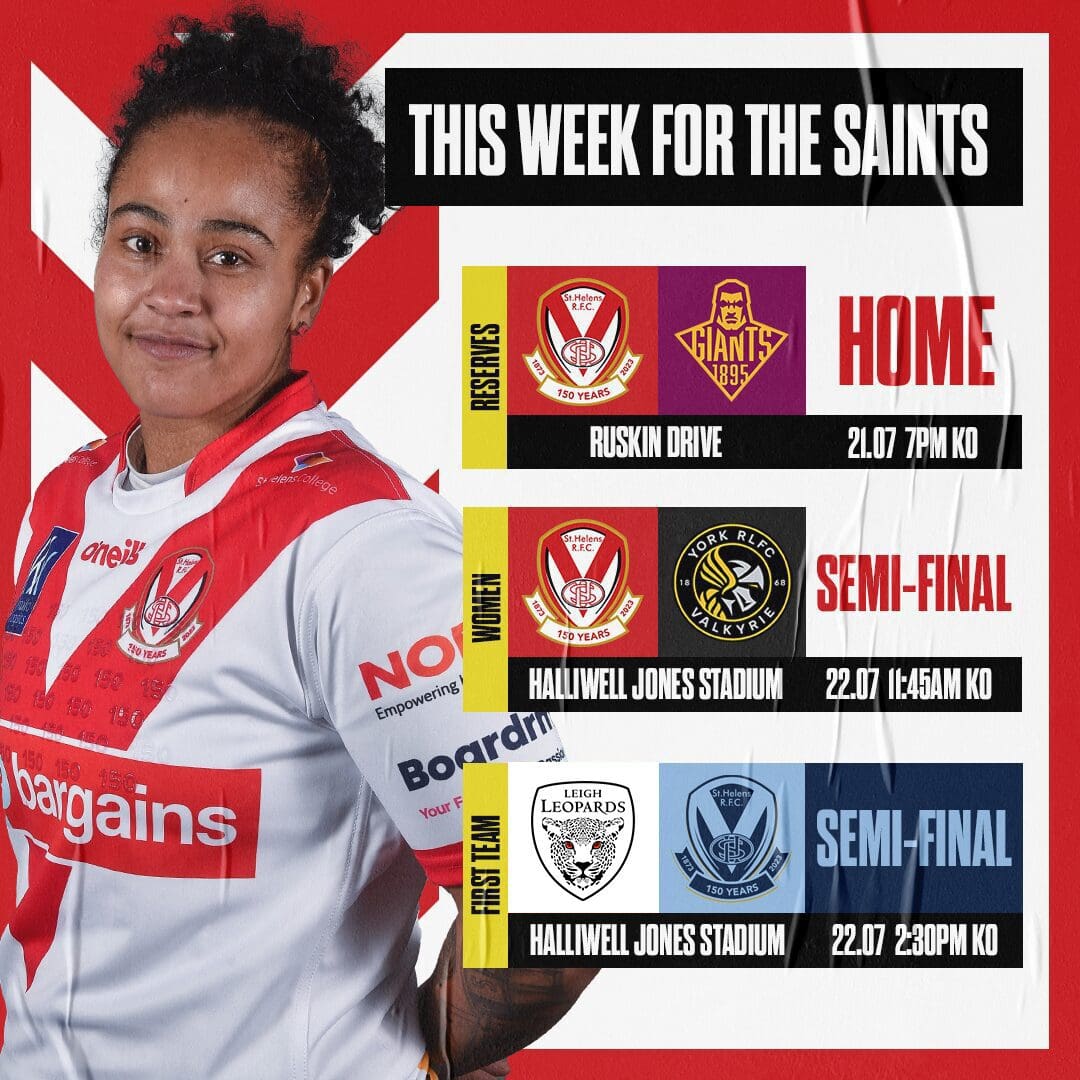 Reserves vs Huddersfield Giants (H)
The Red V have returned to the top of the Reserves table following their big away win over Warrington Wolves last time out. A superb second half saw Derek Hardman's young men overturn an 18-10 deficit to win 22-56!
George Whitby was one of the standout performers at half, with Brett Bailey leading from the front with strong forward carries.
Huddersfield Giants come to St. Helens on Friday night, currently sat fourth in the league standings with Warrington, Bradford and Leeds firmly on their tails. It should make for a thrilling Friday night of rugby!
Friday, 21st July
Kick off 7pm
Ruskin Drive Sports Facility, WA10 6RP
Entry is FREE
Women vs York Valkyrie (Challenge Cup – Semi-Final)
It's a mammoth clash. Two of the biggest and best women's rugby league sides in the country are about to collide, knowing the winner gets to make history and go to Wembley for the first time ever in the Betfred Women's Challenge Cup Final.
York have been dominant in their season so far, recruiting strongly, with their only real blip coming last Sunday against Leeds Rhinos – who they drew 12-12 to on their home ground.
Saints under new Head Coach for 2023 Matty Smith have been growing and becoming a very strong side, with their only negative result of the season so far coming in the league opener against York at the LNER Stadium back in April – Smith's first game in charge, with a couple of in-game injuries proving costly.
The Red V head into this game on the back of a number of wins, the latest of which saw them defeat Warrington Wolves in the Betfred Women's Super League by 6-66, at the Halliwell Jones Stadium – the location of Saturday's Semi-Final.
Saturday, 22nd July
Kick off 11:45am
Halliwell Jones Stadium, WA2 7NE
Ticket information available HERE
Live on BBC iPlayer
First Team vs Leigh Leopards (Challenge Cup – Semi-Final)
History awaits the victor, the Saints are looking to return to Wembley for the first time since 2021 when they lifted the most famous trophy in rugby league. Leigh meanwhile have only been to the national stadium once before, back in 1971, so they have yet to visit the new Wembley and given their dream season so far, they will be backing themselves strongly to get there.
Paul Wellens knows that for his side to get to the final, they must beat the form team in the top-flight competition. The Saints head into this Semi-Final on the back of two "play-off style" games, firstly the away victory over Warrington Wolves a fortnight ago, and then the narrow loss to Catalans Dragons last week which could have gone either way, and was fought closely right until the final seconds.
Mark Percival and James Roby will both be unavailable due to head injury protocols, but the Saints boss insists this team knows how to deal with adversity, and that the seventeen men who take to the field will give their all.
With the majority of this squad knowing just how special it is to make it to a final and then go on to win it, our players will be fighting to get to the big dance in London, so St. Helens can compete for the Cup once again.
Saturday, 22nd July
Kick off 2:30pm
Halliwell Jones Stadium, WA2 7NE
Ticket information available HERE
Live on BBC One