We're down to the final four in both the Men's & Women's Betfred Challenge Cup, and we're going to the Halliwell Jones Stadium looking to book our places at Wembley for the final.
TWO SEMI-FINALS, ONE BIG DAY FOR ST. HELENS
St Helens Women vs York Valkyrie – 11:45am – Live on BBC iPlayer
Leigh Leopards vs St Helens – 2:30pm – Live on BBC One
Recap both sides' journeys in the Challenge Cup so far by clicking here.
TICKET & COACH INFORMATION
Ticket Collection Details
Ticket Collections not made before 5pm on Thurday, 20th July will be no longer available to pick up from the Saints' Ticket Office, but will be made available to collect directly at Halliwell Jones Stadium's Ticket Office on gameday.
Coach Travel Details
Fans who have booked to see both the Women's & Men's game, those coaches will depart at 10:45am.
There is a second option of coaches which will depart at 1:30pm, solely for the Men's fixture.
Please be aware that alcohol is not permitted on any of our club coaches which are stewarded. Any foul and abusive language or anti-social behaviour will not be tolerated on our coaches. 
MEN'S SQUAD NEWS
Paul Wellens makes three changes to the squad that was named for last week's game against Catalans Dragons, with Tommy Makinson, Joe Batchelor, and Tee Ritson in the 21, whilst Mark Percival, James Roby and Curtis Sironen stepping out.
Read more on the Saints' squad news by clicking on the image below.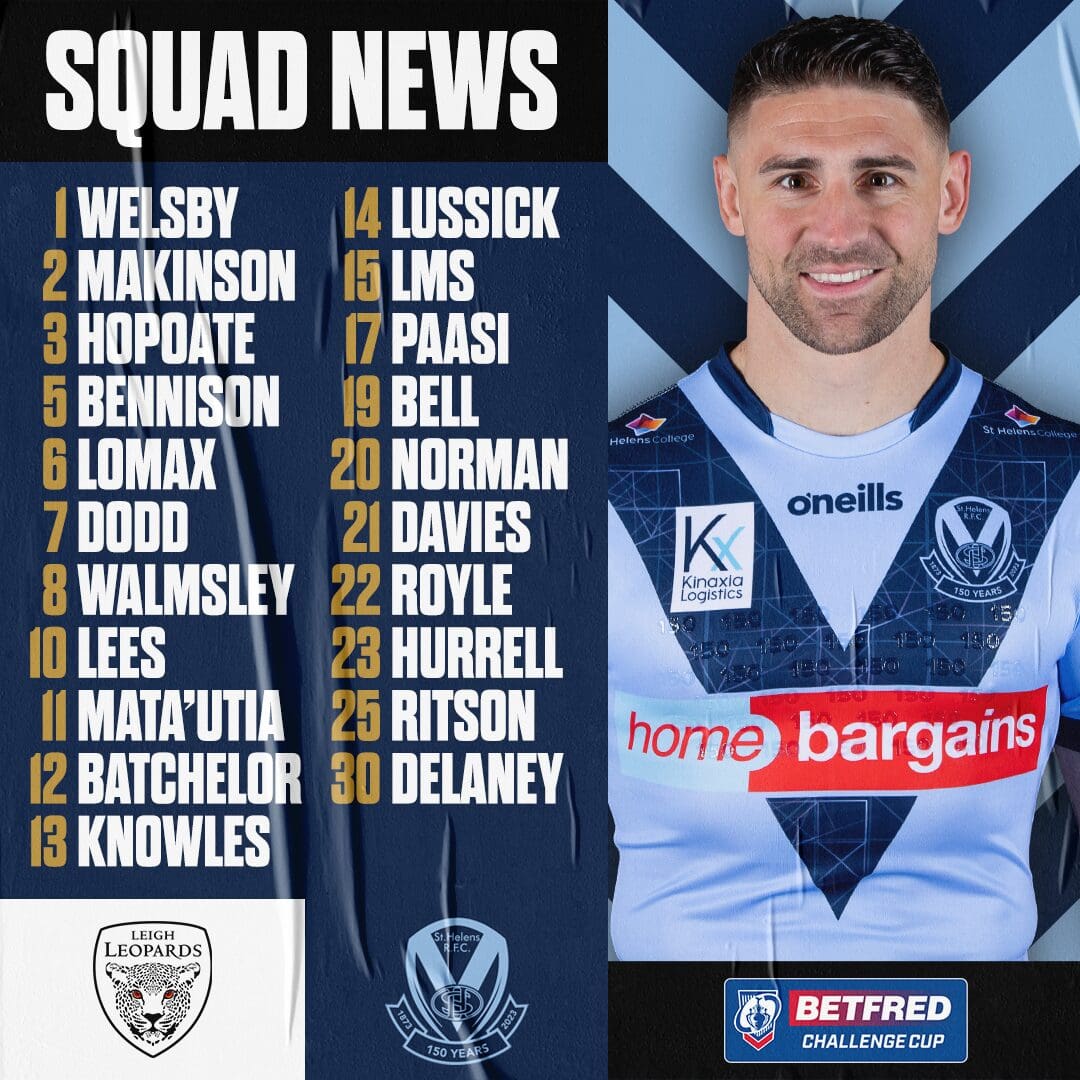 Leigh Leopards 21-man squad vs St Helens
1. Zak Hardaker, 2. Tom Briscoe, 3. Ed Chamberlain, 4. Ricky Leutele, 5. Josh Charnley, 6. Joe Mellor, 7. Lachlan Lam, 8. Tom Amone, 9. Edwin Ipape, 10. Robbie Mulhern, 12. Jack Hughes, 13. John Asiata, 14. Ben Nakubuwai, 15. Ben Reynolds, 16. Oliver Holmes, 17. Gareth O'Brien, 18. Matt Davis, 19. Aaron Smith, 25. Nathan Wilde, 27. Ava Seumanufagai.
WOMEN'S SQUAD NEWS
Matty Smith has named his 21-woman squad to take on York Valkyrie, with three notable inclusions possibly set to feature with captain Jodie Cunningham, Zoe Harris and Lucie Sams named in the team.
The full story on our squad news can be read by clicking on the image below.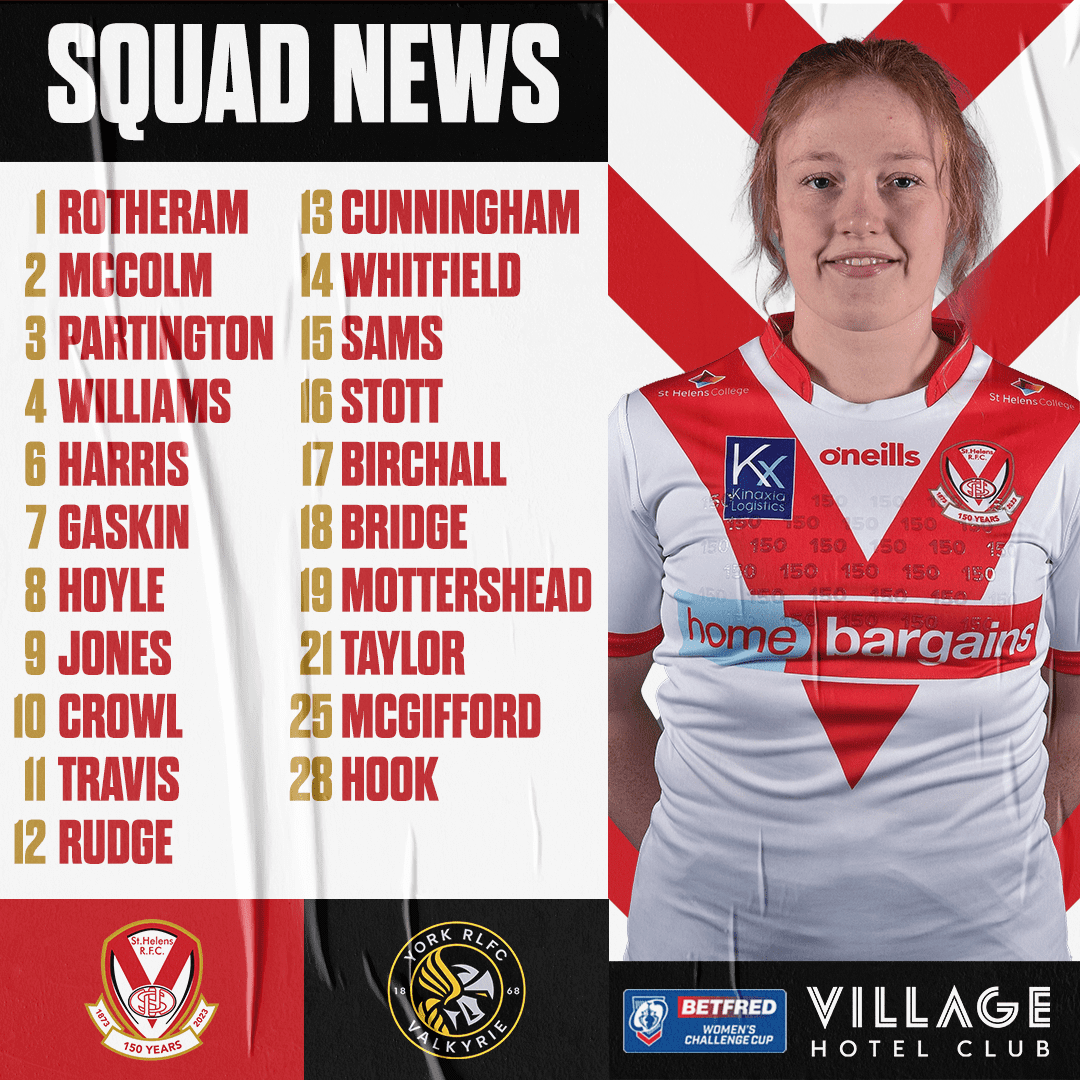 York Valkyrie 21-man squad vs St Helens Women
1. Tara Jane Stanley, 2. Liv Whitehead, 3. Tamzin Renouf , 4. Emma Kershaw, 5. Georgia Taylor, 6. Sade Rihari, 7. Liv Gale, 8. Liv Wood, 9. Sinead Peach, 10. Jas Bell, 11. Lacey Owen, 12. Savannah Andrade, 14. Aimee Staveley, 15. Rhiannion Marshall, 16. Ashleigh Hyde, 17. Bettie Lambert, 18. Grace Field, 22. Ellie Hendry, 23. Daisy Sanderson, 27. Jess Sharp, 29. Elisa Akpa.
WELLENS PREVIEWS THE SEMI-FINAL
Following a bruising encounter against Catalans Dragons last week, the Red V will be without key men James Roby and Mark Percvial, but Wellens insists the 17 men who will play for our club will give their all in a bid to get one step closer to the national stadium.
Saints TV subscribers can watch Paul Wellens' preview in full!
WHAT KITS WILL THE SAINTS BE WEARING?
Saints Women will be wearing the hugely popular 2023 Home Kit, which features our 150th year crest, along with an old-school, traditional Red-V. The Men will be in the 2023 Away Kit which in our milestone year features our club's traditional colours of sky blue and navy, with a classic deep V design.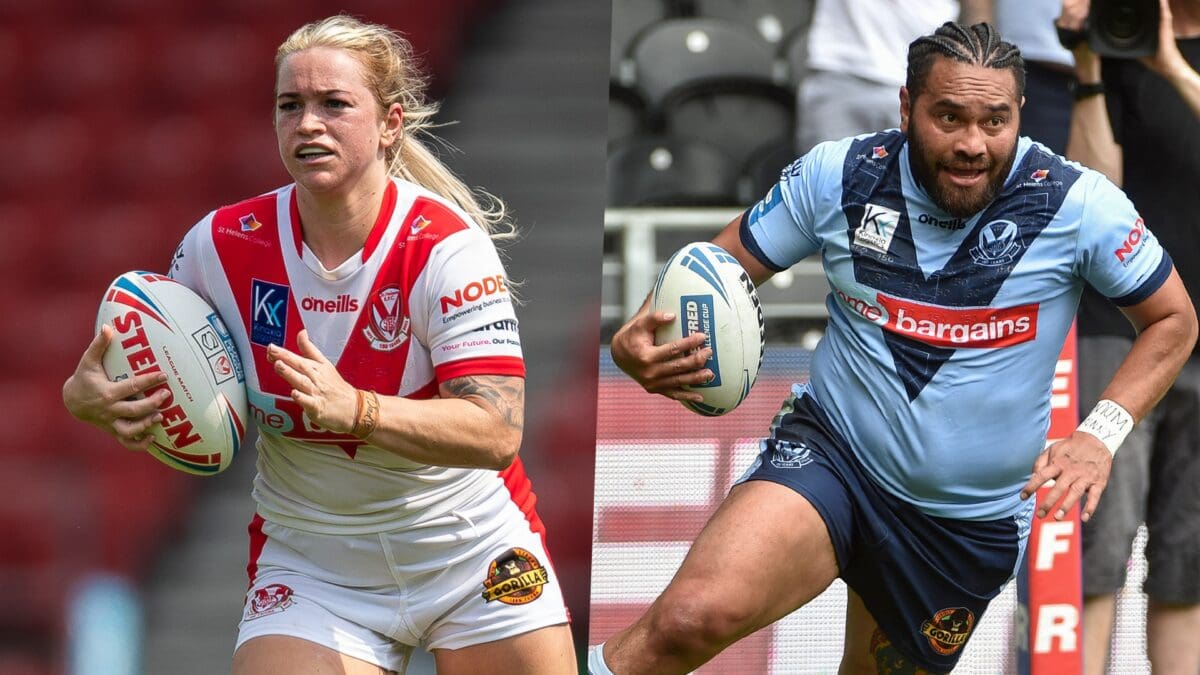 You can get your kits online by visiting saintssuperstore.com!
NEXT UP AT HOME… THE RHINOS 😤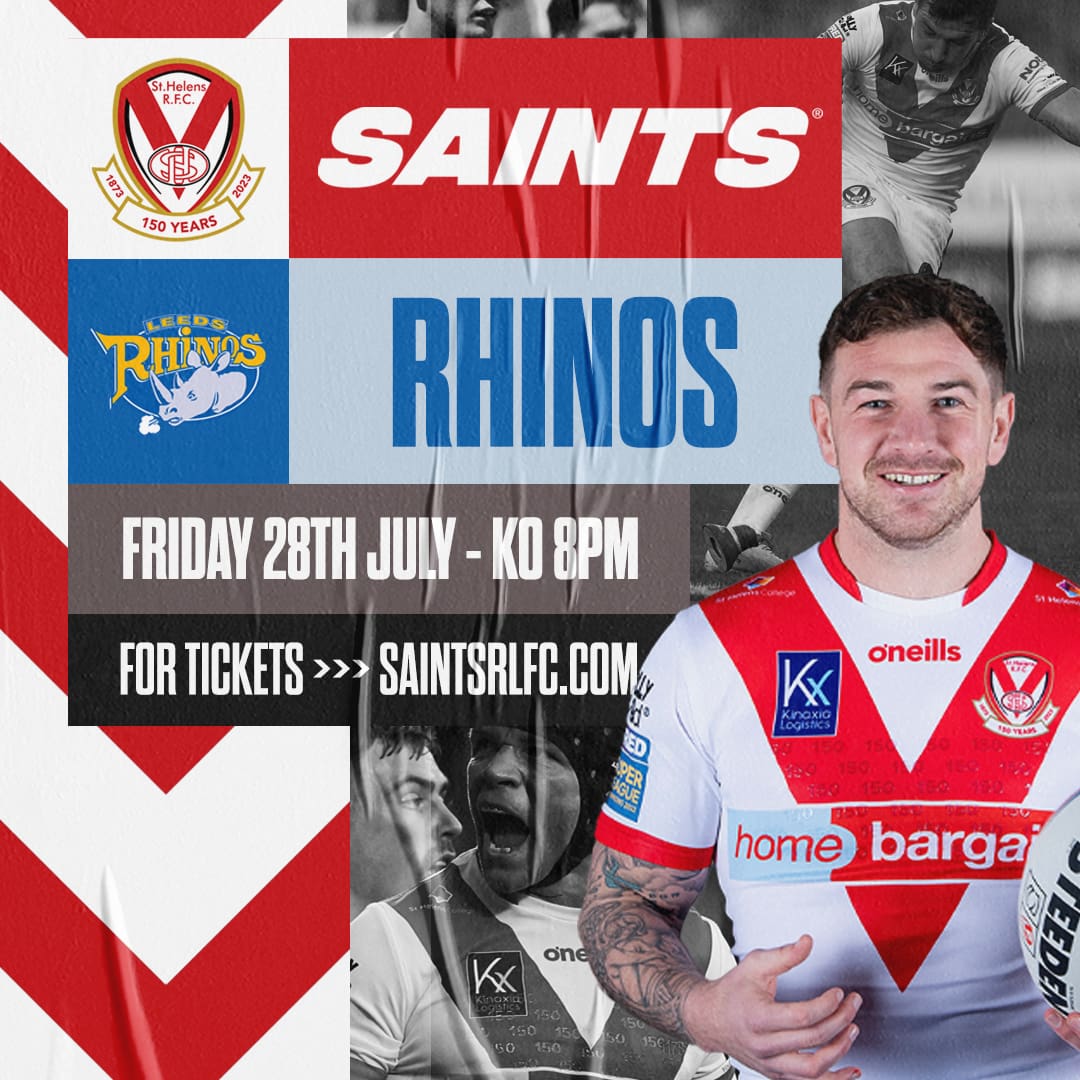 A LOOK AT LEIGH…
To say the Leopards are enjoying a dream season would it putting it mildly. Never before has a promoted side had a Super League season quite like the one Leigh are having, sat second in the table and just eighty minutes from Wembley too.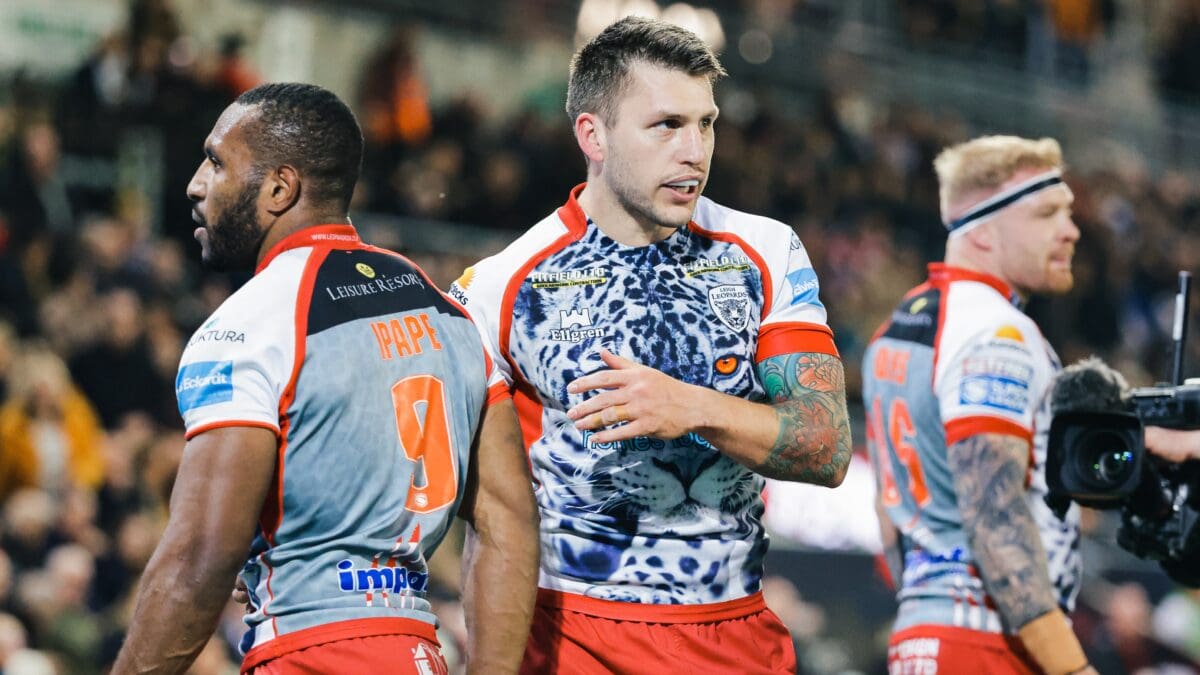 Formerly known as the Centurions, Leigh were fantastic last season in their run towards promotion, including a win at Tottenham Hotspur Stadium in the 1895 Cup final, and have built a squad which is far stronger to compete in Super League on their fourth appearance in the competition.
Former Wigan boss Adrian Lam has bolstered his squad this year with a lot of experience with players such as; Zak Hardaker, Ricky Leutele, Oliver Holmes, Gareth O'Brien and Jack Hughes. But players such as Lachlan Lam, Edwin Ipapae, Josh Charnley and John Asiata who all proved to be pivotal signings in 2022 have been firing strongly in 2023 for the Leythers too.
Recent record against Leigh Leopards
Last ten meetings
Leigh 20, St Helens 12 (SLR4, 10/3/23)
St Helens 42, Leigh 12 (SLR21, 26/8/21)
Leigh 12, St Helens 22 (SLR5, 30/4/21)
St Helens 28, Leigh 6 (SLR12, 28/4/17)
Leigh 24, St Helens 16 (SLR2, 24/2/17)
Leigh 4, St Helens 78 (SLR26, 4/9/05) (at Hilton Park)
Leigh 20, St Helens 27 (SLR22, 22/7/05) (at Hilton Park)
St Helens 60, Leigh 16 (SLR9, 8/4/05) (at Knowsley Road)
Leigh 21, St Helens 4 (SBC, 23/1/94) (at Hilton Park)
St Helens 34, Leigh 16 (SBC, 19/9/93) (at Knowsley Road)
Previous Challenge Cup meetings
1988 (Round 1) Leigh 12 St Helens 22
1987 (Semi-Final) Leigh 8 St Helens 14 (at Central Park, Wigan)
1984 (Round 1) St Helens 16 Leigh 10
1974 (Quarter Final) Leigh 11 St Helens 5
1953 (Quarter Final) Leigh 3 St Helens 12
SMITH EXCITED FOR SEMI-FINAL SATURDAY
The Women's game continues to make seismic strides, so with the first-ever Women's Challenge Cup Final set to be played at Wembley there is plenty of motivation for his team to make history this weekend.
Matty Smith also discusses his team getting back to full strength with the possible returns of the likes of Jodie Cunningham and Zoe Harris.
Watch the full interview with Matty Smith in full on Saints TV
A LOOK AT YORK…
York Valkyrie, formerly York City Knights Ladies, are one of THE women's rugby league teams in this country. Since the appointment of Lindsay Anfield during 2021 they have gone from strength to strength and are looking to claim a major piece of silverware to rubber stamp their standing as one of the best.
After recruiting a lot talent, including some of the best talent from around the women's game, League, York have a strong squad who can compete right at the top alongside the likes of Betfred Women's Super League Champions Leeds Rhinos, and the Challenge Cup holders St. Helens.
2022 was a memorable season for York, claiming the League Leaders' Shield and making it to the Grand Final but coming up short to the Rhinos. They also had Tara Jane Stanley crowned as the Woman of Steel, the best player in the competition. So, what next?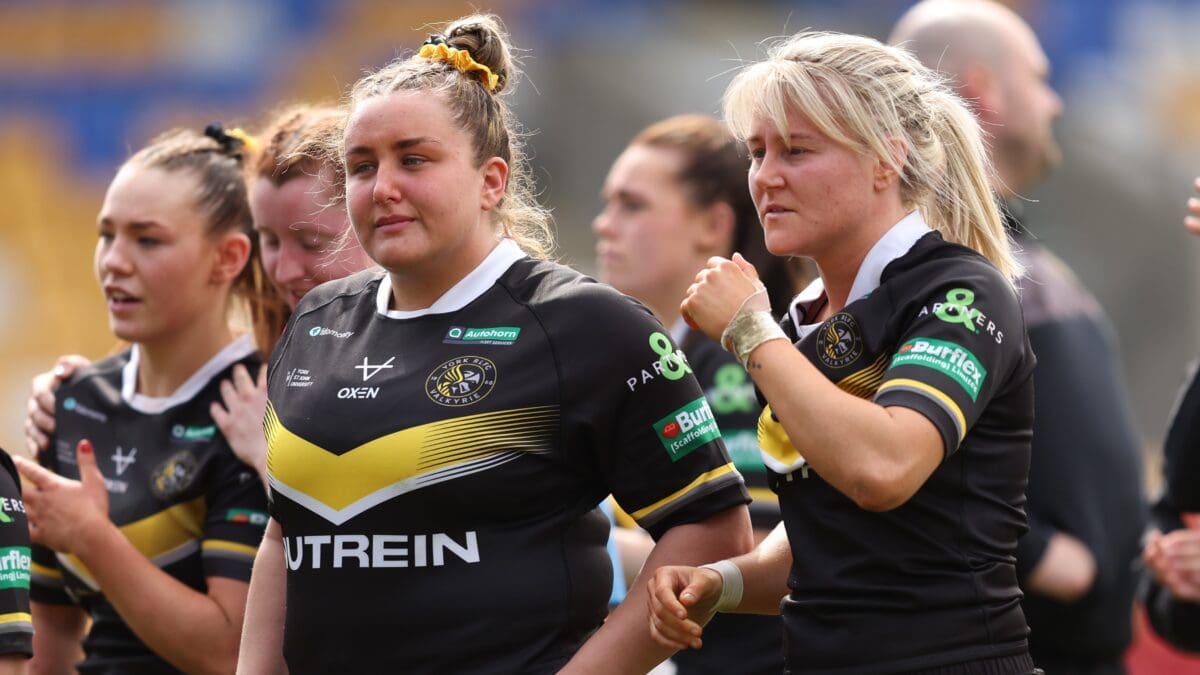 In 2023, the Valkyrie have been a tough beast, winning five of their six league fixtures played to date, and topping their Challenge Cup group with ease before coasting past Cardiff Demons in the quarter-final to set up this semi-final encounter.
Saints will be out for revenge though, in Matty Smith's first match in charge of the Saints Women they suffered a 26-6 league defeat with a couple of injuries sustained early in the game. Since then, the Red V have been building form and getting stronger, so will view the next two weeks against York in the Cup and the league as hugely important.
The Saints record against York Valkyrie
The head-to-head scores favour the Saints with seven wins to York's three, including a win in the Challenge Cup Final in 2021 which was played at Leigh Sports Village.
York 26, St Helens 6 (SL-G1, 16/4/23)
St Helens 12, York 4 (SL-G1, 31/7/22)
York 13, St Helens 6 (SL-G1, 22/5/22)
St Helens 32, York 0 (SL-P0, 22/8/21)
York 24, St Helens 0 (SL, 20/6/21)
St Helens 34, York 6 (CC-Final, 5/6/21) (at Leigh Sports Village)
York 0, St Helens 56 (SL, 1/9/19)
St Helens 60, York 6 (SL, 30/6/19)
York 6, St Helens 26 (SL, 29/7/18)
St Helens 40, York 0 (SL, 15/4/18)
WELSBY AIMING TO GET TO WEMBLEY
Knowing what it is like to lose out in the Challenge Cup as well as lift rugby league's most famous trophy, Welsby wants the Saints to book their spot at Wembley and win it just like in 2021.
With the Saints skipper missing out, Jack discusses the impact that will have on the team and the desire for the captain's final Challenge Cup game to be played in the final.
Head over to Saints TV to watch the chat with Super Jack in full!
300 UP FOR BIG AL / 200 UP FOR MORGS!
Should Alex Walmsley and Morgan Knowles take to the field on Saturday afternoon, both are set for major career milestones!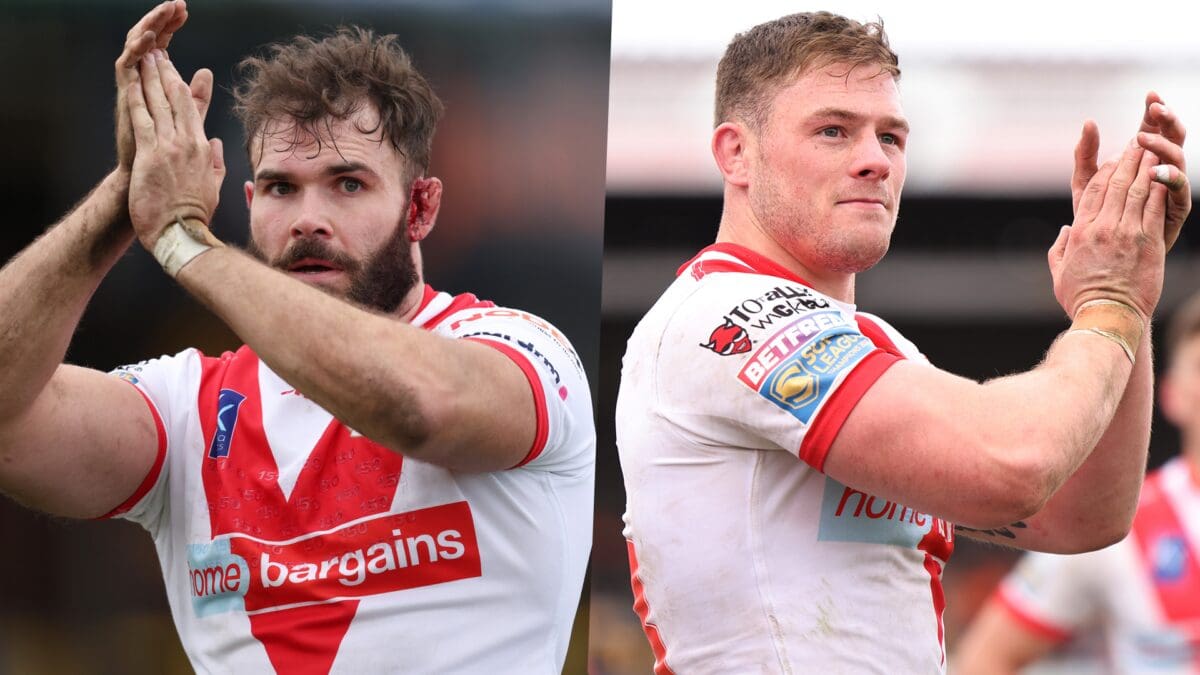 For Walmsley it would be the 300th match of his career, having made his debut for Batley Bulldogs where he played 22 times, on the international stage he has played on 7 occasions for England and 4 times for Great Britain, and in the Red V it would be game #267.
As for Morgan Knowles, his entire club career has been with St. Helens and it would be game #190 for the forward if he features, he has played 6 matches for England and further 4 for Wales too, add it all up it would 200 for Morgs.
JODIE'S JUBILANT TO BE BACK IN CONTENTION
Saints Women's captain Jodie Cunningham is set to be back in match action following an injury and challenges don't come tougher than the in-form team in York. With the chance to make history on Saturday, Cunningham talks about the opportunities for both the men and women to make it to Wembley.
See the full chat with Jodie as a Saints TV subscriber!
WHO WILL BE THE OFFICIALS IN THE MIDDLE?
The referee for the Women's match between Saints and York will be Aaryn Golding Belafonte, and they will be supporters by Touch Judges Cam Charnock and Simeon Quarm.
For the Men's match, Chris Kendall is the referee, the touch judges are Warren Turey and Jack Smith, with Marcus Griffiths as the video referee.
THE REST OF THE CHALLENGE CUP SEMI-FINAL SCHEDULE
Sunday, 23rd July – Headingley Stadium, Leeds
Wigan Warriors Women vs Leeds Rhinos Women – 2:15pm – BBC iPlayer
Hull KR vs Wigan Warriors – 5pm – Live on BBC2
HOW CAN I FOLLOW THE GAME?
Saints will be covering both matches, if you would like updates of the Women's match follow our St Helens Women's accounts!
Saints Women: Twitter | Facebook | Instagram
The Men's game will be covered in full across our live Match Centre where you can find out the team news, follow live game updates, get behind the scenes photos and catch up on all the stories of the game.
Our club social media accounts will also keep supporters updated. Follow us on: Twitter | Facebook | Instagram
Highlights and the full match replay will also be made available for Saints TV subscribers.
Both games will also be broadcast live on the BBC with the Women's game on BBC iPlayer, and the Men's live on BBC One.