It's the Saints' Inclusion Round with our Women's team taking on York Valkyrie at 5:30pm, and then our First Team facing Leeds Rhinos at 8pm - both games at the Totally Wicked Stadium!
DOUBLE THE ACTION ON FRIDAY NIGHT
St Helens Women VS York Valkyrie – 5:30pm – Sky Sports Action, live from 5pm
St Helens VS Leeds Rhinos – 8pm – Sky Sports Action
TICKET & ENTRY INFORMATION
The quickest and easiest method of securing your spot at the Totally Wicked Stadium is by purchasing your ticket online by visiting eticketing.co.uk/saintsrlfc. You can secure a digital or 'Print at Home' ticket which would not require you to visit the Ticket Office.
Find out more about our stands, ticket prices and Ticket Office hours by clicking here.
Turnstiles will be open from 5pm on Friday night.
SUPPORTER SAFETY
St Helens R.F.C. want to ensure that everyone who comes to enjoy game days at the Totally Wicked Stadium can do so in a safe and friendly environment!
The Club would like to reiterate to supporters that it operates a zero-tolerance approach to any anti-social behaviour, at both our own home ground and when visiting other clubs' stadiums. Misbehaviours that will not be tolerated include, but are not limited to; physical or verbal abuse, violent conduct, missile throwing, excessive alcohol misuse, and any drug misuse.
Furthermore, the use of pyrotechnics is strictly prohibited under both rugby and football ground regulations. They can cause serious injuries to those who carry them as well as fellow spectators, as well as damage to surfaces such as the playing pitch which can cost clubs thousands of pounds.
The Club during last season and this season has taken preventative actions for home fixtures, with additional stewarding and 'sniffer' dog patrols around the stadium. Supporters may encounter these dog patrols when approaching the stadium.
St. Helens would also like to encourage parents/guardians of children coming to the ground to ensure they are always aware of what their child is doing and where in the stadium they are at all times.
LIVERPOOL JOHN LENNON AIRPORT – CROSSBAR CHALLENGE
One lucky Saints 2023 Member at half time of our Super League match on Thursday night will get the chance to win x2 return flights a sun destination of your choice from Liverpool with Jet2.com!*
Starting in March 2023, you will be able to fly Jet2 from Liverpool John Lennon Airport – the North West's Faster, Easier, Friendlier Airport – to 20 sun destinations across Europe, seven of which are exclusive to their airline!
With the eyes of all the Saints faithful in the West Stand watching, the contesting Member will get three attempts to hit the crossbar from the 20m line.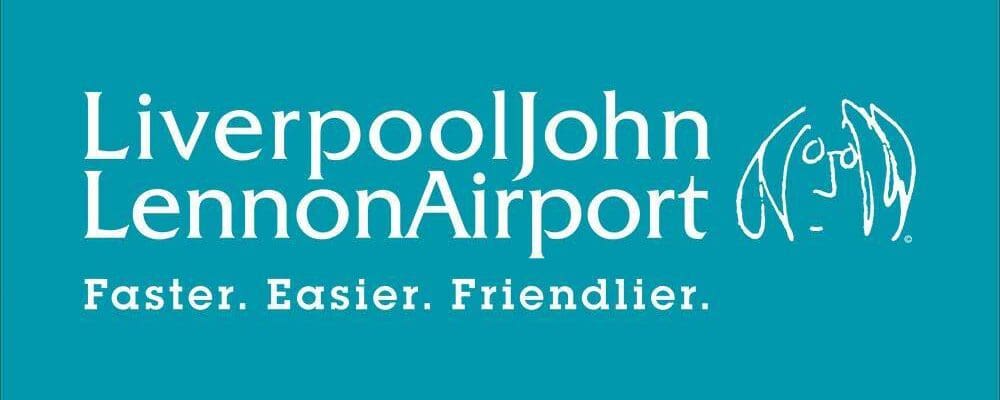 Our new half-time challenge with Liverpool John Lennon Airport will feature at every home match for the remainder of the 2023 season, with outstanding destination flights to be won, so we as a Club are thrilled to be working with Merseyside's airport!
*T&C's apply.
MEN'S SQUAD NEWS
Paul Wellens makes significant changes to the squad that was named for last week's Challenge Cup Semi-Final, with Mark Percival, James Roby, Lewis Baxter, Matthew Foster, Taylor Pemberton, Wesley Bruines and Moses Mbye in the 21. Jon Bennison, Alex Walmsley, Sione Mata'utia, Joe Batchelor, Joey Lussick, Louie McCarthy-Scarsbrook and Agnatius Passi move out.
Read more on the Saints Squad news by clicking the image below.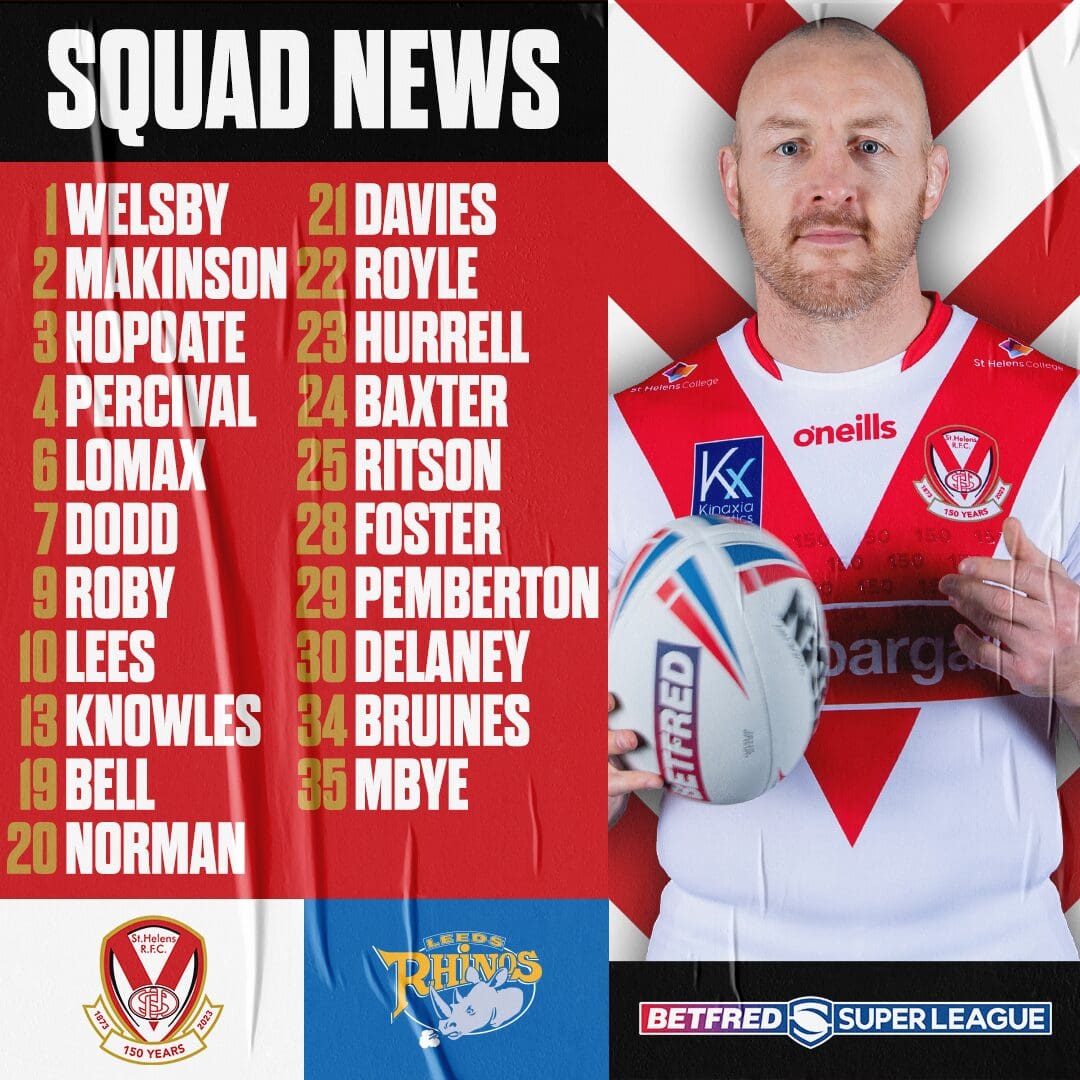 Leeds Rhinos 21 Man Squad
1. Richie Myler, 2. David Fusitu'a, 4. Nene Macdonald, 5. Ash Handley, 6. Blake Austin, 7. Aidan Sezer, 8. Mikolaj Oledzki, 11. James Bentley, 12. Rhyse Martin, 13. Cameron Smith, 14. Jarrod O'Connor, 15. Sam Lisone, 17. Justin Sangare, 18. Tom Holroyd, 19. James McDonnell, 21. Luke Hooley, 22. Sam Walters, 24. Luis Roberts, 25. James Donaldson, 26. Corey Johnson, 31. Leon Ruan.
WOMEN'S SQUAD NEWS
Matty Smith makes one change to his squad from last weekend who secured their place in the first-ever Women's Challenge Cup Final to be played at Wembley, Danielle McGifford drops out with Erin Stott stepping into the line up.
The full story on our squad news can be read by clicking the image below.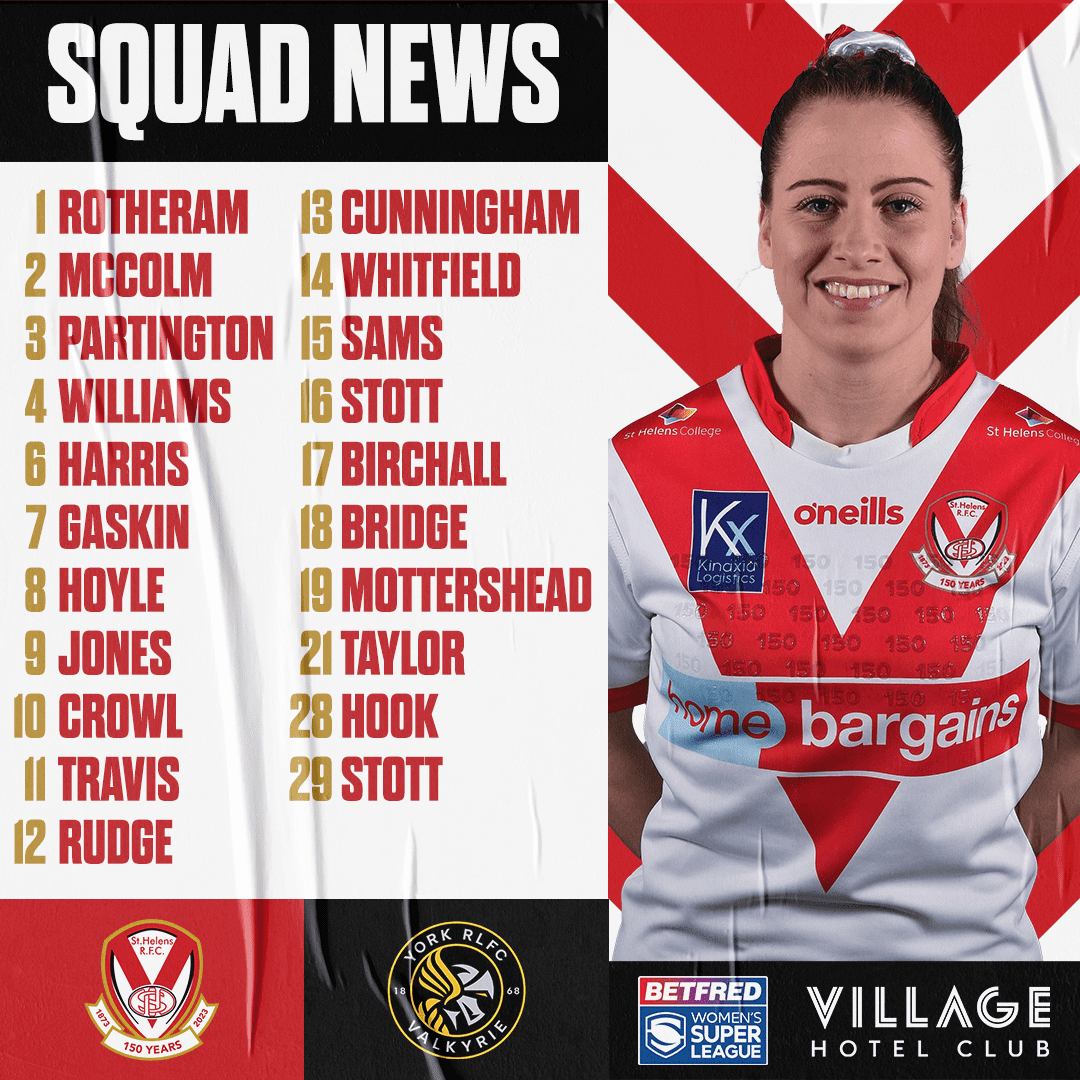 York Valkyrie 21-man squad
1. Tara Jane Stanley, 2. Emma Kershaw, 3. Lacey Owen, 4. Tamzin Renouf, 5. Ashleigh Hyde, 6. Sade Rihari, 7. Olivia Gale, 8. Elisa Akpa, 9. Sinead Peach, 10. Aimee Staveley, 11. Olivia Wood, 12. Savannah Andrade, 13. Grace Field, 14. Carrie Roberts, 15. Jasmine Bell, 16. Daisy Sanderson, 17. Jessica Sharp, 18. Georgia Taylor, 19. Ellie Hendry.
WELLENS AHEAD OF FACING LEEDS
Down on troops in the middle, Wellens discusses the challenge the Red V face on Friday, against a side that in the two times we have faced off in 2023, each game has been separated by a drop-goal.
Saints TV subscribers can watch Paul Wellens' preview in full!
SAINTS & PROUD
Our official Match Programme is available for supporters to read with plenty of great Saints news and features to read!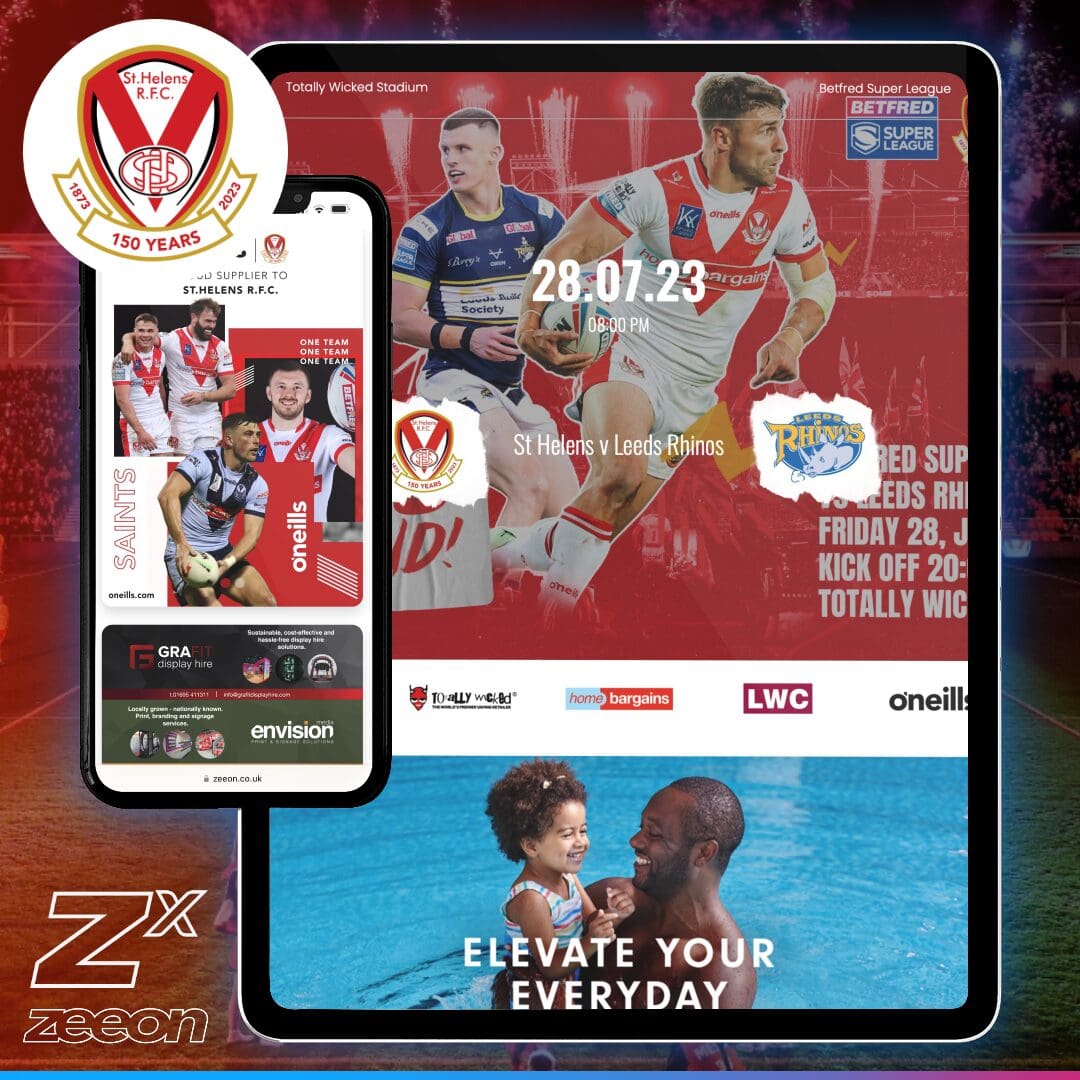 In our Round 20 edition of Saints & Proud, the Saints faithful can read:
Exclusive: THE BIG READ with Tommy Makinson
Moses Mbye joins St. Helens
Paul Wellens' match programme column
Exclusive: Jodie Cunningham Q&A
Saints 150: The first time Saints made a mid-season signing
Saints Women make history by reaching Wembley
Plus much more…
A LOOK AT LEEDS…
It's been a season with plenty of changes for the Rhinos, with Rohan Smith's first full season in charge they have been a real mix which is demonstrated by them being sat in 8th spot heading into Round 20.
The Saints and the Rhinos have already met twice in 2023, firstly back in March in what was a fiery encounter. Blake Austin's late drop goal got the win against the Red V who got reduced to 12 men in the final minutes of the game. Wellens' men then got a slice of revenge with a Golden Point win at Headingley at the end of May, with Lewis Dodd slotting the crucial one-pointer.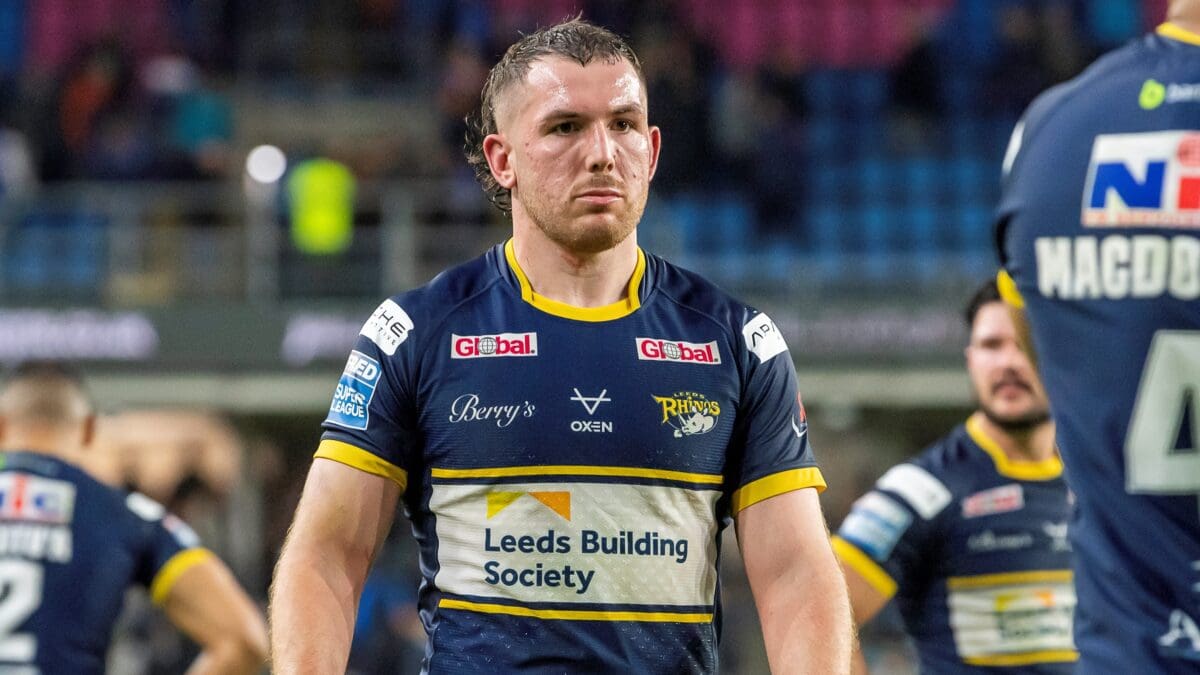 New signings such as Justin Sangare, Derrell Olpherts, Sam Lisone, Nene Macdonald have come into a side that boasts talent such as Aidan Sezer, Blake Austin, Ash Handley, Cameron Smith and Mikoaj Oledzki. They went all the way to the Grand Final last season after a dismal start but fell to Saints 24-12, our fourth straight title.
The Rhinos have been inconsistent, like a number of teams in 2023, but Leeds have been edged out in a few games by not many points. If they can, like late last year, click then they can be very hard to handle.
WHO WILL BE THE OFFICIALS IN THE MIDDLE?
The referee for the Men's match between Leeds and the Saints will be Liam Moore, he will be supported by the touch judges M. Craven and J. Roberts, and Ben Thaler will be the video referee.
For the Women's match, M. Lynn is the referee, the touch judges are O. Salmon and A. Cameron.
WHAT KIT WILL SAINTS BE WEARING?
Both Saints' sides will be wearing the hugely popular 2023 Home Kit, which features our 150th year crest, along with an old-school, traditional Red-V!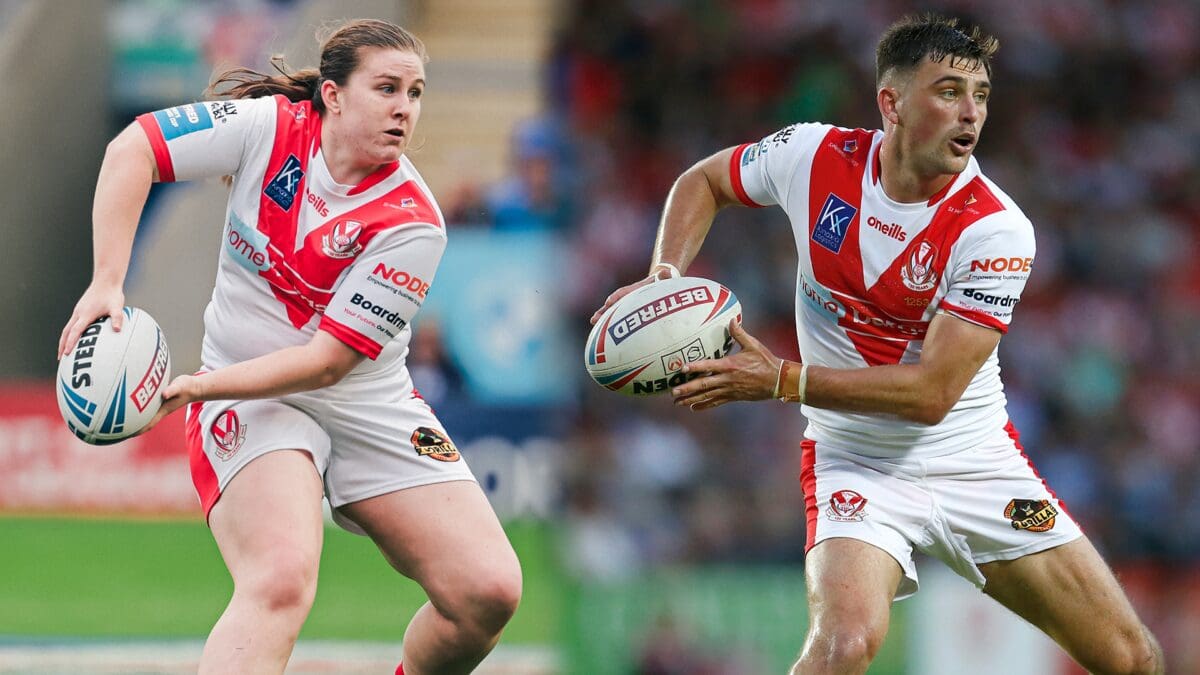 Pick yours up online by visiting saintssuperstore.com!
RECENT RECORD AGAINST LEEDS
Last ten meetings:
Leeds, 12, St Helens 13, (SLR13, 26/5/23)
St Helens 24, Leeds 25 (SLR3, 3/3/23)
Leeds 12, St Helens 24 (SLGF, 24/9/22) (at Old Trafford, Manchester)
St Helens 42, Leeds 12 (SLR16, 23/6/22)
Leeds 0, St Helens 26 (SLR7, 1/4/22)
St Helens 36, Leeds 8 (SLSF, 1/10/21)
St Helens 40, Leeds 6 (SLR24, 10/9/21)
St Helens 26, Leeds 18 (CCR3, 10/4/21)
St Helens 40, Leeds 8 (SLR17, 23/10/20)
Leeds 0, St Helens 48 (SLR8, 9/8/20)
Super League summary
St Helens have won 45 matches (this includes win in 2022 Grand Final & 1999, 2001, 2007, 2008 and 2021 play-offs). Leeds have won 33 matches (includes wins in 2007, 2008, 2009 and 2011 Grand Finals; 1998, 2005, 2013 and 2015 play-offs)
St Helens highest winning score was 62-18 at home back in 1999, with the widest margin being 48-0 at Headingley in 2020.
SMITH LOOKING FORWARD TO YORK TEST
St. Helens Women's Head Coach Matty Smith looks back at last weekend's historic Betfred Women's Challenge Cup Semi-Final victory over the Valkyrie, which saw us progress to Wembley. What we can expect from them tomorrow night, our great fan support and more.
Watch the full interview with Matty Smith in full on Saints TV
A LOOK AT YORK…
York Valkyrie, formerly York City Knights Ladies, are one of THE women's rugby league teams in this country. Since the appointment of Lindsay Anfield during 2021 they have gone from strength to strength and are looking to claim a major piece of silverware to rubber stamp their standing as one of the best.
After recruiting a lot talent, including some of the best talent from around the women's game, League, York have a strong squad who can compete right at the top alongside the likes of Betfred Women's Super League Champions Leeds Rhinos, and the Challenge Cup holders St. Helens.
2022 was a memorable season for York, claiming the League Leaders' Shield and making it to the Grand Final but coming up short to the Rhinos. They also had Tara Jane Stanley crowned as the Woman of Steel, the best player in the competition. So, what next?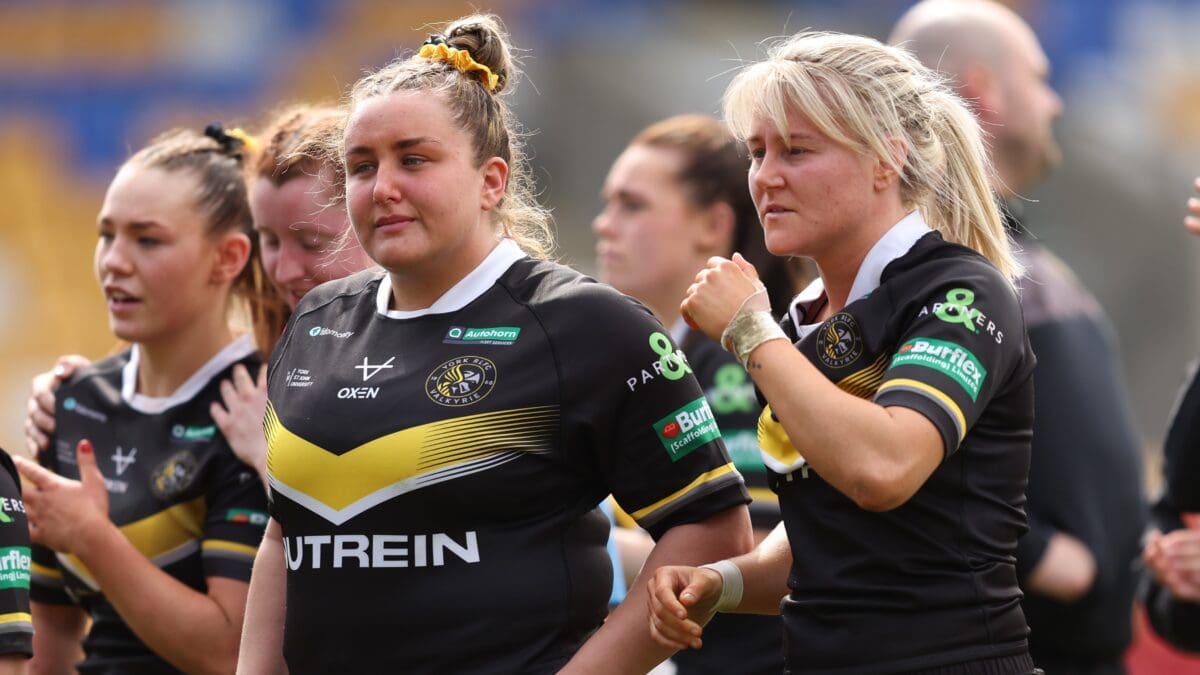 In 2023, the Valkyrie have been a tough beast, winning five of their six league fixtures played to date, and topping their Challenge Cup group with ease before coasting past Cardiff Demons in the quarter-final to set up this past Saturday's epic semi-final encounter in which the Red V prevailed, ending their winning run.
Saints are still out for revenge though, in Matty Smith's first match in charge of the Saints Women they suffered a 26-6 league defeat with a couple of injuries sustained early in the game. Since then, the Red V have been building form and getting stronger, so will view this game against York in the league as hugely important.
The Saints record against York Valkyrie
The head-to-head scores favour the Saints with eight wins to York's three, including a win in the Challenge Cup Final in 2021, and last weekend's Semi-Final victory.
St Helens 17, York 16 (CC-SF, 22/7/23) (at Halliwell Jones Stadium)
York 26, St Helens 6 (SL-G1, 16/4/23)
St Helens 12, York 4 (SL-G1, 31/7/22)
York 13, St Helens 6 (SL-G1, 22/5/22)
St Helens 32, York 0 (SL-P0, 22/8/21)
York 24, St Helens 0 (SL, 20/6/21)
St Helens 34, York 6 (CC-Final, 5/6/21) (at Leigh Sports Village)
York 0, St Helens 56 (SL, 1/9/19)
St Helens 60, York 6 (SL, 30/6/19)
York 6, St Helens 26 (SL, 29/7/18)
St Helens 40, York 0 (SL, 15/4/18)
SAY HELLO TO MOSES MBYE
A number of topics were discussed in Moses' first interview with the Saints, but first up he spoke about the feel in the camp, and said he can feel he's joining a champion side with the hospitality he's felt from everyone at the club, and the general 'vibe'!
Watch Moses' first club interview on Saints TV!
THE REST OF ROUND 20 IN SUPER LEAGUE
Thursday
Huddersfield Giants 19-12 Hull FC
Friday
Hull KR vs Castleford Tigers – 8pm
Saturday
Wigan Warriors vs Leigh Leopards – 1pm
Catalans Dragons vs Salford Red Devils – 7pm
Sunday
Wakefield Trinity vs Warrington Wolves – 3pm
JULY'S MEMBERS' OFFER
One of the benefits of being a 2023 Member is being able to access a new monthly offer from Saints Superstore!
During July you can get 10% off baseball caps and bucket hats!
FOOD & DRINKS AT THE TOTALLY WICKED STADIUM!
Find out much more about what there is to eat and drink by clicking here or on the map below!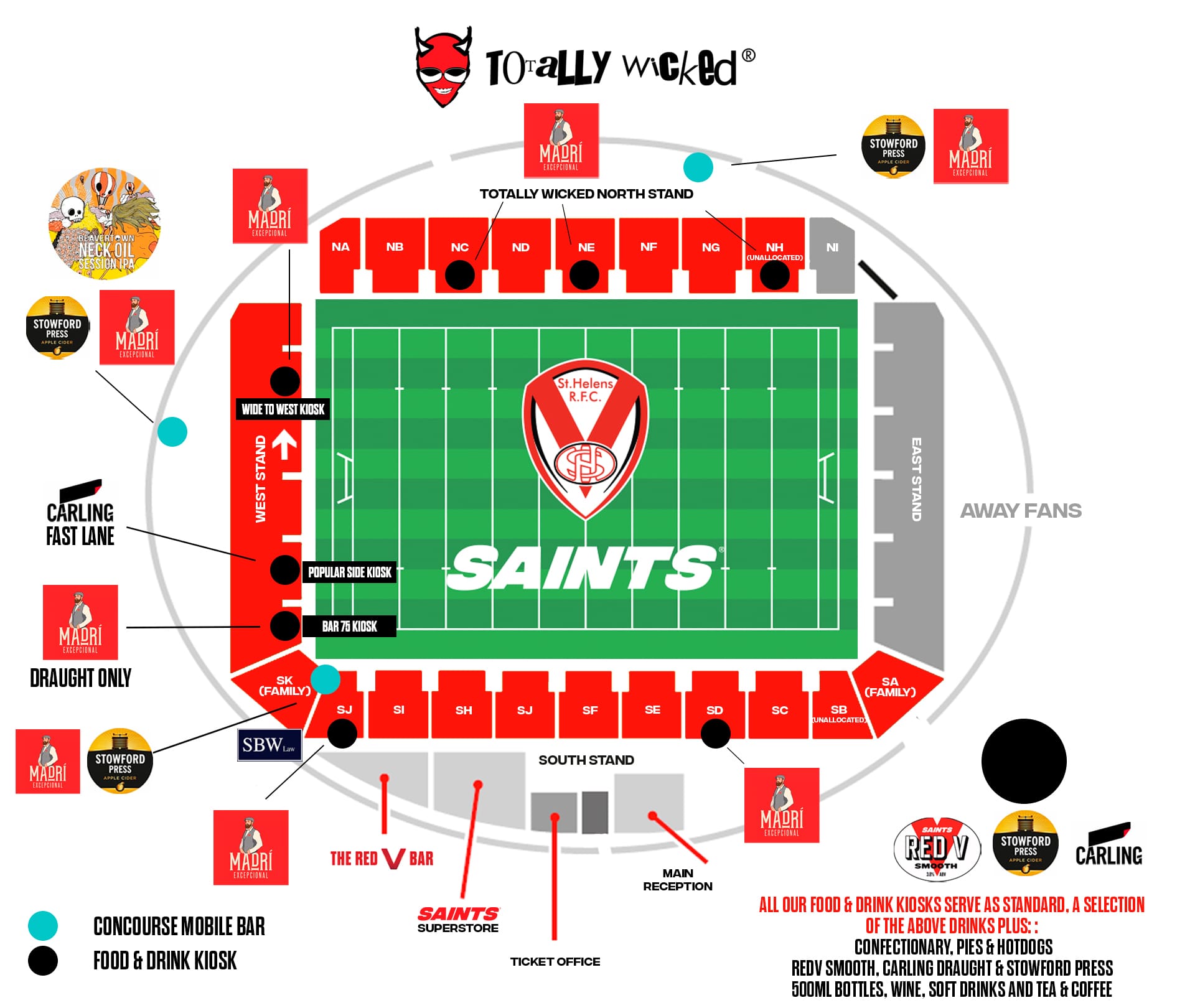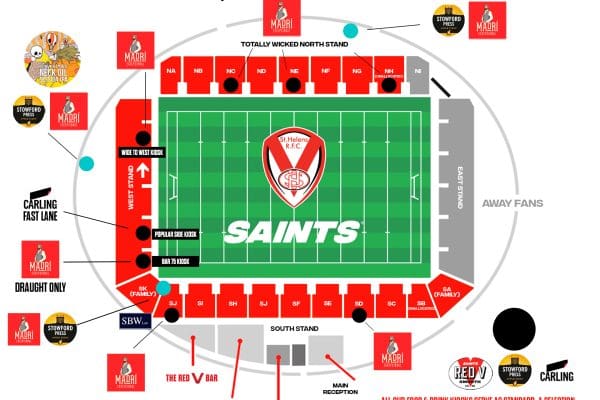 HOW CAN I FOLLOW THE GAME?
Saints will be covering both matches, if you would like updates of the Women's match follow our St Helens Women's accounts!
Saints Women: Twitter | Facebook | Instagram
The Men's game will be covered in full across our live Match Centre where you can find out the team news, follow live game updates, get behind the scenes photos and catch up on all the stories of the game.
Our club social media accounts will also keep supporters updated. Follow us on: Twitter | Facebook | Instagram
Highlights and the full match replay will also be made available for Saints TV subscribers.
Both games will also be broadcast live on Sky Sports with the Women's game coverage starting at 5pm!