St. Helens Women will be looking to retain the Betfred Women's Challenge Cup against rivals Leeds Rhinos Women at Wembley Stadium on Saturday afternoon!
HISTORY AWAITS
For the first time ever, the Women's Challenge Cup will be played at Wembley Stadium alongside the Men's Final, as the 1895 Cup Final too.
Both Saints and Leeds have etched their names in the history books by reaching the last two, but only one can be the winner of this first Final to be played at the national stadium. Should Saints get the job done too, they will have won the Challenge Cup for an incredible three straight years.
SQUAD DEPARTURE DETAILS
Fans wishing to get behind the team, make some noise and give the team a memorable send-off can do so on Friday morning!
Our Women's player will be leaving the Totally Wicked Stadium at 9:30am on Friday.
Further details can be found by clicking here.
WEARING THE FAMOUS RED V AT WEMBLEY
In the Club's 150th anniversary year, the Saints Women will be wearing our 2023 Home Kit on the biggest stage, the same kit they wore in a remarkable Semi-Final win over York Valkyrie.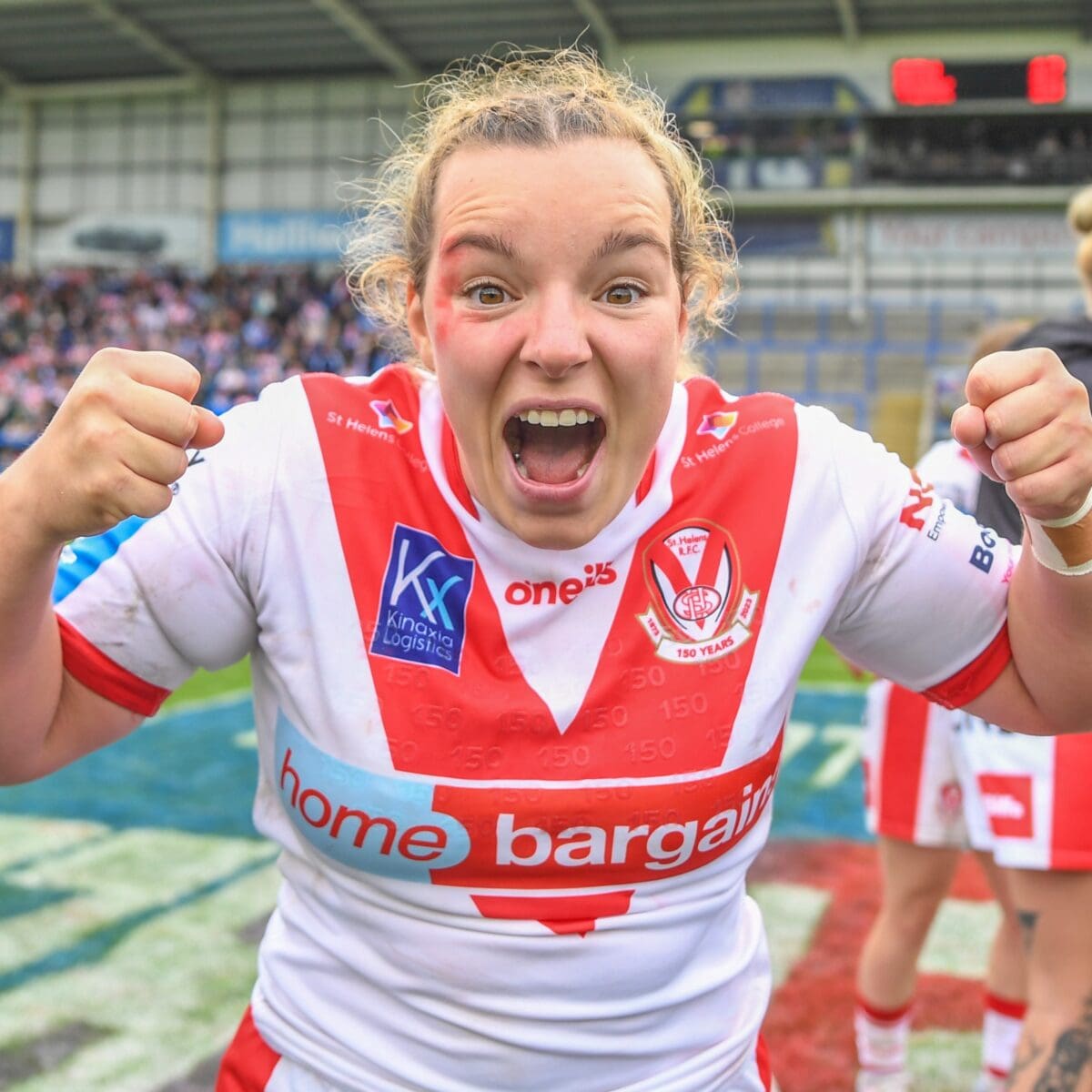 Pick yours up online by visiting saintssuperstore.com!
BE THERE – TICKET & COACH INFO
Want to be in that number, cheering the Saints on?!
Full ticketing and coach travel information can be found here.
OUR ROUTE TO THE FINAL
Matty Smith's Women had a more complex route to the final four, with the group stage played first.
After getting wins over London Broncos, Castleford Tigers and Warrington Wolves – the Saints finished first in Group Three of the competition.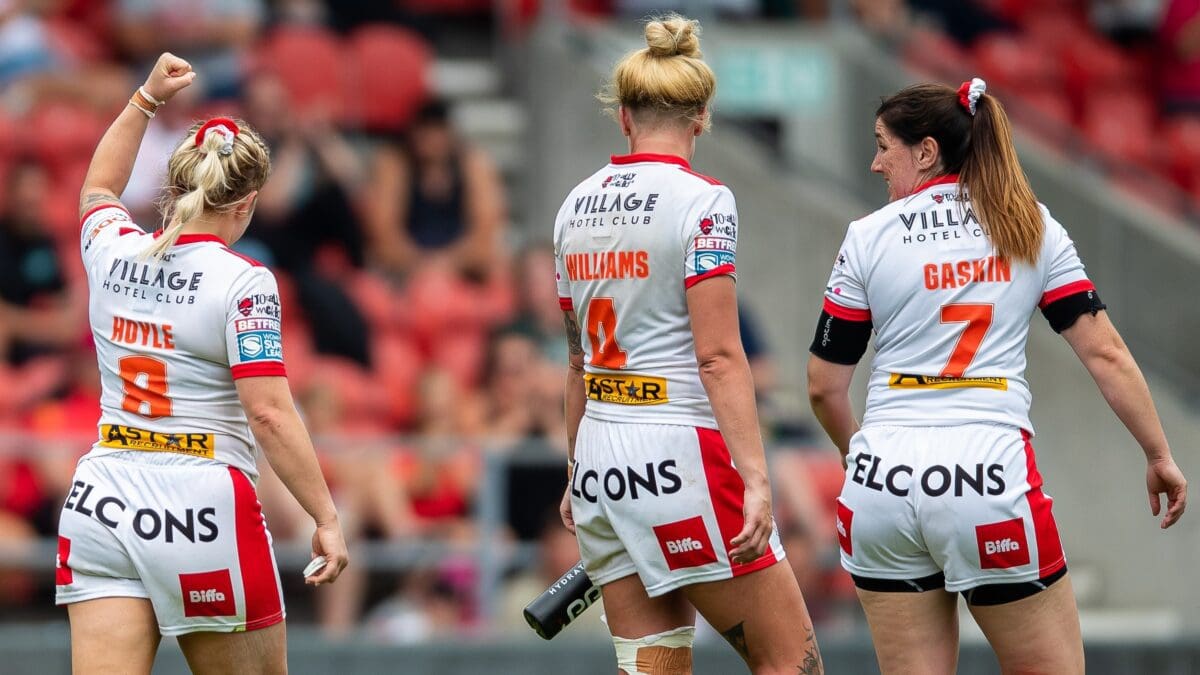 London Broncos Ladies 0-76 St Helens Women – Saturday, 22nd April
Castleford Tigers Women 0-106 St Helens Women – Sunday, 7th May
St Helens Women 38-4 Warrington Wolves Women – Sunday, 21st May
By coming top of the group, the Saints earned a home quarter-final and drew another game against the Wolves Women, which Smiths' side won comfortably 36-0 on Sunday, 18th June. The Red V were then drawn against York Valkyrie for the Semi-Final on Saturday, 22nd July and in a true rugby league classic it went right down to the wire at the Halliwell Jones Stadium.
With 40 seconds left, the scores tied at 16-16, up stepped Faye Gaskin who after two tough years dealing and rehabbing from injury, the Saints' #7 slotted over the winning drop goal to send St. Helens to Wembley!
PLAYER & COACH PREVIEWS
Head Coach Matty Smith, Captain Jodie Cunningham, Tara Jones and Emily Rudge on Monday afternoon spoke to lots of members of the meida to preview the huge game in the capital against Leeds.
Saints TV caught up with all four, with interviews to come on our video channel throughout Wembley Week!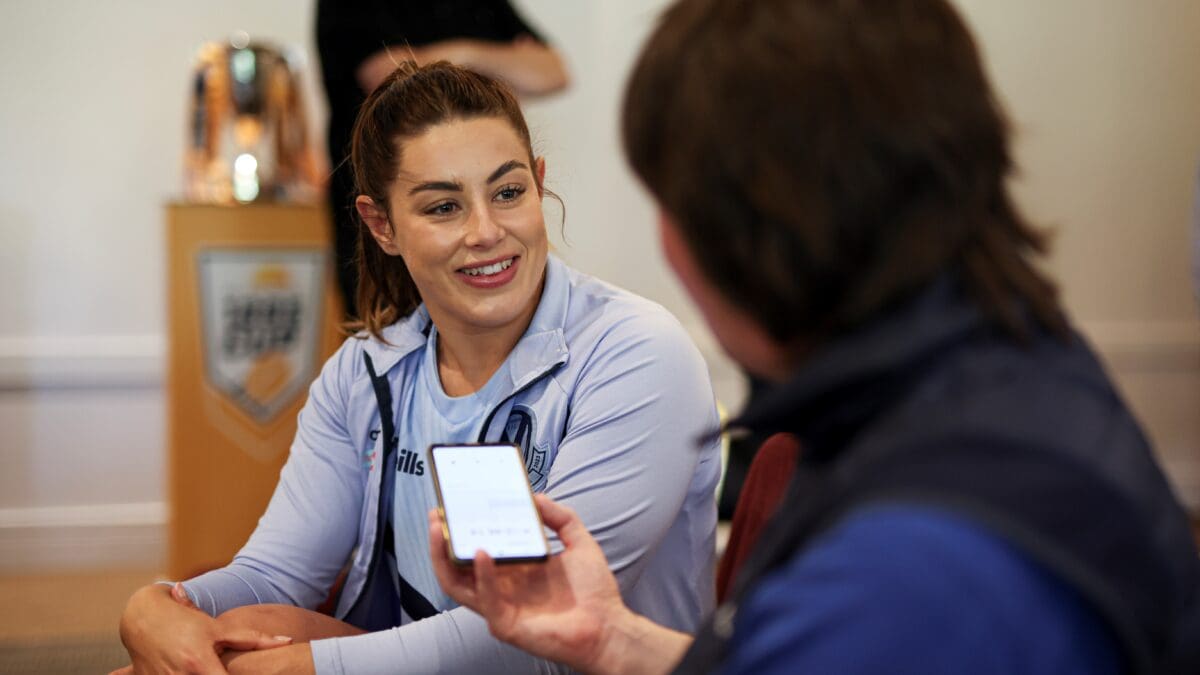 🗣️ Our leading appearance maker and heritage #️⃣1️⃣ @TaraJ_TJ gives her thoughts on our @TheChallengeCup final at @wembleystadium! 🙌🏟

Subscribers can watch the full video on Saints TV 👇

📺 https://t.co/VknbWEdUXn#COYS | #HistoryInTheMaking

— St.Helens Women (@saints1890women) August 10, 2023
🗣️ Hear from Captain @Jodie_cunny ahead of our @TheChallengeCup final against the @leedsrhinos! 🙌

Subscribers can watch the full video on Saints TV 👇

📺 https://t.co/VknbWEdUXn#COYS | #HistoryInTheMaking

— St.Helens Women (@saints1890women) August 9, 2023
🗣️ Matty Smith spoke to us about our upcoming @TheChallengeCup final at @wembleystadium 🏟 at the press event this week.

Subscribers can watch the full video now on Saints TV 👇

📺 https://t.co/VknbWEdUXn#COYS | #HistoryInTheMaking

— St.Helens Women (@saints1890women) August 8, 2023
Subscribe to Saints TV to see all our player previews ahead of the Cup Final!
21-WOMAN SQUAD ON THURSDAY
Matty Smith has named his 21-woman squad for Saturday's double header at Wembley Stadium!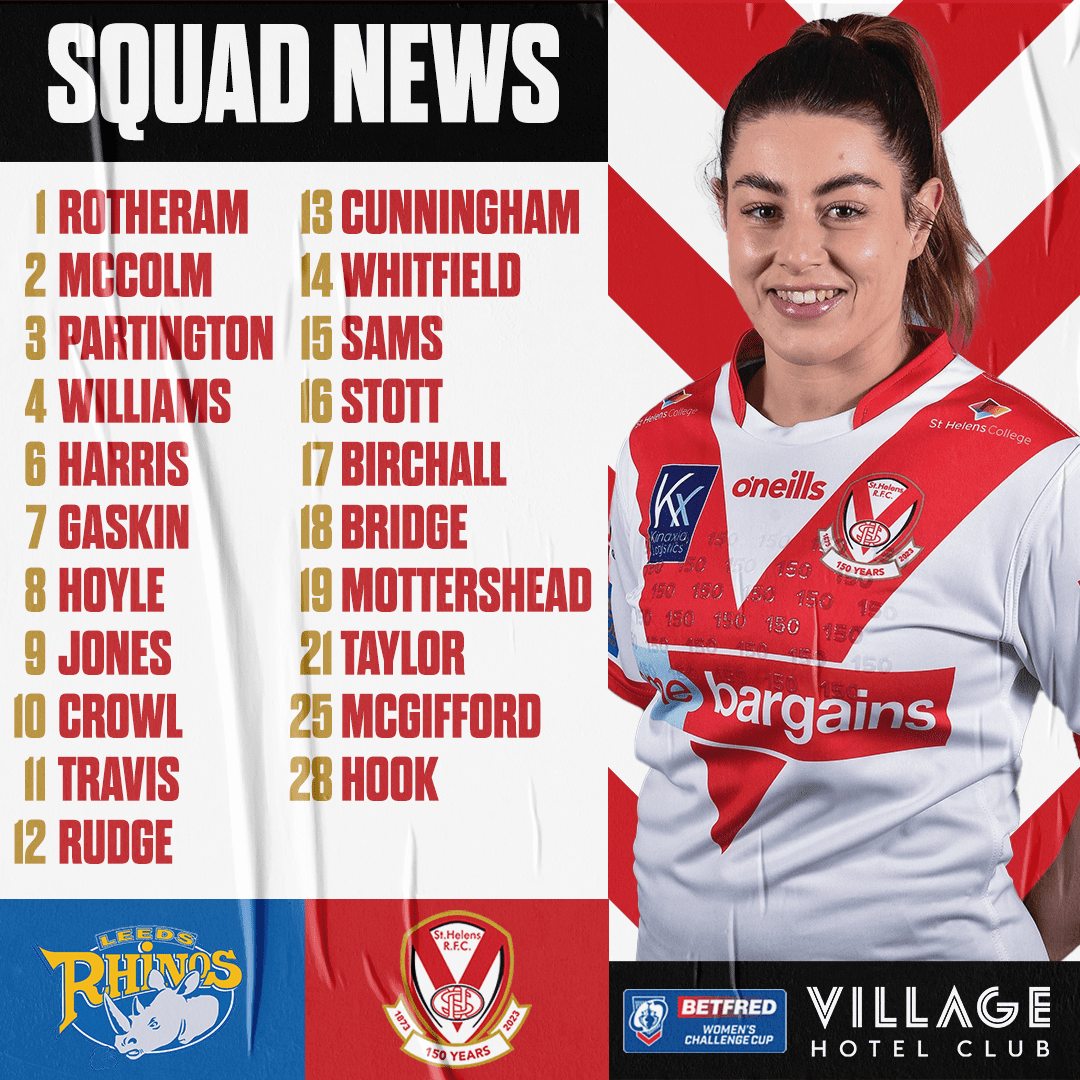 FOLLOW OUR WOMEN'S TEAM ONLINE
As always, our Women's team's social media pages will be keeping supporters up to date with all the key news and information surrounding the team. Make sure you are following us on each platform!
Twitter | Facebook | Instagram
SMITH ON 'OUT OF YOUR LEAGUE'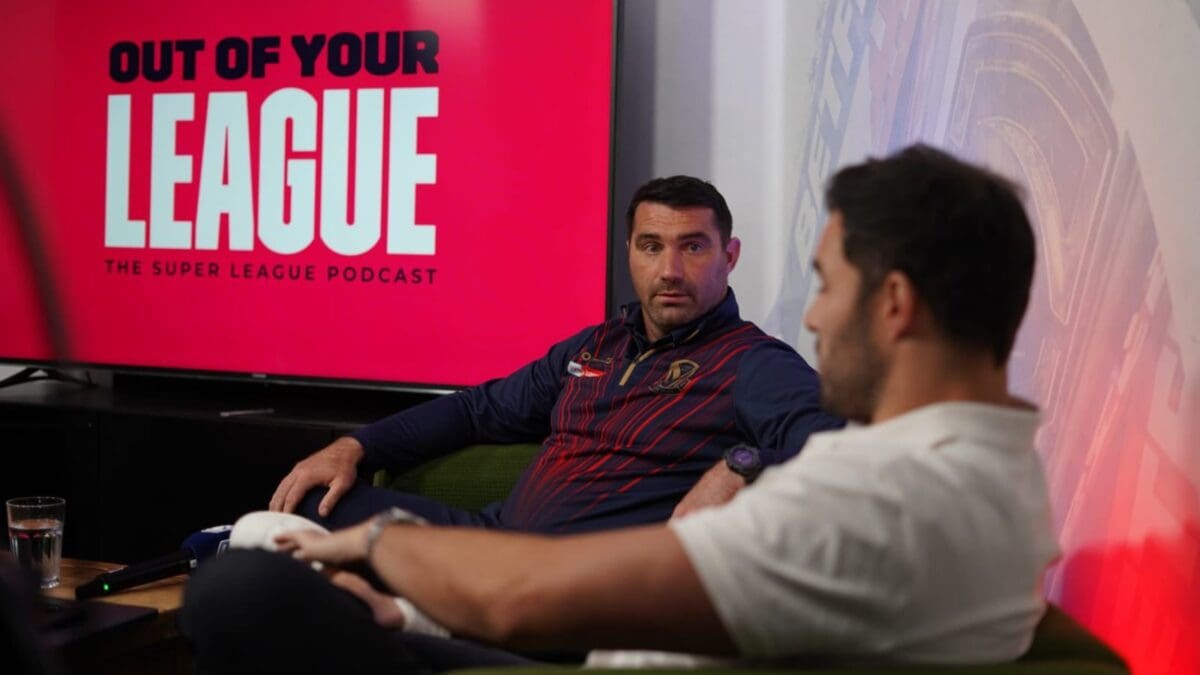 Ahead of the biggest game of his coaching career so far, the St. Helens Women's boss Matty Smith sits down with Will Perry and former Saint Mark Flanagan on Super League's official podcast 'Out Of Your League'!
Smith chats about his outstanding playing career, becoming the Red V Women's Head Coach, along with so much more.
New episodes typically drop on Wednesday nights across podcast platforms such as Apple Podcasts and Spotify, as well as on YouTube to watch on the official Super League channel.
TWO MORE GAMES AT THE TWS
There are two more huge home games for the Saints Women, with the rematch of the Cup Final but in the Betfred Women's Super League to come against Leeds Rhinos on Sunday, 3rd September, and then our fourth meeting of 2023 against Warrington Wolves on Sunday, 10th September.
RECENT RECORD AGAINST LEEDS
Last ten meetings:
Leeds 18, St Helens 38 (SL-G1, 26/5/23)
St Helens 6, Leeds 14 (SL-G1SF, 4/9/22) (at Headingley)
Leeds 22, St Helens 30 (SL-G1, 7/8/22)
St Helens 18, Leeds 20 (SL-G1, 23/6/22)
Leeds 8, St Helens 18 (CCF, 7/5/22) (at Elland Road, Leeds)
Leeds 0, St Helens 28 (SLGF, 10/10/21) (at Emerald Headingley)
Leeds 12, St Helens 20 (CCSF, 22/5/21) (at LNER Community Stadium, York)
St Helens 14, Leeds 18 (SL, 6/10/19)
St Helens 20, Leeds 20 (SL, 8/9/19)
Leeds 16, St Helens 30 (SL, 21/7/19)