St. Helens head to the Halliwell Jones Stadium on Friday night to take on Warrington Wolves in Betfred Super League action, with kick-off at 8pm!
TICKET INFORMATION
Saints supporters' tickets have been allocated in both the West Stand Standing and North Stand Seating.
Tickets can also be purchased from the Ticket Office at the Halliwell Jones Stadium until kick-off.
Ticket Collections not made before 12pm on Friday, 15th September will be no longer available to pick up from the Saints' Ticket Office, but will be made available to collect directly at Halliwell Jones Stadium's Ticket Office from 6:30pm on Friday night. Full ticketing information for this fixture can be viewed HERE.
Over 3,000 Saints are heading over and have their tickets secured already! Not got yours yet and it's gameday? Cash will be accepted on the West Stand (Standing) at the Halliwell Jones Stadium, or you can visit the Wolves' Ticket Office.
SQUAD NEWS
The Saints have just one change to the squad that was declared for the victory over Leigh Leopards, with youngster George Delaney missing out due to head injury protocols, but Paul Wellens could have a senior forward return with Curtis Sironen named in the 21 following injury.
Click on the image below to read more about our Squad News!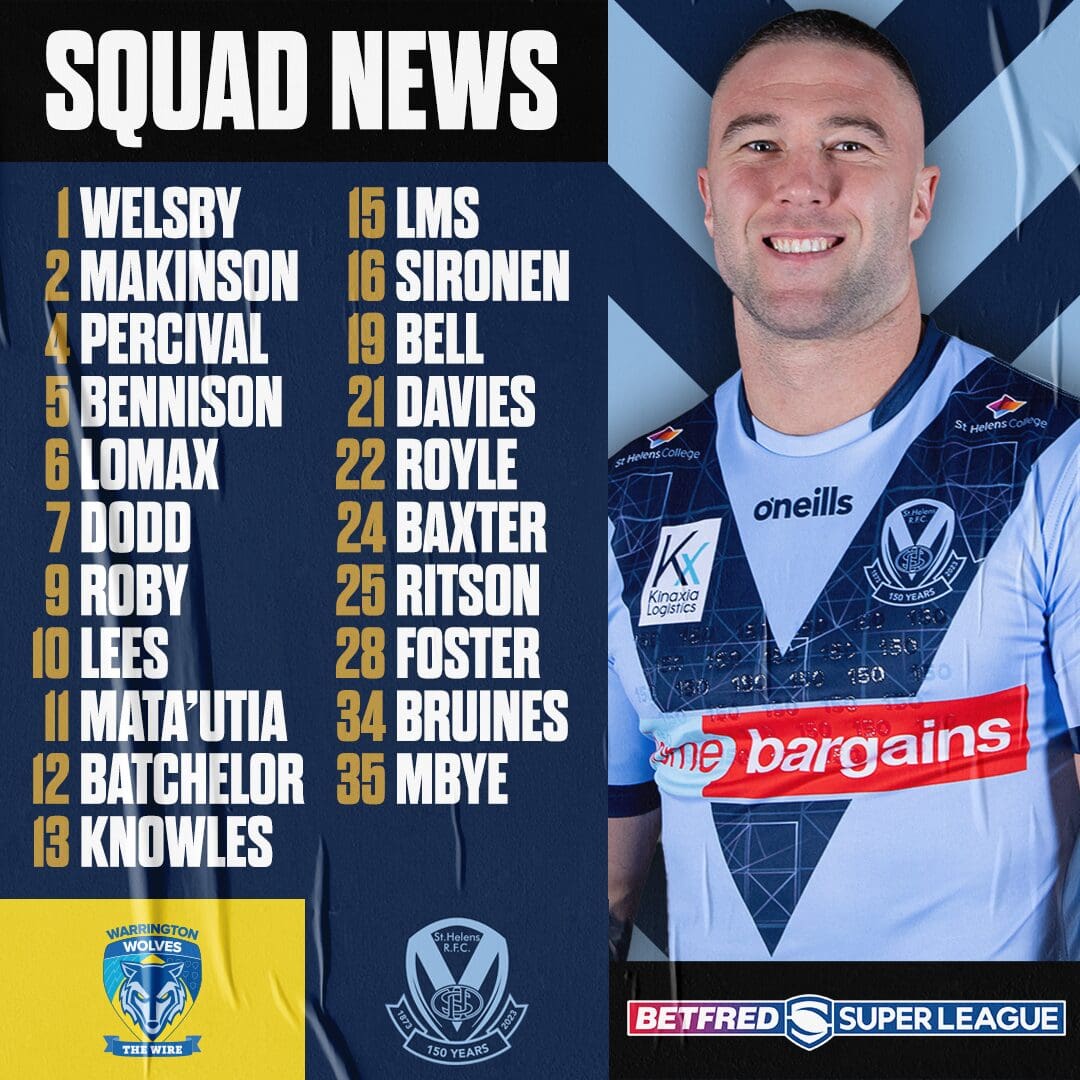 Warrington Wolves 21-man squad vs St Helens
1. Matty Dufty, 2. Josh Thewlis, 4. Stefan Ratchford, 5. Matty Ashton, 7. Josh Drinkwater, 8. James Harrison, 9. Daryl Clark, 10. Paul Vaughan, 11. Ben Currie, 12. Matty Nicholson, 14. Sam Kasiano, 15. Joe Philbin, 16. Danny Walker, 18. Thomas Mikaele, 19. Luke Thomas, 20. Connor Wrench, 21. Greg Minikin, 25. Leon Hayes, 26. Adam Holroyd, 34. Matty Russell, 36. Jordan Crowther.
THE RECORD AGAINST THE WOLVES
Super League summary
The Saints have a strong foothold in the head-to-head record against Warrington, winning 56 of the meetings (including wins in 2010 and 2012 play-offs), whilst Wolves have won 16, and honours have been shared in a draw only twice.
Our highest score and widest winning margin over Warrington came in a 2002 home victory, 72-2.
Last ten meetings
Warrington 20, St Helens 24 (7/7/23)
St Helens 28, Warrington 6 (SLR10, 20/4/23)
Warrington 10, St Helens 12 (SLR13, 19/5/22)
St Helens 28, Warrington 2 (SLR5, 11/3/22)
Warrington 14, St Helens 24 (SLR22, 30/8/21)
St Helens 2, Warrington 6 (SLR10, 17/6/21)
St Helens 18, Warrington 20 (CCQF, 19/9/20) (at AJ Bell Stadium, Salford)
Warrington 19, St Helens 0 (SLR2, 6/2/20)
St Helens 4, Warrington 18 (CCF, 24/8/19) (at Wembley Stadium)
Warrington 12, St Helens 30 (SLR25, 8/8/19)
WELLENS: SAINTS/WOLVES IS ALWAYS A RED-HOT ONE
The St. Helens boss talks about the possible return of Curtis Sironen, both Saints and Warrington needing to get a win, the fight for the League Leaders Shield, and the task at hand going to the Halliwell Jones Stadium again in 2023.
Saints TV subscribers can watch the full Coach Preview with Paul Wellens!
WHAT KIT WILL SAINTS BE WEARING?
As Sunday afternoon's game is an away fixture St Helens will be wearing our 2023 Away Kit, which in our milestone 150th year, features our club's traditional colours of sky blue and navy, with a classic deep V design along with some finer details, including our 150 year crest.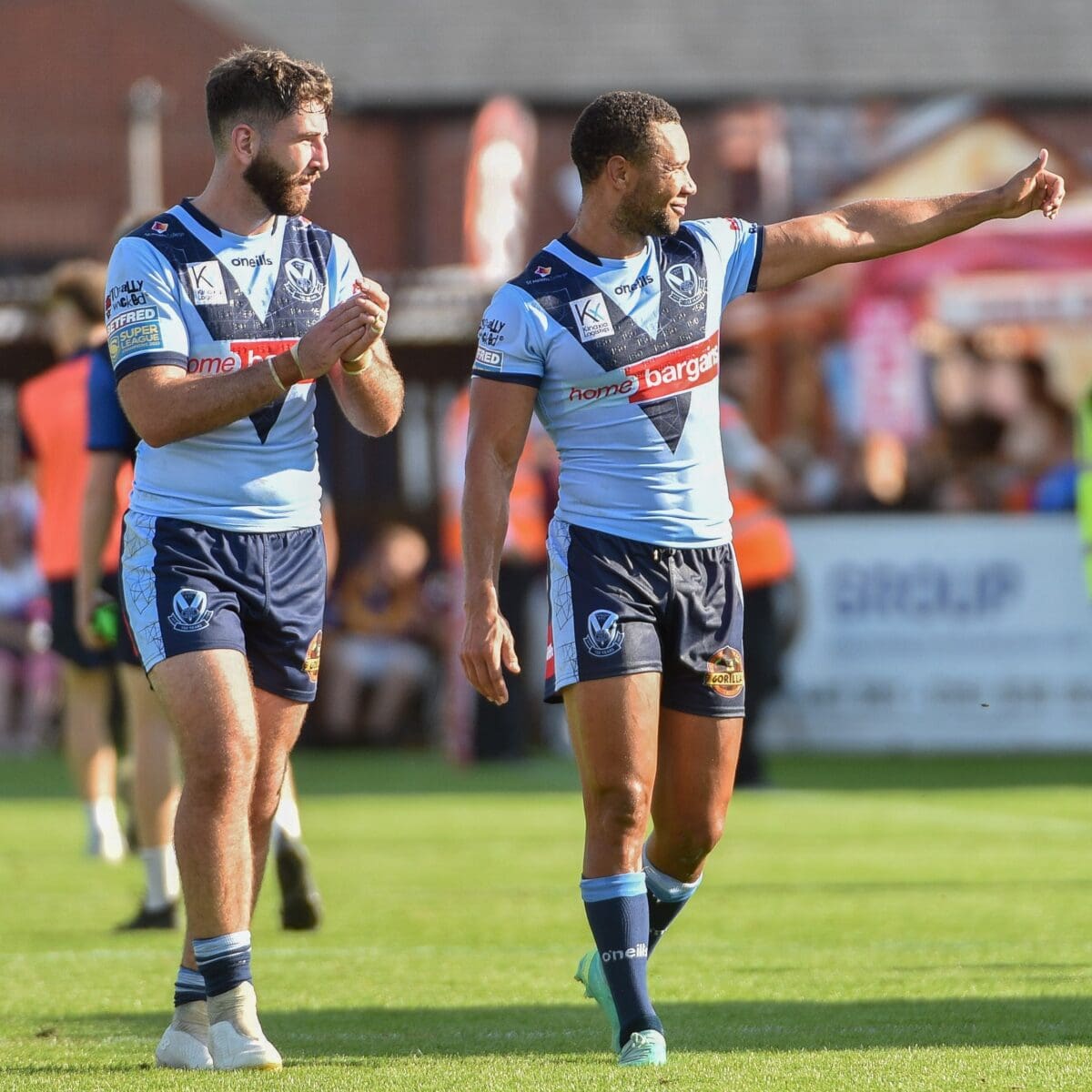 Pick yours up online by visiting saintssuperstore.com!
WHO WILL BE THE MAN IN THE MIDDLE?
Jack Smith will be the referee for Friday evening's fixture, and he will be supported by Touch Judges M. Craven & R. Thompson, and video referee Liam Moore.
A LOOK AT WARRINGTON…
After a dismal 2022, the Wolves were enjoying a change of fortunes this year sitting top of the table in the early stages of the season, winning their opening eight matches of the season. That positive start is a distant memory though given how the season has played out, but their play-off destiny can still be in their own hands.
Then Wire boss Daryl Powell consistently talked about changing the 'culture' of the Wolves and that saw the Club make wholesale changes and backing Powell as the man they believed to lead them into a period of success, but despite a lot of incomings and outgoings it did not prevent them falling to their worst finish in the summer era, second from bottom in eleventh place. The end of the year could not come soon enough for the Wire, who added big names for 2023 during this period of change.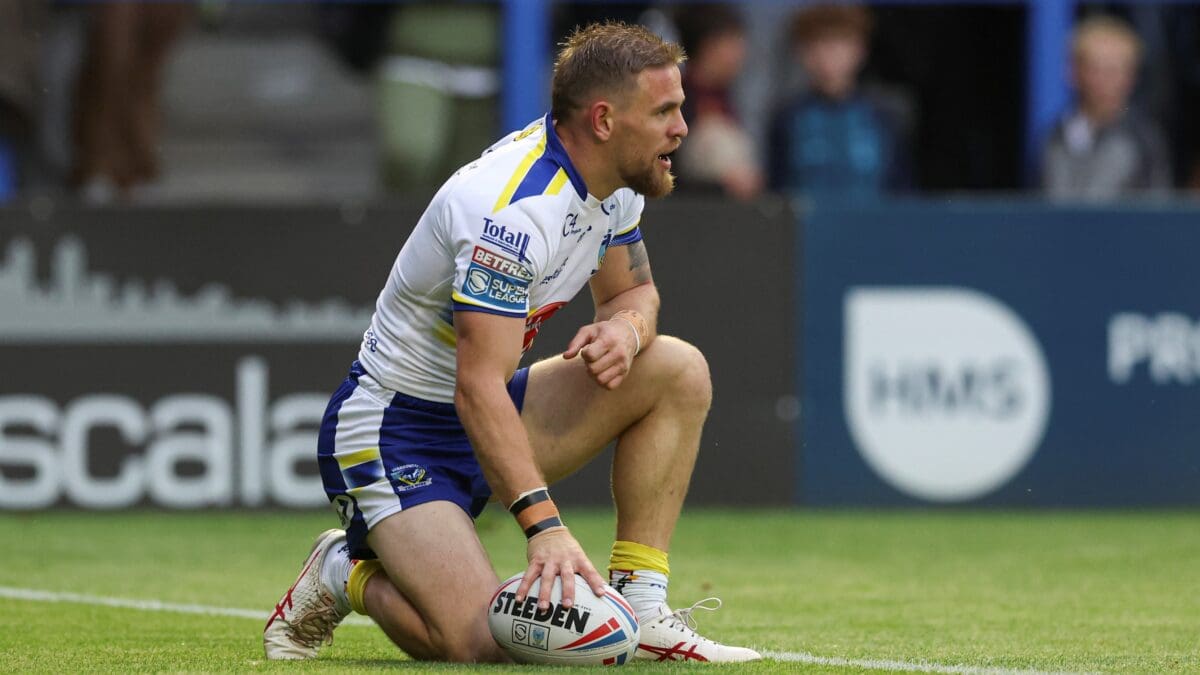 Paul Vaughan, Gil Dudson, Sam Kasiano and Josh Drinkwater, Matty Russell and Josh McGuire had made their squad stronger, although McGuire left Wire following a second 'unacceptable language' ban. Former Wakefield man Jordan Crowther in recent weeks has also joined the Wire. Combined with the men they already possessed at the club such as George Williams, Stefan Ratchford, Ben Currie and Daryl Clark, there is no doubt it is a talented squad.
Daryl Powell however would not be the man to take Warrington to where they want to be. Following their strong start to the year, the Wolves then lost eight matches in a row, the first saw them exit the Cup against a 12-man Wigan side, and then seven league defeats on the spin. The breaking point for Powell's time as boss was an embarrassing 42-6 loss to bottom of the table Wakefield Trinity.
Gary Chambers, Warrington's Head of Youth, stepped up as the Interim Head Coach and takes on a new role as the Director of Rugby. Meanwhile, former England and South Sydney Rabbitohs favourite Sam Burgess will be joining the Wire from 2024 on a two-year deal as their new boss. Chambers' task is a simple, but tough, one; play-off rugby.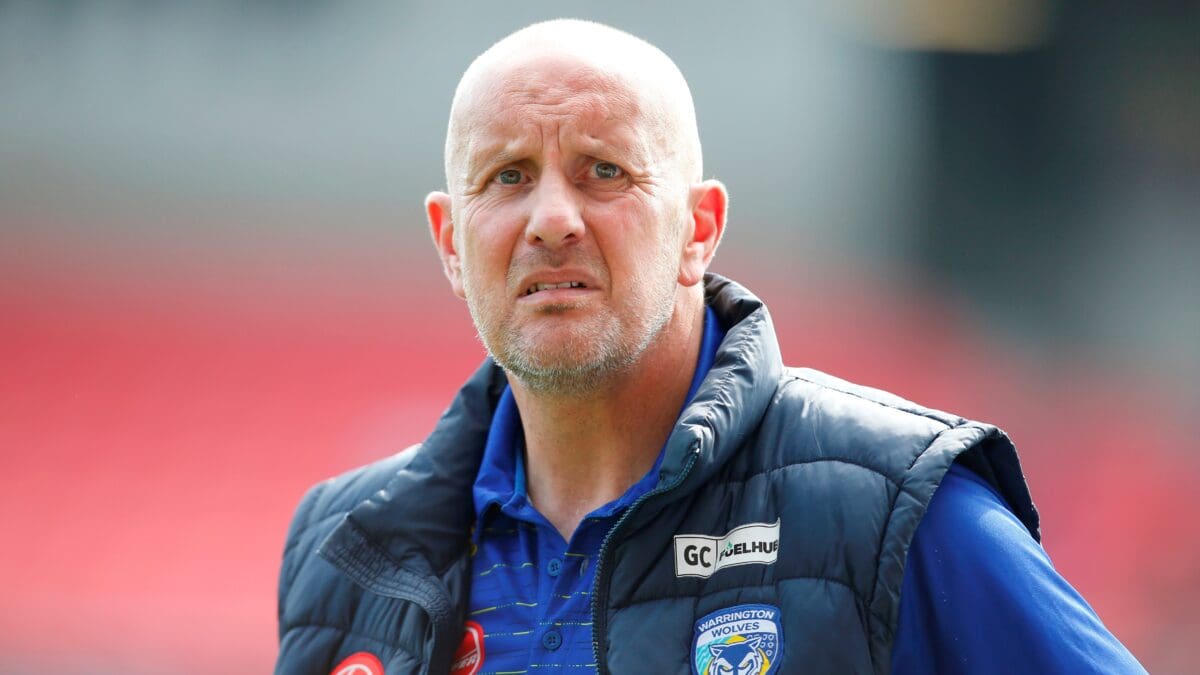 The Wolves slump has seen their position in the top six of the league become wobbly, and given their start to 2023 it would have been baffling to think the Wolves could not make the post-season – but with two games to go in the regular season they need results. A win over Salford last week would have boosted their spirits too but a Golden Point defeat to the Red Devils keeps them fighting to stay in the six and Salford breathing down their necks to get in.
BELL BRACED FOR TOUGH TASK AT WOLVES
After a standout performance last time out against Leigh which saw him named Player of the Match, the forward reflects on the result.
With Warrington also boasting a sizeable pack, Bell also chats about the battle in the middle of the field at the Halliwell Jones Stadium on Friday night.
Watch the full player preview with Belly on Saints TV!
HOW CAN I FOLLOW THE GAME?
Saints will be covering the match in full across our live Match Centre where you can find out the team news, follow live game updates, get behind the scenes photos and catch up on all the stories of the game.
Our club social media accounts will also keep supporters updated. Follow us on: Twitter | Facebook | Instagram
Highlights and the full match replay will be available for Saints TV subscribers.
THE REST OF ROUND 26 IN SUPER LEAGUE
Friday
Leigh Leopards vs Wakefield Trinity – 8pm
Wigan Warriors vs Castleford Tigers – 8pm
Saturday
Hull FC vs Huddersfield Giants – 3pm
Catalans Dragons vs Leeds Rhinos – 5pm
Hull KR vs Salford Red Devils – 7:30pm