The Totally Wicked Stadium hosted a feast of football action, with St Helens Town AFC coming to the home of St.Helens R.F.C. as part of our Borough's year as Liverpool City Region's Borough of Culture, and Mark Percival's testimonial year.
A fantastic crowd of 2,096 people came to the Festival of Football, which saw St Helens Town take on local neighbours Wigan Town in a an official Cheshire Football League – Division Two fixture. There was also a fun exhibition match as Louie McCarthy-Scarbrook's St Helens Town XI faced Matty Smith's Saints XI, and plenty of junior community clubs participated in minis matches on the field too.
The official Cheshire Football League derby game between St Helens and Wigan saw our Town side run out 3-0 winners, Ethan Danku, Liam Diggle and Matthew Rochford scoring the goals in a resounding victory.
The LMS (Town)/Smith (Saints) box office clash was a closer affair, with an equalizer and a winner in the closing minutes! With players in the line-ups including: former Saint Mark Flanagan,  members of The Clone Roses, lead singer of The Lancashire Hotpots Bernard Thresher and broadcaster George Riley.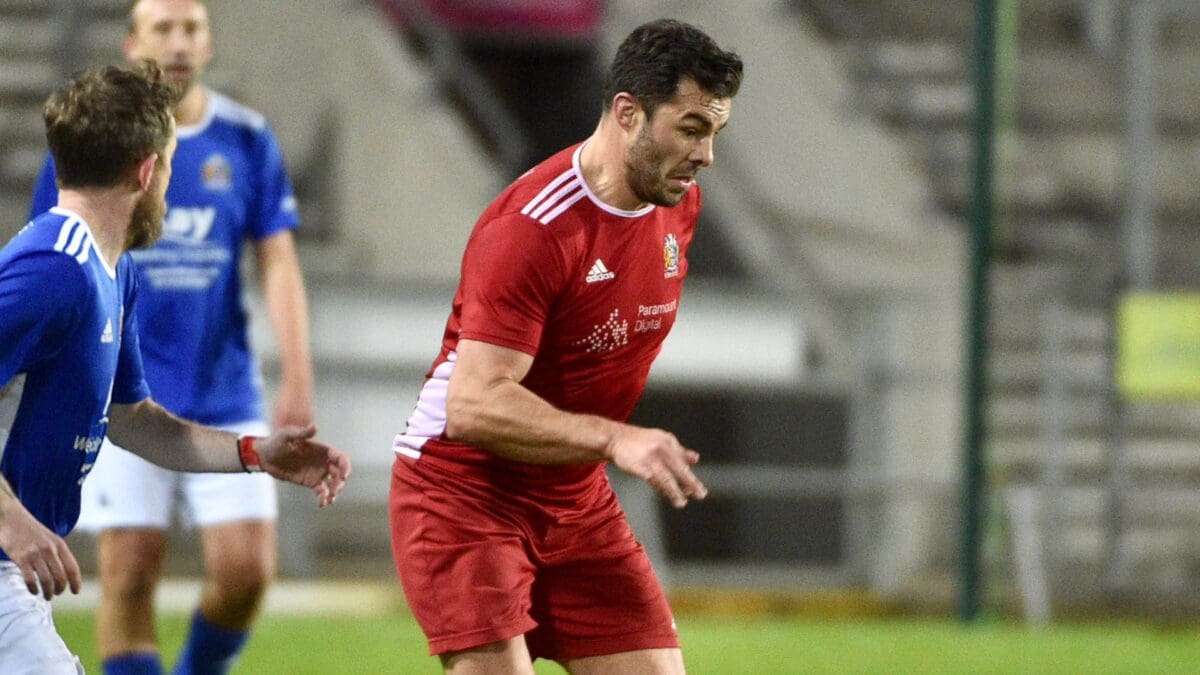 Managed on the night by St.Helens' back-rower Joe Batchelor, Town got off to an early lead to go 2-0 up with Paul Hilton grabbing a brace off the back of Andy Gillespie's assists.
Brad Coy got Saints XI on the scoreboard, firing past Louie McCarthy-Scarsbrook who was in the Town XI as goalkeeper, but Iain Dyson scored the Blues' third goal to make it 3-1. Town could have extended their lead but missed key chances in the second half, as Matty Smith's Saints grew into the game and Coy netted his second.
Smith himself was denied by a fine LMS save, but St.Helens Women's Head Coach would not be denied from besting his former teammate standing in the net, scoring a penalty to make it 3-2. The Saints then got another penalty which Mark Evens kicked to make it 3-3 heading into the final moments, what was to follow was chaos.
Town thought they had won the game with The Clone Roses' frontman Gav Scott finishing off a squared pass into the box, leading to big celebrations by the Blues with goalkeeper LMS amongst them. However, the men in red reset, and the referee blew the whistle as Town was getting back into their own half, Coy from the halfway line shot and scored to finish his hat-trick and steal the result for Saints 5-4!
😱 Absolute scenes on Friday night at the St.Helens Festival of Football!

Matty Smith's Saints XI + Friends clinch a 5-4 win thanks to a brilliant Brad Coy halfway line goal ⚽️

What an ending 👏 pic.twitter.com/Y1Z0cAPTvj

— Totally Wicked Stadium (@twstadium) October 30, 2023