For all attendees to the From The Ground Comes Light events on the 4th and 5th November, please be aware of the key event info below:
ENTERTAINMENT
Gates open from 5:15pm from which the stadium concourses will host inflatables, a silent disco and face painting, followed by a schedule of live pitch entertainment including live music from 6:15pm. This will then be followed by a spectacular fire and light display.
The 2024 Saints Home Kit will be launched prior to the fireworks on the Sunday 5th November event.
LED flashing toys and gifts will be available to purchase from designated selling points in each end of the concourses.
FOOD & DRINK
We have an extensive food and drink offering available inside the venue including:
Karalius' & Murphy's Bar Kiosks:
Food – Rollover Hotdogs, Burgers & Sausage Rolls, local favourite Cottoms Steak Pies & Hotpots, Popcorn, Candy Floss and a selection of crisps and confectionary.
Drink – Madri, Carling, Saints Red Vee Smooth, Stowford Press Cider and wine are all available, in addition to soft drinks and tea, coffee & hot chocolate.
Concourse Mobile Units:
Food – We also have freshly baked Pizzas available in Margherita and Pepperoni toppings available exclusively from our Mobile Units.
Drink – Madri & Stowford Press Cider
Check out the venue map below for exact locations of kiosks and mobile units.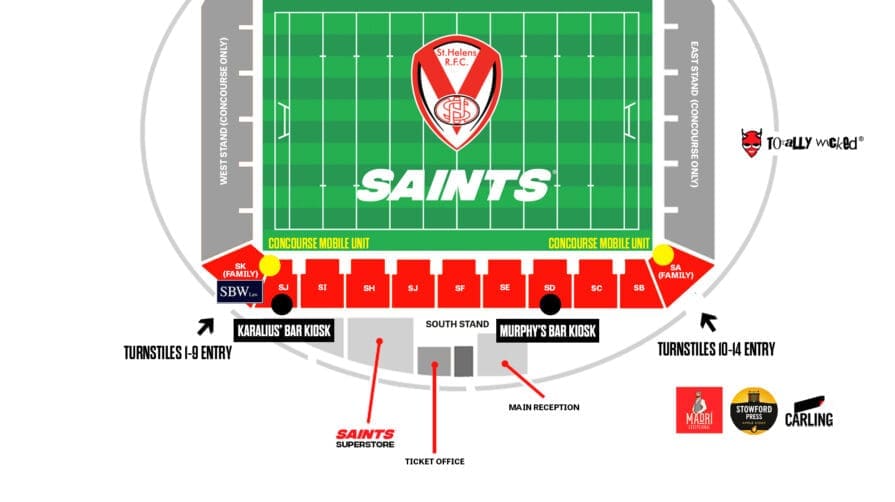 SAINTS SUPERSTORE
The Superstore at the Totally Wicked Stadium will be open Saturday 4th November – 12pm–6pm, and Sunday 5th November – 4pm–6pm – The Superstore will then re-open after the Firework display up until  around 9pm for fans to purchase their 2024 Replica Home Kit after Sunday's event (subject to availability)
IMPORTANT TICKET REMINDER
For all attendees who have booked tickets for either night, all tickets have been issued solely via the print@home method – meaning you should have received an email confirmation of your booking followed by a second email containing your event tickets, shortly after the completion of your booking.
We advise all attendees to check their junk or spam email folder and if you have not yet received your tickets via this method, you will need to contact the Ticket Office immediately via email – [email protected] or by calling 01744 455052 to ensure you have your tickets in place in advance of the event.
We strongly advise fans to arrive promptly to enjoy the full entertainment programme and to have their event tickets ready on their device or via paper form, before arriving at the stadium site and turnstile entrance. Please have your ticket ready for scanning at the turnstile reader on entry.
PLEASE NOTE: The Ticket Office at the Totally Wicked Stadium will be open until 6pm on the evening of both events for ticket related queries.
Saturday 4th November – open 2pm-6pm – Currently tickets are still available for this evening only, we cannot guarantee there will be tickets available on the evening of the event itself. You can purchase these in advance here.
Sunday 5th November – open 4pm-6pm – the 5th November event has already fully SOLD OUT. The Ticket Office will be in operation to handle event related queries only, no tickets can be purchased on the evening.
Each ticket has a single scan barcode/QR code admitting one entry to the Totally Wicked Stadium for the event purchased. Unauthorised duplication of any ticket will prevent your entry into the stadium.
Unlawful resale (or attempted resale) will result in seizure or cancellation without refund or compensation.
KEY EVENT INFO
ALLOCATED SEATING 
Please be aware that the event is fully allocated and all attendees MUST sit in the seat printed on their tickets. Stewards will be on-hand to ensure attendees are seated in the correct areas.
SECURITY CHECKS
Club stewards will check your bags and conduct searches entry to the stadium. This is for everyone's safety and security we ask that you remain patient and co-operate with our staff.
PRAMS, BUGGIES & MOBILITY SCOOTERS
Both will be accommodated and tagged. There will be 'cloakroom' style ticket with which to retrieve your item. Please note items are left at the owner's risk.
SMOKING/VAPING
The Totally Wicked Stadium does not allow smoking, however vaping is allowed.
NO RE-ENTRY
The stadium will be operating a no re-entry policy. Once you have entered the venue you cannot exit and re-enter. This ticket is sold subject to the T&C's and Ground Regulations of the Totally Wicked Stadium.
SAFEGUARDING 
The RedV Cafe Bar will be used as a safeguarding base.
PARKING
No parking will be available on the stadium site itself, however additional parking provision in the Town Centre will be available, more info on this can be found via the Local Authority's parking website here.