On Armistice Day, everyone at St.Helens R.F.C. will have in their thoughts the numerous sacrifices made by so many during conflicts, particularly in both World Wars.
Like most prominent sports clubs, our Club has been touched by tales of tragedy and bravery from players, officials and supporters who paid the ultimate price or suffered severe physical and mental effects from such challenging circumstances.
In this, the 150th year of our club's existence, let us pay a special tribute to Robert Douglas Herman, the son of our Founder, William Douglas Herman, who lost his life in the skies above France in the First World War.
Robert was born in St Helens in 1892 and baptised at Christ Church, Eccleston. By the 1901 census he had become a young boarder at Caldy Grammar School in West Kirby, with his parents, William and Alice living at their home in Rainhill.
At first, Robert joined the 5th South Lancashire regiment at the outbreak of the conflict but later was transferred to the 19th Squadron of the Royal Flying Corps to train as a pilot. This was formed on 1st September 1915 at Castle Bromwich, near Solihull in the West Midlands, where Robert would have trained on a variety of different aircraft before his deployment to the Western Front in July 1916.
Unfortunately, Robert was one of three pilots shot down on 22nd September. He was flying a single-seater BE12 6561. There was little cockpit space for these courageous men and parachutes could not be worn. Robert died of his injuries as a prisoner of war 'in German hands' and is buried in the communal cemetery at Epehy in the Somme Department in Northern France. Robert is the only member of the British military to be found there.
Douglas Herman was a rich man in his role as Head Chemist at Pilkington Brothers and after Robert's untimely demise he commissioned a superb stained-glass window in honour of his son at Christ Church, Eccleston, where the family worshipped. It is a stunning piece. Beneath the gallery on the south side is a representation of St George. The Patron Saint stands with his foot on a golden dragon. In the bottom left-hand corner is an image of Robert Herman in uniform with the following inscription: In loving memory of 2nd Liet. Robert Douglas Herman Royal Flying Corps who was killed doing his duty at Epehy, France 22/9/16 Aged 23 "Pro libertate et Patria". [for country and freedom]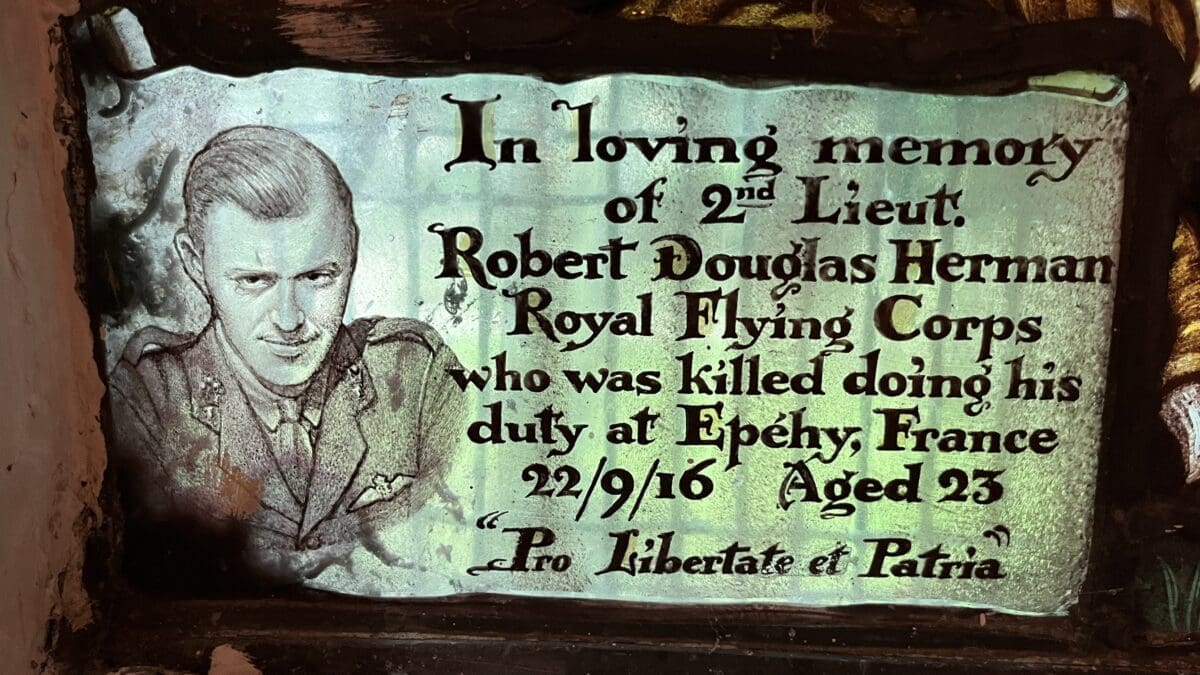 The window extends above the Gallery, unseen from ground level, where there is a winged laurel wreath of the Royal Flying Corps, set in quarries of clear glass. At the head of the window is the Herman family's coat of arms with its motto 'Essayez'.
The window is of a quality rarely seen outside London and forms a special tribute not just for Robert Herman but also for the several thousand from our town who paid the ultimate sacrifice during the dreadful 1914-1918 conflict.
On this day, the 11th day of the 11th month at 11am, We Will Remember Them.