Saints v Salford Red Devils
There is a slogan in the gym at our training facility that says "Never Write Off The Saints".
It is homage to the times when just as you think all hope has gone, the players come up with something special.
Well, tonight was one of those nights.
With seven minutes to go the game was gone.
Salford led 24-8 and were completing their sets at 100 per cent.
Saints then produced a comeback that will be talked about for years.
James Roby went over following some superb offloads and then Regan Grace took Theo Fages' looping pass to spin past Greg Johnson.
Most still expected to see the visitors head home with the points but from the restart Tommy Makinson broke down the centre of the field and within a blink of an eye Percival was coming back inside to put Jonny Lomax in under the posts.
A couple of minutes remained, Lomax missed a drop goal attempt and then Salford played out their set for a draw.
But on the last, Robert Lui kicked the ball, Louie McCarthy-Scarsbrook plucked the ball out of mid air showed great guile to  offload to Matty Smith.
The scrum half then cooly slotted over a drop goal from 40 metres to send the Totally Wicked Stadium insane.
The hush as it left his boot to the outpouring of emotion as he ran 40 metres to celebrate in front of his family will live long in the memory.
No one could have predicted what was to come when both sides went in tied at half time.
Todd Carney had kicked the Devils to a 2-0 lead before Matty Smith produced a sublime bit of skill.
Zeb Taia danced along the line and when it arrived with the scrum half he dummied, and then flew through the defensive line to go over in the corner.
Mark Percival goaled but a crucial error after the hooter had sounded allowed Niall Evalds to touchdown.
In the second Greg Johnson stepped inside to score and then Robert Lui extended the lead as he burrowed over from dummy half.
Evalds then extended the lead with a controversial try and the game was gone.
But as they say, Never Write Off The Saints.
Saints Line up
| | |
| --- | --- |
| 6 | Jonny Lomax |
| 18 | Adam Swift |
| 2 | Tommy Makinson |
| 4 | Mark Percival |
| 5 | Regan Grace |
| 7 | Theo Fages |
| 7 | Matty Smith |
| 8 | Alex Walmsley |
| 9 | James Roby |
| 18 | Kyle Amor |
| 11 | Zeb Taia |
| 12 | Jon Wilkin |
| 13 | Morgan Knowles |
| 15 | Louie McCarthy-Scarsbrook |
| 14 | Luke Douglas |
| 10 | Luke Thompson |
| | |
Salford Red Devils Line up
| | |
| --- | --- |
| 1 | Niall Evalds |
| 2 | Jake Bibby |
| 3 | Junior Sa'u |
| 4 | Kris Welham |
| 5 | Greg Johnson |
| 6 | Robert Lui |
| 7 | Todd Carney |
| 8 | Craig Kopczak |
| 9 | Logan Tomkins |
| 10 | Lama Tasi |
| 11 | Ben Murdoch-Masila |
| 12 | Ryan Lannon |
| 13 | Mark Flanagan |
| 14 | Josh Jones |
| 15 | Olsi Krasniqi |
| 16 | Kris Brinning |
| 17 | James Hasson |
Last updated 23 Jun 17 21:48:40
Saints win 25-24. Incredible.
The stadium has gone off!!!! Amazing scenes, amazing match.
Drop Goal
Matty Smith for Saints
Salford lose the ball and smith nails a drop goal from 45 metres.
Goal
Mark Percival for Saints
All square, amazing stuff from Saints here.
Try
Jonny Lomax for Saints
LOMAX! Under the posts. Incredible play from Saints.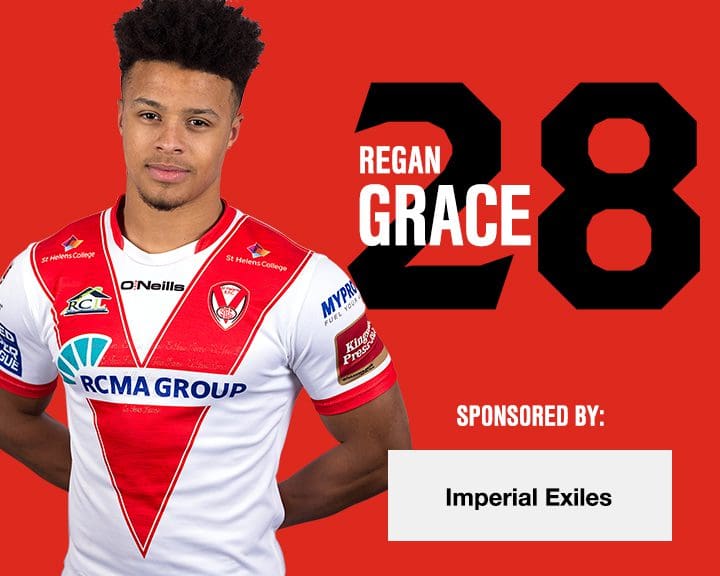 Try
Regan Grace for Saints
Long looping ball from Fages to Grace; he spins and is over in the corner.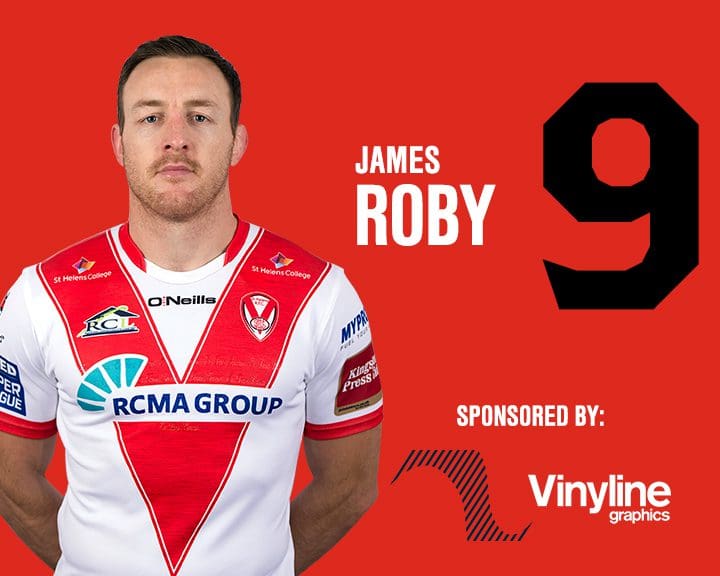 Try
James Roby for Saints
Some great offloads in there and Roby is under the posts. 14-24
Saints have a penalty and are in Salford's 40.
Goal
Todd Carney for Salford Red Devils
Try
Niall Evalds for Salford Red Devils
Kick through on the last and Evalds is adjudged to have touched the ball down.
And Saints have to drop out again…
Lui knocks on, not given, then the last tackle kick goes off Smith for a drop out.
Regan goes down the left hand side – but Lui does enough to stop him
Goal
Todd Carney for Salford Red Devils
Carney makes it 18-8 to Salford.
Try
Robert Lui for Salford Red Devils
Penalty given away on half way and Lui burrows over from dummy half.
Strong kick on the last from Smith – forces Salford back on their heels.
Saints coming away from their line
Strong defensive set from Saints – and a huge shot on Evalds from Grace
Carney's conversion comes back off the posts. Salford lead 12-8
Try
Greg Johnson for Salford Red Devils
On the right hand side following a cut out pass from Lui
Kick Off
Saints will get the second half underway. It's 8-8
Goal
Todd Carney for Salford Red Devils
Carney levels it up at half time.
Try
Niall Evalds for Salford Red Devils
After all that D, Saints make a howler of a kick after the hooter and Evalds scores.
Saints hold firm. Superb stuff.
High ball – Saints adjudged to have knocked on. Baffled faces all around. More D…
Tricky kick from Carney is knocked on by Saints. More D coming up.
Lomax tries a chip forward for Grace to chase but Evalds mops up. Saints lead 8-2
Goal
Mark Percival for Saints
Saints have a penalty near the posts and they'll attempt to take the two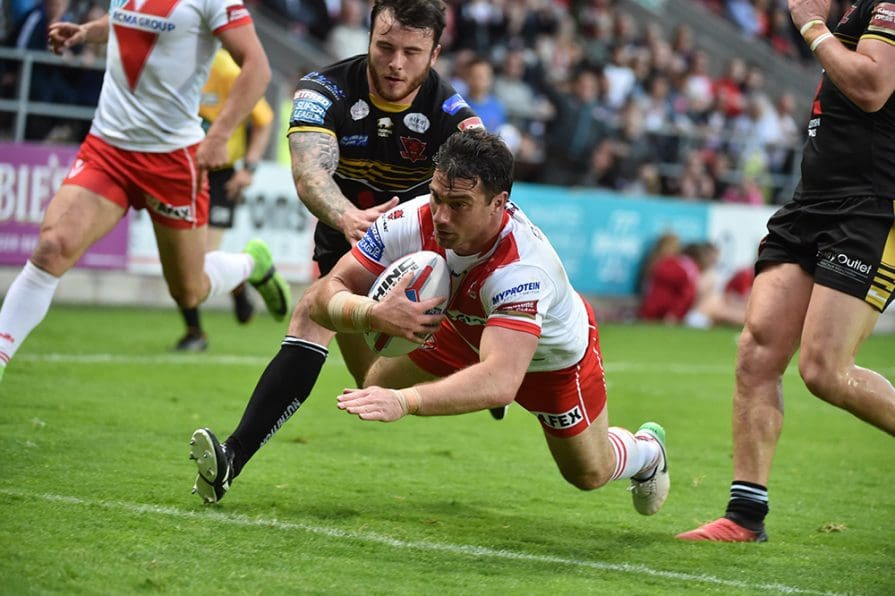 Goal
Mark Percival for Saints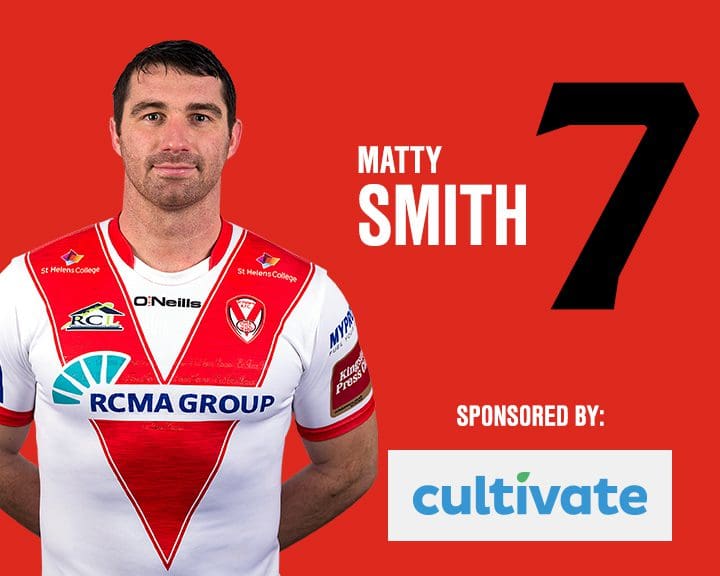 Try
Matty Smith for Saints
20 yards out, the scrum half shows and goes, dummies and flies through the defence
Fages with the kick along the floor – Salford camped on their own line.
And the Devils knock on… they remain 2-0 to the good.
Another penalty heads Salford's way. More defensive work coming up….
Kick to the corner – Evalds collects under pressure
Superb D from the Saints there to keep the Devils out – and they win a penalty too.
Saints lose the ball in their own 30 – big defensive set needed here.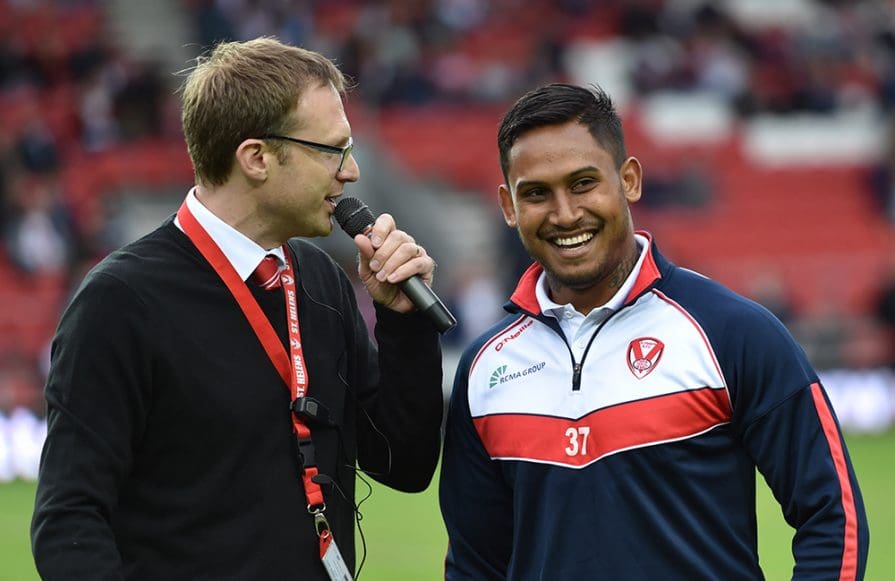 Goal
Todd Carney for Salford Red Devils
Makes it 2-0 with a penalty under the sticks.
Penalty to Salford and they are 20 out from Saints' line
Ball squirts out as Percival goes for the line, Salford D doing its job
Penalty to Saints just over half way
Change to Salford bench. 12 hauraki pulled hamstring in warm up. Replaced by 16 Olsi Krasniqi.
Both sides trading knock ons at present!
Fages with an early break and then Lomax catches a high ball in goal in defence
Salford will get this one underway!