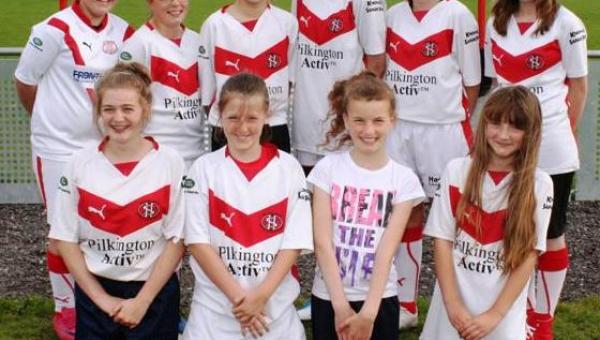 SAINTS Girls under 12s are celebrating after winning their North West Region group.
They topped the table ahead of the likes of Widnes, Warrington, Chorley Panthers and Leigh and will now be look forward to taking art in the Champion of Champions Festival on the July 2 at Castleford Panthers.
Saints Service Area Co-Ordinator, Steve Leonard, praised the girls and the people involved at Thatto Heath where they are based: "I would like to go on record and thank you all for the hard work that has been done at the Thatto Heath Club since the day we first muted the idea some twelve months ago.
"I knew from the first session that the blend was right and the people who had come forward were not only the right people but very committed people who were there for the duration. This is only the start of the bigger picture and can only see the girls section growing to have an open age section as well as good numbers throughout the age groups.
"I am really confident that we can not only rival our counterparts in the RU game but surpass their achievements by making Girls and Women's Rugby League the prime sport for women and girls in the St Helens Service Area.
"The achievements to date are a true reflection of the dedication and hard work being put into the games and training sessions by the players. To have come top of the tree in the U12s section and to have players already on the player pathway is tremendous reward for their hard work. I look forward with anticipation to where the next twelve months will take us. Congratulations and well done from all at Saints."
Any girls wishing to play under 12s, 14s or 16s Saints Girls and in their famous red vee or just to get fit, enjoy training for rugby league and make new friends, then just come along on a Wednesday evening or Saturday morning to Thatto Heath Crusaders, Close St., Thatto Heath and ask for Geoff Alford.
You can also e-mail [email protected]