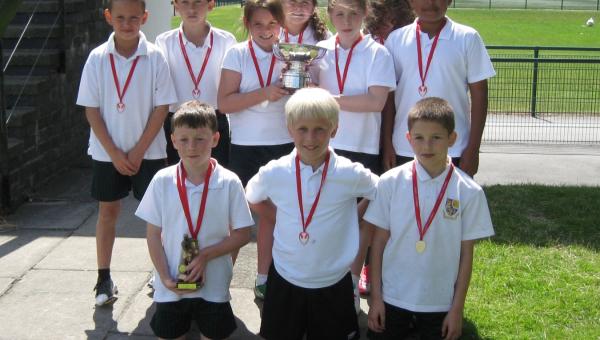 JUNIOR Rugby League was on show at its best in the city of Liverpool where more than 300 school children participated in the 18th annual Liverpool Tag Rugby League World Cup.
Those who witnessed the event were treated to a fantastic spectacle which included great teamwork, ability and sportsmanship.
Liverpool College lifted the world cup defeating Gilmour Junior School. The final was a closely fought contest for a significant period of the match, however Liverpool College eventually ran out worthy winners. The final score was four tries to one.
The other awards on the day went to St. Ambrose who won the bowl competition defeating Fazakerly.
St. Pascal Baylon picked up the fair play award and most improved team was Our Lady and St. Swithin's.
The two outstanding players of the tournament were Michael Speed (St. Ambrose) who received the award for best boy and Jessica Draper (Booker Avenue) who picked up the best girl accolade.
The annual event is organised in partnership with Merseyside Fire & Rescue service who spend months delivering tag rugby league sessions in schools along with Community Saints.
Mike Hagen, Deputy Chief Fire Officer of Merseyside Fire & Rescue said: "This event continues to impress, the work of the Fire Service and Community Saints helps the world cup to run superbly. The result of the hard work is 30 teams playing rugby league. The coaching has helped to engage more than 3,000 young people. It was fantastic to see those skills on show."
A number of Saints' first team squad made the journey to Liverpool University Playing Fields to watch the action.
Captain Paul Wellens said: "I've been coming to this tournament for a number of years now and the standard has increased every year. There were some great plays and the teamwork on show was outstanding."
Community Saints officiated on the day and assisted in the running and organising of the event.
Gareth Friar (Community Saints Coach) said: "This tournament has grown and grown over the years. It is a testament to the years of hard work that has taken place in Liverpool. The standard of rugby league continues to improve which has been greatly assisted this year with the establishment of the Liverpool community rugby league clubs, Liverpool Lions, Liverpool Storm and Kirkby Cougars."
Saints Community Development Foundation in partnership with St. Helens RFC gave all 350 participants a replica away shirt as a lasting memento.