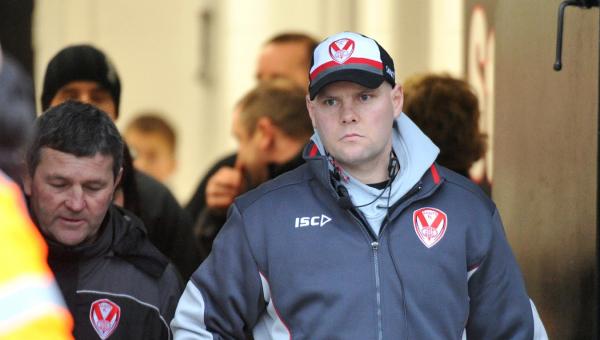 ENGLAND Rugby League have appointed St Helens assistant Kieron Purtill as head coach of the England Knights side who will play two international fixtures this Autumn.
The Knights programme is the bridge between the senior side and the Academy level and Purtill will take charge of the squad when they take on France and Samoa in October. He will have his first contact with the squad next week when they go into their third training camp of the season, but Purtill's first task will be to welcome a trio of new players into the Knights set-up.
England coach Steve McNamara has drafted Hull FC's Danny Houghton and St Helens winger Jamie Foster into the Knights squad and they will be joined by Hull KR's Liam Watts, who comes down from the Elite Training Squad.
Castleford Tigers player John Walker, St Helens half-back Johnny Lomax and Warrington Wolves centre Ryan Atkins have all been taken out of the Knights programme to make way for the incoming trio.
"Kieron's a young and ambitious coach," said McNamara, who will also announce a revised ETS squad later this month. "He's a very experienced assistant coach and he has high aspirations. He's very highly regarded by the players and staff at the clubs he's coached at and we're really looking forward to getting him on board to lead the Knights.
"It's very important to have two teams competing on the International stage. The Knights are predominately a young group of players and the aim is to get those players used to being part of an England programme to help their transition into the full side when they hopefully do make that step-up.
"They will play two very tough and credible games against France and Samoa which are important in their own right but those games will also be part of England's preparation for the Four Nations at the end of the season because we'll be in camp at the same time and we'll be training together.
"We have a very exciting crop of young players coming through and there's good competition and hopefully this group of players, guided by Kieron, will put in some very good performances and hopefully that will lead to them putting pressure on the senior side and pushing for places and that will force people to fight for their positions."
The Knights will play their first competitive game against France on Saturday October 15 with their second test coming against Samoa on October 22 (venues TBC) and Purtill is relishing the opportunity to lead the Knights into battle.
"It's a great honour for me to be appointed as Knights coach," said Purtill. "This is a great opportunity for me because it puts me in the privileged position where I get to work with some of the most talented youngsters in the country.
"There's going to be a wealth of talent in the squad and it's an exciting time to get involved. It's really good for the sport at the moment to see so many young players involved with the senior side as well and there are some really talented players in the Knights programme so I'm looking forward to the challenge.
"It's great for the players to have some games to look forward to as well as it gives them a very real focus in training and allows us to set goals and targets," he added.
"The players know that if they can play well and handle themselves well in camp then they might catch the eye of Steve McNamara and get their chance in the England side and that's a big incentive to all the players and I think it's a very positive situation. The players will constantly be pushing themselves and striving to improve and that will make for competition for team places.
"We go into camp next week and I'm really looking forward to it as it gives me the opportunity to meet some of the players for the first time and see what they all bring. It's also a nice break for the day to day Super League as it freshens me up as I can learn different things from all the players as well and I'm looking forward to the experience."

England Knights Squad:
James Donaldson (Bradford Bulls, Wath Brow Hornets)
Elliott Whitehead (Bradford Bulls, West Bowling)
Joe Arundel, (Castleford Tigers, Castleford Panthers)
Luke Gale (Harlequins, Middleton Marauders)
Dale Ferguson (Huddersfield Giants, Featherstone Lions)
Michael Lawrence (Huddersfield Giants, Newsome Panthers)
Jermaine McGilvary (Huddersfield Giants, Deighton Juniors)
Larne Patrick (Huddersfield Giants, Townville Tigers)
Shaun Lunt (Huddersfield Giants, Ellenborough Rangers)
Danny Houghton (Hull FC, East Hull)
Joe Westerman (Hull FC, Featherstone Lions)
Liam Watts (Hull KR, Featherstone Lions)
Kallum Watkins (Leeds Rhinos, Latchford Albion)
Jodie Broughton (Salford City Reds, Queens ARLFC)
Stefan Ratchford (Salford City Reds, Wigan St Pats)
Matty Smith (Salford City Reds, Blackbrook)
Paul Clough (St Helens, Blackbrook)
Jamie Foster (St Helens, Blackbrook)
Scott Moore (St Helens, Blackbrook)
Chris Riley (Warrington Wolves, Woolston Rovers)
Josh Charnley (Wigan Warriors, Wigan St Pats)
Liam Farrell (Wigan Warriors, Wigan St Pats)
Darrell Goulding (Wigan Warriors, Wigan St Pats)
Stefan Marsh (Wigan Warriors, Wigan St Pats)
Lee Mossop (Wigan Warriors, Hensingham)