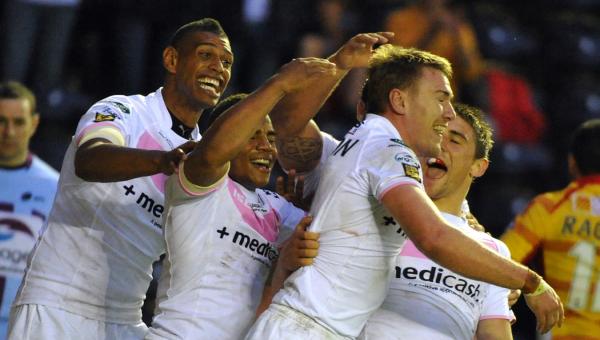 ST HELENS have been awarded a Super League Licence for the next three seasons.
The Club's application was ratified by the governing body.
Joining Widnes, Super League licences were awarded to Bradford Bulls, Castleford Tigers, Catalan Dragons, Harlequins RL, Huddersfield Giants, Hull FC, Hull Kingston Rovers, Leeds Rhinos, St Helens, Salford City Reds, Wakefield Trinity Wildcats, Warrington Wolves and Wigan Warriors.
Licences were not issued to Crusaders, who withdrew their application, or to Championship club Halifax RLFC, whose application was assessed alongside those of the existing Engage Super League clubs.
The licences were announced at Old Trafford when RFL Chairman Richard Lewis revealed increases in the number of clubs receiving A Grade and B Grade licences.
"I am delighted to confirm that four clubs (Hull FC, Leeds Rhinos, Warrington Wolves and Wigan Warriors) have been awarded A Grade licences, one more than in 2008, and that five clubs (Bradford Bulls, Catalan Dragons, Huddersfield Giants, Hull Kingston Rovers and St Helens) have been awarded B grade licences, two more than in the last round of licensing," said Lewis. "As welcome as the improvements in grades are, it is just one element of proof that licensing is meeting its objectives of driving up standards.
"Other evidence includes the prolific talent development within Super League, in which 118 young British players have made their first team debuts, and the investment in facilities we are seeing at clubs like St Helens, Hull Kingston Rovers and Salford City Reds."
Lewis said there will be no relaxation in the desire to drive up standards and has warned the clubs which have been awarded a C Grade licence that they cannot rest on their laurels.
"The RFL's independent Board of Directors reserves the right to revoke any licence awarded for the period 2012 to 2014 if it feels a club is failing, or not fulfilling, its obligations to help the competition meet the objectives of investment and growth," he said.
"This is not a new provision, but the RFL will be subjecting those clubs whose applications are largely predicated upon future undertakings or with variable performance against past promises, to more rigorous assessment during the next licence period. Membership of the Super League demands high standards."
Lewis explained that the rigorous assessment process to which the licence application of every club is subjected had prompted the decision by Crusaders to withdraw their application.
"As part of the on-going scrutiny applied by the thoroughness of the licensing process Crusaders decided to withdraw their Licence application," he said. "The RFL will now enter into discussions with Crusaders regarding their possible participation in the Co-operative Championship.
The licence grades awarded for 2012 to 2014 are as follows (current licence grading in brackets):
B – Bradford Bulls (B)
C – Castleford Tigers (C)
B – Catalan Dragons (C)
C – Harlequins RL (C)
B – Huddersfield Giants (C)
A – Hull FC (A)
B – Hull Kingston Rovers (C)
A – Leeds Rhinos (A)
B – St Helens (B)
C – Salford City Reds (C)
A – Warrington Wolves (A)
C – Wakefield Trinity Wildcats (C)
C – Widnes Vikings (-)
A – Wigan Warriors (B)