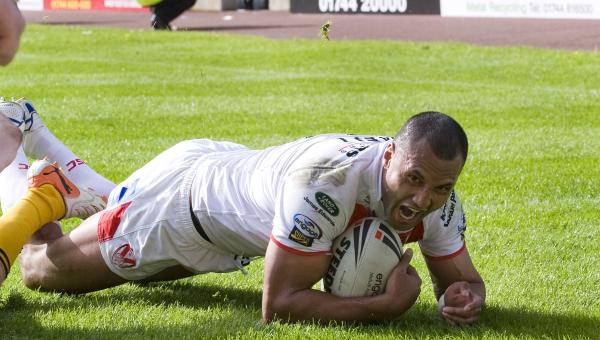 ROYCE Simmons is expecting another classic "tussle" when Saints and Wigan lock horns on Sunday.
Acutely aware of the Club's success rate against the auld enemy this season, he knows the fine line between winning and losing is even more finite in the Playoffs.
"We're going there knowing what we have to face," he said. "They are last year's premiers and we'd had some great tussles with them this season. We haven't beaten them as of yet, which people keep reminding me, but we drew in first encounter and should have won the second game.
"We lost Paul Wellens and Gary Wheeler in the first half of that game which disrupted our back line and we lost in the last few seconds. I also thought at 18-12 the Challenge Cup tie was a 50-50 game too.
"We will have to see what players return as we still have a few on the bruised list and see how they come up later in the week.
"Francis Meli (pictured), James Roby and Jamie Foster will return and hopefully a few more will join them too. Getting a win means we get a week's rest and that could get another player or two back… but it's advancing that's the important thing."
Simmons once again paid tribute to the 17 players that took to the field on Saturday to beat Quins 34-16.
"We had third place naturally tied up so I was looking for a little added motivation and ideas ahead of the match," he said. "I looked at the side and after speaking to Mike Rush realised that 15 out of the 18 we were taking down to Quins had come through the Academy. They were all English boys too and I thought that was a real good incentive for the players.
"It's not happened in Super League for the Club before and it shows local boys can do the job. It is a reminder of how good the Club's recruitment is and how good the staff at St Helens really are."
Mega Sale! Saints Superstore and www.saintssuperstore.com are holding a Mega Sale with hundreds of items now reduced in price.
As the Saints look ahead to the challenge of facing Wigan on their own patch this weekend, why not take this chance to deck yourself out in official merchandise to show your colours.
Retro shirts priced from just £5, T-shirts from just 50p and polos and jackets from just £5, are just a few of the lines that have been flying out the door.
ISC Trainingwear reductions of up to Half Price, plus Kooga Training wear and protection all at half price are certain to be snapped up fast. Get yourself down to the store and grab yourself a bargain today. Whilst stocks last!