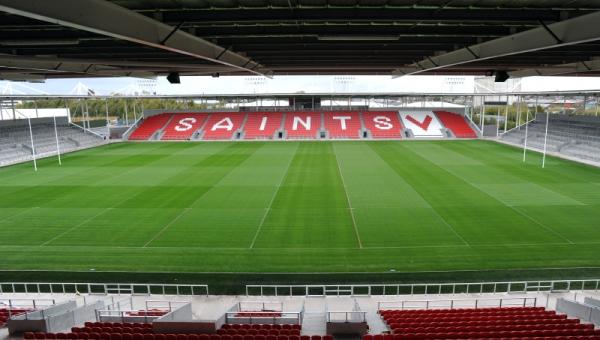 SAINTS FINALISE FUNDING PACKAGE AHEAD OF STADIUM HANDOVER
ST. Helens R.F.C. have put in place a £3million convertible bond and a £3million private debt facility ahead of the completion of the purchase of the new stadium, scheduled by the end of this month. They have also converted £850,000 in existing directors' loans into new shares.
Chairman Eamonn McManus stated that £3.3m would be used as payment of the final instalment of the purchase consideration for the 999 year lease of the new stadium (and stamp duty payable on it), £2million on the fit out cost of the stadium and the balance as working capital.
The Club is directly responsible for the cost of the fit out and other works on the new stadium such as kitchens, bars, kiosks, shop and furniture, additional to the purchase of the stadium in its present form.
They have appointed local company, Paragon Construction, to carry out these additional works, which will be completed in readiness for the new season.
McManus added that this final financing package was a remarkable achievement in the current financial climate and a reflection of the commitment of the board of directors to the Club.
He added: "The funding will facilitate a transformation in the Club's balance sheet and financial position. The value of the new stadium will significantly strengthen the asset value of the business and put us in a strong position in terms of prospective profitability after the very difficult commercial environment which we historically experienced at Knowsley Road and, more recently, at Widnes.
"We intend to refinance further in the medium term by way of conversion of the existing convertible facility into new shares and/or a further private placement of new shares.
"Any residual balance would be funded by way of debt, but we aim to minimise this whereby it is readily serviced and paid down from the operations of the new stadium.
"The Club currently has no bank debt. The shareholders' funds of the Club will be significantly strengthened in the year ahead and the Club placed on a very strong financial footing for the future. Most importantly, it facilitates the completion and opening of the best purpose built rugby stadium, of either code, in the country.
"This will be a massive boost for the Club, the town, and the game of rugby league. We have every right to be proud of our achievements."
McManus paid particular thanks to fellow director Mike Coleman, who has supported this interim financing.
He stated: "I am particularly thankful to my colleague Mike Coleman. Mike was born and educated in St. Helens and is a devoted and lifelong Saints fan. He has been resident in Singapore for nearly 30 years and is a highly successful and respected commodities hedge fund manager.
"He is committed to the Club and we are fortunate indeed to have such a supportive director who has been instrumental in making the final important stages of this 10 year project work."