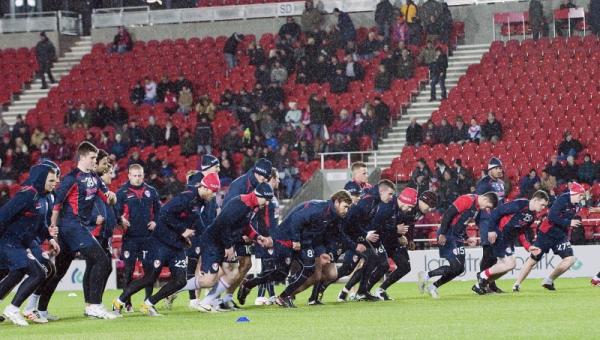 ROYCE Simmons has warned his players to not get caught up in the excitement of Langtree Park this season.
Whilst he admits the stadium is fantastic for the players, sponsors, fans and the game, he knows Saints will need to play better than ever before to secure home wins.
"Everyone is talking about Langtree Park and we are excited to be playing here," he said. "It's a superb facility and will have a good atmosphere and crowd support. But I've told the boys we still have to play. No one is going to jump off their seats and make a tackle or score a try… and we know the opposition will like coming here.
"You only win footy games by playing well but we can't rely on the fans to win matches for us. We win games through good preparation, working hard and being ready, The crowd then will drag us along."
Saints have their first hit out of the season in Friday's Karalius Cup tie with Widnes Vikings… and the game is SOLD OUT.
He plans to utilise a squad of 20 players and give equal time to the forwards on the paddock.
But, he'll be missing Paul Wellens, Tony Puletua and Michael Shenton.
"Those three players are my only worries at present," Simmons said. "Tony Puletua has an elbow and shoulder problem which he carried into the Grand Final. He's struggling for the first round of Super League but he has targeted that game to be back.
"Wello is having on-going treatment on his Achilles and he is looking at round one as his return too. People know Michael Shenton had a dislocated elbow from the Grand Final – that has cleared up – but he carried nerve damage in his shoulder into the Grand Final too.
"Paul Clough had a similar injury last season and it's a case of when they heal it heals. He's started to get some twitching back in it, but he won't be ready for round one. It could be round three or four.
"These are injuries from last season but we won't rush them back."
He continues: "[Jonny] Lomax and [Lance] Hohaia will start at half back and then we'll try Lomax and Lee Gaskell and Lance and Lee too. You can't just carry two half backs into the season so it's good we have three players and Gary Wheeler as a centre/standoff too.
"Tommy Makinson will probably be at full-back but I'm not scared to use Lance if needs be; he is an international full back at the end of the day. Lance will move back there when I change around the halves."
After the heart-breaking loss to Leeds in the Grand Final Simmons knows the expectation on the Saints this season – but that's no different to any year.
"This mob of boys are very close to the best I have been around in terms of team spirit and sticking together.
"We are a young side with a good mixture. The team spirit is really good but what we have here are good people too. They are good off the field and are quality individuals. That is important to me. It is good to be a good footballer but you need to trust each other and be honest.
"You can't go away and not do the right thing. You need to treat your injuries, eat the right thing and do your extra training. If you are honest with that then when you move up the defensive line you can then trust the person next to you."