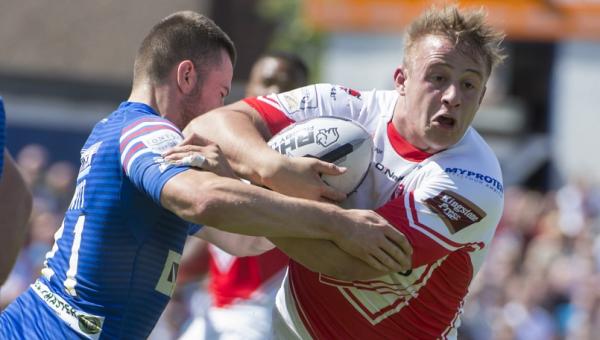 KEIRON Cunningham says Saints to treat every game like a Grand Final as they aim to close the gap on the top four.
Two wins on the bounce have pulled his side to within four points – and another this Friday would heap pressure on those above them.
"We've had two wins on the run but we know we have to do more," he said. "For the final 50 minutes against Hull KR we produced a really professional performance.
"Wakefield away is always a tough game and history tells you there is usually plenty of points whenever we go there. We did enough to keep our noses in front but we also did our best to hurt ourselves at times.
"You have admire the resilience of the team to keep nudging in front. We got a 12 point buffer and if we had got another try we would have blown the game up.
"Credit to Wakefield though, they played well and had a real dig. It was a big game for them to secure the 8 and we knew it would be big for us as well."
He continued: "We had some really good performances and I was glad that Greg (Richards) picked up a try. It was good to see him finally get one. It has been a long time coming for him.
"He tries hard every week and you could tell how much it meant to everyone. When he scored all the players ran in to celebrate with him. He was one of our standout front rowers and gave us a really good opener.
"Hopefully, he will get some more now."
Saints face Widnes in a local derby this Friday – and games between the two are usually high scoring, exciting affairs.
"Widnes are playing some good footy," Keiron continued. "They were narrowly beaten by Wigan in a game they should have won and their second half performance in the cup quarter final should have seen them through.
"Last weekend they beat Leeds in a closely fought encounter. It was a tough game and both sides played pretty well. They are in a rich vein of form and have impressed me this season.
"When we won over there we had to play really well to get the game. Both their hookers are having a lot of influence. We know what we are going to face so we have to focus on what we can do and what we have to do.
"We have three really tough games on our hands coming up but we can't look further than Friday. We have to treat every game like a Grand Final.
"I think the top eight is done now and all teams are doing is jostling for positions. We have made up two points on the top four and there are lots of games left. Everything is up for grabs and I don't think there will be a lot of points in it at the end."
Adam Swift has been ruled out for the match whilst Dominique Peyroux will also be missing.
Luke Walsh could return but KC wouldn't be drawn on whether it was a definite.
"We haven't got a lot of time on the field this week, but we will get him through and see where he is at," he said.
Tickets for Friday's game with Widnes are on sale from the Ticket Office, by calling 01744 455 052 or by logging on here.