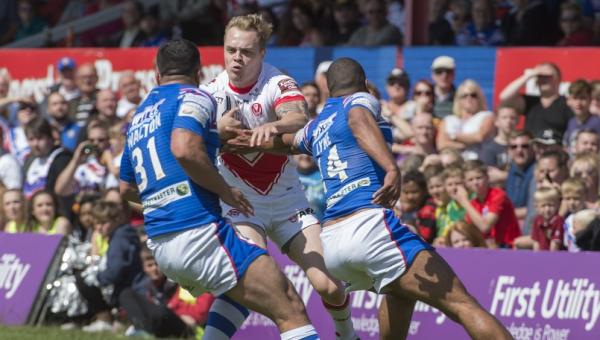 KEIRON Cunningham wants Saints to continue their winning run when they face Huddersfield Giants on Sunday.
His charges have taken six points from their last three games to give them some momentum as they head into this critical part of the regular season.
And last week they produced arguably their best defensive display to date in a 12-10 win over Widnes.
"It was a gritty performance," Cunningham said. "Things weren't pretty with the ball and we missed a lot of opportunities but we hung on in there and fought hard for each other. These are character building wins and to come out of them shows we are heading in the right direction.
"We have gained some momentum in what we are doing and have clawed back some of the dead ground between us and the top four. But that doesn't change what we have to do. Catalans have dropped points but they will get back on the horse.
"We need to stay as close to the top four as we can before the breakaway and then we get a good shot at them all again.
"We have got to do the best we can in the next two weeks."
He continued: "We have enjoyed our last three victories but we can't rest on our laurels. We owe Huddersfield one after the defeat at Magic. They put us to the sword and we are still stinging from that performance.
"It's time to right a few wrongs."
Huddersfield will play their first game under new coach Rick Stone on Sunday and Cunningham is expecting them to lift, even though they can't make the top 8.
"Rick Stone is a good fella and a good coach," he said. "He has NRL pedigree and you have to have something about you to coach an NRL side. I have heard lots of good things about him. He will come over and set high standards at the club.
"The players will be playing for the coach and their contracts next season. But we have to take care of ourselves as we have as much to play for as they have.
"They have been playing an open, carefree brand of rugby under their interim coach and Rick won't have had chance to change a lot of things.
"But his influence on the team will be big and they will want to perform for him."
On the injury front, Saints will welcome back Adam Swift after his concussion whilst Luke Walsh is also likely to play.
Tickets for Sunday's game remain on sale from the Ticket Office at Langtree Park, by calling 01744 455 052 or online here.