As we prepare for the second limited capacity fixture at the Totally Wicked Stadium vs. Hull FC, this Friday 28th May, fans should note the updated ballot information below.
In-line with Government restrictions, which are set to be eased to the next level of the Roadmap from 17th May, the Club will be working to a limited capacity of 4,000 fans for the three fixtures listed below.
This capacity is dependent on the Club meeting strict protocols to ensure a safe return of fans to the venue.
Due to the Club selling in excess of this number of Memberships for 2021, we have undertaken a fair ballot of Members to select who can attend each of the fixtures.
THERE IS A STRONG LIKELIHOOD, THAT ALL 2021 MEMBERS WILL BE ABLE TO ATTEND AT LEAST TWO OF THE THREE SCHEDULED LIMITED CAPACITY FIXTURES LISTED BELOW, AND WILL RECEIVE A FULL REFUND FOR THE THIRD FIXTURE THAT THEY ARE NOT BALLOTED FOR.
(This is subject to Government guidelines remaining as currently scheduled and the Club being able to meet social distancing protocols)
Limited capacity fixtures before 21st June:
Monday 17th May, vs. Salford Red Devils
Friday 28th May, vs. Hull FC
Thursday 17th June vs. Warrington Wolves
all 7:45pm kick-off. 
Within the 4,000 capacity limit there are also stand limits and limitations around social distancing of fans within each stadium block. This means, that as per the terms and conditions of the sale of your 2021 Membership, you will be allocated a seat, or position in a standing terrace as close to your Membership position as possible, however we cannot guarantee that you will be allocated a position in your chosen stand and this may include moving to a standing terrace from a seated stand or vice-versa to allow as many fans as possible to attend the match.
IMPORTANT INFORMATION
Members who have been successfully drawn for the ballot for the Hull FC, 28th May ONLY, the LEAD BOOKER of your party will be contacted via post and via email (should we hold your correct email details) You will also be sent your 2021 Membership card(s) if you haven't already received them, and your fixture allocation ticket(s) to gain entry to the fixture in the same pack.
If you do not receive an email this does not necessarily mean you have not been selected for the ballot as we do not hold email addresses for every Member and for technical reasons emails cannot always be sent successfully to every Member. All Members drawn for the ballot will be contacted via post based on the address details held against your Membership.
Please note: Bookings drawn from the ballot include all Members within a group booking e.g. if your booking is for three Members together then you will chosen to attend a fixture as a group and no booking will be split up. However, if you have not purchased your parties' Memberships together on the same booking, we cannot guarantee you will be drawn together in the ballot and should you be draw then you will allocated a seat or position socially distanced in line with mandated guidelines.
PLEASE DO NOT CONTACT THE CLUB TICKET OFFICE TO ENQUIRE IF YOU HAVE BEEN SELECTED, YOU WILL BE CONTACTED BY THE CLUB WITH THIS INFORMATION AS PER THE ABOVE SHOULD YOU BE SUCCESSFULLY BALLOTED  FOR 28TH MAY FIXTURE.

FOR OTHER TICKET RELATED QUERIES PLEASE EMAIL – [email protected]
No away fans will be in attendance until further notice.
FAN CONDUCT
Please be aware that your attendance to the fixture above constitutes acceptance of the Club's updated and expanded Ground Regulations that include specific provisions around fan conduct in relation to Covid-19 which can be accessed online at: www.saintsrlfc.com/memberships and clicking on the 'T&CS' link.
These regulations reference that allocated tickets are non-transferable, this is doubly important as the Club must be aware of who each fan is attending and where for NHS Track and Trace records.
Please be aware that the also Club reserves the right to cancel all bookings for this fixture should Government restrictions change or differ from the scheduled Roadmap.
STADIUM KIOSKS
For the three home fixtures in advance of 21st June, kiosks in all areas (including the RedV Bar) will remain closed. Government policy means that we cannot serve refreshments to fans in a standing terrace,  therefore we don't feel comfortable opening any of our kiosks, which would have meant some fans having a reduced experience to others.
Fans can bring their own refreshments in a clear plastic bag, however any plastic bottles will be de-capped on entering the stadium. No alcohol or any liquid in a glass bottle is permitted to be brought into the stadium.
FURTHER INFORMATION ON ATTENDING THE FIXTURE ITSELF
The Club will publish more detailed Fan Guidance in due course including all information needed when attending the balloted fixture including social distancing measures, arrival, travel guidance and what to expect at the fixture.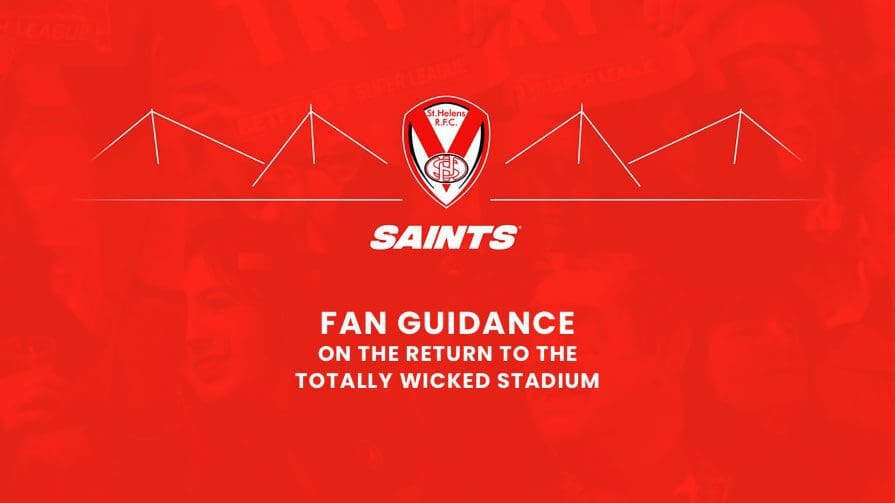 TESTING
Fans are again encouraged to get tested before and after the event, further details below.
 TICKET OFFICE
The Totally Wicked Stadium is still operating as a Vaccine Hub and the Ticket Office will be remain closed to the public for face-to-face enquiries, but you can reach us by phone 9am-5pm Mon-Fri on 01744 455052. Please be patient when calling as we are still operating on limited staffing numbers. Please do not attend the stadium in-person for any ticket related enquiries as these cannot be dealt with by our staff.
THANK YOU…
The Club and all it's players and staff thank you for your continued support throughout the pandemic and for your patience in working with us as we navigate the route out the restrictions.