Saints face Hull FC in the Betfred Challenge Cup Semi-Final (2.30pm kick off) at Leigh Sports Village with a place at Wembley up for grabs! Before that our Saints Women face York City Knights (11.15am) in their Women's Challenge Cup Final!
BACKGROUND…
Our Women could make history as they take on York in the Betfred Challenge Cup Final at Leigh Sports Village. Dec Hardman's team got past Leeds Rhinos in the semi-final which avenged the two 2019 semi-final defeats to the Yorkshire outfit. Now York stand in their way of a first major trophy.
Following our Women's Final sees our Men go for their own Challenge Cup glory. A second Wembley appearance in three years awaits for Kristian Woolf's men, but standing in their way are last week's opponents, Hull FC. We got the better of Hull in Super League after an impressive 34-16 victory, but this is a knock-out game and anything can happen!
LAST TEN MEETINGS:
St Helens 34, Hull FC 16 (SLR8, 28/5/21)
Hull FC 18, St Helens 32 (SLR3, 16/2/20)
Hull FC 6, St Helens 22 (SLR29, 13/9/19)
Hull FC 12, St Helens 40 (SLR21, 5/7/19)
St Helens 62, Hull FC 16 (SLR12, 22/4/19)
St Helens 38, Hull FC 12 (SLS8-R5, 14/9/18)
Hull FC 18, St Helens 34 (SLR21, 13/7/18)
St Helens 25, Hull FC 22 (CCQF, 3/6/18)
St Helens 26, Hull FC 12 (SLR10, 6/4/18)
St Helens 6, Hull FC 8 (SLS8-R2, 11/8/17)
Previous Challenge Cup meetings:
2018 (Quarter Final) St Helens 25 Hull FC 22
2016 (Round 6) St Helens 18 Hull FC 47
2008 (FINAL) Hull FC 16 St Helens 28 (at Wembley Stadium)
2005 (Semi-Final) Hull FC 34 St Helens 8 (at Galpharm Stadium, Huddersfield)
2004 (Quarter Final) St Helens 31 Hull FC 26
1997 (Round 5) St Helens 54 Hull FC 8
1990 (Round 2) Hull FC 12 St Helens 24
1984 (Round 2) St Helens 24 Hull FC 14
1981 (Round 2) St Helens 5 Hull FC 3
1976 (Round 1) Hull FC 3 St Helens 5
1969 (Round 1) Hull FC 3 St Helens 13
1961 (Semi-Final) Hull FC 9 St Helens 26 (at Odsal Stadium, Bradford)
1936 (Round 1) Hull FC 16 St Helens 6
1926 (Round 2) St Helens 7 Hull FC 10
SQUADS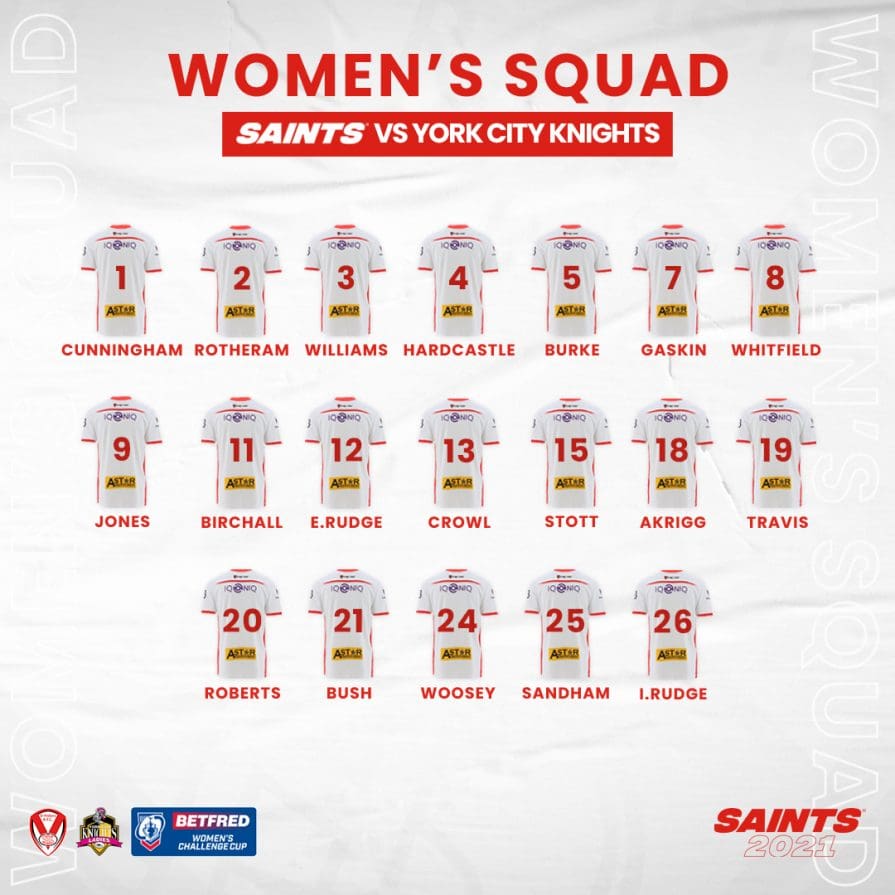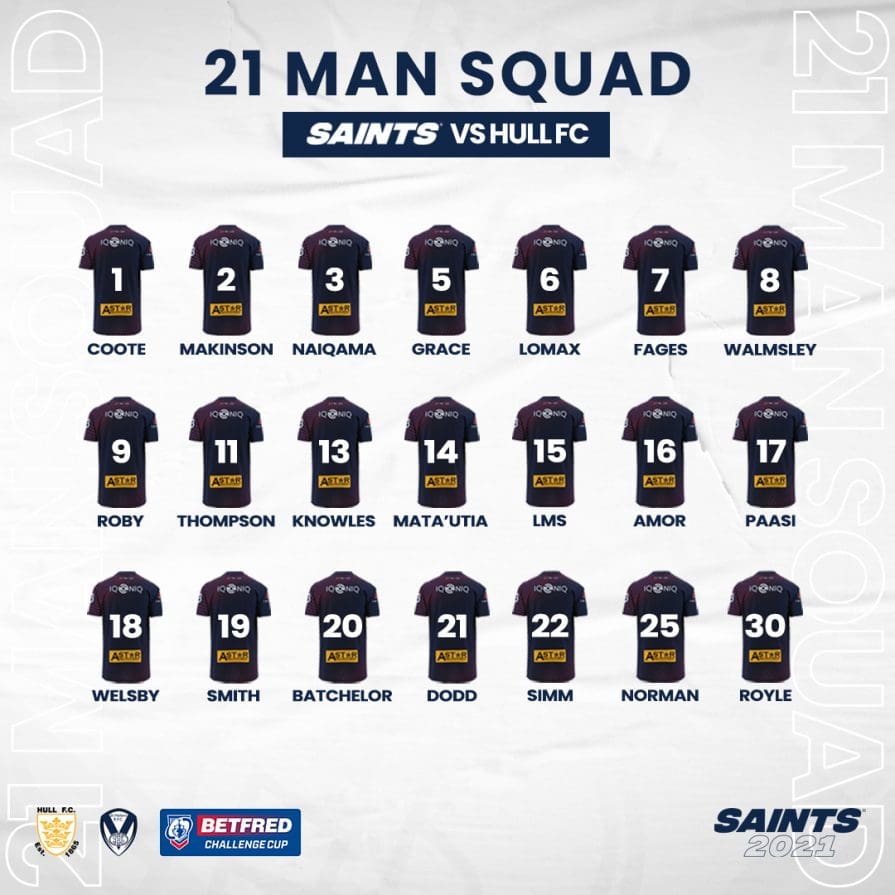 Read more about the Women's Squad by clicking here.
Read more about the Men's Squad by clicking here.
COACHES PREVIEW
Head over to Saints TV to listen to Kristian Woolf preview Saturday's game.
James Roby and Saints Women's star Emily Rudge also chatted to the media this week ahead of both games here.
MAN IN THE MIDDLE
Marcus Griffiths will referee the Women's Final whilst Liam Moore will be the referee for the Men's semi-final.
KIT?
Saints Women will play in their 2021 home kit whilst our men are the 'away' team and so will play in our blue alternative strip.
𝘼𝙡𝙡 𝙨𝙚𝙩 𝙛𝙤𝙧 𝙤𝙪𝙧 𝙎𝙖𝙞𝙣𝙩𝙨 𝘿𝙤𝙪𝙗𝙡𝙚 𝙃𝙚𝙖𝙙𝙚𝙧! 😇

🆚 @yckladies / @hullfcofficial
🏆 @TheChallengeCup
🏟️ Leigh Sports Village
📅 Saturday 5 June
⏳ 11.15am / 2.30pm
📺 @BBCTwo #COYS pic.twitter.com/qAYfHH9jYu

— St.Helens R.F.C. (@Saints1890) June 3, 2021
FANS GUIDANCE
Each Club have been given 600 tickets for the game. Saints fans are urged to get in early to support our Women with turnstiles opening at 10:15am. If you were lucky enough to be drawn out of the RFL ticket ballot, your ticket will allow you access to watch all three games. However once you enter the stadium, you are unable to leave and re-enter. Please note the restrictions you will have been sent with your ticket from the RFL:
– No prams
– No kiosks will be open, but you are permitted to bring your own food
– Drink bottles are also permitted – BUT NO ALCOHOLIC
– Face coverings must be kept on (unless eating/drinking)
MATCHDAY PARKING
There is free parking on site at Leigh Sports Village but it is very limited and on a first come first served basis. There are also three other parking options which all incur a small charge:
1.      Leigh RUFC, Round Ash Park/Hand La, Leigh WN7 3NA (from 12 noon only)
2.      Leigh Miners Rangers ARLFC, Kirby Rd, Leigh WN7 4EF (Breakfast served, indoor and outdoor bars open) Booking and drive ups available (For bookings contact Una on. 07801 509678)
3.      Pennington Flash Country Park, St. Helens Rd, Leigh WN7 3PA (Open 24hrs)
WHERE CAN I WATCH THE GAME?
The Women's game is on BBC2 from 11am with kick off at 11:15am. The Men's game is on BBC1 with coverage starting at 2pm and kick off at 2:30pm.
Supporters can also follow all games on our official Twitter, Facebook and Instagram accounts as well as on our Live Match Centre.
You can follow LIVE updates of our Women's game on our Twitter account here.
Reaction will follow the Full-Time whistle on our website and social media channels whilst the highlights and the full 80 minute replays will be on Saints TV over the weekend for subscribers.
MATCHDAY PROGRAMME
Special Edition Match Programme for Challenge Cup triple-header
RIVALS WATCH
Saturday – the other semi-final tie:
Castleford v Warrington – 5pm – BBC two