Tickets for the 2022 Betfred Super League Grand Final, Saturday 24 September (KO 6pm) at Old Trafford, remain on sale in limited quantities via the Ticket Office at the Totally Wicked Stadium.
Updated 4pm Wed 21.9.22
Saints have booked their place in a fourth consecutive Betfred Super League Grand Final in a bid for an unprecedented fourth title in row and we have all your ticket information below, please read all the info before purchasing your tickets.
We have sold out our initial allocation, but have taken additional tickets detailed in the map below.
Tickets can also be purchased via our Ticket Office at the Totally Wicked Stadium only (located in its normal location) open 9am-5pm Thursday 22nd September and until 2pm on Friday 23rd September.
You can also call 01744 455052 (subject to availability of staff resources).
There is no guarantee that tickets in a particular block will be available should you attend the Ticket Sales Office to purchase your tickets.
There is no limit on the number of tickets Members can purchase via the Ticket Sales Point.
COACH TRAVEL INFO
Coach Travel is SOLD OUT.
The coach will depart the Totally Wicked Stadium at 3:30pm.
Parking is NOT available at the Totally Wicked Stadium, however a drop-off point will be in operation. The Superstore at the Stadium will be open until 3pm.
TICKET COLLECTIONS
TICKETS PER-ORDERED ONLINE CAN BE COLLECTED UP UNTIL 2PM FRIDAY 23RD SEPTEMBER, AFTER WHICH THEY WILL BE TRANSFERRED TO THE OLD TRAFFORD TICKET OFFICE FOR COLLECTION AT THE VENUE ONLY.
PHOTO ID WITH THE DETAILS OF THE LEAD BOOKER MUST BE SHOWN WHEN COLLECTING TICKETS.
Ticket prices and the available blocks can be seen in the stadium maps below.
Prices: 
               Adults                Concessions                Junior
CAT 2    £65                        NA                                      NA
CAT 3    £50                        NA                                      NA
CAT 4    £40                        £30                                     £10
CAT 5    £30                       £22.50                               £7.50
BLOCKS AVAILABLE TO BUY VIA THE TICKET OFFICE: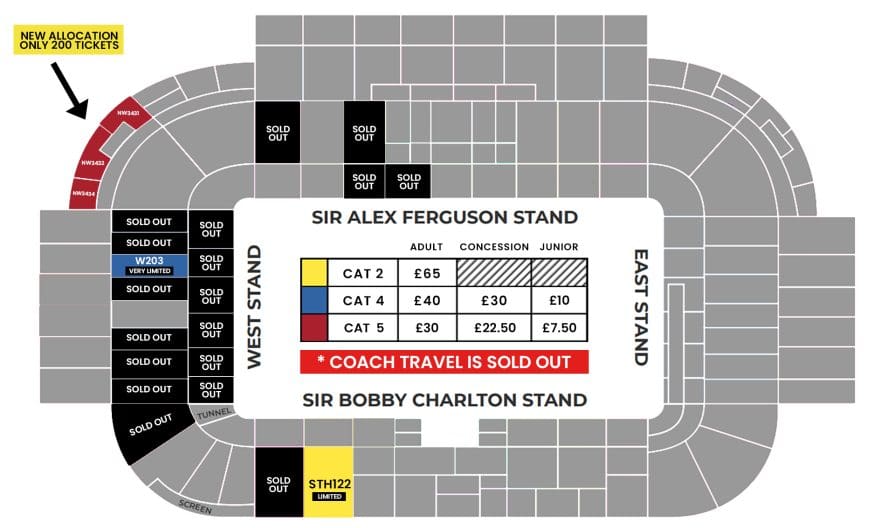 Please note:
Juniors are aged 16 and under.
Concessions are Senior Citizens aged 65 and over or aged 17-22, Students upon production of a valid student card and Serving Military and NHS employees with valid ID.
Under 2's require a ticket to gain access to Old Trafford, but there are no cost to these tickets.
Wheelchair supporters are also entitled to a complementary carer ticket and need to contact the Club to purchase, these are in limited quantities. Disabled tickets are priced depending on category and disabled parking can be purchased via Old Trafford Ticket and Membership Services on 0161 524 0211.
Ambulant Disabled supporters can purchase their tickets from the Club and are entitled to a complementary carer ticket on production of a valid ID.
Customer who would like to purchase parking, please use the link provided here Buy Man Utd Tickets: Man United Tickets
Click here to view the Old Trafford Spectator Guide, please be aware of the Stadium Bag Policy prior to attending, aswell as the fact that Old Trafford is a cashless venue.
Please see a list of prohibited items here, that cannot be brought into the stadium.