Following the first outing in our 150 Heritage Kit at Magic Weekend, we have pieced together the future plans for the shirt...
Saints Superstore
150 Heritage Kit was available to pre order online during a three-week window which has now closed with all orders being processed and ready for collection. The limited remaining stock is now on sale in-store only at Saints Superstore.
We are expecting further stock due which is due late June, more information will be released on this at a later date.
When it will be worn again?
As seen on the weekend, the kit was worn for our huge win against Huddersfield Giants at Magic Weekend.
We will wear it for a second and final time against Leigh Leopards at The Totally Wicked Stadium for our Heritage Celebration Day on the 8th September.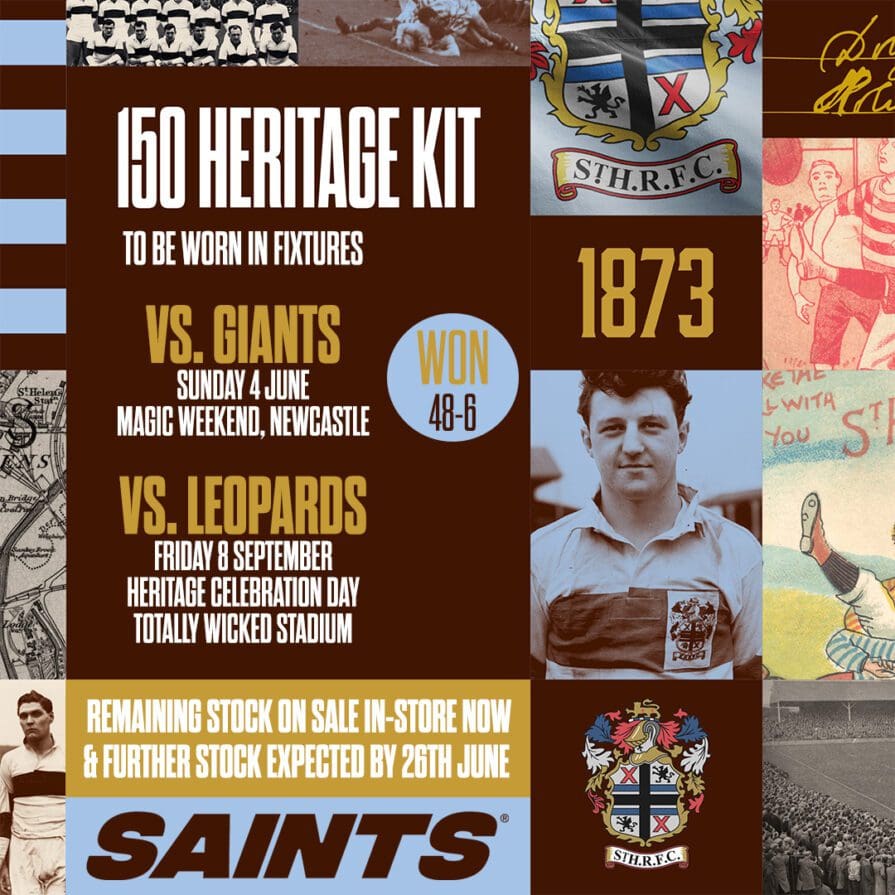 The Story
As we continue to celebrate the Club approaching 150th Birthday in November 2023, we have gone back in time to acknowledge bygone days, before Saints had ever worn the famous 'Red Vee'.
Inspired by a trading card from the early Knowsley Road era in the early 1890's, which was part of the Baines Trading Card collection – which itself dates back to the time of the Club's founding in 1873.
The trading cards were collected by children and hugely popular in the fledgling days of the Club.
The colour pallete has been inspired by this trading card crest which also features on the lower left hem of the shirt.
The kit blends together a celebration of History, Club and Town into one.
Trading Cards
We have selected ten legendary players to feature on the cards, spanning a huge portion of the Club's 150 year history!
Nine of these players were chosen as part of the Club's 'Top 17' back in 2010, and of course we have added in our new appearance record holder and Club Captain James Roby into the set to make ten in total.
The cards are all individually numbered with each card being completely unique and a 1 of 1 design.
Only these ten cards have been produced in total.
Ten lucky kit pre-orders selected at random will have received their card carefully placed within their pre-order package from the Saints Superstore.