It's one of, if not the, biggest games in club rugby league! THE DERBY is happening at the Totally Wicked Stadium on Friday night, with kick-off at 8pm!
IMPORTANT TICKET INFORMATION

Heading into Thursday evening there are an extremely limited number of tickets left available in the home areas of the Totally Wicked Stadium, meaning a HOME SELL OUT is on the cards!
The quickest and easiest method of securing your spot at the Totally Wicked Stadium is by purchasing your ticket online by visiting eticketing.co.uk/saintsrlfc. You can secure a digital or 'Print at Home' ticket which would not require you to visit the Ticket Office.
Find out more about our stands, ticket prices and Ticket Office hours by clicking here.
SUPPORTER SAFETY
St Helens R.F.C. want to ensure that everyone who comes to enjoy game days at the Totally Wicked Stadium can do so in a safe and friendly environment!
The Club would like to reiterate to supporters that it operates a zero-tolerance approach to any anti-social behaviour, at both our own home ground and when visiting other clubs' stadiums. Misbehaviours that will not be tolerated include, but are not limited to; physical or verbal abuse, violent conduct, missile throwing, excessive alcohol misuse, and any drug misuse.
Furthermore, the use of pyrotechnics is strictly prohibited under both rugby and football ground regulations. They can cause serious injuries to those who carry them as well as fellow spectators, as well as damage to surfaces such as the playing pitch which can cost clubs thousands of pounds.
The Club during last season and this season has taken preventative actions for home fixtures, with additional stewarding and 'sniffer' dog patrols around the stadium. Supporters may encounter these dog patrols when approaching the stadium.
SQUAD NEWS
Paul Wellens makes just one change to the side he named for last Sunday's demolition over Huddersfield Giants, 48-6, at St James' Park in Newcastle for Magic Weekend. Jake Wingfield steps out of the squad declaration with Morgan Knowles returning following a two-match suspension.
Read more on the Saints' squad news by clicking on the image below.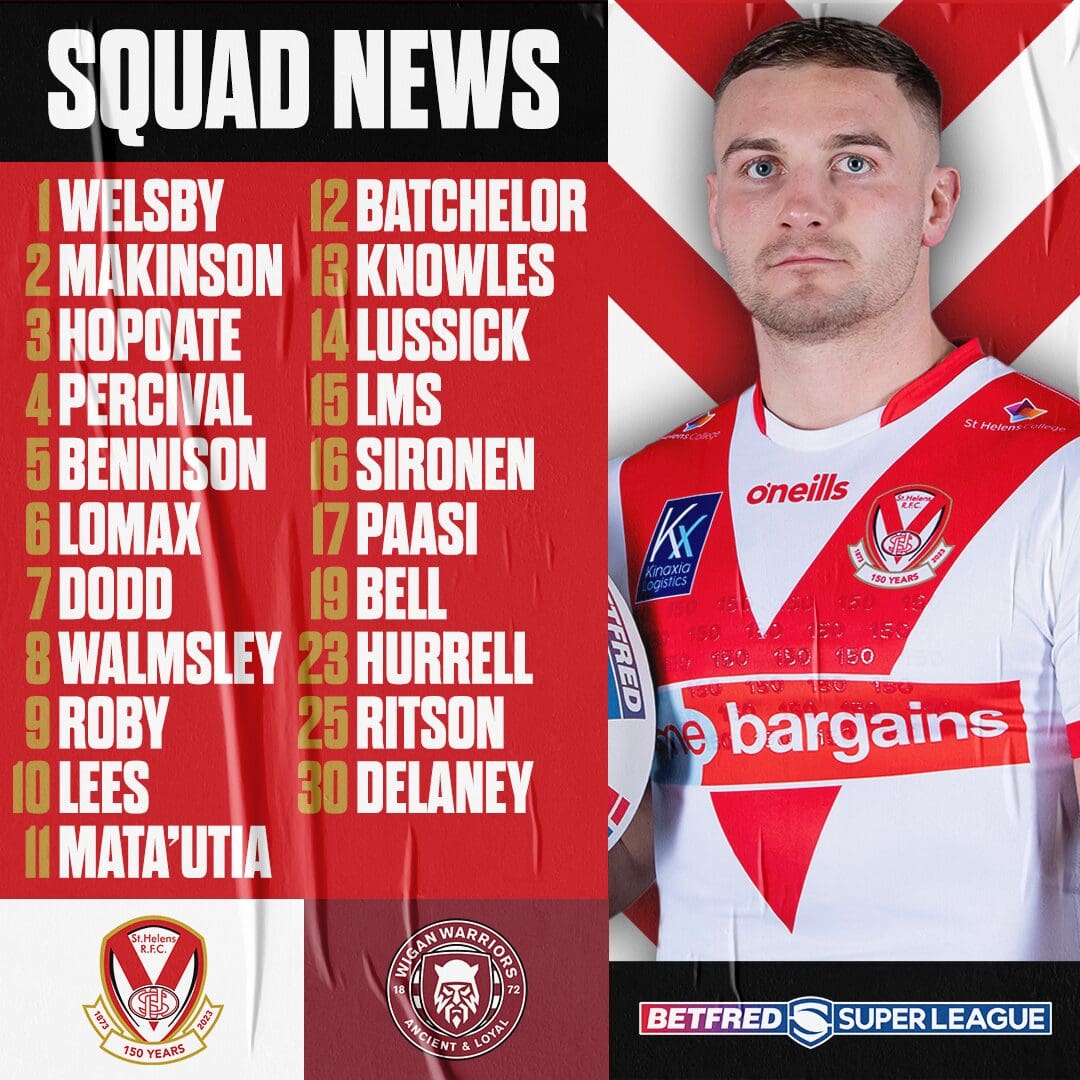 Wigan also make just one change to the squad that was named for their defeat to Catalans Dragons in Newcastle on Sunday, with Brad Singleton adding more size to their pack. Jai Field made his return at Magic Weekend and will be looking to insert himself more in the game having come back from an injury.
Wigan Warriors 21-man squad vs St Helens
1. Jai Field, 2. Bevan French, 3. Toby King, 4. Jake Wardle, 5. Liam Marshall, 6. Cade Cust, 7. Harry Smith, 8. Brad Singleton, 9. Sam Powell, 10. Liam Byrne, 12. Liam Farrell, 13. Morgan Smithies, 15. Kaide Ellis, 16. Ethan Havard, 19. Joe Shorrocks, 20. Patrick Mago, 21. Iain Thornley, 22. Brad O'Neill, 23. Abbas Miski, 26. Harvie Hill, 27. Junior Nsemba, 32. Ryan Hampshire.
LET'S SUPPORT A SAINT IN NEED ❤️
Following the launch of the Daniel Anderson fund, we are excited to announce we will be hosting a unique online charity raffle in support of our former Head Coach.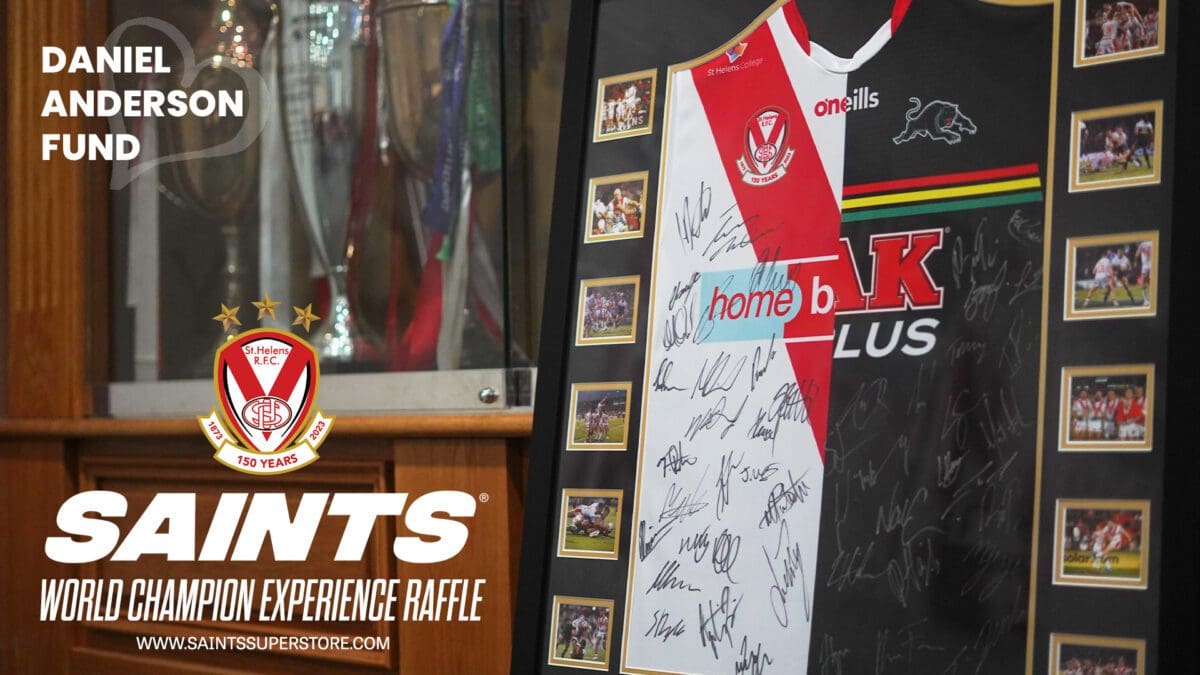 We have a range of incredible prizes ranging from a money can't buy experience, rare memorabilia, VIP Hospitality and Home Match Tickets. To enter the raffle tickets must be purchased online only through www.saintssuperstore.com, £10 per entry.
Enter HERE
Read more about the Daniel Anderson Support Fund by clicking here.
WELLENS KNOWS ALL ABOUT DERBY DAY
The Saints boss knows all about what this fixture means to the people of the town, every St Helens supporter and how it brings out the best in each team. Given their result over Magic Weekend, Paul Wellens knows they will be hungry to get back some form against their oldest foes and we need to be prepared to be at our best.
Saints TV subscribers can watch Paul Wellens' preview in full!
A LOOK AT WIGAN…
It was a good season in 2022 for the Warriors under then New Head Coach Matt Peet, winning the Betfred Challenge Cup, but ultimately they fell short in the play-offs at home to Leeds Rhinos.
There's been some noticeable changes to their squad for 2023 with John Bateman, Ollie Partington, Jake Bibby and perhaps most importantly their Assistant Coach Lee Briers.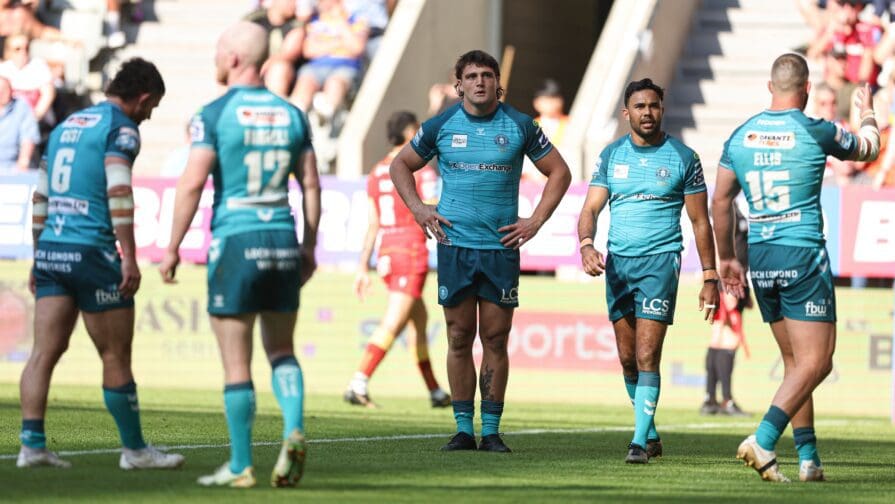 One of the biggest factors to this Wigan side is their speed in star men Jai Field and Bevan French, with further strike added to their outside backs with centres Jake Wardle from Huddersfield and Warrington loanee Toby King both joining Wigan for 2023. Ryan Hampshire has been a good fit returning to his former club this year and has looked to be the partner to Harry Smith whose presence as the leading half continues to grow.
Currently sit third in the table and want to keep their position. Going into Round 15, they have played 14, won 9 and lost five. Their biggest win of the year so far could be the Good Friday Derby they edged at the DW Stadium over Saints, or their victory away at Warrington ending the Wolves good winning run.
STAND UP FOR STANDIN MAN PERFORMING LIVE!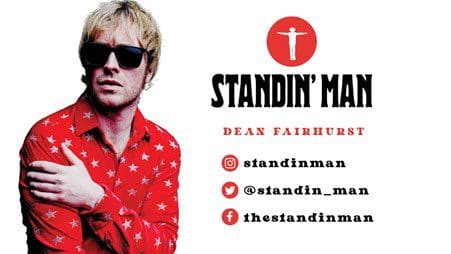 To get get the atmosphere primed and ready for what promises to be a brilliant Super League game, we are thrilled to welcome Standin' Man to the Totally Wicked Stadium!
Standin Man is a psychedelic inspired rock and roll band who are fronted by Dean Fairhurst, and they will be rocking ahead of the game on Friday.
You can catch the live performance begin just ahead of the Saints coming out for warm up at approximately 7.25pm in the heart of the West Stand on our entertainment platform.
RECENT RECORD AGAINST THE WARRIORS
Last ten meetings
Wigan 14, St Helens 6 (SLR8, 7/4/23)
Wigan 30, St Helens 10 (SLR25, 26/8/22)
St Helens 20, Wigan 18 (SLR18, 9/7/22) (at St James' Park, Newcastle)
St Helens 18, Wigan 20 (CCSF, 7/5/22) (at Elland Road, Leeds)
St Helens 22, Wigan 4 (SLR8, 15/4/22)
Wigan 2, St Helens 26 (SLR20, 20/8/21)
St Helens 24, Wigan 6 (SLR13, 4/7/21)
St Helens 8, Wigan 4 (SLGF, 27/11/20) (at KCOM Stadium, Hull)
St Helens 6, Wigan 18 (SLR19, 30/10/20)
Wigan 0, St Helens 42 (SLR14, 29/9/20) (at AJ Bell Stadium, Salford)
Super League summary
St Helens and Wigan have met 101 times across all competitions in the Super League (Summer) era, and in the competition itself Saints have the lead in the head-to-head scores.
The Red V have won 46 matches, including victories in the 2000, 2004 and 2020 Grand Finals, plus play-off wins in 2000, 2002, 2009, 2011 and 2019. whilst the Cherry & Whites have got the victory 40 times. The honours have been shared in a draw just four times.
Our highest scoring Super League game against Wigan came at the Millennium Stadium for Magic Weekend back in 2008, where we put the Warriors to the sword in a 57-16 victory. Our widest ever margin of victory of the Cherry & Whites in Super League was a 42-0 win in 2020 in a behind closed doors game at the AJ Bell Stadium
WHAT KIT WILL SAINTS BE WEARING?
Saints will be wearing the hugely popular 2023 Home Kit, which features our 150th year crest, along with an old-school, traditional Red-V.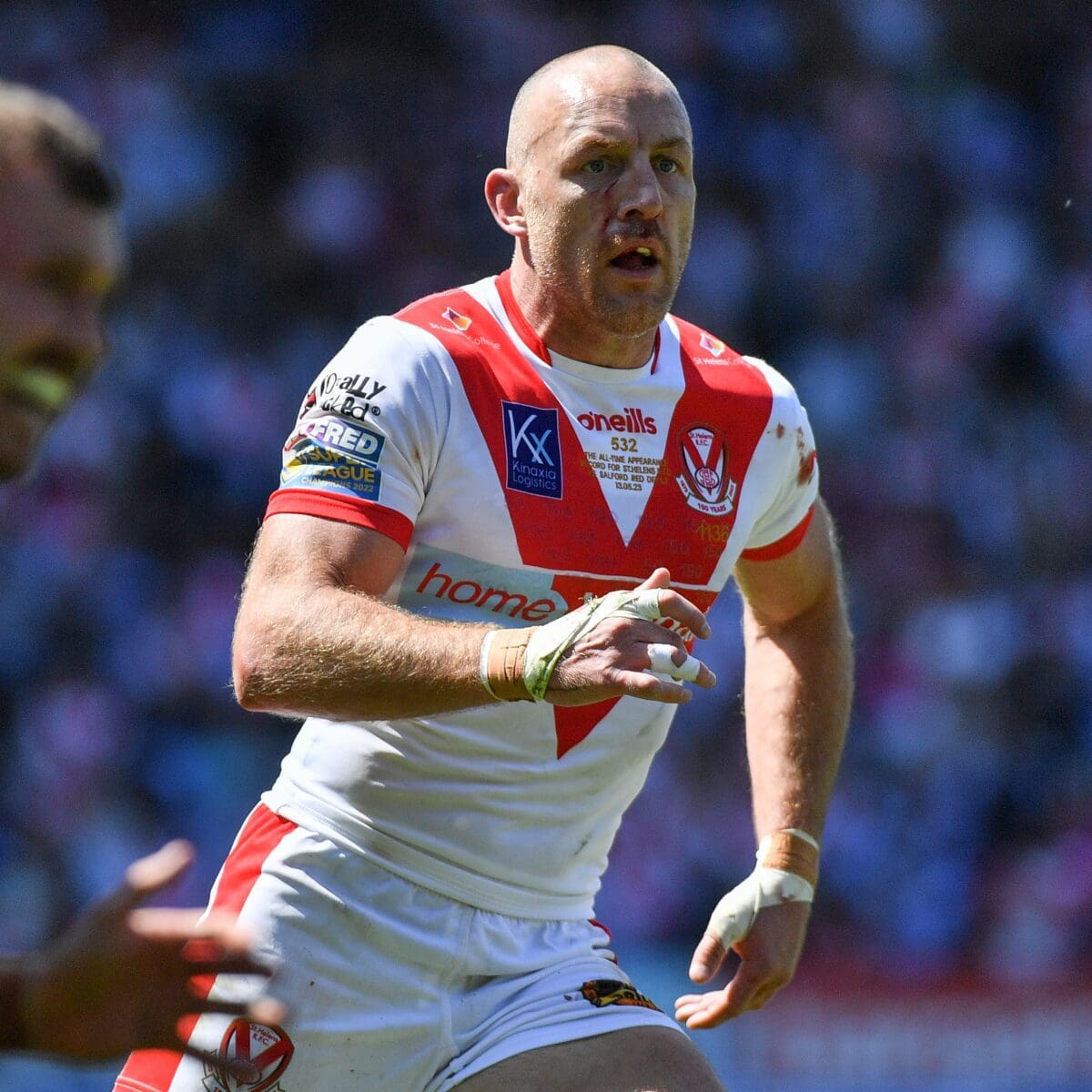 You can get yours online by visiting saintssuperstore.com.
WHO WILL BE THE MAN IN THE MIDDLE?
Chris Kendall will be the referee for Friday night's fixture, and he will be supported by Touch Judges J. Roberts and W. Turley, plus Video Referee Liam Moore.
JUNE'S MEMBERS' OFFER
One of the benefits of being a 2023 Member is being able to access a new monthly offer from Saints Superstore!
💯 IN THE RED V FOR SUPER JACK!
St Helens' #1 – Super Jack Welsby – is in line to make his 100th appearance for the Club on Friday night!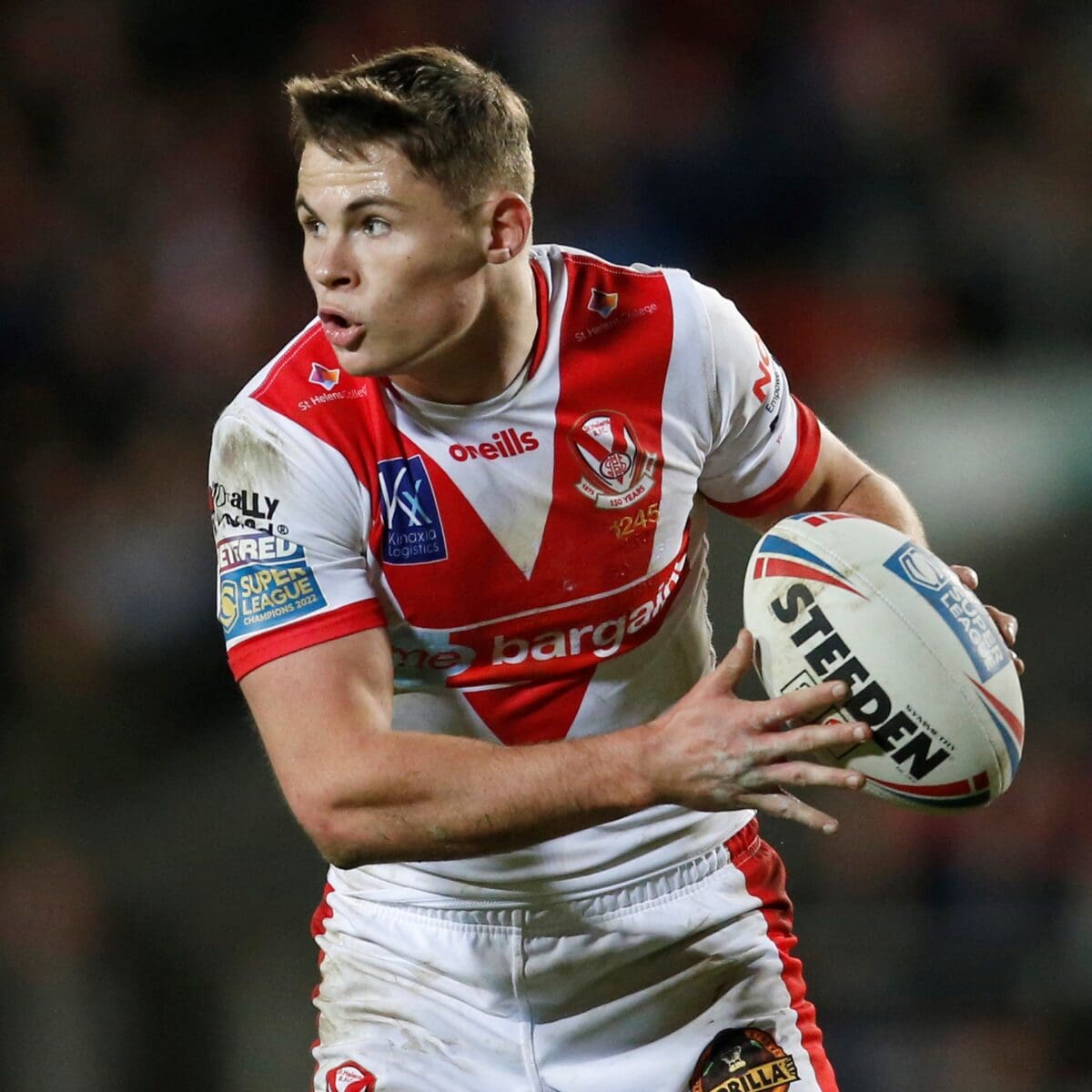 At 22-years-old and to have already achieved so much in the game is astonishing, and a credit to him as a player and our youth system once again at developing top tier talent.
THE REST OF ROUND 15 IN SUPER LEAGUE
Friday
Castleford Tigers vs Salford Red Devils – 8pm
Leigh Leopards vs Hull FC – 8pm
Saturday
Warrington Wolves vs Huddersfield Giants – 5pm
Catalans Dragons vs Hull K R – 6pm
Sunday
Wakefield Trinity vs Leeds Rhinos – 3pm
BATCH BRACED FOR BATTLE ON DERBY DAY
Back-rower Joe Batchelor is looking forward a big game atmosphere on Friday night, he knows the challenges and risks that will arise from facing Wigan, and is excited to be doing in front of what should be a HOME SELL OUT crowd!
YOUR FOOD AND DRINKS OPTIONS AT THE TOTALLY WICKED STADIUM!
Find out much more about what there is to eat and drink by clicking here or on the map below!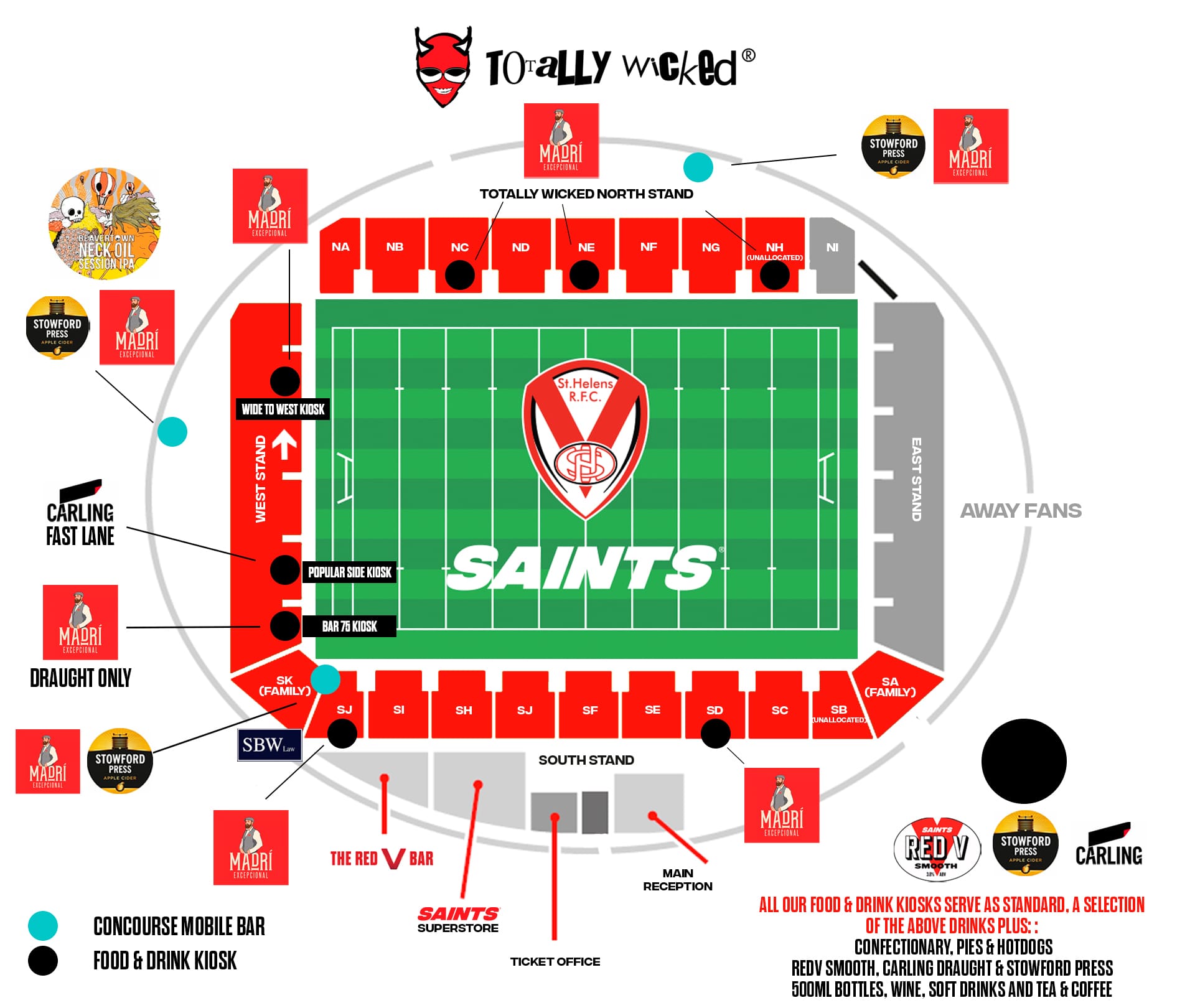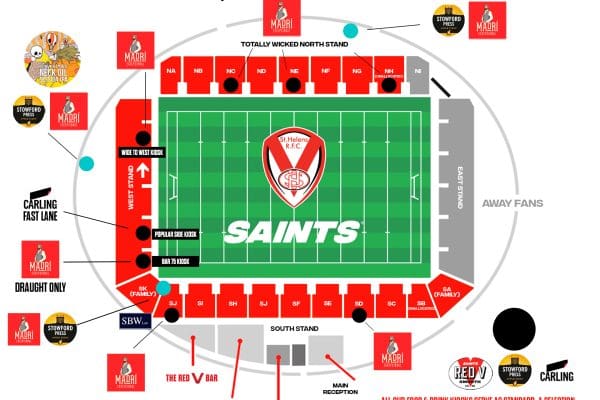 HOW CAN I FOLLOW THE GAME?
Saints will be covering the match in full across our live Match Centre where you can find out the team news, follow live game updates, get behind the scenes photos and catch up on all the stories of the game.
Our club social media accounts will also keep supporters updated. Follow us on: Twitter | Facebook | Instagram
Highlights and the full match replay will be available for Saints TV subscribers.
The game will also be broadcasted on Sky Arena and Sky Main Event.