The Saints are heading to The Jungle for Round 23 of Betfred Super League 2023 to face Castleford Tigers, with kick-off scheduled for 8pm.
AWAY TICKET INFORMATION
Tickets have been allocated in the Railway End at The Mend-A-Hose Jungle with all tickets designated as standing.
Tickets are available online at eticketing.co.uk/saintsrlfc or at the Saints' Ticket Office until 12pm (when ticket collections will stop and move to Castleford) on Friday, 25th August.
Full ticketing and coach travel information for this fixture can be viewed HERE.
SQUAD NEWS
Head Coach Paul Wellens names the same 21 men who were declared for the victory over Hull KR last Friday night.
Click on the image below to read more about our Squad News!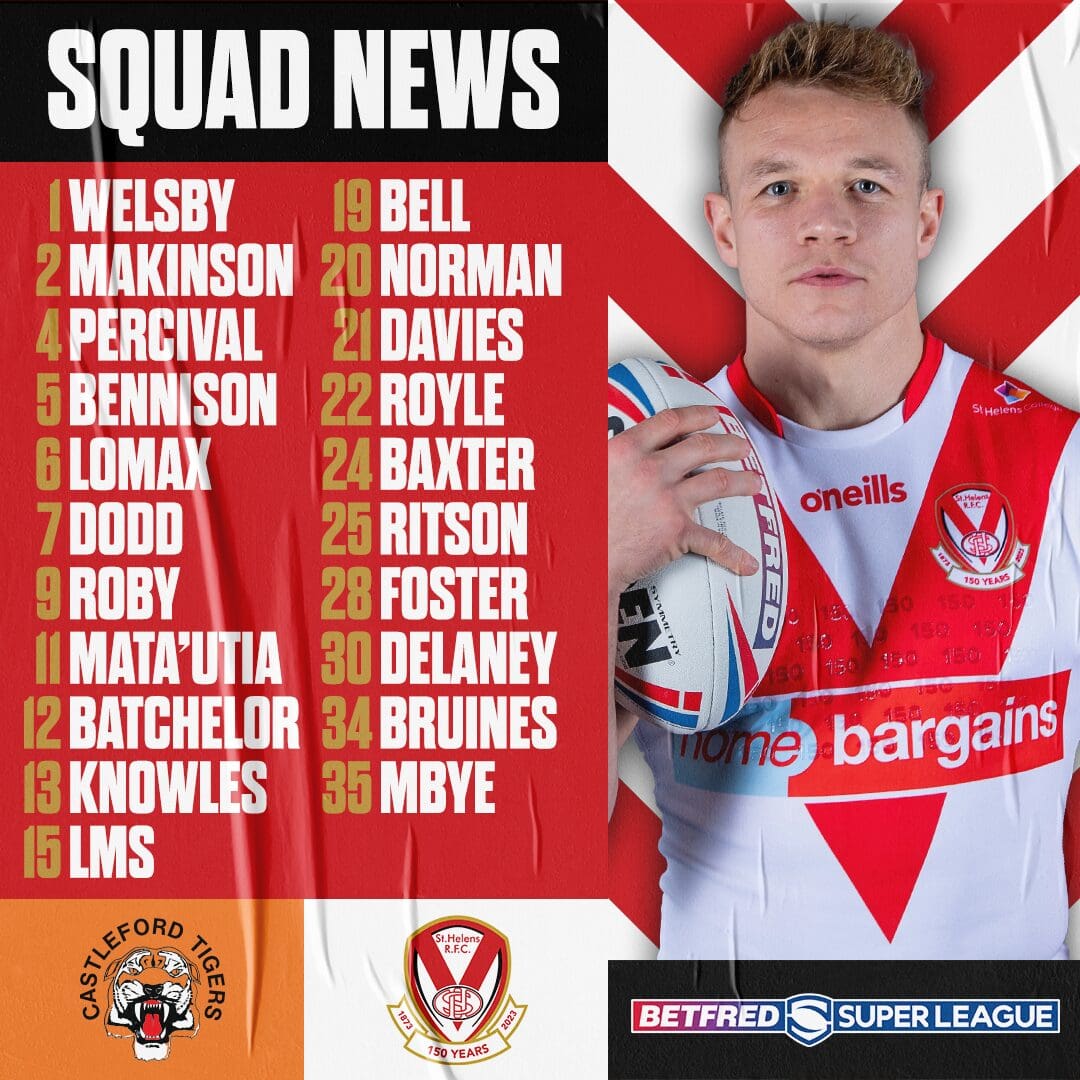 Danny Ward for his first home match as the Fords' boss makes two changes to the squad that got the win over Wakefield Trinity last week, with Nathan Massey and Jack Broadbent missing out due to picking up knocks in that game. Youngsters Brad Martin and Will Tate step into the Castleford 21.
Castleford Tigers 21-man squad vs St Helens
2. Greg Eden, 3. Jordan Turner, 6. Gareth Widdop, 7. Jacob Miller, 8. George Lawler, 10. George Griffin, 11. Kenny Edwards, 12. Alex Mellor, 13. Joe Westerman, 23. Suaia Matagi, 25. Brad Martin 26. Elliot Wallis, 28. Sam Hall, 32. Liam Watts, 39. Will Tate, 41. Jordan Johnstone, 42. Alex Foster, 43. Billy Tsikrikas, 44. Charbel Tasipale, 45. Liam Horne, 46. Blake Austin
THE REST OF ROUND 23 IN SUPER LEAGUE
Friday
Salford Red Devils vs Wakefield Trinity – 7:45pm
Hull KR vs Leigh Leopards – 8pm
Saturday
Hull FC vs Warrington Wolves – 3pm
Catalans Dragons vs Wigan Warriors – 7pm
Sunday
Huddersfield Giants vs Leeds Rhinos – 3pm
WHAT KIT WILL SAINTS BE WEARING?
Whilst it is an away fixture, St Helens will be wearing our hugely popular 2023 Home Kit which features our 150 year crest and the traditional, old-school Red-V!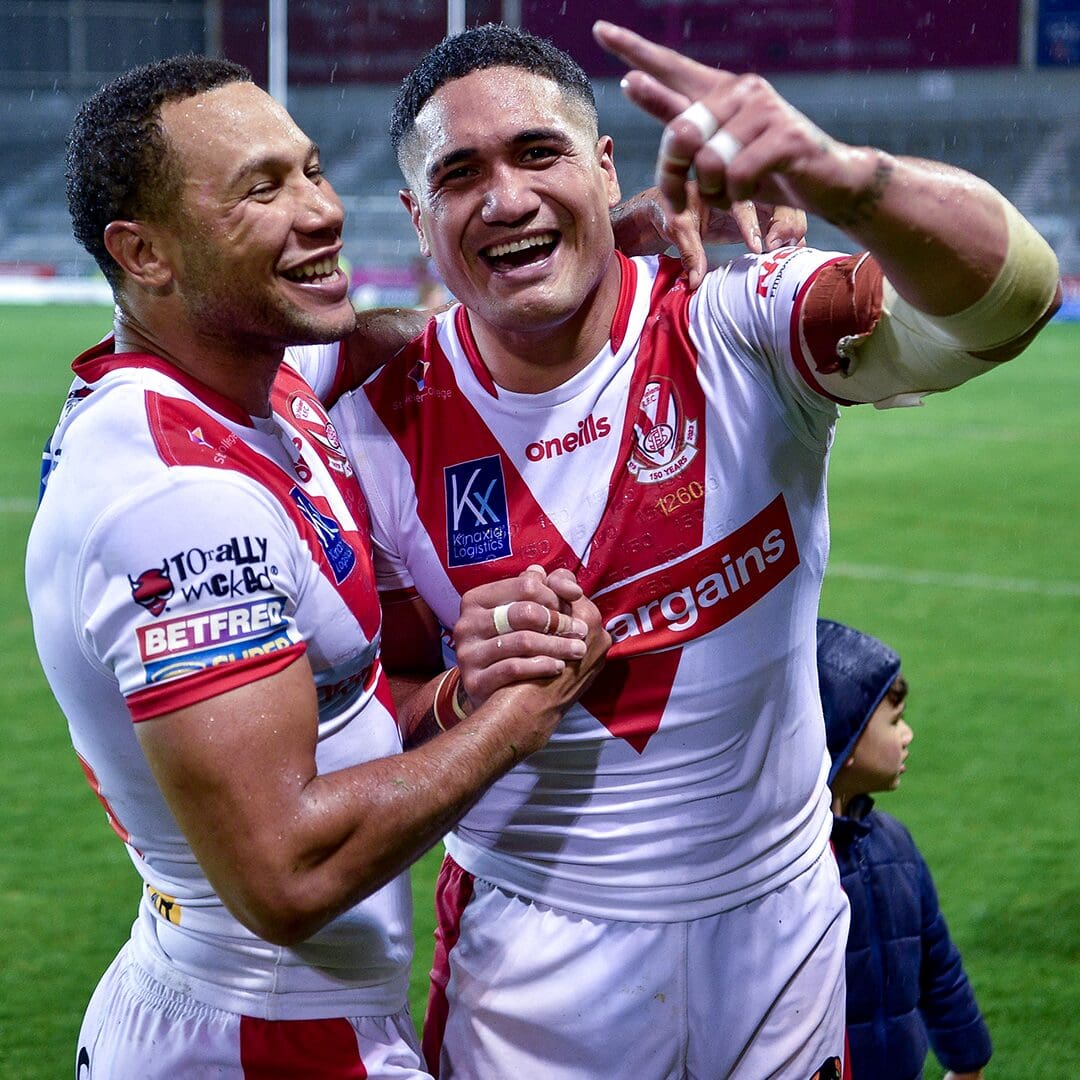 Pick yours up online by visiting saintssuperstore.com!
WELLENS PREVIEWS GOING TO THE JUNGLE
Fresh on the back of one of their most important performances of the season, Wellens knows to expect a fiery atmosphere at The Jungle, with Cas desperate to retain the advantage they have in the relegation fight against Wakefield.
Saints TV subscribers can watch Paul Wellens' preview in full!
THE RECORD AGAINST CAS
The Saints/Tigers head-to-head battle in Super League weighs heavily in favour of St. Helens, 50 wins for the Red V to Castleford's 10 with 1 draw too. Within those 50 wins over the West Yorkshire club are victories in the 1999 and 2014 play-offs.
Our highest score over Castleford came in 2006 at The Jungle, 72-4, which is also our widest margin over the Tigers too.
Last ten meetings
Castleford 6, St Helens 24 (SLR2, 26/2/23)
St Helens 20, Castleford 12 (SLR22, 7/8/22)
Castleford 30, St Helens 10 (SLR10, 22/4/22)
St Helens 10, Castleford 20 (SLR19, 12/8/21)
Castleford 12, St Helens 26 (CCF, 17/7/21) (at Wembley Stadium)
St Helens 10, Castleford 0 (SLR16, 16/8/20)
Castleford 28, St Helens 14 (SLR7, 15/3/20)
St Helens 4, Castleford 0 (SLR27, 30/8/19)
Castleford 16, St Helens 36 (SLR16, 26/5/19) (at Anfield, Liverpool)
Castleford 12, St Helens 42 (SLR7, 22/3/19)
NEXT UP AT HOME: HERITAGE CELEBRATION

TAKING A LOOK AT THE TIGERS…
It's been tough for the Tigers in 2023… but their spot in Super League and their destiny is in their own hands as we head into Round 23.
Lee Radford was the man in charge and looked to recruit in areas well after finishing just outside the play-off spots in 2022 in seventh place with additions such as; Gareth Widdop, Jacob Miller, Muizz Mustapha, Albert Vete and Jack Broadbent.
However, with an ageing squad, youngsters still developing to lay claim to a starting jersey, plus some hard luck with injuries the season has not panned out how Cas would have expected at all, with Radford parting ways with the club after just three games in the season – all of which resulted in losses.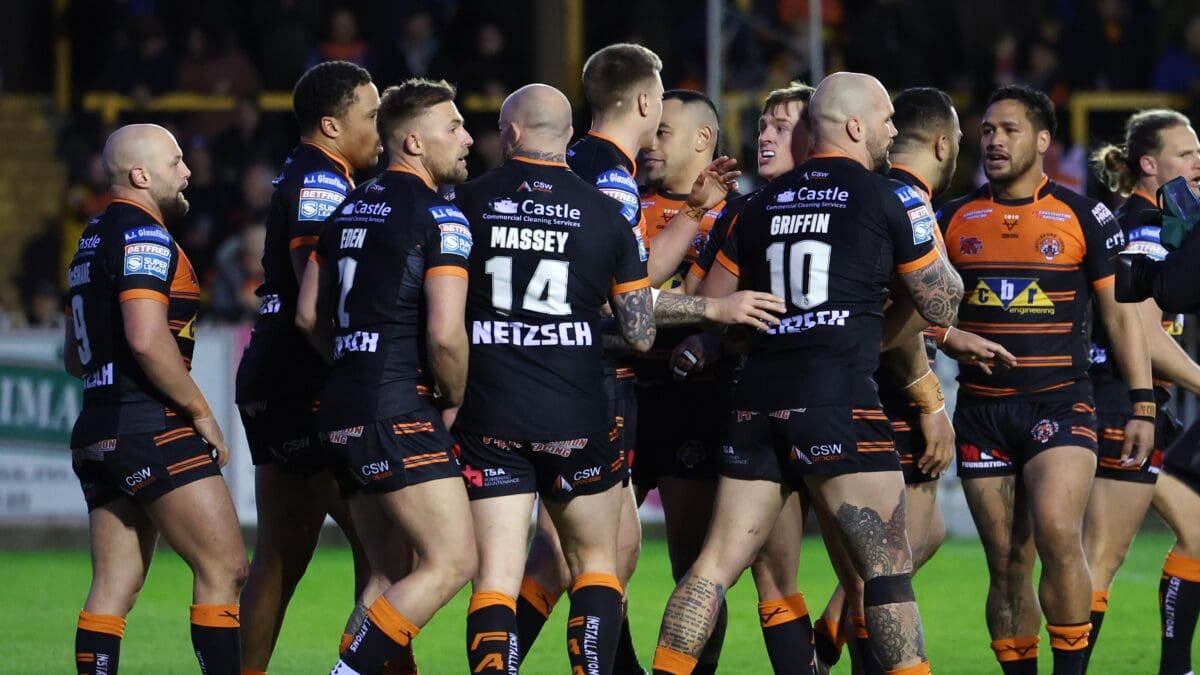 Up stepped Andy Last, a man who is held in high regard by his fellow coaches, including Saints boss Paul Wellens. He would get their first win of the season against Leeds Rhinos in Round 5, a team they would also beat at Magic Weekend, with a hugely important victory too over local rivals Wakefield Trinity at Easter also mixed in.
The Tigers have kept racking up losses with wins sparse, but green shoots of hope have been breaking through such as the emergence of that developing young talent such as hooker Cain Robb, forwards Sam Hall & Brad Martin, as well as speedster winger Jason Qareqare – all who are still learning their craft but doing so in a tough fight at present and putting strong efforts in.
There has been immense change in the squad, not helped by injuries to key men such as Niall Evalds and Paul McShane, with new signings coming in such as; Liam Horne, Billy Tsikrikas and Charbel Tasipale, as well as the loans of Jordan Johnstone from Widnes and former Tiger Alex Foster from Newcastle Thunder. Cas also made a huge coup with the addition of Blake Austin in their halves following the player and Leeds Rhinos not coming to terms of agreement for an extension at Headingley.
The breaking point for the Tigers hierarchy to part ways with Last came after a home loss to Huddersfield consigned them to fifth successive loss and drop under Wakefield on the table for the first time this season.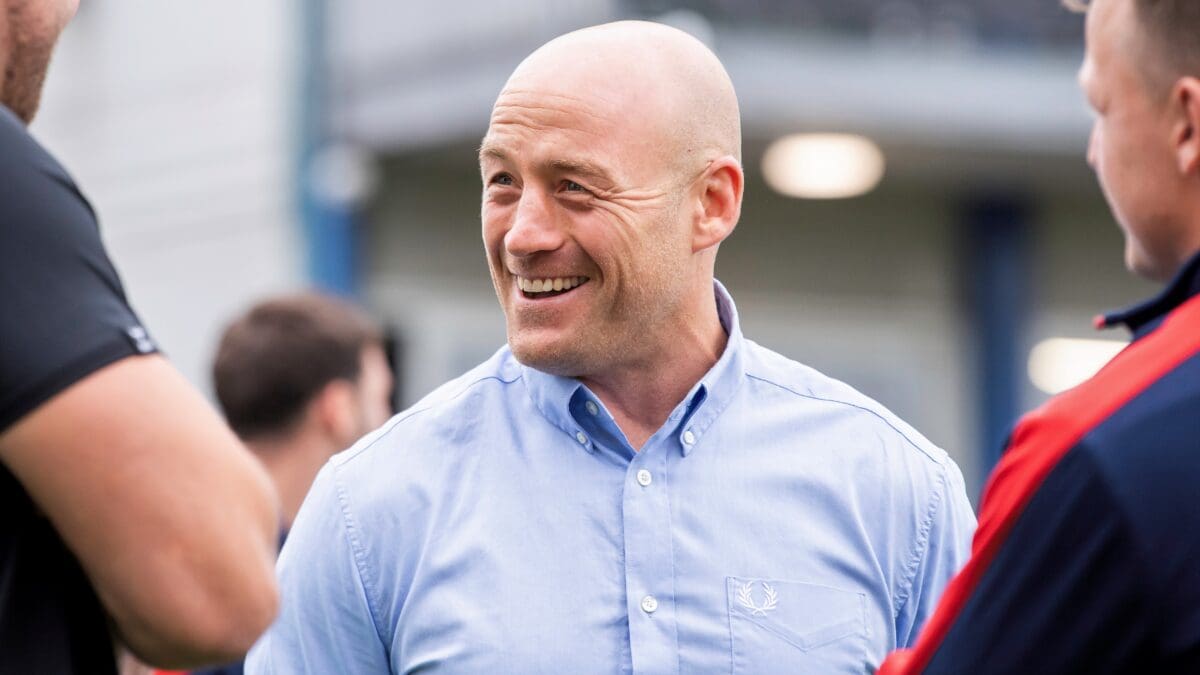 With six games left in the season, Danny Ward became the man in charge, returning to the Club he played at in 2006 when Cas got relegated in dramatic fashion away at Wakefield in the final day of that campaign. So the script was perfectly written for the former London boss to come in and lead the Tigers an important win at Belle Vue in his first game – and that's just what happened.
The Tigers need to be weary still of their neighbours, despite beating them last week, there are five more matches still to play. They currently have the edge in the relegation fight, which has already seen plenty of twists and turns, incomings and outgoings of players, and will likely go right down to the final day.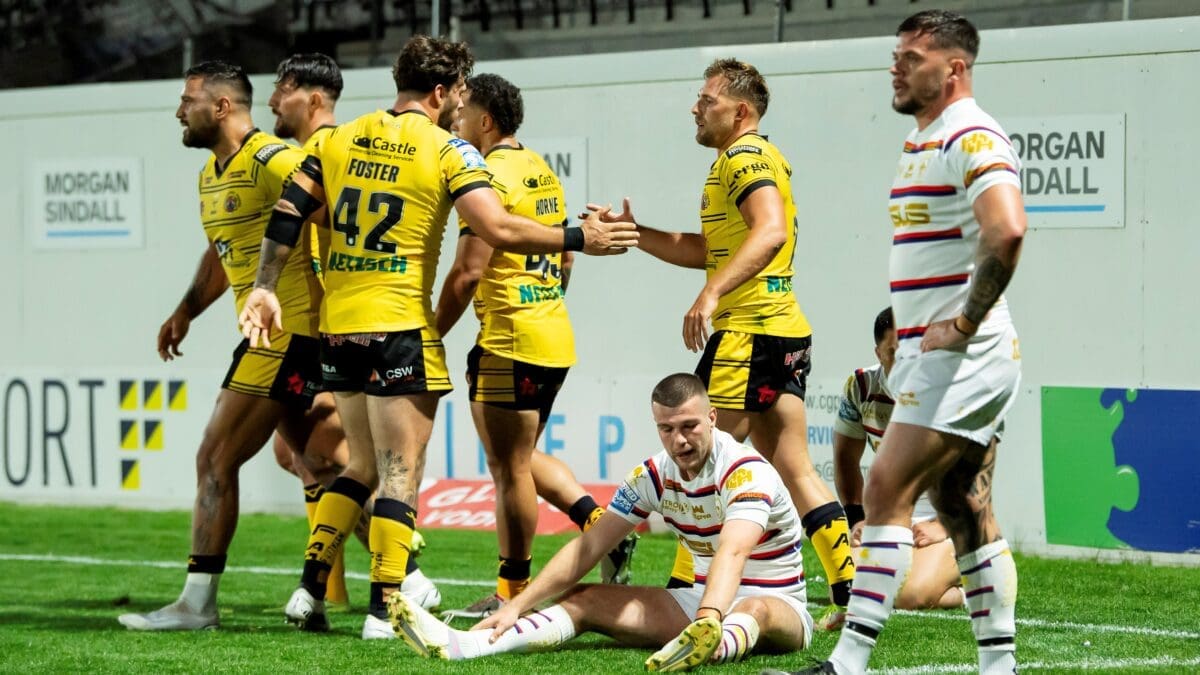 Remaining fixtures for Castleford:
St Helens (H), Warrington Wolves (A), Hull FC (H), Wigan Warriors (A), Leeds Rhinos (A).
WHO WILL BE THE MAN IN THE MIDDLE?
A. Moore will be the referee for Friday night's fixture, and he will be supported by Touch Judges J. Vella and R. Thompson.
DAN NORMAN ON THE CAS CHALLENGE
The tall forward has got his chances this season following injuries to Alex Walmsley and Agnatius Paasi, and has been keen to make his presence known on the field!
Watch the player preview with Dan on Saints TV!
HOW CAN I FOLLOW THE GAME?
Saints will be covering the match in full across our live Match Centre where you can find out the team news, follow live game updates, get behind the scenes photos and catch up on all the stories of the game.
Our club social media accounts will also keep supporters updated. Follow us on: Twitter | Facebook | Instagram
Highlights and the full match replay will be available for Saints TV subscribers.