The Saints are coming home for a Heritage Celebration in our 150th anniversary year and will be taking on Leigh Leopards on Friday night, with kick-off scheduled for 8pm at the Totally Wicked Stadium.
TICKET & ENTRY INFORMATION
The quickest and easiest method of securing your spot at the Totally Wicked Stadium is by purchasing your ticket online by visiting eticketing.co.uk/saintsrlfc. You can secure a digital or 'Print at Home' ticket which would not require you to visit the Ticket Office.
Find out more about our stands, ticket prices and Ticket Office hours by clicking here.

HERITAGE CELEBRATION 🔵🟤
Celebrating our 150th year, St.Helens all season long has been celebrating its long and gloriously storied history of the Club, culminating in the anniversary of its founding by William Douglas Herman in the Fleece Hotel, Church Street on the 19th of November 1873.
Special Edition 150 Heritage Kit
Saints will be wearing the Special Edition 150 Heritage Kit to acknowledge the bygone days before Saints had ever worn the famous 'Red V', blending together a celebration of History, the Club and the Town into one. It was first worn back in June at Magic Weekend in a dominant win over Huddersfield Giants.
Past Players Guard of Honour
Ahead of kick-off there will be a Guard of Honour formed by the tunnel at the Totally Wicked Stadium! offering supporters the chance to cheer and thank those who have proudly represented our Club, and those men to welcome the current Saints out for the game!
Saints that are already confirmed to be coming and be part of the occasion are: Harry Pinner, George Nicholls, Paul Loughlin, Neil Holding, Chris Arkwright, and Eric Chisnall, plus many, many more!
Remembering those we have lost ❤
This upcoming fixture is also doubling as The Saints' annual Tribute Game where we as a Club will have a period of reflection ahead of kick-off, with names of supporters, players and staff that have passed away in the last 12 months read out in remembrance and followed by a minute's applause. This will take place around 7:40pm ahead of kick-off, we urge supporters to be in the ground if they wish to hear the Roll of Honour in person, thank you.
Special Presentations
At half time of the match there will also be a Heritage Number presentation to Saint #966 – Tony Burke.
One of our latest Hall of Fame inductees, Saint #957, Paul Forber will also get acknowledged with a half time presentation. We're sure all in the staidum will give 'Buffa' a warm reception!
Scholarship to Academy Graduates
Whilst we will be celebrating our storied past, there will also be one eye looking to the future. At half time of the Saints/Leopards match our supporters will be the first to find out which of our Under 16's players have graduated to join our Under 18's Academy!
SPECIAL EDITION OF SAINTS & PROUD
In our Round 25 and Heritage Celebration edition of Saints & Proud, the Saints faithful can read:
Exclusive: THE BIG READ with Sione Mata'utia
A tribute to the late Eric Prescott
Match reports from our wins over Wakefield & Castleford
Head Coach Paul Wellens' column ahead of the game
Saints 150: The early origins of the Saints
Chairman Eamonn McManus pens his matchday column
Plus much more!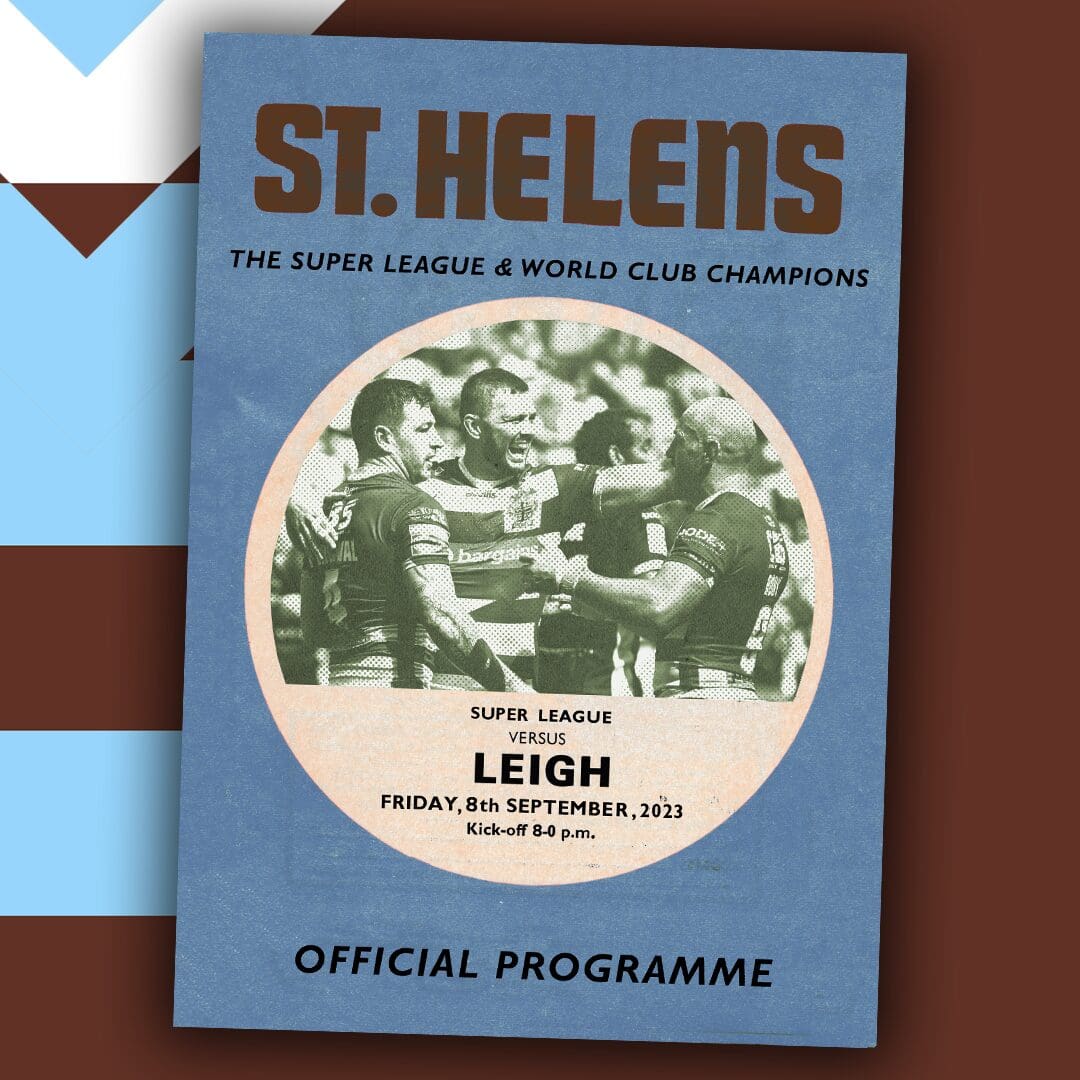 Read Saints & Proud by clicking here!
SQUAD NEWS
Paul Wellens has been forced to make two changes to the squad that was declared for the win over Wakefield last Sunday.
Click on the image below to read more about our Squad News!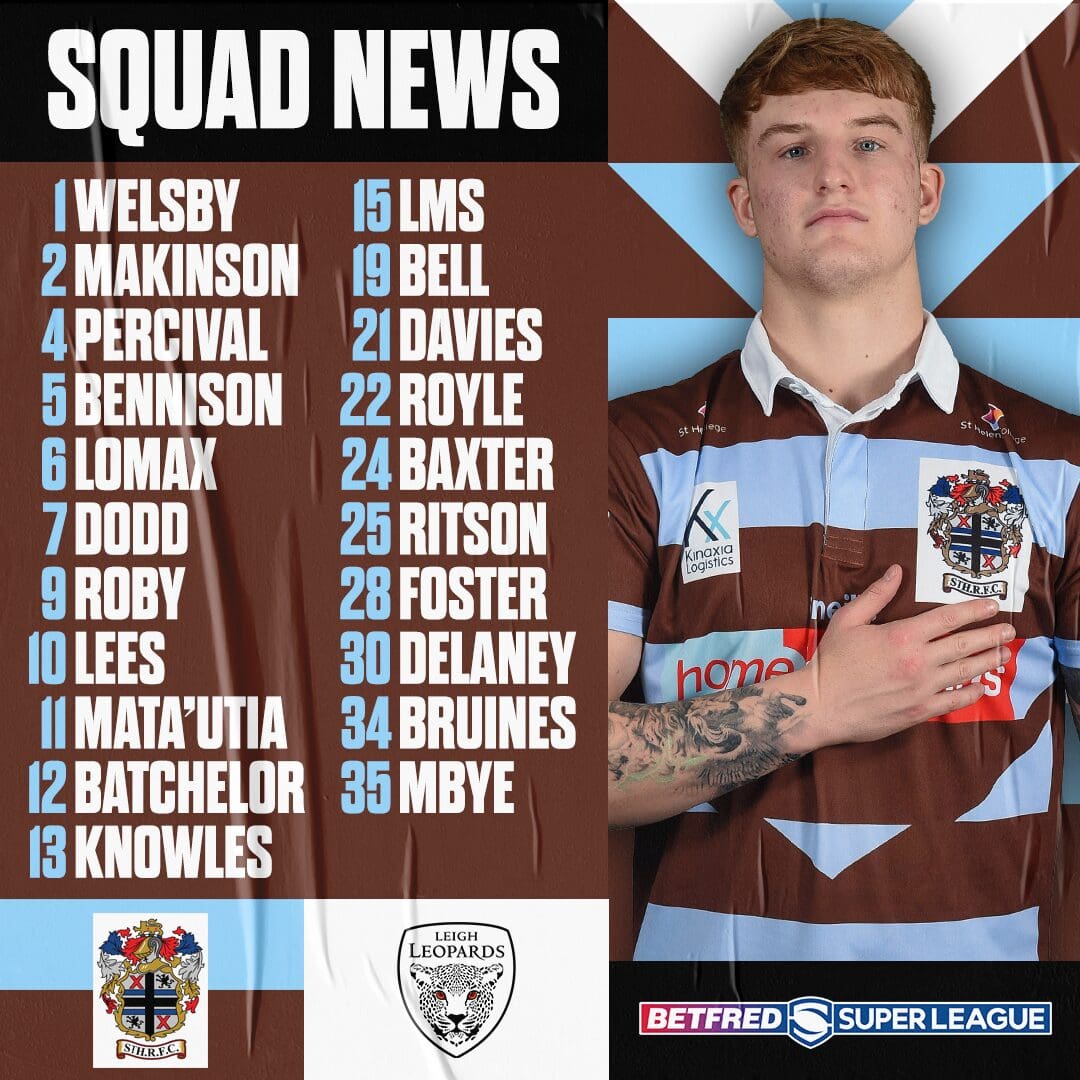 Leigh Leopards 21-man squad vs St Helens
1. Zak Hardaker, 2. Tom Briscoe, 3. Ed Chamberlain. 5. Josh Charnley, 6. Joe Mellor, 7. Lachlan Lam, 8. Tom Amone, 9. Edwin Ipape, 10. Robbie Mulhern, 11. Joe Wardle, 12. Jack Hughes, 13. John Asiata, 14. Ben Nakubuwai, 15. Ben Reynolds, 16. Oliver Holmes, 17. Gareth O'Brien, 18. Matty Davis, 24. Kai O'Donnell, 27. Ava Seumanufagai, 29. Frankie Halton, 31. Oliver Gildart.
LIVERPOOL JOHN LENNON AIRPORT: CROSSBAR CHALLENGE
One lucky Saints 2023 Member at half time on Friday will get the chance to win x2 return flights to Budapest in Hungary thanks to Wizz Air!
You can find great fares when you book Wizz Air from Liverpool to explore some of Europe's lesser-known gems such as Gdansk, Bucharest, Tirana, and of course Budapest!
With the eyes of all the Saints faithful in the West Stand watching, the contesting Member will get three attempts to hit the crossbar from the 20m line.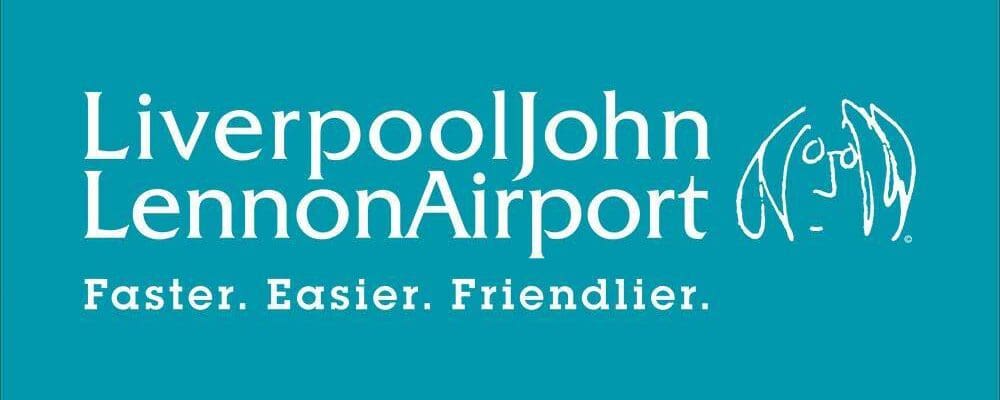 Our half-time challenge with Liverpool John Lennon Airport will feature at every home match for the remainder of the 2023 season, with outstanding destination flights to be won, so we as a Club are thrilled to be working with Merseyside's airport!
*T&C's apply.
THE REST OF ROUND 25 IN SUPER LEAGUE
Friday
Wakefield Trinity vs Catalans Dragons – 7:30pm
Huddersfield Giants vs Hull KR – 7:45pm
Castleford Tigers vs Hull FC – 8pm
Saturday
Leeds Rhinos vs Wigan Warriors – 2:45pm
Sunday
Salford Red Devils vs Warrington Wolves – 12:45pm
WELLENS AHEAD OF HOSTING LEIGH
With the Saints in good form despite missing a number of middle men, the hunt turns to making it into seven Super League wins and keeping the race tight in the top three of the league ladder. However, as Wellens discusses, Leigh have done very well in 2023 and pose a dangerous challenge.
Saints TV subscribers can watch Paul Wellens' preview in full!
WHO WILL BE THE MAN IN THE MIDDLE?
Chris Kendall will be the referee for Friday night's fixture, and he will be supported by Touch Judges Liam Rush & Mark Craven, while Marcus Griffiths will be the Video Referee.
A LOOK AT LEIGH…
To say the Leopards are enjoying a dream season would it putting it mildly. Never before has a promoted side had a Super League season quite like the one Leigh are having, and they've made history by winning their first Challenge Cup in 52 years in August.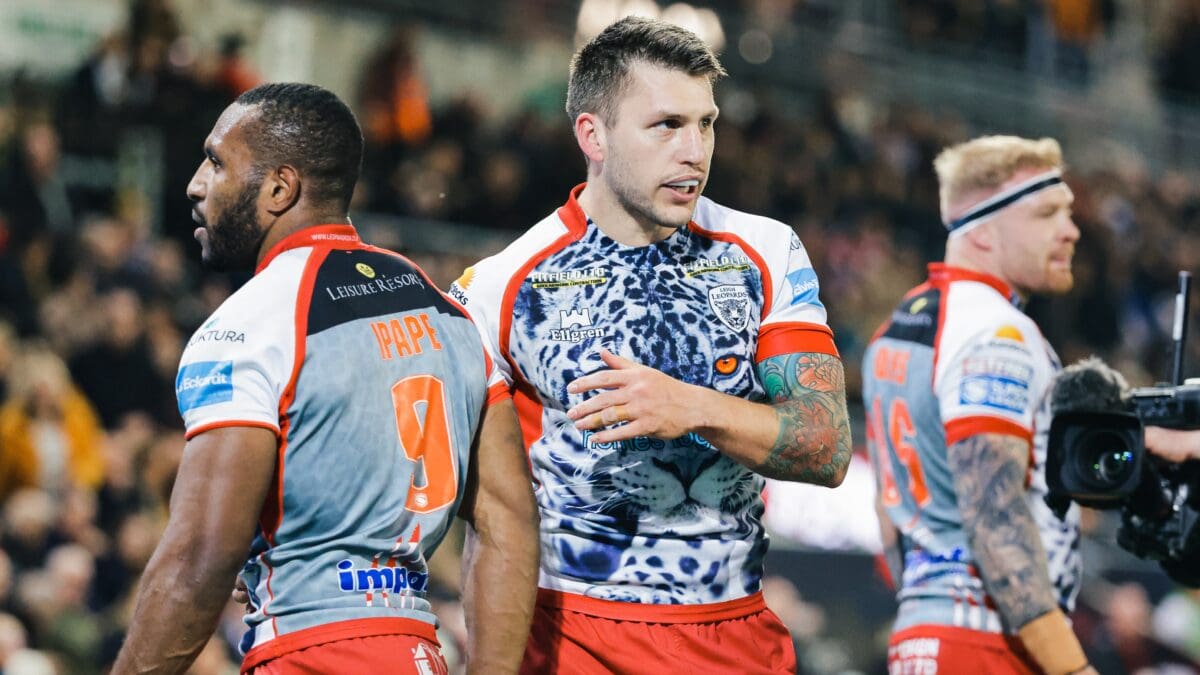 Formerly known as the Centurions, Leigh were fantastic last season in their run towards promotion, including a win at Tottenham Hotspur Stadium in the 1895 Cup final, and have built a squad which is far stronger to compete in Super League on their fourth appearance in the competition.
Former Wigan boss Adrian Lam has bolstered his squad this year with a lot of experience with players such as; Zak Hardaker, Ricky Leutele, Oliver Holmes, Gareth O'Brien and Jack Hughes. But players such as Lachlan Lam, Edwin Ipapae, Josh Charnley and John Asiata who all proved to be pivotal signings in 2022 have been firing strongly in 2023 for the Leythers too.
Heading into the final few games of the regular season, a top-six berth looks all but confirmed for Leigh, and given how they've shown up in knockout matches in the Cup – they will be a tough opponent for whoever they face.
THE RECORD AGAINST LEIGH
Last ten meetings
Leigh 12, St Helens 10, (CCSF, 22/7/23)
Leigh 20, St Helens 12 (SLR4, 10/3/23)
St Helens 42, Leigh 12 (SLR21, 26/8/21)
Leigh 12, St Helens 22 (SLR5, 30/4/21)
St Helens 28, Leigh 6 (SLR12, 28/4/17)
Leigh 24, St Helens 16 (SLR2, 24/2/17)
Leigh 4, St Helens 78 (SLR26, 4/9/05) (at Hilton Park)
Leigh 20, St Helens 27 (SLR22, 22/7/05) (at Hilton Park)
St Helens 60, Leigh 16 (SLR9, 8/4/05) (at Knowsley Road)
Leigh 21, St Helens 4 (SBC, 23/1/94) (at Hilton Park)
Super League summary
Saints and Leigh have faced each other in Europe's top rugby league competition on just eight occasions. Friday night's visitors have won just two of those games, whilst our Saints have won six.
The highest winning Saints score against Leigh (and also the widest margin) came back in 2005 at their former home, Hilton Park, in a demolition 4-78.
SEPTEMBER'S MEMBERS' OFFER
One of the benefits of being a 2023 Member is being able to access a new monthly offer from Saints Superstore!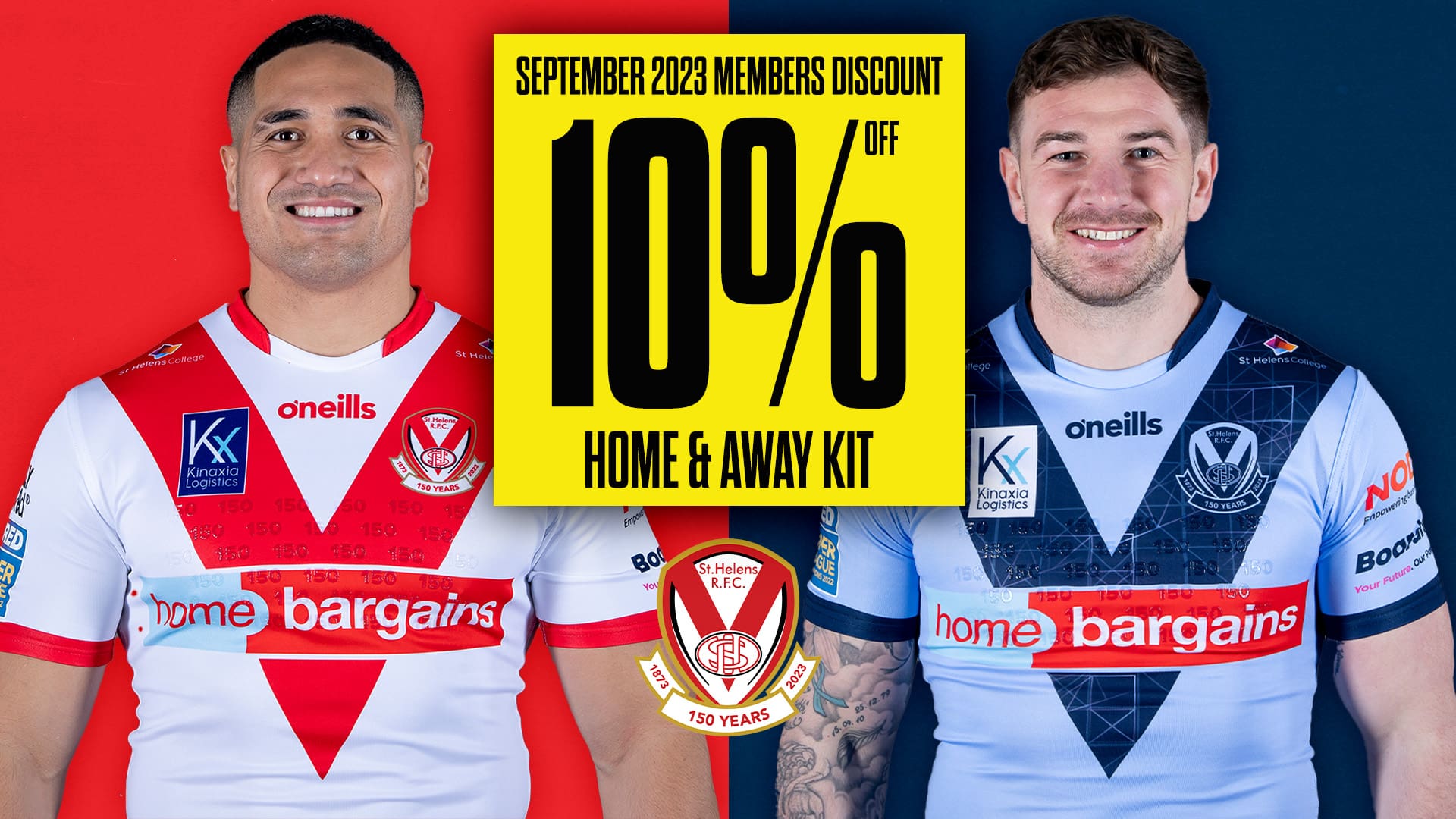 This month's offer is 10% off all 2023 Home & Away Kit, just in time for the business end of the season!
WHAT KIT WILL SAINTS BE WEARING?
St.Helens will be wearing our 150 Heritage Kit which acknowledges bygone days, before Saints had ever worn the famous Red V. It was first worn at Magic Weekend 2023!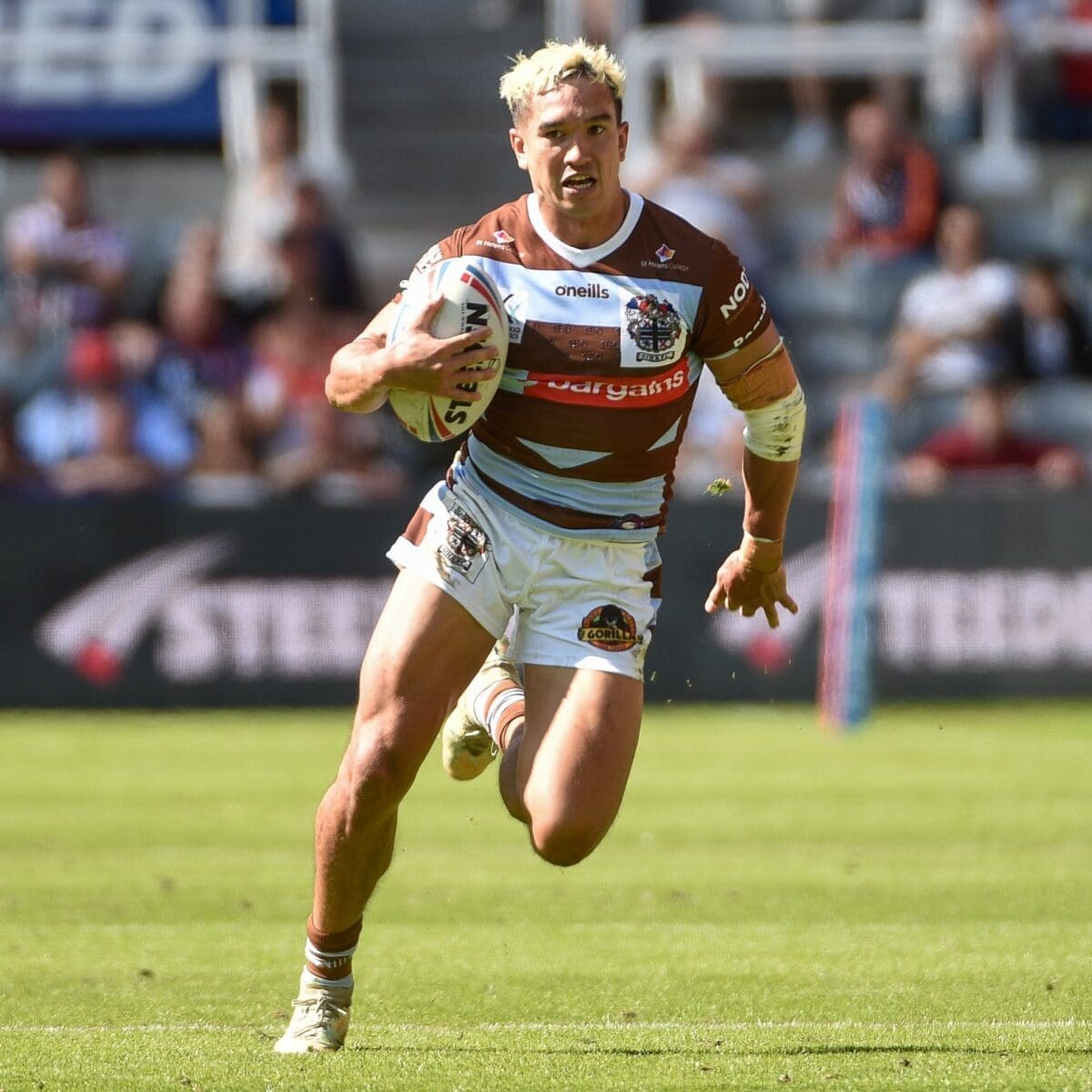 We continue to celebrate the Club approaching 150th Birthday in November 2023 with a kit that blends together History, Our Club and Our Town into one.
The shirt has a very traditional look with Brown and Sky hoops, cleverly alternated to create a front of shirt vee, coupled with a traditional White collar with Button fastening. Find out more about our kit by clicking HERE.
HOW CAN I FOLLOW THE GAME?
Saints will be covering the match in full across our live Match Centre where you can find out the team news, follow live game updates, get behind the scenes photos and catch up on all the stories of the game.
Our club social media accounts will also keep supporters updated. Follow us on: Twitter | Facebook | Instagram
Highlights and the full match replay will be available for Saints TV subscribers.
LEES LOOKING FORWARD TO SEASON RUN-IN
After missing two weeks due to suspension, the prop is back and enjoying playing big minutes in 2023! With youngster George Delaney alongside him in the pack, and wanting to get one back over the Leopards, Lees previews the big game.
Watch the full player preview with Leesy on Saints TV!
FOOD & DRINKS AT THE TOTALLY WICKED STADIUM!
Find out much more about what there is to eat and drink by clicking here or on the map below!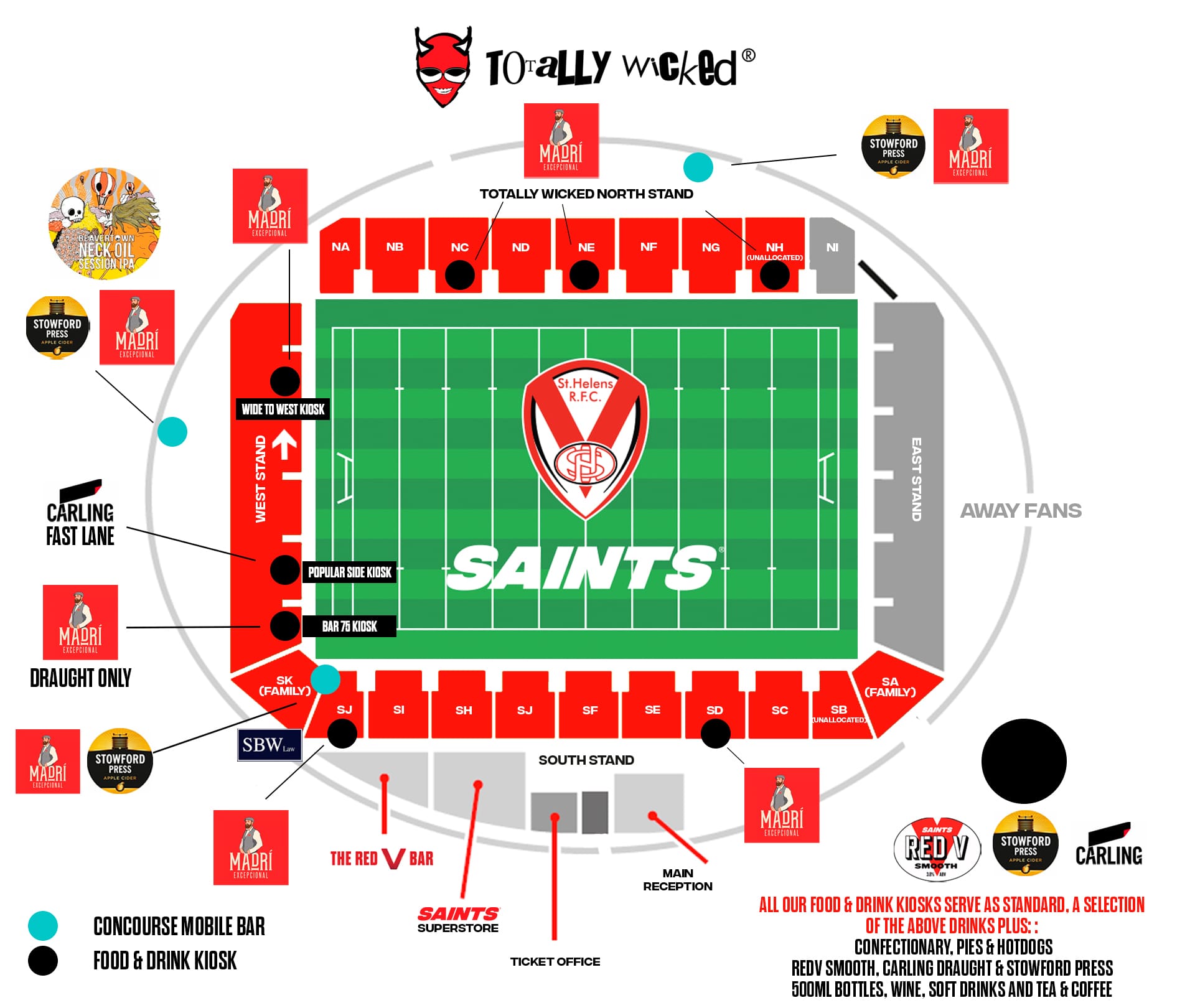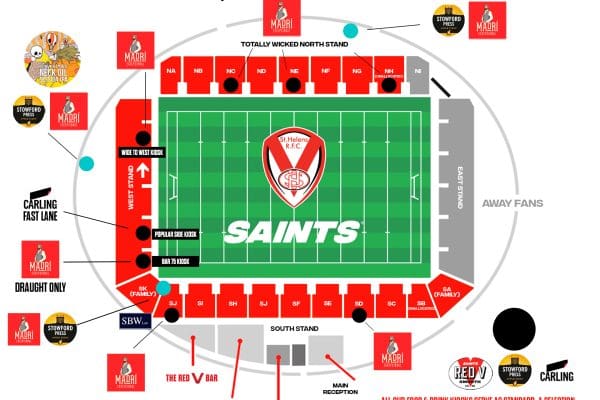 SUPPORTER SAFETY
St Helens R.F.C. want to ensure that everyone who comes to enjoy game days at the Totally Wicked Stadium can do so in a safe and friendly environment!
The Club would like to reiterate to supporters that it operates a zero-tolerance approach to any anti-social behaviour, at both our own home ground and when visiting other clubs' stadiums. Misbehaviours that will not be tolerated include, but are not limited to; physical or verbal abuse, violent conduct, missile throwing, excessive alcohol misuse, and any drug misuse.
Furthermore, the use of pyrotechnics is strictly prohibited under both rugby and football ground regulations. They can cause serious injuries to those who carry them as well as fellow spectators, as well as damage to surfaces such as the playing pitch which can cost clubs thousands of pounds.
The Club during last season and this season has taken preventative actions for home fixtures, with additional stewarding and 'sniffer' dog patrols around the stadium. Supporters may encounter these dog patrols when approaching the stadium.
St. Helens would also like to encourage parents/guardians of children coming to the ground to ensure they are always aware of what their child is doing and where in the stadium they are at all times.