Saints almost repeated another famous comeback on Thursday night but came up just short against Leeds at Headingley.
A late Alex Walmsley try set up a barnstorming last two minutes after Saints had matched their hosts set for set and worked their way back into the game.
They'd lost Matty Smith to a nasty looking eye injury early in the first half too – and were on the back end of some baffling calls throughout.
Jon Wilkin was also sinbinned for a dangerous tackle that looked harsh.
But the Rhinos held on for a 24-22 victory.
The almost dramatic end to the clash was a complete contrast to a tight and tense first half.
Leeds had all the pressure early on as they forced two drop outs in a row and won two penalties.
Saints defended well and then had a set on Leeds' line after they got the ball back from a Tom Briscoe knock on.
But on 15 minutes a piece of class saw the visitors take the lead.
The excellent Dom Peyroux bombed down the right hand side, stepped inside Joel Moon, pushed away Carl Ablett and then put Adam Swift over.
But within minutes, Joel Moon had crossed to level.
4-4 at the quarter mark, Walmsley went close before Swift just couldn't haul in Theo Fages' kick with six to go.
And James Roby was causing problems for the Rhinos too – but the hosts went into the sheds two points to the good following Jordan Lilley's penalty three minutes from oranges.
Leeds extended their advantage early in the second half as Stevie Ward took a nice offload to go over.
But Saints hit back less than a minute later through a high kick.
Roby booted it on the last – Peyroux went up for it against Jack Walker, dislodged the ball and it ended up back in his hands to allow him the simple task of putting Makinson over.
The video referee taking an eon to give it.
Saints then went ahead.
A superb set got them into great field position before Fages and Louie McCarthy-Scarsbrook worked a wonderful move for Roby to dart in.
His 101st try of his career.
Saints were in control but on 62 minutes Wilkin was sinbinned for what was adjudged to have been a dangerous tackle.
It looked harsh but Leeds took full advantage winning a drop out and then crossing through Kallum Watkins following Tom Briscoe's palm down from a kick to the corner.
Saints should have had a drop out on 67 minutes – but it was bafflingly given as a tap restart – and Leeds grabbed one of their own five minutes later.
And that pressure told as Ryan Hall ghosted through to take the game away from Saints.
McCarthy-Scarsbrook went close with three minutes to go then Walmsley dove over.
It set up another breathtaking end but Saints high kick, following good work from Ryan Morgan, was collected by the Rhinos' rearguard.
The chance was gone and Leeds held out – on the back of another penalty – to seal the points.
Saints Line up
| | |
| --- | --- |
| 6 | Jonny Lomax |
| 18 | Adam Swift |
| 2 | Tommy Makinson |
| | Ryan Morgan |
| 5 | Regan Grace |
| 7 | Theo Fages |
| 7 | Matty Smith |
| 10 | Luke Thompson |
| 9 | James Roby |
| 18 | Kyle Amor |
| 11 | Zeb Taia |
| 12 | Jon Wilkin |
| 13 | Morgan Knowles |
| 8 | Alex Walmsley |
| 15 | Louie McCarthy-Scarsbrook |
| 14 | Luke Douglas |
| 12 | Dominique Peyroux |
Leeds Rhinos Line up
| | |
| --- | --- |
| 1 | Jack Walker |
| 2 | Tom Briscoe |
| 3 | Kallum Watkins |
| 4 | Liam Sutcliffe |
| 5 | Ryan Hall |
| 6 | Joel Moon |
| 7 | Jordan Lilley |
| 8 | Keith Galloway |
| 9 | Matt Parcell |
| 10 | Brad Singleton |
| 11 | Carl Ablett |
| 12 | Stevie Ward |
| 13 | Adam Cuthbertson |
| 14 | Mitch Garbutt |
| 15 | Anthony Mullally |
| 16 | Ash Handley |
| 17 | Jack Ormondroyd |
Last updated 29 Jun 17 22:01:11
FT
Left ourselves too much to do at the end… losing Matty Smith crucial in that first half.
And another penalty heads to Leeds. Their 11th.
High ball, Leeds collect. Clock ticking.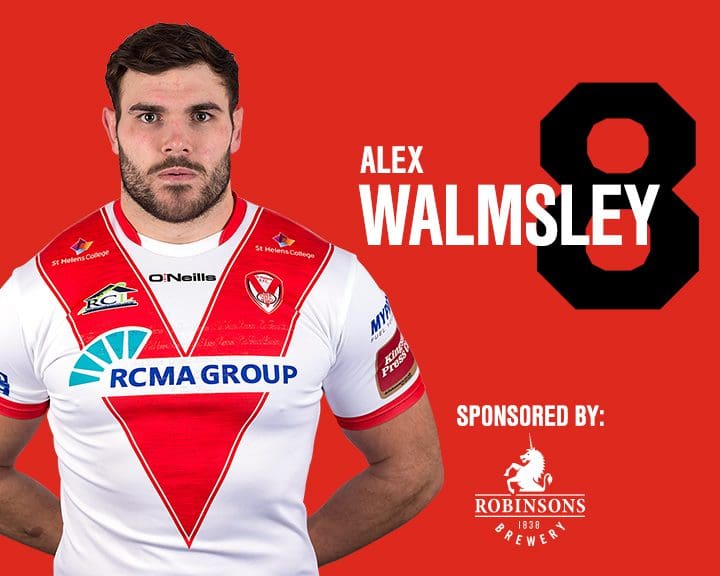 Try
Alex Walmsley for Saints
And converted. … two point game.
Louie close – Saints then dive over… going upstairs?
Peyroux makes a break but he can't get his offload away and Leeds come away with it.
Goal
Jordan Lilley for Leeds Rhinos
Try
Ryan Hall for Leeds Rhinos
Pressure tells and Hall goes over.
Massive set for Saints here…
Replay doesn't make that decision any easier to take either!
Saints force a certain drop out, but it's given the other way and Leeds come out of their 25.
Saints have the ball 30 out from Leeds line.
Goal
Jordan Lilley for Leeds Rhinos
Try
Kallum Watkins for Leeds Rhinos
Kick to the corner, Briscoe palms it down and the centre comes up with it.
Leeds force Saints to drop out.
Yellow Card
Jon Wilkin for Saints
Wilkin sinbinned for an alleged dangerous tackle.
9th pen of the night heads to Leeds…
Big tackle from Saints as the ball comes off the crossbar on the last. They remain 16-12 up.
Penalty heads to Leeds… 8th tonight.
Good D from Saints keeps Leeds out after they got the ball fro the restart.
Goal
Tommy Makinson for Saints
Makinson makes it 16-12 to Saints.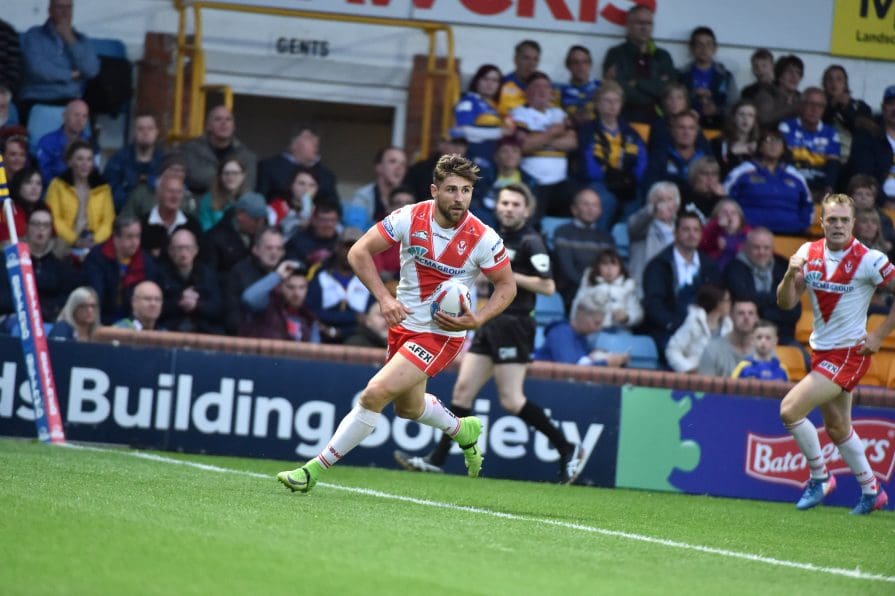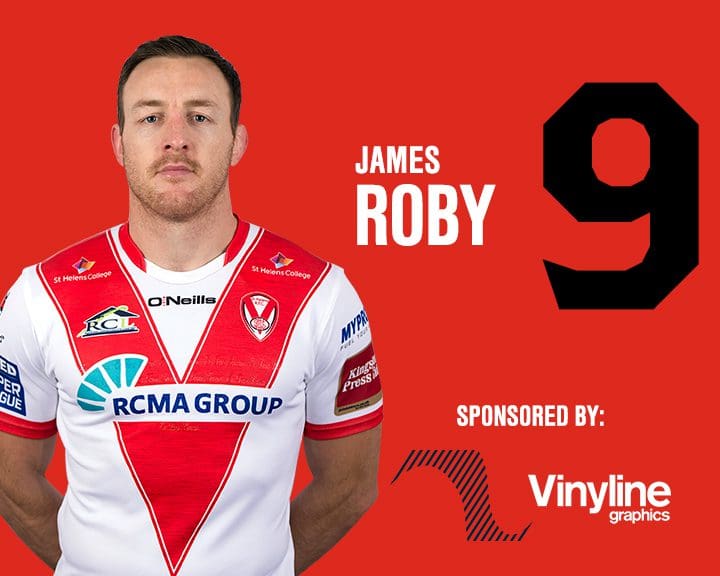 Try
James Roby for Saints
Theo to Louie to Roby and Saints lead!
Penalty to Saints – their third of the night.
Goal
Tommy Makinson for Saints
Makinson with the boot makes it 12-10.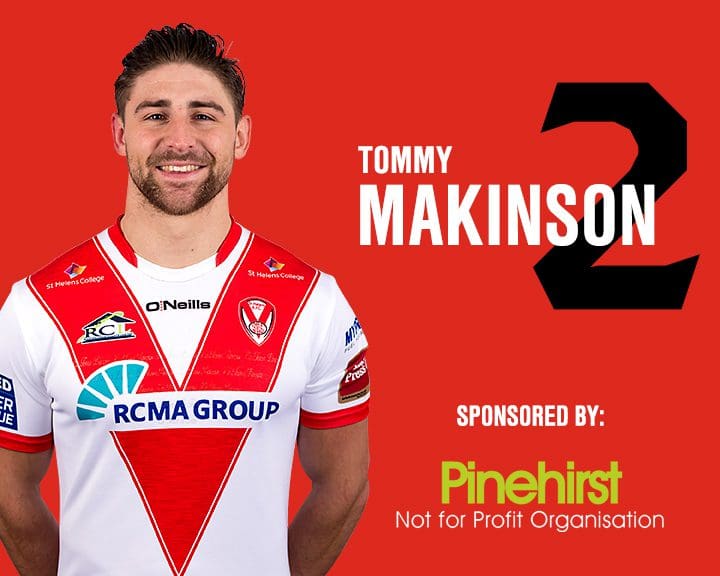 Try
Tommy Makinson for Saints
Takes an eon to give. Peyroux with the final pass
Going upstairs for a Makinson try… High ball, Leeds knock on… but then do Saints
Goal
Jordan Lilley for Leeds Rhinos
Try
Stevie Ward for Leeds Rhinos
Leeds make the pressure pay – offload and it's a simple run in.
Saints piling the pressure at one end… now have to defend a set on their own line.
Kick Off
Saints will get the second half underway – Leeds lead 6-4
Stonking run from Roby but Saints can't find the last tackle option.
Goal
Jordan Lilley for Leeds Rhinos
Another set for Leeds on Saints line…
Fages opting to kick early in the count for Swift to chase – the winger just can't get above Hall.
Leeds kick it into the corner – real tight game this one. Remains 4-4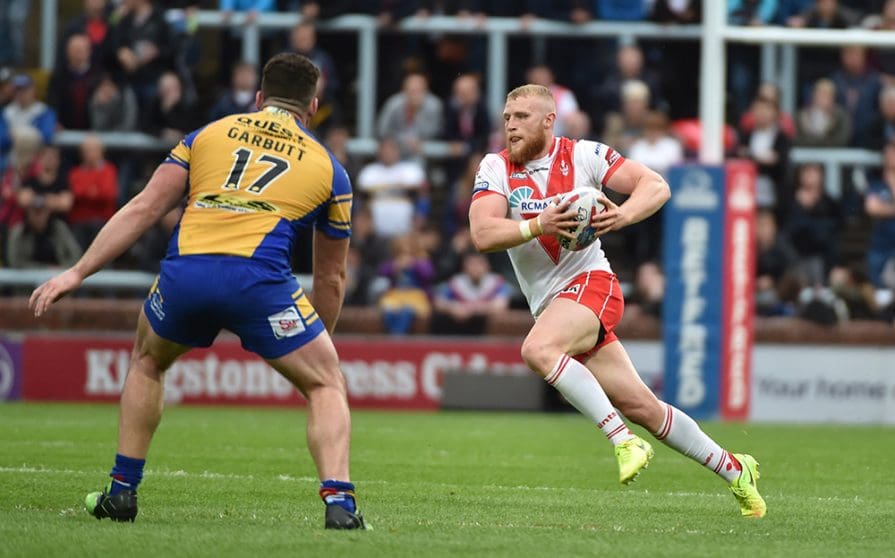 Chip to the corner, Swift just can't gather it in.
Saints come again – Walmsley held up short on the last. Good contest this.
Doesn't look like Smith will return – will update if we can.
Big hits flying in from both sides here.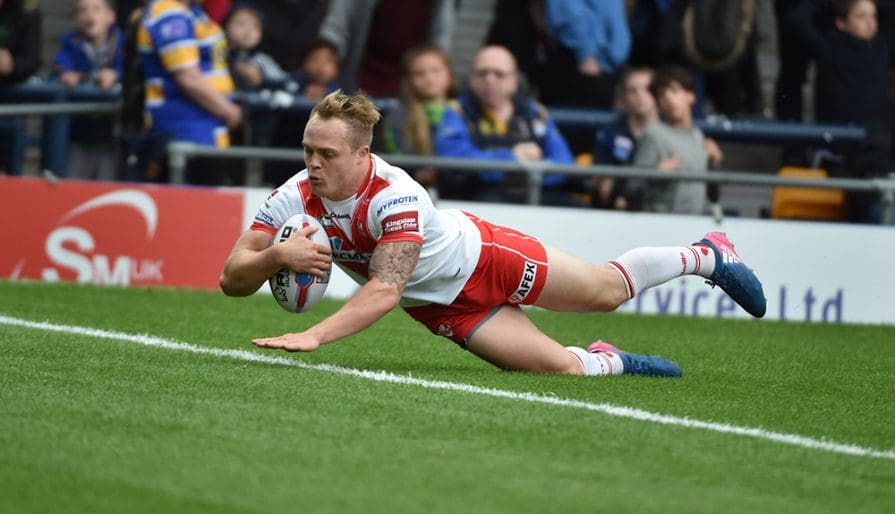 Try
Joel Moon for Leeds Rhinos
Joel Moon replies for 4-4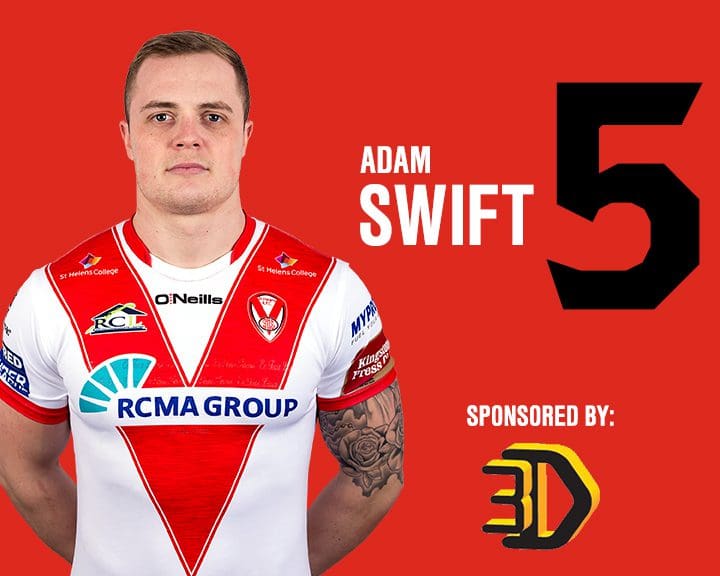 Try
Adam Swift for Saints
Peyroux's break is class and he puts Swift over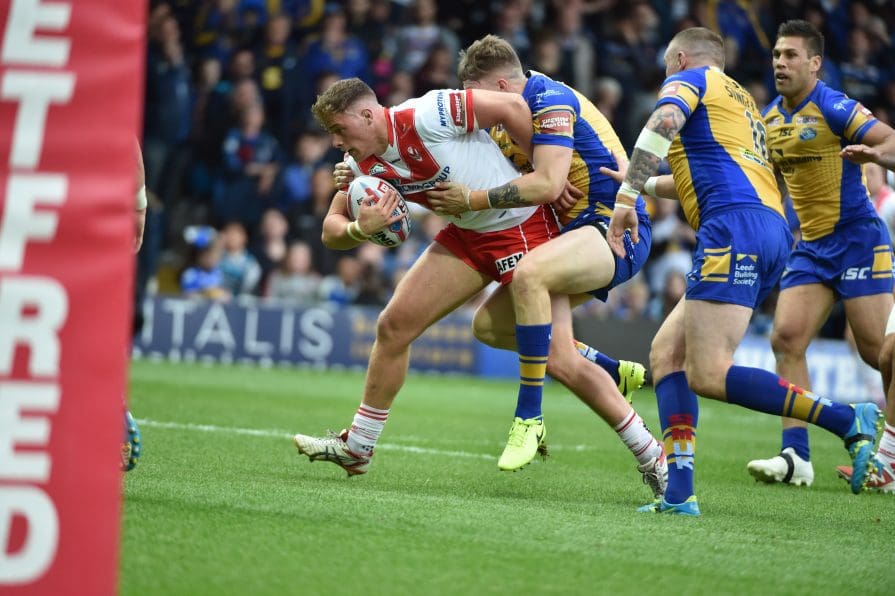 High ball for Fages, good take from Walker
0-0 here, Saints coming out of their 20 metre line.
Briscoe drops simple clearing kick – Saints have a set on Leeds' line.
Smith off the field after getting clattered in the tackle – should be ok to come back on
Watkins goes close and then Lomax collects a kick and has to drop out
Saints have to drop out. Leeds making the early running
Big hit on Jonny Lomax as he takes a high ball.
Leeds will get this one underway.