Salford Red Devils v Saints
Saints had their recent good form halted as they went down 22-14 to Salford Red Devils.
Tries from Alex Walmsley and Ryan Morgan almost overturned a 14-0 second half disadvantage, only for a late Michael Dobson effort to seal the points for the hosts.
Saints battled hard after losing Theo Fages on the first set of the game but weren't as fluid as in recent weeks.
The stand-off never returned to the pitch after going off with concussion and that forced Keiron Cunningham to reshuffle his side.
Saints seemed to weather that early disruption to have the best of the early stages before Dobson put Salford ahead with the boot.
The visitors responded with a couple of kicks to force Salford to come out of their own 20 but it took until the 35th minute for the tryline to be eventually broken.
Sadly, it came the way of the Devils.
Mark Percival was collared for crossing and on the resultant set Craig Kopczak ploughed over the line.
From the restart, Salford knocked on but Saints couldn't hammer home their advantage despite securing back to back penalties.
8-0 to the home side at the break.
Saints forced an error from Salford on their very first set of the second half but failed to execute their play.
And to compound matters, the hosts then went up the other end of the field and extended their lead.
Kopczak made the break through the middle and Dobson finished it off.
Saints finally broke through on the 50 minute mark.
Kyle Amor went close thanks to the good work of James Roby, and then the mercurial number nine fed Walmsley for his third of the season.
Jon Wilkin and the big forward almost scored on Saints next set – and it took a wonder tackle from ex-Saint Mark Flanagan to stop Ryan Morgan on the left hand side.
A try was always coming through and it did on the hour as the returning Lomax put Ryan Morgan over in the corner.
Michael Dobson extended the host's lead with a penalty two minutes later and it proved crucial as on 70 minutes Robert Lui was given 10 minutes for interference after the ball was kicked dead.
It kept Saints at arm's length and despite Walmsley being held up over the line, they couldn't make the extra man count.
Dobson then crossed for his second after Saints made a hash of a kick to the corner.
There was a final flourish from Saints as Lomax bagged a superb try but they'd left themselves with little time to cross again.
Match Summary:
Devils:
Tries: Kopczak, Dobson (2),
Goals: Dobson (4 from 4), O'Brien (1 from 1)
Saints:
Tries: Walmsley, Morgan, Lomax
Goals: Percival (1 from 3)
Penalties Awarded:
Devils: 9
Saints: 13
HT: 8-0
FT: 22-14
REF: James Child
ATT: 3,640
Teams:
Devils:
1. Gareth O'Brien; 21. Gregory Johnson, 22. Kris Welham, 3. Josh Jones, 2. Justin Carney; 6. Robert Lui, 7. Michael Dobson; 14. Lama Tasi, 9. Logan Tomkins, 23. Lee Mossop, 11. Ben Murdoch Masila, 10. George Griffin, 13. Mark Flanagan.
Subs: 8. Craig Kopczak, 17. Adam Walne, 20. Kristian Brining, 29. Todd Carney.
Saints:
1. Jonny Lomax; 21. Jack Owens, 3. Ryan Morgan, 4. Mark Percival, 2. Tommy Makinson; 6. Theo Fages, 7. Matty Smith; 8. Alex Walmsley, 9. James Roby, 14. Luke Douglas, 36. Zeb Taia, 13. Louie McCarthy-Scarsbrook, 12. Jon Wilkin.
Subs: 10. Kyle Amor, 15. Adam Walker, 17. Tommy Lee, 18. Dominique Peyroux.
Saints Line up
| | |
| --- | --- |
| 6 | Jonny Lomax |
| 21 | Jack Owens |
| | Ryan Morgan |
| 4 | Mark Percival |
| 2 | Tommy Makinson |
| 7 | Theo Fages |
| 7 | Matty Smith |
| 8 | Alex Walmsley |
| 9 | James Roby |
| 14 | Luke Douglas |
| 11 | Zeb Taia |
| 15 | Louie McCarthy-Scarsbrook |
| 12 | Jon Wilkin |
| 18 | Kyle Amor |
| 15 | Adam Walker |
| | |
| 12 | Dominique Peyroux |
Salford Red Devils Line up
| | |
| --- | --- |
| 1 | Gareth O'Brien |
| 2 | Gregory Johnson |
| 3 | Kris Welham |
| 4 | Josh Jones |
| 5 | Justin Carney |
| 6 | Robert Lui |
| 7 | Michael Dobson |
| 8 | Lama Tasi |
| 9 | Logan Tomkins |
| 10 | Lee Mossop |
| 11 | Ben Murdoch Masila |
| 12 | George Griffin |
| 13 | Mark Flanagan |
| 14 | Craig Kopczak |
| 15 | Adam Walne |
| 16 | Kristian Brining |
| 17 | Todd Carney |
Last updated 18 May 17 11:35:46
FT
Saints beaten at Salford 22-14 – thanks to all the fans that came out.
Try
Jonny Lomax for Saints
Lovely try from Saints, flowing football but prob too little too late. 22-14
Goal
Michael Dobson for Salford Red Devils
Try
Michael Dobson for Salford Red Devils
Saints make a mess of the ball into the corner, it's knocked on and Dobson wins the game. 20-10
Chance gone as Saints go left.
Dobson penalised for taking a Saint out on the last tackle. Saints have a penalty right in front of the posts.
Yellow Card
Robert Lui for Salford Red Devils
Stops Saints getting a quick tap after the ball goes dead.
Saints force the ball down the far side but end up in touch.
More chances for Saints but Salford come away with the ball following Smith's kick.
Goal
Michael Dobson for Salford Red Devils
Try
Ryan Morgan for Saints
Ryan Morgan over in corner from Lomax ball
Wilkin held up. Saints get another penalty.
Another penalty to Saints. Another chance.
Goal
Mark Percival for Saints
Try
Alex Walmsley for Saints
Short ball and he is under the posts. 14-4
Penalty to Saints, big set this.
Crunching hit from Lomax on the last – Saints D nice and solid there.
Saints defend a kick on the last, right under their own posts.
Saints desperate for a spark – Salford flying off their line to meet their opponents
Goal
Gareth O'Brien for Salford Red Devils
Try
Michael Dobson for Salford Red Devils
Salford break from a set right on their own line. Craig Kopczak makes the run and Dobson finishes it off. 12-0
Saints force error from Salford on their first set – they have the ball on Salford's line.
Kick Off
Saints get the second half underway
HT
It's 8-0 to Salford at the break.
Penalty for Saints, Taia goes close, and then another penalty follows. Saints can't make it pay.
Saints attacking but Salford too quick off their line.
Salford knock on from the kick off.
Goal
Michael Dobson for Salford Red Devils
Try
Craig Kopczak for Salford Red Devils
Simple pass and the forward is over the line. Salford lead 6-0
Percy called for crossing, Salford have ball in Saints 40.
Saints penalty, Wilko kicks early in the count, Salford have the scrum.
And another. 5-4 to the away team on the count so far.
Great clearing kick from Wilko has the Devils right on their line – but then Saints give a penalty away.
Another great take from Jonny Lomax
Goal
Michael Dobson for Salford Red Devils
Back to back penalties for Salford.
Taia frees Percival and Makinson. The latter kicks forward but O'Brien makes a crucial intervention.
Salford in the ascendancy at present. Saints need a spark.
Salford man held up on the last – first real sight of the line for the home side.
Lui clears the lines once more and Saints will have to come out of their own 20.
Saints attack down the left hand side but Percival can't get his pass away.
High kick from Saints on the last – Makinson taken out and Saints win a penalty.
Lui break. Dobson kick on the last, taken by Owens – but he is tackled in the air and Saints win a penalty.
Full bloodied defence from Salford there. Rocking Saints back.
Early kick from Smith once more but Salford cover it.
Great high take from Salford – and then Saints win a penalty
Saints clear their lines early after they pick up a ball from Salford's error.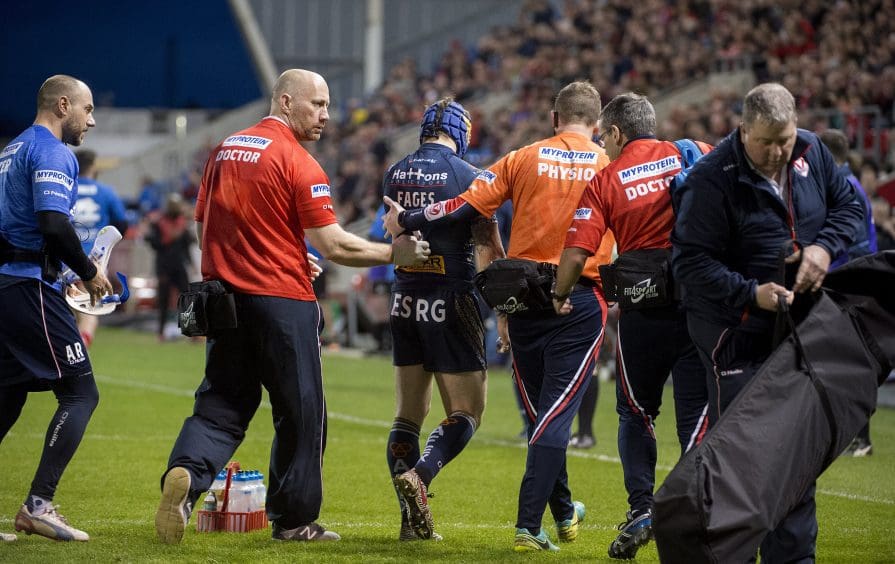 Ball to ground – Salford come away with it.
Saints get another set after Salford knock on.
Ball back with Salford after that extra set was wiped off.
Theo coming off the field with a head knock
Early break from Mark Percival and then an extra set for Saints follows.
Kick Off
Salford will get this one underway