Castleford Tigers v Saints
Ben Barba scored a hat-trick in a magical performance that saw Saints beat Castleford 36-18 in the Ladbrokes Challenge Cup.
It came almost a year to the day that Saints were thumped by the Tigers at the same stage of the tournament.
But there was no chance of a repeat as Barba and his teammates ran in six tries to book their spot in Sunday's draw.
Saints weathered long periods of Castleford pressure in the first half before turning defence into attack and catching their hosts twice with length of the field efforts.
In the 17th minute, Barba snaffled up a bouncing ball on his own line and offloaded to Regan Grace who duly went the distance.
And, on the half hour mark, the full back did the same, picking up a loose ball and racing away to fire Saints further ahead.
Saints were good value for their 12-0 half time lead and that gap was increased early in the second.
And it came as Cas misjudged the kick off to give Saints a repeat set.
The Tigers defended the first chance but once it came back and Dom Peyroux had sidestepped his way to the line, they were powerless to stop Barba notching his second.
The ball was swept left to the full back who then bamboozled two defenders and put down under pressure.
If Saints thought that was job done they then got a timely reminder in the 50th minute as Jake Trueman showed great feet to arc his way past the defence.
But just two minutes later Barba found Ryan Morgan on a great line and the advantage and momentum was restored.
Cas scored again on the hour mark as good hands saw Greg Minkin get over in the corner, but again, like last time, within a blink of an eye Saints were back on top.
Theo Fages had done the damage with a fantastic break before Richardson took on the line, threw an outrageous dummy, and ghosted over.
And Ben Barba then produced a magical mazy run to notch up his hat-trick.
A special try from a special talent.
Saints pressed for more in the closing stages but a stray pass was picked off by Mike McMeeken as the hooter sounded.
It did nothing to dampen Saints' day though and they are in the hat for the next round.
Match Summary:
Tigers:
Tries: Trueman, Minkin, McMeeken
Goals: Ellis (3 from 3)
Saints:
Tries: Grace, Barba (3), Morgan, Richardson,
Goals: Richardson (6 from 7)
Penalties Awarded:
Tigers: 6
Saints: 5
HT: 0-16
FT: 18-36
REF: James Child
ATT: 5,342
Teams:
Tigers:
4. Michael Shenton; 2. Greg Minikin, 3. Jake Webster, 16. Joe Wardle, 24. Jy Hitchcox; 6. Jamie Ellis, 9. Paul McShane; 32. Liam Watts, 13. Adam Milner, 15. Jesse Sene-Lefao, 11. Oliver Holmes, 12. Mike McMeeken, 17. Alex Foster.
Subs: 8. Junior Moors, 10. Grant Millington, 18. Matt Cook, 21. Jake Trueman.
Saints:
23. Ben Barba; 2. Tommy Makinson, 3. Ryan Morgan, 4. Mark Percival, 19. Regan Grace; 1. Jonny Lomax, 18. Danny Richardson; 10. Kyle Amor, 9. James Roby, 16. Luke Thompson, 17. Dom Peyroux, 11. Zeb Taia, 12. Jon Wilkin.
Subs: 6. Theo Fages, 13. Louie McCarthy-Scarsbrook, 14. Luke Douglas, 15. Morgan Knowles.
Saints Line up
| | |
| --- | --- |
| 23 | Ben Barba |
| 2 | Tommy Makinson |
| | Ryan Morgan |
| 4 | Mark Percival |
| 5 | Regan Grace |
| 6 | Jonny Lomax |
| 7 | Danny Richardson |
| 18 | Kyle Amor |
| 9 | James Roby |
| 10 | Luke Thompson |
| 12 | Dominique Peyroux |
| 11 | Zeb Taia |
| 12 | Jon Wilkin |
| 7 | Theo Fages |
| 15 | Louie McCarthy-Scarsbrook |
| 14 | Luke Douglas |
| 13 | Morgan Knowles |
Castleford Tigers Line up
| | |
| --- | --- |
| 1 | Michael Shenton |
| 2 | Greg Minikin |
| 3 | Jake Webster |
| 4 | Joe Wardle |
| 5 | Jy Hitchcox |
| 6 | Jamie Ellis |
| 7 | Paul McShane |
| 8 | Liam Watts |
| 9 | Adam Milner |
| 10 | Jesse Sene-Lefao |
| 11 | Oliver Holmes |
| 12 | Mike McMeeken |
| 13 | Alex Foster |
| 14 | Junior Moors |
| 15 | Grant Millington |
| 16 | Matt Cook |
| 17 | Jake Trueman |
Last updated 12 May 18 16:21:18
Try
Mike McMeeken for Castleford Tigers
Interception and he outpaces the chasers
5 left, Saints lead 36-12 and are looking for more.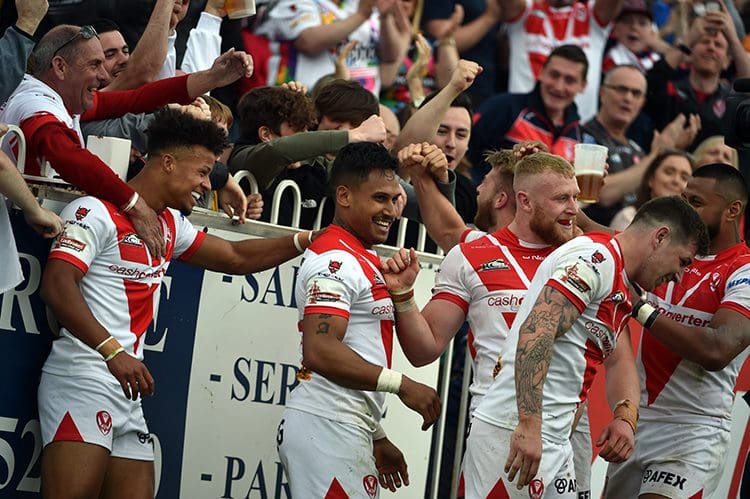 Goal
Danny Richardson for Saints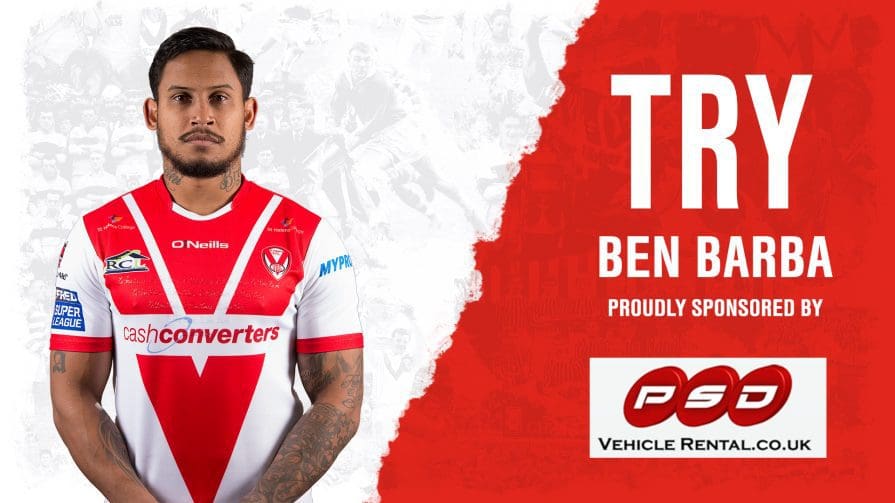 Try
Ben Barba for Saints
Benny is over for his hat-trick! Fantastic stuff!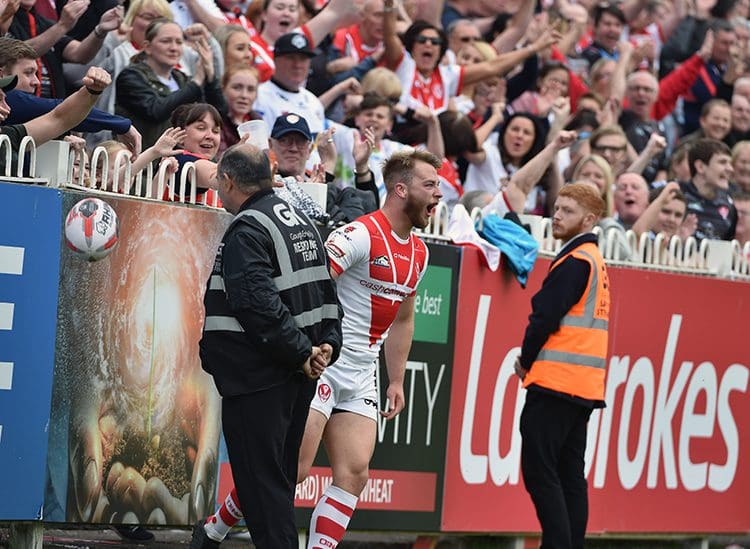 Goal
Danny Richardson for Saints
And it's through. Saints lead 30-12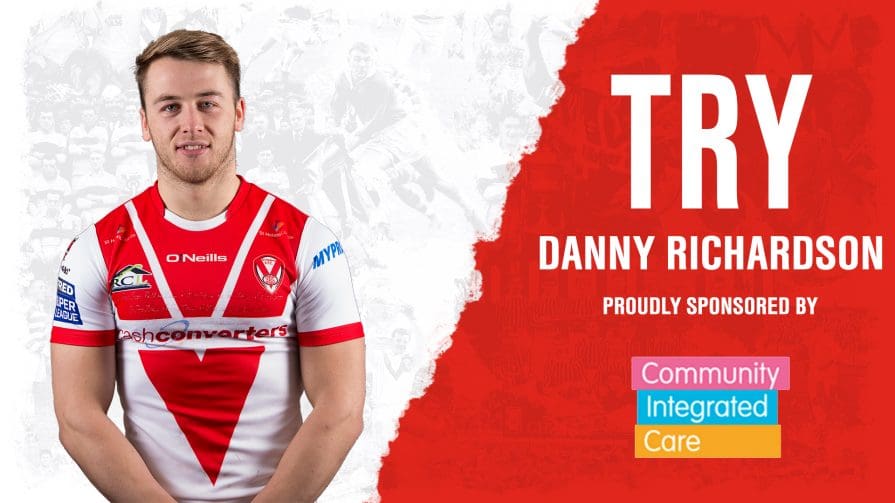 Try
Danny Richardson for Saints
Lovely dummy from Danny as he takes on the line and he goes through!
Lovely break from Theo and Saints are knocking on the door.
Goal
Jamie Ellis for Castleford Tigers
Try
Greg Minikin for Castleford Tigers
And they're in. Good hands sees the deficit reduced.
Saints penalised – another good chance for Cas.
Saints have dropped it on their last two sets and Cas are in a good position.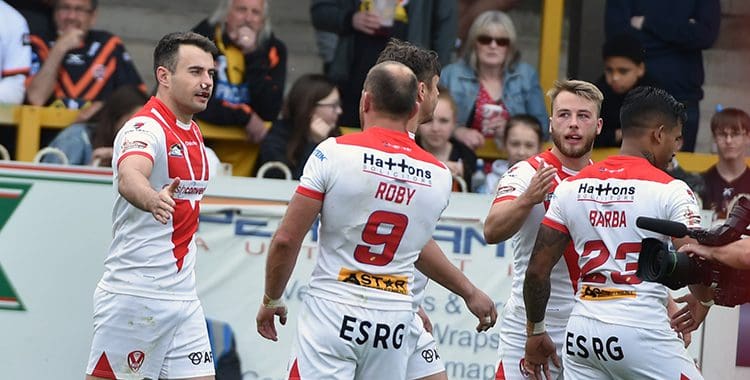 Goal
Danny Richardson for Saints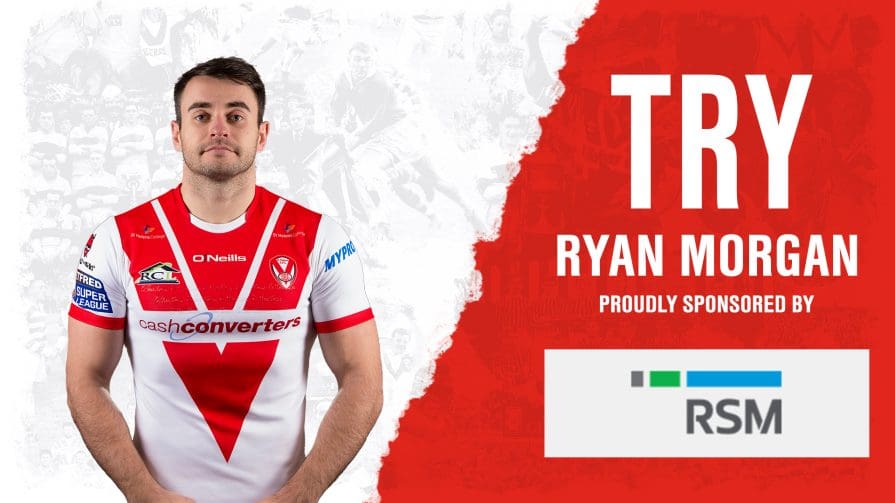 Try
Ryan Morgan for Saints
A wonder ball from Barba finds Ryan Morgan!
Penalty to Saints – they're in Cas' 20.
Goal
Jamie Ellis for Castleford Tigers
Ellis makes it a 12 point game. Cas 6 Saints 18
Try
Jake Trueman for Castleford Tigers
Cas back in this one – Trueman shows good feet to arc his run past Saints D.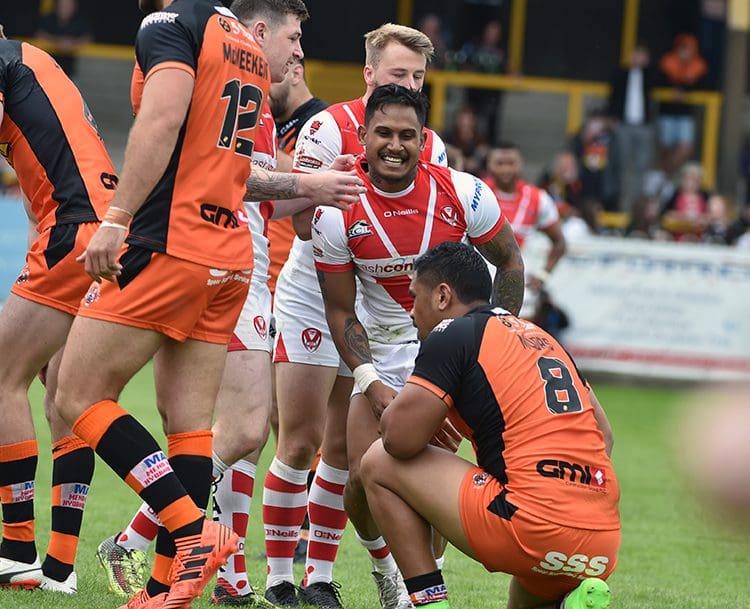 Goal
Danny Richardson for Saints
Saints lead 18-0 – Richardson converts.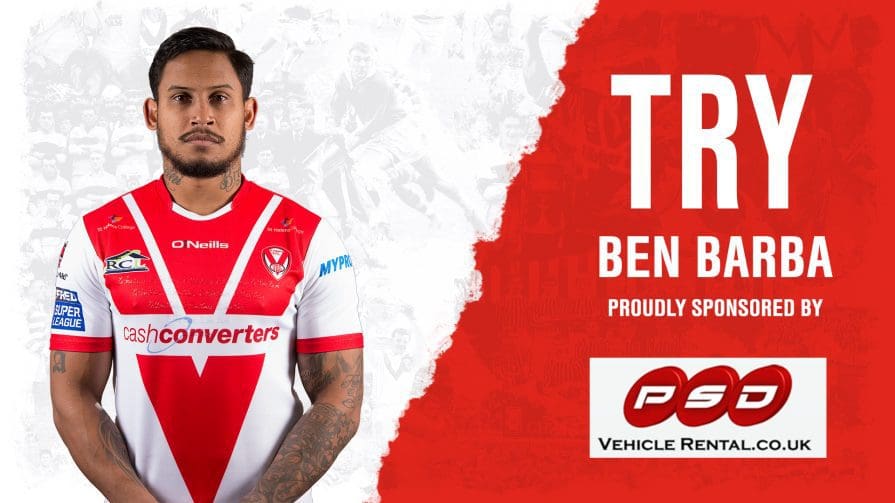 Try
Ben Barba for Saints
And it's number two for Benny!
Great run from Peyroux sets up the chance – ball comes left and Barba steps inside and puts down. We're heading upstairs…
And the ball is back with Saints in prime territory!
Richardson goes close on a show and go but Cas get the ball back.
Kick off bounces past the Cas defenders – and they have to drop out.
Big 40 minutes coming up here for Saints. They lead 12-0.
Cas looking lively down the left hand side but their final pass is loose.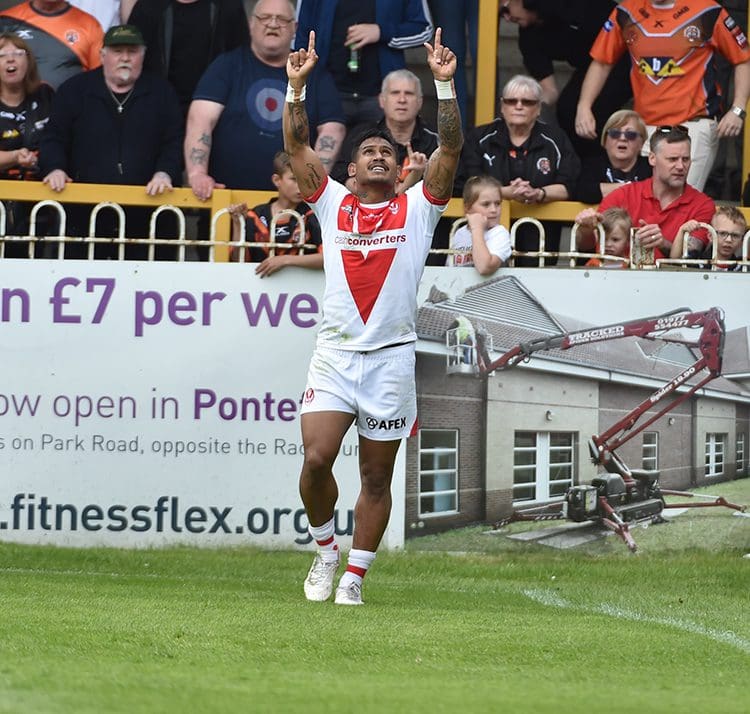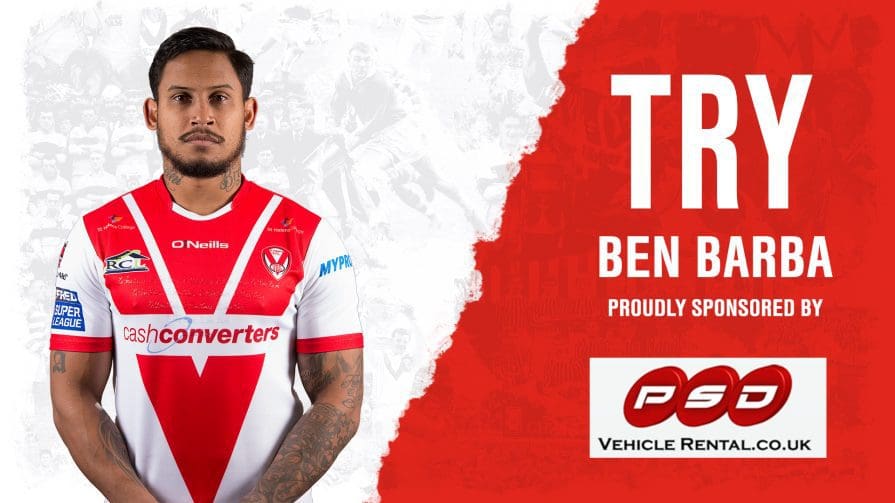 Try
Ben Barba for Saints
And repeat! Cas on the attack, ball loose, Barba picks up and goes the length!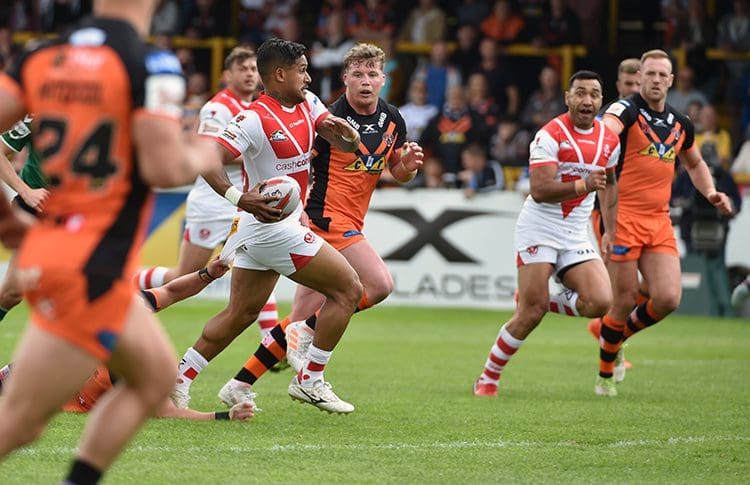 Grace takes the ball in his in-goal and come away with it. Saints looking sharp on defence at present.
Cas penalty for interference in the tackle. Saints lead 8-0.
LMS is on and he draws a penalty as Sene-Lefao roughs him up in the tackle.
Goal
Danny Richardson for Saints
Richardson goes on the last, then caps ahead and Cas are penalised for interference. Danny will take the two.
Kick to the corner, Makinson knocked off the ball – penalty to Saints in a great position.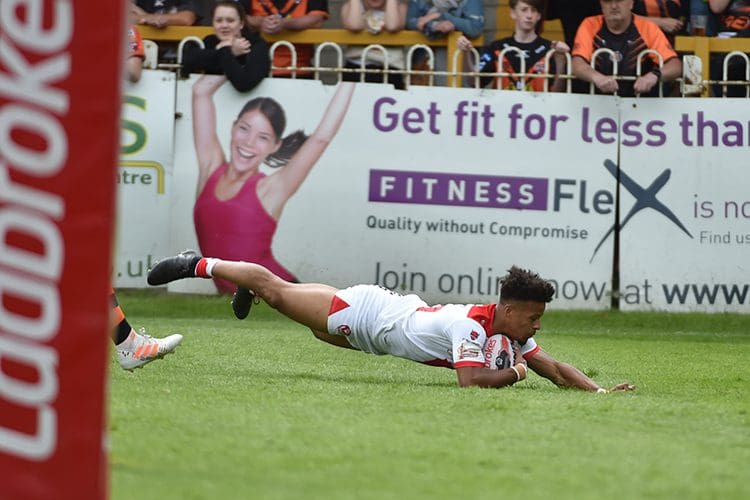 Goal
Danny Richardson for Saints
Try
Regan Grace for Saints
Whoosh! A length of the field from the winger. Barba takes a ball on his own line offloads and Grace is away!
But the ball is back with our hosts. Cas certainly on the front foot at present.
Saints defend the set – and then win a penalty of their own.
Try-saving tip back from Saints as Cas offload – Saints have to drop out.
Another stoppage as a Castleford player is having treatment.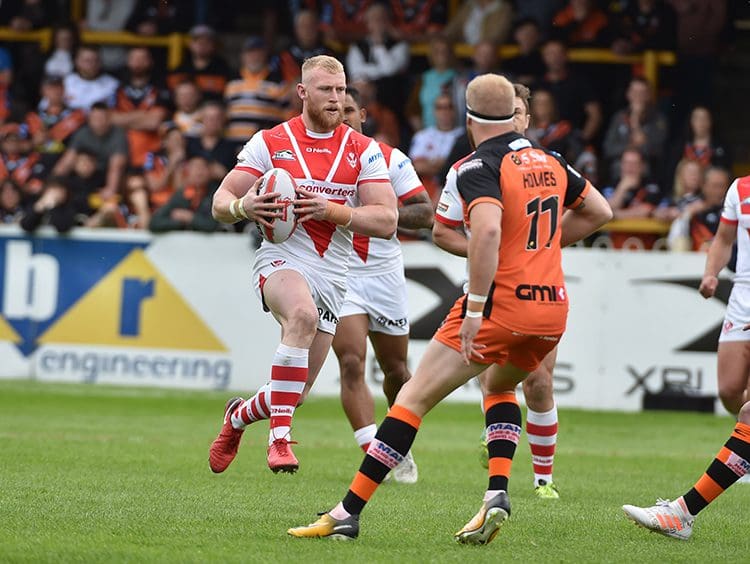 Kick to the corner and Saints have another set
Paul McShane chips through but Barba watches it go dead. Still 0-0 here.
Saints have decent field position after a Percival half-break but the ball is lost.
High kick from Richardson which Ryan Morgan almost collects.
Cas will get this one underway