Saints stretched their lead at the top of the Betfred Super League to six points with a 26-4 win over Hull KR.
Ben Barba crossed for his 21st and 22nd tries of the season – whilst Mark Percival and Ryan Morgan also scored in the victory.
James Roby tallied a special milestone four-pointer too as he took his total in the Red Vee to 100.
Saints dominated in terms of chances and possession and deservedly led 18-0 at half time.
Holbrook's men got their night underway within the first minute as they punished the Robins for putting the kick-off dead.
After Theo Fages had probed on the left hand side, the ball came right and Ben Barba found Ryan Morgan for his 11th of the season.
Eight minutes later James Roby spotted a gap and went over from dummy half – his 100th try in the Red Vee.
Fages then almost unlocked Barba with a deft chip before Luke Thompson had one chalked off for a knock on in the build up.
Saints continued to knock on the door but it took until the 27th minute for them to score again.
And it came via the hands of Fages and Zeb Taia who combined perfectly to turn it inside to Barba for his 21st of the season.
Saints continued to press and could have have been further ahead at half time – but they couldn't find the killer touch to take the game away from their opponents.
And early in the second, Hull KR reduced the deficit.
It was a great try too; the ball going through at least 20 pairs of hands, left to right and back again, before Junior Vaivai collected his own kick.
Saints restored their advantage with a touch of class.
Dom Peyroux burst through and went 30 metres before turning it inside to Danny Richardson.
The young half back then, at full tilt, left footed it over Percival who touched down.
Barba went close twice in quick succession and then Roby was unlucky not to tally his brace.
But the game stuttered somewhat to a close as both sides turned the ball over on numerous occasions.
However, the best was saved until last once again as Percival collected a kick on his own line as the hooter sounded and sent Barba the distance.
Match Summary:
Saints:
Tries: Morgan, Roby, Barba (2), Percival
Goals: Richardson (3 from 5)
Hull KR:
Tries: Vaivai
Goals: Shaw (0 from 1)
Penalties Awarded:
Saints: 11
Hull KR: 7
HT: 18-0
FT: 26-4
REF: Gareth Hewer
ATT: 9,405
Teams:
Saints:
23. Ben Barba; 2. Tommy Makinson, 3. Ryan Morgan, 4. Mark Percival, 19. Regan Grace; 6. Theo Fages, 18. Danny Richardson; 10. Kyle Amor, 9. James Roby, 16. Luke Thompson, 17. Dom Peyroux, 11. Zeb Taia, 13. Louie McCarthy-Scarsbrook,
Subs: 7. Matty Smith, 14. Luke Douglas, 15. Morgan Knowles, 20. Matty Lees.
Hull KR:
1. Adam Quinlan; 5. Ryan Shaw, 22. Liam Salter, 2. Junior Vaivai, 37. Elliot Wallis; 20. Matty Marsh, 11. Maurice Blair; 23. Joshua Johnson, 30. Joe Cator, 12. James Greenwood, 17. Chris Clarkson, 34. Danny Tickle, 15. James Donaldson.
Subs: 8. Nick Scruton, 10. Mose Masoe, 13. Ben Kavanagh, 24. Chris Atkin.
Saints Line up
| | |
| --- | --- |
| 23 | Ben Barba |
| 2 | Tommy Makinson |
| | Ryan Morgan |
| 4 | Mark Percival |
| 5 | Regan Grace |
| 7 | Theo Fages |
| 7 | Danny Richardson |
| 18 | Kyle Amor |
| 9 | James Roby |
| 10 | Luke Thompson |
| 12 | Dominique Peyroux |
| 11 | Zeb Taia |
| 15 | Louie McCarthy-Scarsbrook |
| 7 | Matty Smith |
| 14 | Luke Douglas |
| 13 | Morgan Knowles |
| 10 | Matty Lees |
Hull KR Line up
| | |
| --- | --- |
| 1 | Adam Quinlan |
| 2 | Ryan Shaw |
| 3 | Liam Salter |
| 4 | Junior Vaivai |
| 5 | Elliot Wallis |
| 6 | Matty Marsh |
| 7 | Maurice Blair |
| 8 | Joshua Johnson |
| 9 | Joe Cator |
| 10 | James Greenwood |
| 11 | Chris Clarkson |
| 12 | Danny Tickle |
| 13 | James Donaldson |
| 14 | Nick Scruton |
| 15 | Mose Masoe |
| 16 | Ben Kavanagh |
| 17 | Chris Atkin |
Last updated 8 Jun 18 21:53:21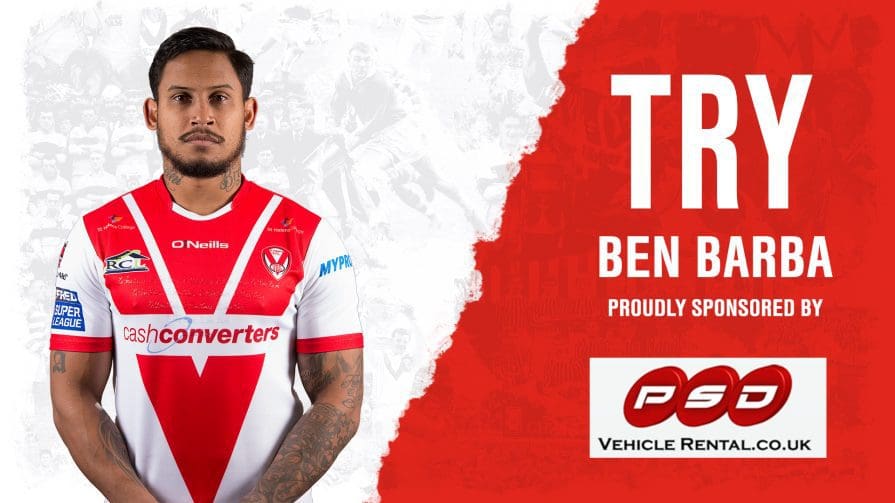 Try
Ben Barba for Saints
KR kick on the last. Percy collects on his own line, finds Barba and he goes the distance!
Saints on the last give it some air but Ryan Morgan's kick goes dead.
Saints now camped on Hull KR's line.
Richardson chips over the top – but KR regather it and then win a penalty.
But they knock on under the sticks. Saints remain 22-4 up.
And they force a drop out.
Back to back penalties has Hull KR in striking distance.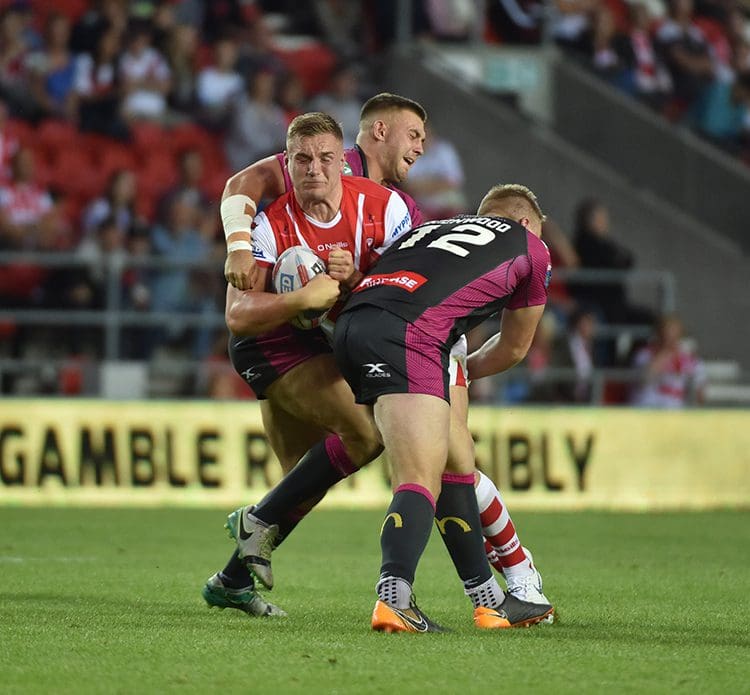 Benny Barba dances through the defence – but the ref calls him for a knock on. Few grumbles from the West Terrace.
Barba goes close on the last – Hull KR will have to come off their own line.
Hull KR lose the ball on their own 40.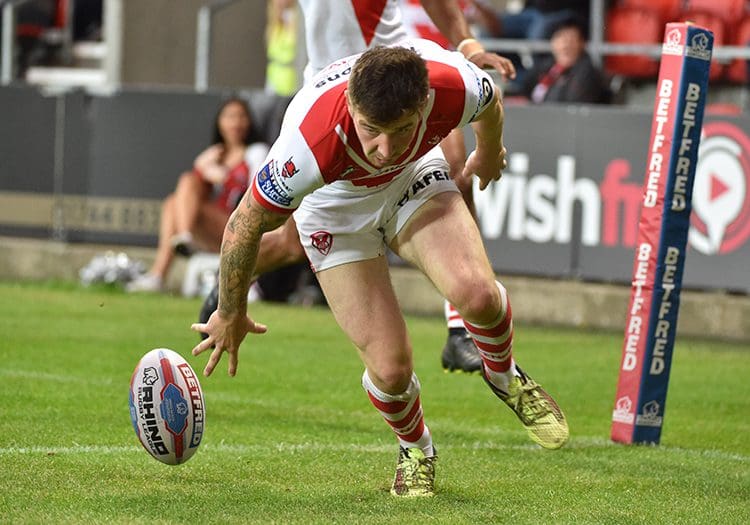 Conversion missed – Saints lead 22-4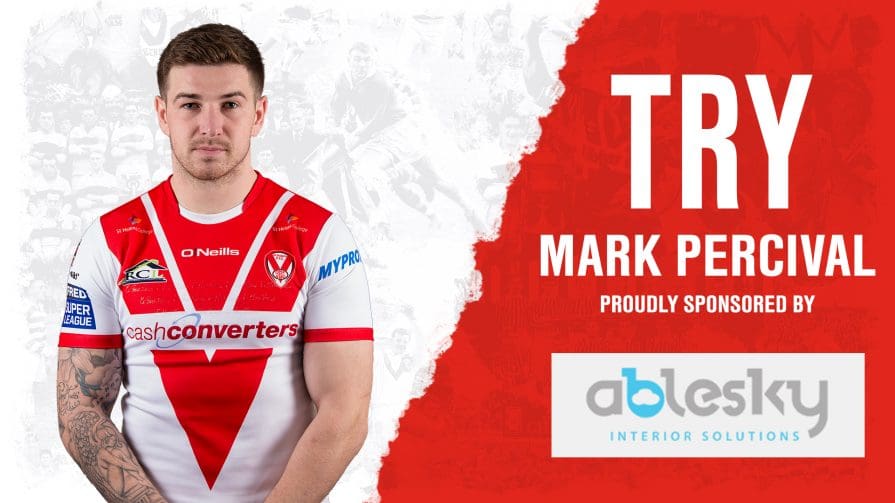 Try
Mark Percival for Saints
Peyroux break, finds Richardson who left foots it over for Mark Percival to catch. That's class.
Slow start to the half this one from Saints – Hull KR coming again but they lose the ball from a high kick.
Conversion missed – Saints lead 18-4
Try
Junior Vaivai for Hull KR
Invention on the last – the ball must have gone through 20 pairs of hands and Vaivai collects his own kick.
Back underway here, Saints lead 18-0.
Almost an unbelievable end to this one. Barba collects on his line goes to 70M and then chips for Makinson but the bounce just beats him.
Richardson high kick but it is a little too far for Makinson to collect. Saints remain 18-0 up.
Saints alert to stop Hull KR's short side play from the scrum – they wrap up Elliot Wallis.
Great run from Ryan Shaw sets the visitors up on Saints line – and they'll get another set as Richardson can't collect a grubber. Stops a certain try though!
Matty Lees on for Thommo – draws a penalty with his first drive.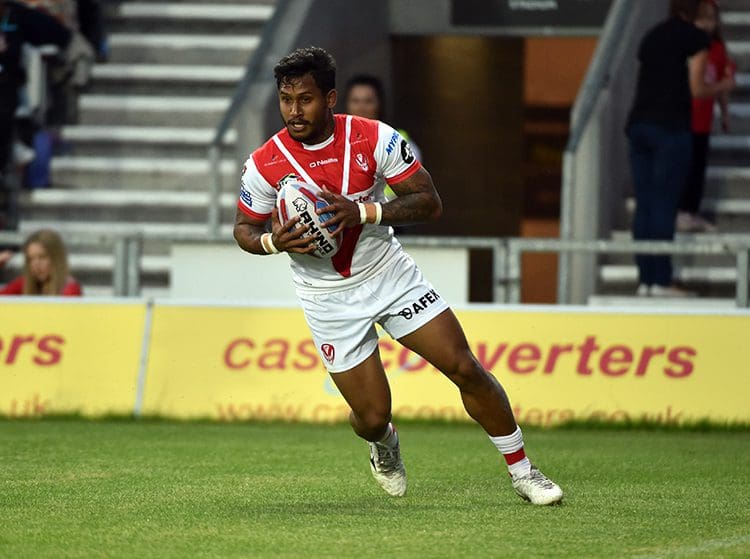 Goal
Danny Richardson for Saints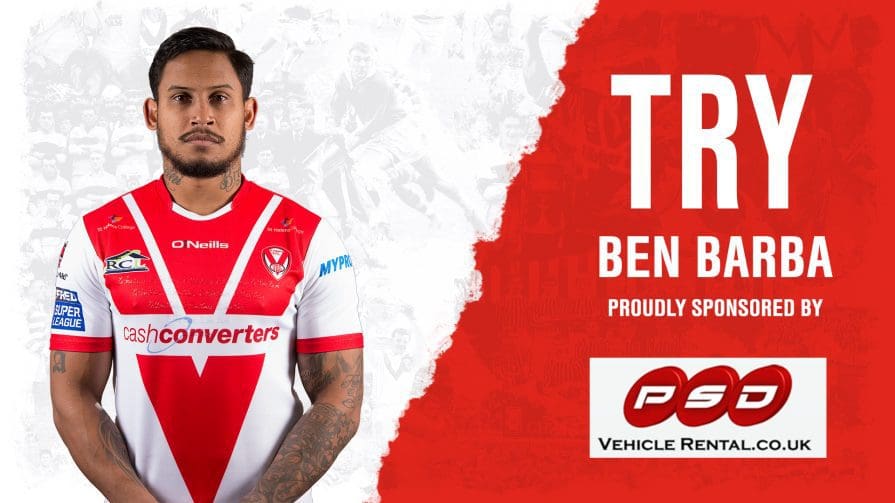 Try
Ben Barba for Saints
Fages to Taia who then turns it back inside for Barba – lovely move!
Ball back with Saints as KR lose it again.
Lovely touch from Fages sees Barba in space – but his pass to Grace is forward.
KR mistake, Saints right on their opponents line.
Another set for Saints right on Hull KR's line.
Hull KR knock-on on their own 40 – chance for Saints here.
Masoe on for Hull KR – home crowd break into the Mose Masoe chant!
Theo picks up a Thompson offload off his bootstraps – then later in the set chips ahead for Barba – but the bounce beats him.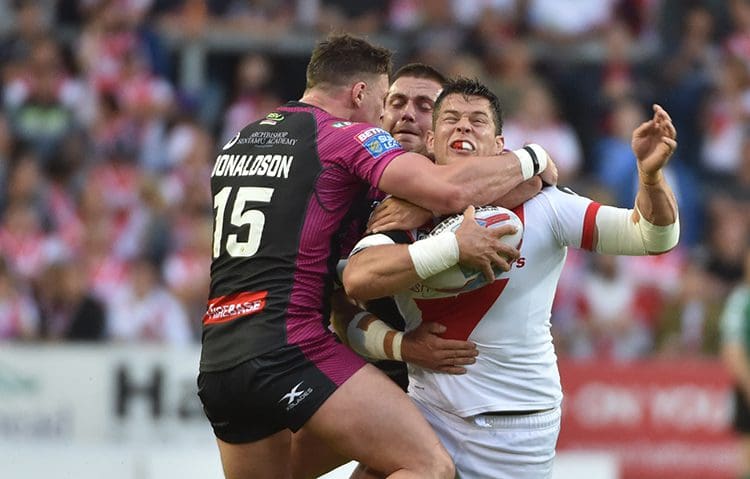 Saints have a scrum in their own 40 – they lead 12-0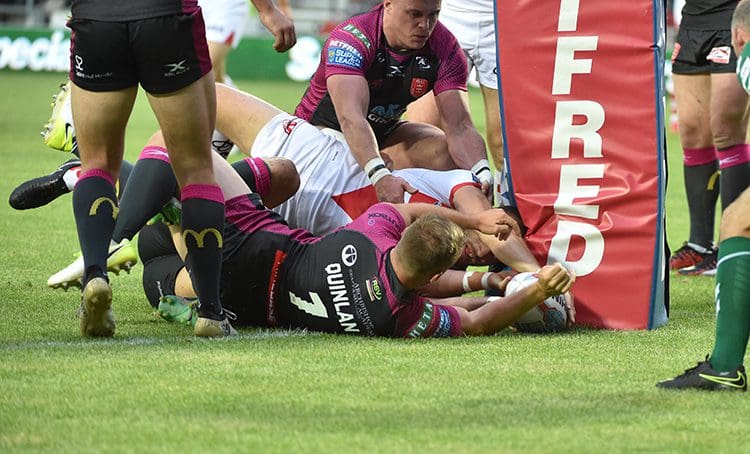 Goal
Danny Richardson for Saints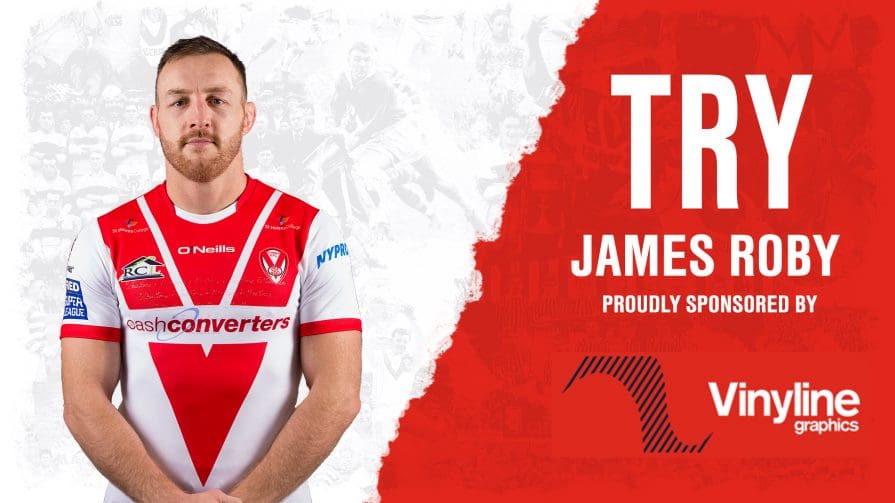 Try
James Roby for Saints
FINALLY! James Roby collects his 100th try in the Red Vee. And it's a typical dart from dummy half
And they'll have another set on the half-way line.
Great runs from Tommy Mak and Grace as we clear our lines. Saints over half-way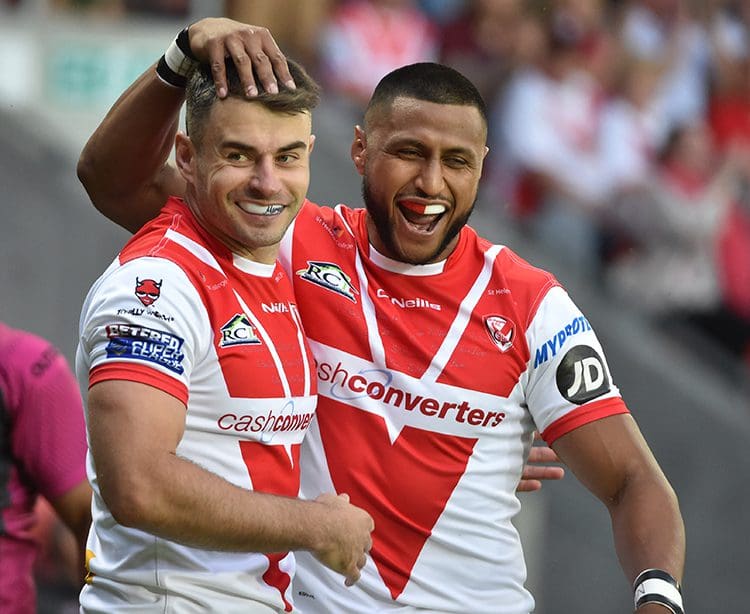 Another penalty for Saints…
Goal
Danny Richardson for Saints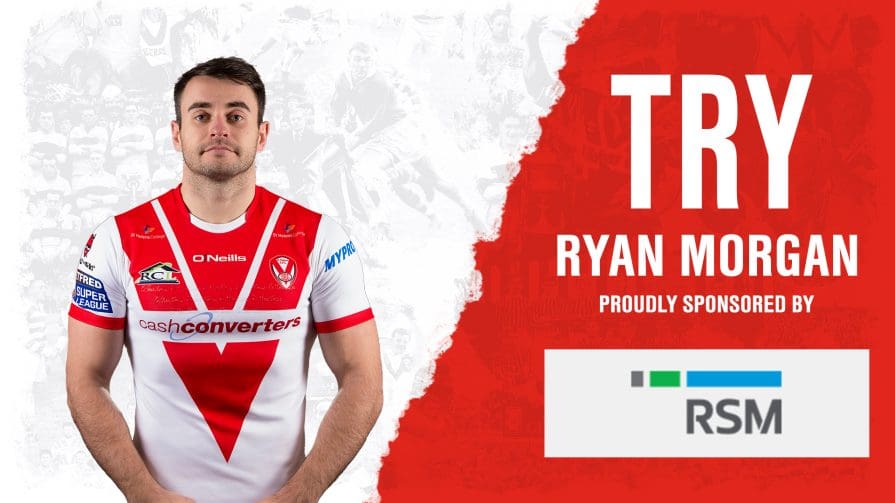 Try
Ryan Morgan for Saints
Saints punish the mistake – ball comes right and Barba finds Morgan
We're underway here and Hull KR have put the kick off dead. Saints have a penalty