Saints v Wakefield Trinity
Saints edged an astonishing game 34-30 after they scored three tries in seven second half minutes.
Regan Grace, James Roby and Zeb Taia all crossed in a staggering salvo as they flipped the game on its head to stay six clear at the top of the table.
Beforehand, Wakefield had overturned a 20-6 half time deficit with four tries of their own to threaten a league double.
And they even scored in the last minute too – but Saints held firm.
Justin Holbrook's side controlled the majority of the first half but were made to fight hard for their lead.
Both teams went close in the opening 10 minutes; Regan Grace looking most lively for the home side after scooting 50 metres on two separate carries.
But three minutes later he made one of them pay after he got on to a nice passing move.
And what a flowing passage of play it was – Jonny Lomax finding Ben Barba who then threw a peach of a cut out ball for Mark Percival to put in his winger.
Danny Richardson hammered home the extras but with a blink of an eye Wakefield had replied.
Saints were caught overplaying on their own line; going for an offload that probably wasn't on and Tom Johnstone intercepted.
But in the 25th minute they wrestled the lead back with a great move on the last.
Initially the ball was on the right hand side – but it was then shifted left to Barba who gave it to Percival to hand Lomax a walk over.
Richardson then scored a try right from the Saints of yesteryear.
They kept it alive on the last, sending the ball through several pairs of hands before it landed with Barba.
Faced with a wall of defenders, the full back kicked the ball back across the field, Tommy Makinson tapped it back and Richardson sidestepped his way to the line.
Barba made another break as the half came to a close but the home side had to settle with a Richardson penalty as the hooter sounded.
20-6, and Saints were in control.
Or so they thought.
Ryan Hampshire scored three minutes into the second half to bring his side back into it before Trinity turned up the heat.
Jacob Miller collected a high ball to draw his side to within four points and they took the lead when Mason Caton-Brown went over from dummy half.
It then got worse for the home side as when Saints were harshly penalised for obstruction Johnstone took full advantage for his second.
Saints powered back with a score right out of the drop drawer – and it was the start of something special.
In the 65th minute, Lomax collected a bouncing ball on his line and managed to evade being caught in goal.
Saints then shifted it left and Grace stepped back inside to score his second.
Class and composure from the youngster.
It got better too as on the next set, LMS found Morgan Knowles with an offload and the back fed James Roby for his 101st in the red vee.
Saints scored their third when Taia slipped a tackle and showed great strength to go over.
It should have been all over when Percival intercepted to go under the sticks with two minutes to go – but it was called back for a strip in the tackle.
And Wakefield duly went up the other end of the field and scored in the corner through Reece Lyne.
It was a controversial one – the centre appearing to be in touch – but Liam Finn passed up the conversion attempt.
Wakefield then had 60 seconds to find a winner but Saints came up with the ball and maintained their winning run.
Match Summary:
Saints:
Tries: Grace (2), Lomax, Richardson, Roby, Taia
Goals: Richardson (5 from 7)
Trinity:
Tries: Johnstone (2), Hampshire, Miller, Caton-Brown, Lyne
Goals: Finn (3 from 5)
Penalties Awarded:
Saints: 4
Trinity: 9
HT: 20-6
FT: 34-30
REF: James Child
ATT: 10,008
Teams:
Saints:
23. Ben Barba; 2. Tommy Makinson, 3. Ryan Morgan, 4. Mark Percival, 19. Regan Grace; 1. Jonny Lomax, 18. Danny Richardson; 14. Luke Douglas, 9. James Roby, 16. Luke Thompson, 17. Dom Peyroux, 11. Zeb Taia, 12. Jon Wilkin.
Subs: 6. Theo Fages, 13. Louie McCarthy-Scarsbrook, 15. Morgan Knowles, 20. Matty Lees,
Trinity:
25. Ryan Hampshire; 24. Mason Caton-Brown, 3. Bill Tupou, 4. Reece Lyne, 2. Tom Johnstone; 6. Jacob Miller, 7. Liam Finn; 10. Anthony England, 13. Tyler Randell, 8. David Fifita, 19. James Batchelor, 11. Matty Ashurst, 16. Tinirau Arona.
Subs: 9. Kyle Wood, 15. Pauli Pauli, 20. Keegan Hirst, 23. Chris Annakin.
Saints Line up
| | |
| --- | --- |
| 23 | Ben Barba |
| 2 | Tommy Makinson |
| | Ryan Morgan |
| 4 | Mark Percival |
| 5 | Regan Grace |
| 6 | Jonny Lomax |
| 7 | Danny Richardson |
| 14 | Luke Douglas |
| 9 | James Roby |
| 10 | Luke Thompson |
| 12 | Dominique Peyroux |
| 11 | Zeb Taia |
| 12 | Jon Wilkin |
| 7 | Theo Fages |
| 15 | Louie McCarthy-Scarsbrook |
| 13 | Morgan Knowles |
| 10 | Matty Lees |
Wakefield Trinity Line up
| | |
| --- | --- |
| 1 | Ryan Hampshire |
| 2 | Mason Caton-Brown |
| 3 | Bill Tupou |
| 4 | Reece Lyne |
| 5 | Tom Johnstone |
| 6 | Jacob Miller |
| 7 | Liam Finn |
| 8 | Anthony England |
| 9 | Tyler Randell |
| 10 | David Fifita |
| 11 | James Batchelor |
| 12 | Matty Ashurst |
| 13 | Tinirau Arona |
| 14 | Kyle Wood |
| 15 | Pauli Pauli |
| 16 | Keegan Hirst |
| 17 | Chris Annakin |
Last updated 29 Jun 18 21:46:08
Saints have the ball back!
Try
Reece Lyne for Wakefield Trinity
Adjudged to have put the ball down… that's a controversial one! Saints have 44 seconds to defend as Finn passes up the kick.
Now heading upstairs for an Lyne try in the corner…
Not given! Saints remain 34-26 up.
Percy intercepts and goes under the posts but we're heading upstairs.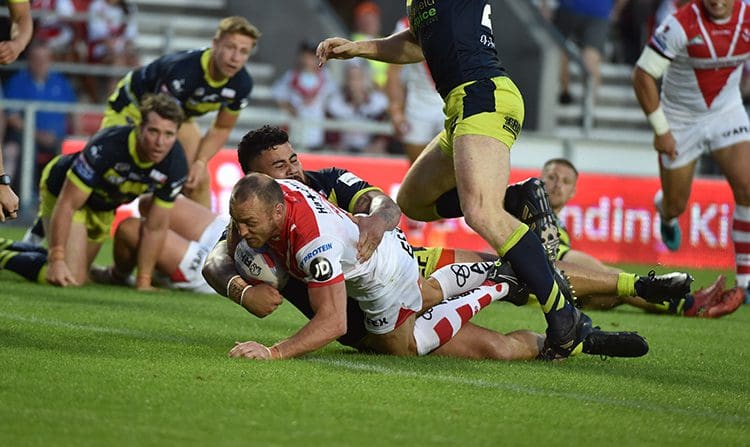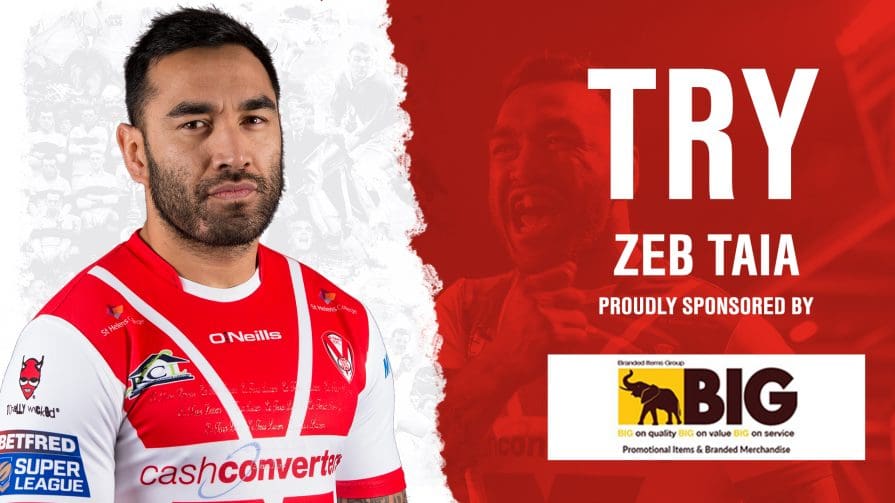 Saints break again; they can't convert it but win a drop out.
Goal
Danny Richardson for Saints
Richardson makes it 30-26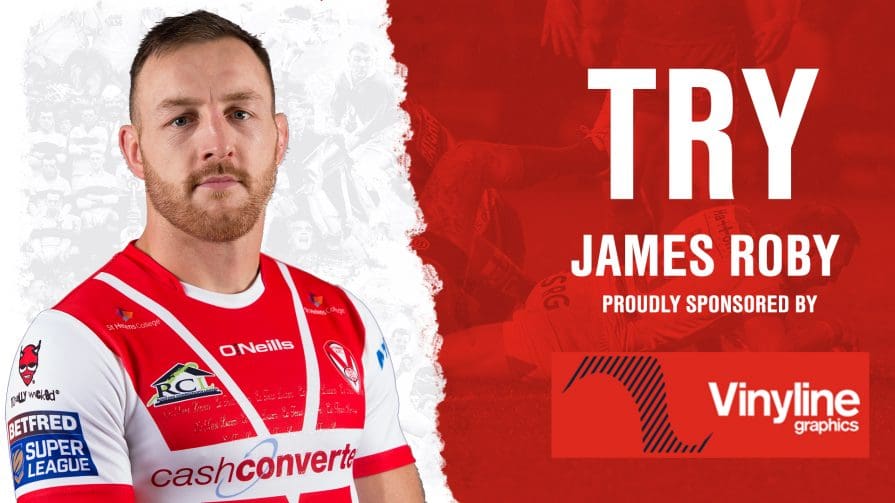 Try
James Roby for Saints
Ball is kept alive and James Roby has steamed onto that one!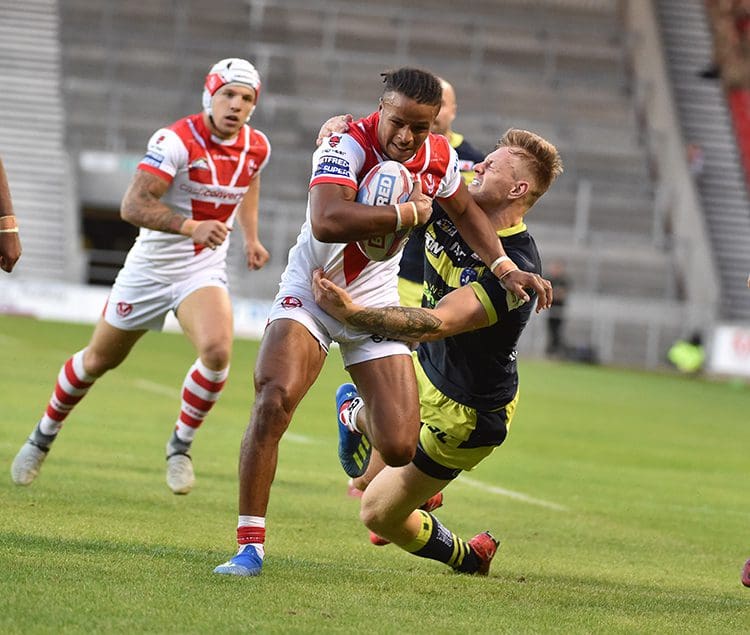 Try
Regan Grace for Saints
Saints hit back! Lomax collects ball on his own line, is tackled, it then goes left to Percival and Grace cuts inside. What a try!
Restart hits the deadball line – Wakefield have a penalty.
Finn his the post with his effort – Wakefield lead 26-20
Try
Tom Johnstone for Wakefield Trinity
Seventh penalty heads the visitor's way – and they take advantage, Johnstone nipping over from close range.
Finn misses the conversion but Wakefield lead 22-20.
Try
Mason Caton-Brown for Wakefield Trinity
Goes over from dummy half… Saints with it all to do.
Barba knocks-on 20 out and Saints have some defending to do.
Goal
Liam Finn for Wakefield Trinity
Try
Jacob Miller for Wakefield Trinity
It's been all Wakefield since the restart and Miller has just collected a high ball to go over
Wakefield called for a forward pass on Saints line.
Saints stop Pauli Pauli on the last right on their line.
Matty Lees hits Finn a little too late and Wakefield have a penalty in good territory.
Finn makes it an eight point game at 20-12
Try
Ryan Hampshire for Wakefield Trinity
Hampshire takes a pass and goes over – Wakefield back in it.
Saints will get the second half underway – they lead 20-6
Goal
Danny Richardson for Saints
Richardson cops a high shot right in front of the posts – he will take the two.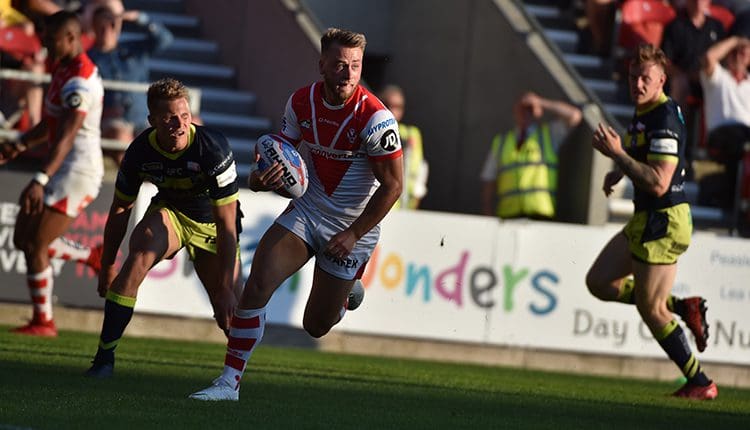 Goal
Danny Richardson for Saints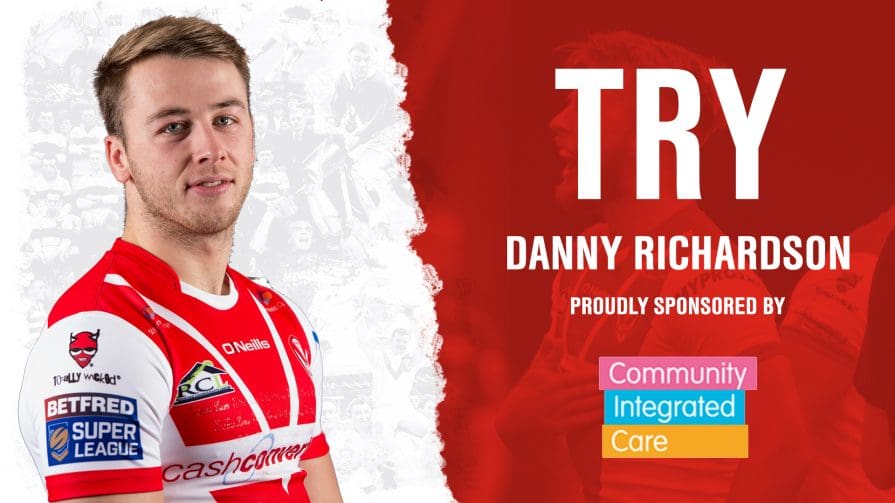 Try
Danny Richardson for Saints
And it's given, such improvisation to keep that one alive – and what a step from Danny too!
Saints could have scored a right old try on the last tackle here – we're heading upstairs to check for a knock on. Has to be at least 15 pairs of hands in this one.
Taia penalised for a high shot – some bemused faces in the ground – but Wakefield hand the ball back with a knock-on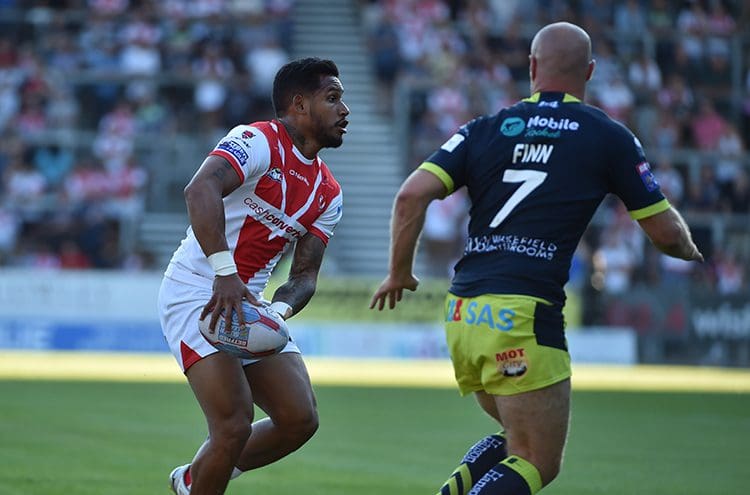 Tommy Mak kicks a Wakefield chip dead – Saints will drop out but that was good defence from the England international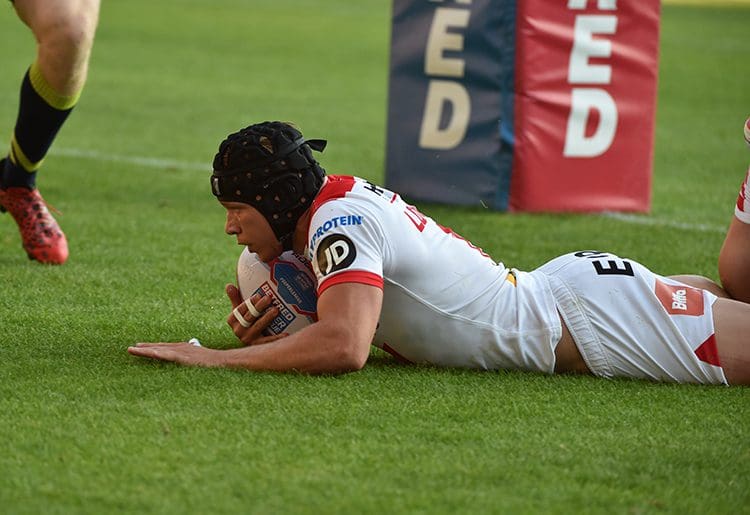 Goal
Danny Richardson for Saints
Richardson makes it 12-6 to Saints.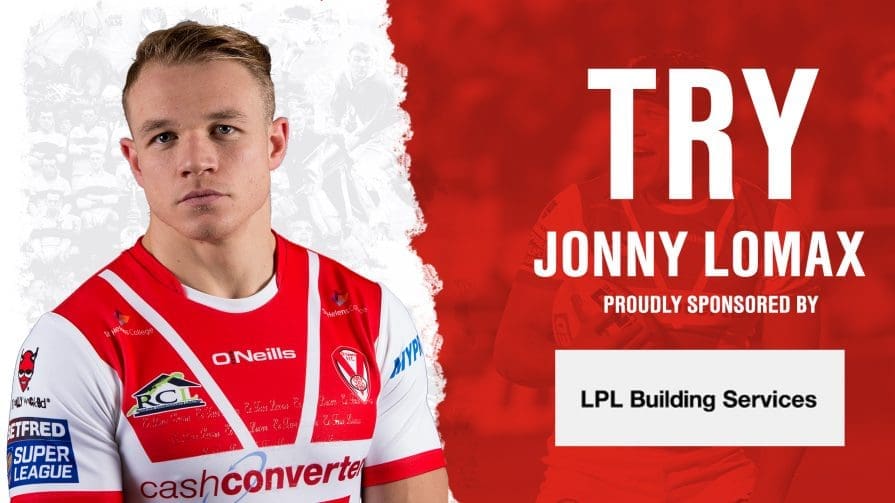 Try
Jonny Lomax for Saints
Sheer class on the last from Saints. Ball moved left, Barba finds Percival who cuts inside and feeds it to Lomax.
Goal
Liam Finn for Wakefield Trinity
Try
Tom Johnstone for Wakefield Trinity
Saints overplay on their own line – go for an offload that isn't there and Johnstone pounces.
High ball to the corner – Saints wrap up the danger and remain 6-0 up.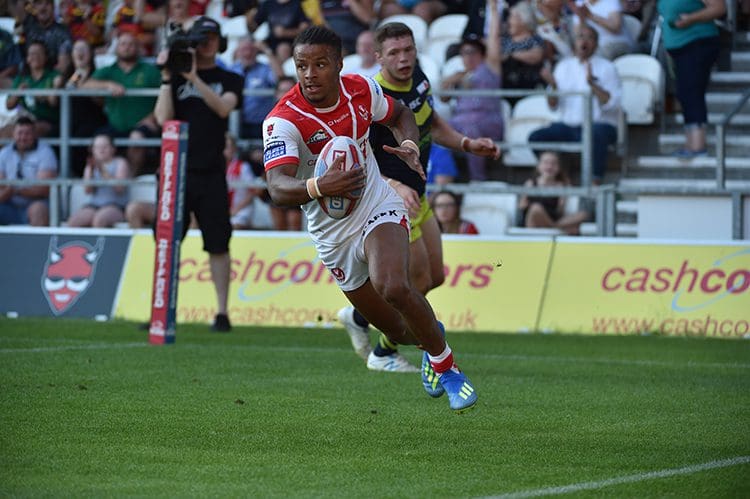 Goal
Danny Richardson for Saints
Try
Regan Grace for Saints
Lovely move – Lomax to Barba.. miss out pass to Percival who puts his winger over.
Miller takes the ball from Ryan Morgan but Saints get another set as it's deemed it has gone forward.
But Wakefield lose the ball – and Regan goes 50 metres. Saints on the front foot.
A rare dropped ball from Thompson gives Wakefield good position – Saints then give a penalty away right on their line.
Makinson takes a chip over the top but Saints have to drop out.
Great move sees Barba feed Grace but the winger can't get the ball down in the corner. Let off for Wakefield.
Grace goes 60 metres – and then earns a penalty. Saints in great position here
Hampshire almost gets through then Saints wrap up Bill Tupou
Wakefield get a penalty for a high shot.
Wakefield will get this one underway