Saints v Warrington Wolves
Saints-Warrington games have a habit of producing breathtaking finishes.
Long, Cunningham, Turner … well, now it's time for Danny Richardson to be etched into folklore.
12-all, hooter gone, Saints handed a penalty some 55 metres out, possibly more.
Up steps the 21-year-old and with the eyes of 13,000 packed into the stadium on him, and thousands at home, lands a beauty to give Saints a 14-12 victory.
The home side had been 8-0 down at half time.
They couldn't settle in possession and it was no surprise when Daryl Clark went over from close range on 10 minutes.
It could have been worse too as Warrington spurned two chances but Saints did grow into it late on.
James Roby and LMS both going close.
That momentum carried over into the second half and within 60 seconds it was game on.
Jonny Lomax made a sensational break on the left hand side, found the supporting Mark Percival who duly turned it back inside for Ben Barba to go under the sticks.
Richardson tagged on the extras but on 50 minutes Tyrone Roberts took the score out to 10-6 with a penalty.
And three minutes later he slotted another home from right in front of the posts.
Saints had to dig deep once again to stop a certain Josh Charnley try on the hour mark and then forced a drop out two minutes later thanks to outstanding kick chase from Richardson and Theo Fages.
That pressure finally told as Saints produced an outstanding passage of play to get one level terms.
Offloads came aplenty, but Kyle Amor's hand-off and offload were a sight to behold before Jonny Lomax ghosted over.
Roberts attempted a drop goal on three separate occasions before Stefan Ratchford had an attempt.
Richardson had a pop too – one going high but slightly wide.
Until that final moment.
Cometh the hour, cometh the man.
Match Summary:
Saints:
Tries: Barba, Lomax
Goals: Richardson (3 from 3)
Wolves:
Tries: Clark
Goals: Roberts (4 from 4)
Penalties Awarded:
Saints: 8
Wolves: 6
HT: 0-8
FT: 14-12
REF: James Child
ATT: 12,454
Teams:
Saints:
23. Ben Barba; 2. Tommy Makinson, 3. Ryan Morgan, 4. Mark Percival, 19. Regan Grace; 1. Jonny Lomax, 18. Danny Richardson; 10. Kyle Amor, 9. James Roby, 16. Luke Thompson, 17. Dom Peyroux, 11. Zeb Taia, 12. Jon Wilkin.
Subs: 6. Theo Fages, 13. Louie McCarthy-Scarsbrook, 14. Luke Douglas, 15. Morgan Knowles.
Wolves:
1. Stefan Ratchford; 2. Tom Lineham, 3. Bryson Goodwin, 18. Toby King, 27. Josh Charnley; 6. Kevin Brown, 7. Tyrone Roberts; 8. Chris Hill, 9. Daryl Clark, 10. Mike Cooper, 20. Harvey Livett, 12. Jack Hughes, 34. Ben Westwood.
Subs: 13. Ben Murdoch-Masila, 15. Declan Patton, 16. Sitaleki Akauola, 17. Joe Philbin.
Saints Line up
| | |
| --- | --- |
| 23 | Ben Barba |
| 2 | Tommy Makinson |
| | Ryan Morgan |
| 4 | Mark Percival |
| 5 | Regan Grace |
| 6 | Jonny Lomax |
| 7 | Danny Richardson |
| 18 | Kyle Amor |
| 9 | James Roby |
| 10 | Luke Thompson |
| 12 | Dominique Peyroux |
| 11 | Zeb Taia |
| 12 | Jon Wilkin |
| 7 | Theo Fages |
| 15 | Louie McCarthy-Scarsbrook |
| 14 | Luke Douglas |
| 13 | Morgan Knowles |
Warrington Wolves Line up
| | |
| --- | --- |
| 1 | Stefan Ratchford |
| 2 | Tom Lineham |
| 3 | Bryson Goodwin |
| 4 | Toby King |
| 5 | Josh Charnley |
| 6 | Kevin Brown |
| 7 | Tyrone Roberts |
| 8 | Chris Hill |
| 9 | Daryl Clark |
| 10 | Mike Cooper |
| 11 | Harvey Livett |
| 12 | Jack Hughes |
| 13 | Ben Westwood |
| 14 | Ben Murdoch-Masila |
| 15 | Declan Patton |
| 16 | Sitaleki Akauola |
| 17 | Joe Philbin |
Last updated 26 Jul 18 21:42:56
An absolute monster kick from Richardson hands Saints a 14-12 win.
Goal
Danny Richardson for Saints
He's nailed it!!!! Incredible stuff!
Would be a monster kick from Danny this to slot it over.
Saints have a penalty in the 80th minute. Slight right of top the posts, a good 55 metres, pos 60 out.
Ratchford's effort is low…
Richardson's drop goal effort is high – but it goes right.
Richardson's effort doesn't really leave the floor – massive chance for Warrington here.
Warrington called for a forward pass. LMS charged up for sure!
Another scrum for Warrington…
We're all in over in the corner!
Saints block Roberts' drop goal attempt – but the ball bounces behind the line and Warrington have a drop out.
No try but Warrington have the ball.
Ball bounces all over the place on the last in Saints 10 – Warrington have come up with it – we're heading upstairs for a try.
Thompson adjudged to have knocked on.
Thompson over the line – ball comes out and we're checking upstairs for how it came out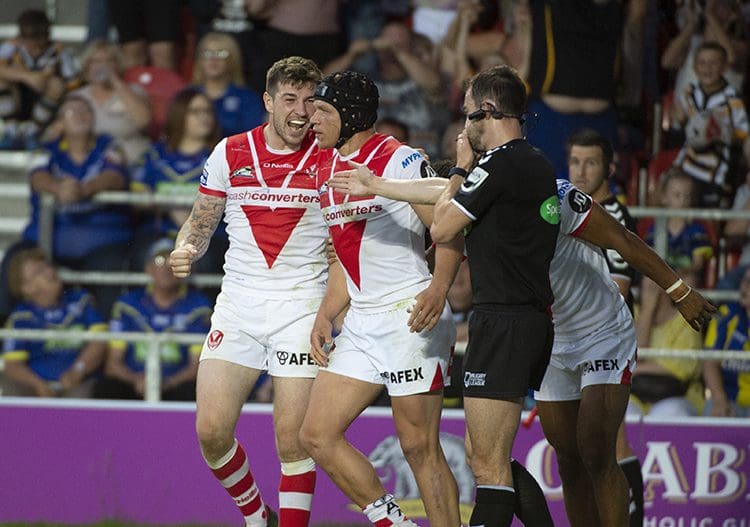 Goal
Danny Richardson for Saints
We're all square! Richardson with the boot – 12-12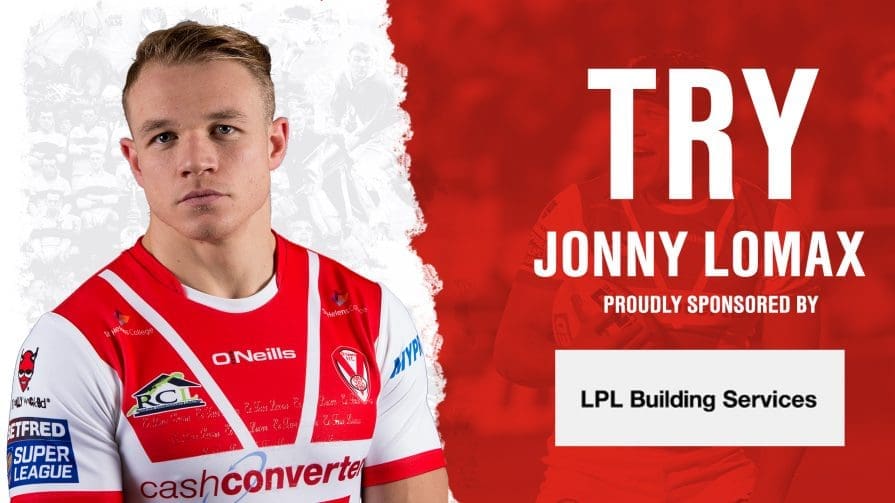 Try
Ben Barba for Saints
Some majestic stuff in the lead up to that one – offloads everywhere – Lomax goes over!
Saints penalty, around 10 out.
Fantastic kick chase from Saints on the last – Warrington have to drop out.
Try stopper at one end now Saints are knocking on the door.
Chip back towards the posts from Brown – Fages up to it but Saints have to drop out.
Ball back with the Wolves and they look lively once more.
Warrington penalised for interference.
Goal
Tyrone Roberts for Warrington Wolves
Saints penalised on their own line and Roberts will go for the two.
Error from a high ball gives Warrington prime position to attack.
Goal
Tyrone Roberts for Warrington Wolves
Roby caught for interference and Roberts will attempt the 2.
Good high kick from Richardson but Ratchford doesn't drop those.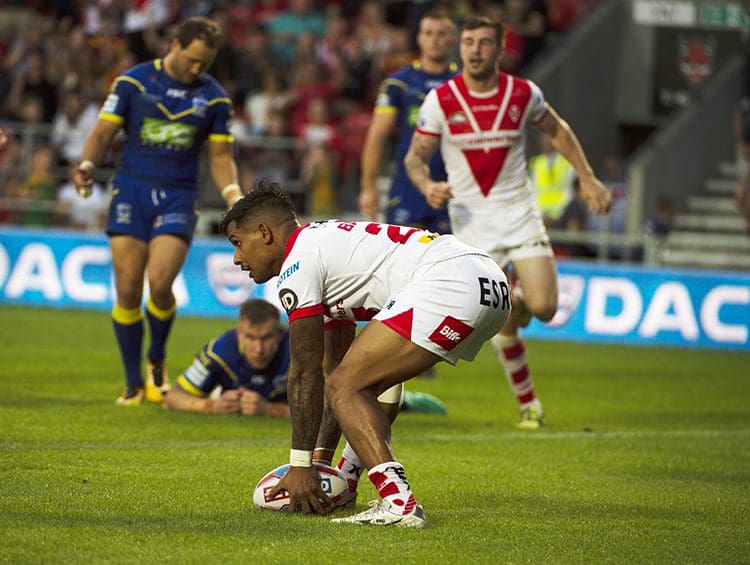 Goal
Danny Richardson for Saints
Danny makes it a two-point game. 6-8
Lomax and Percy with the break there – class!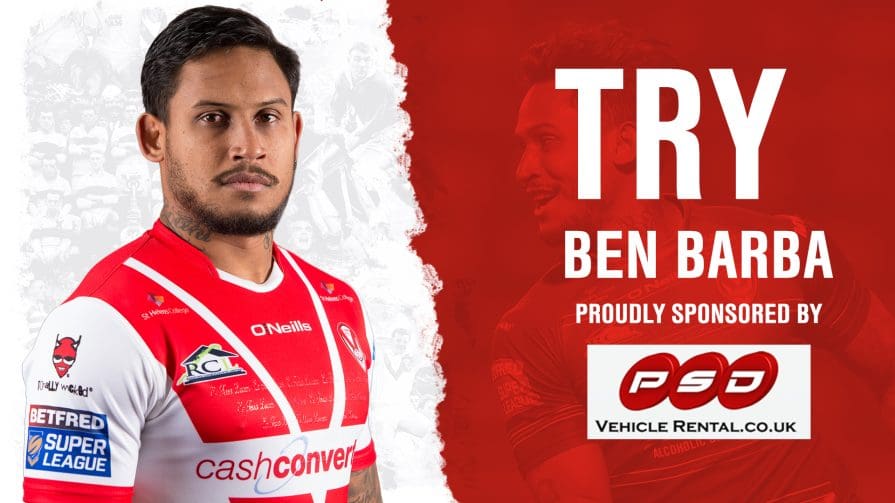 Warrington get the second half underway and they lead 8-0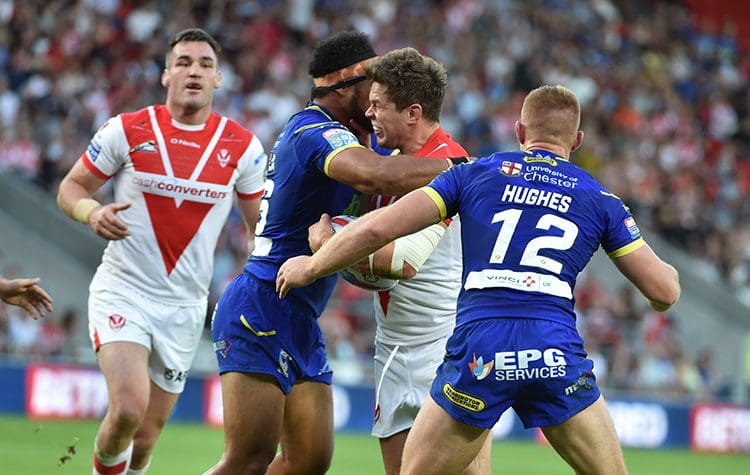 Ball back in Saints half as the home side can't take advantage of all that possession.
Chip to the corner on the last. Saints tap it back then Warrington knock on. Another chance for the home side.
Roby takes a chip on the last – but Warrington gain a penalty.
And another penalty heads Saints way.
And another – Saints knocking on the door.
Roby catches everyone by surprise but is held up over the line.
Great break from the scrum from Percival sets Morgan away. Saints around 35 out
Another high ball from Richardson – steady from Ratchford who sets his side up once again. Warrington lead 8-0.
Ratchford takes a high ball, clearly goes behind his man, but Warrington come away with it. Wolves rolling up field once more.
But Saints snaffle a poor play the ball and relieve the pressure.
Goal
Tyrone Roberts for Warrington Wolves
Roberts makes it 8-0 with a penalty
Warrington throw a forward pass – Wilkin lands a high tackle – Warrington have a penalty.
Big D from Saints there on their own line stopping a certain Warrington attack.
Warrington with the ball back on Saints line
Another penalty heads Warrington's way
Saints make a break down the left hand side – Taia its hauled down on his way to the line and then Barba is caught on the last.
Goal
Tyrone Roberts for Warrington Wolves
Try
Daryl Clark for Warrington Wolves
It's given and Warrington have the lead.
Saints penalised for obstruction whilst in possession – at the other end Warrington seem to have gone over through Clark… we're heading upstairs
High shot that didn't miss. Saints have a penalty just off their own line.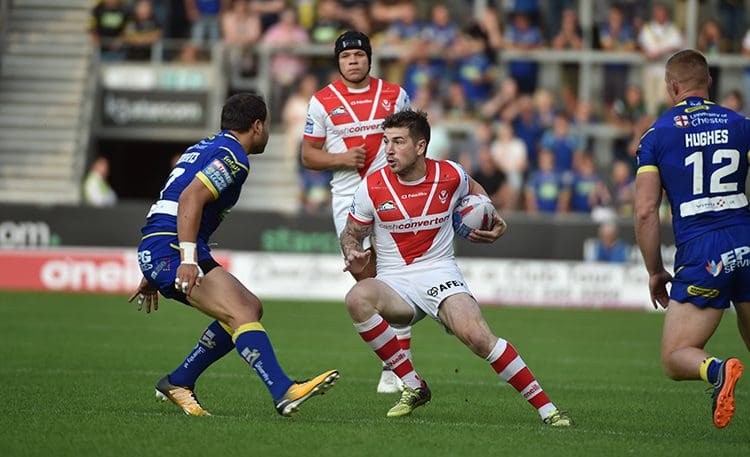 Roberts and Hughes go close but Saints defence does the job.
Warrington have a penalty.
Saints return the favour though as it is as you where. Wolves scrum, on their 20
Saints get the ball back as Wire knock on, 30 out.
After Barba makes half a break on the right hand side, ball comes back inside but a flat pass cannot be taken
Saints will get this half underway