Salford Red Devils v Saints
Saints produced one of their most complete displays of the season to beat Salford 60-10 on Thursday night.
After running in 12 tries against Huddersfield last week, 11 followed at the AJ Bell Stadium as Justin Holbrook's side put the Devils to the sword.
Ben Barba was at his imperious best with a hat-trick, whilst Regan Grace and Ryan Morgan both scored braces in the rout.
And 32 of the points came when they were down to 12 men too as Matty Lees was sent off just before the end of the first half.
His tackle on Niall Evalds earning him a red card.
Unsurprisingly the first half was all Saints and the brilliant attacking display began in the first five minutes.
After forcing an error, Matty Smith, deputising once more for the injured James Roby, fed Danny Richardson and he linked up with Barba to send Tommy Makinson in.
Ten minutes later, Makinson turned provider as he out-jumped Greg Johnson to collect Richardson's high kick and offloaded to the supporting Dom Peyroux.
At 10-0 Saints were already turning the screw and it got much better as from the restart they scored again.
This time combination of Jonny Lomax and Mark Percival sent Grace away down the left hand side.
Buoyed by his scintillating try against the Giants the week before, the youngster then stepped inside his opposite number to put Barba under the black dot for his 13th of the year.
Shortly afterwards, Barba was putting Ryan Morgan over for his first of the night.
Salford hit back through Tyrone McCarthy for 22-6 but the quick thinking of Barba stopped any chance of another which would have made it game on.
With the Devils camped on Saints' line, he read the mind of Josh Wood, picked off his offload and went the length of the field.
Saints were now well in charge but any thoughts of cruising home with the points took a hammer blow when Matty Lees was sent off two minutes before half time.
Salford's Niall Evalds had cleaned up a bouncing ball but with player 'un-tackled', Lees flew in, struck the full back, and forced the ball loose.
Saints duly touched it down but it was chalked off for that hit, and Lees was sent off.
Holbrook's men didn't hang around to lick their wounds though and after forcing another error, Richardson, Lomax and Percival interplayed to send Grace spectacularly over in the corner.
Saints 32-6 to the good at half time.
Holbrook knew the Devils would come at his side in the second half, looking to exploit the inevitable gaps with a man advantage.
And they almost did that early on as back to back penalties put them right on the visitor's line.
But Saints weathered the pressure, went up the other end of the field and scored.
A towering bomb was knocked-on by young Jake Shorrocks and from the resultant set, Barba hit Grace for his second of the evening.
And it got better as from the restart, Louie McCarthy-Scarsbrook went 45 metres and within the blink of an eye, Lomax had found Mark Percival for another try.
Ben Barba then notched up his hat-trick as he took Richardson's cute grubber.
Parity in numbers, for 10 minutes at least, came as Junior Sa'u saw yellow for a late flop on Ryan Morgan.
Saints should have gone further ahead too but Peyroux's pass to Richardson was forward.
The game was then halted for a significant period as Barba was stretchered off with a neck injury – but Saints regrouped and scored twice in three minutes.
Theo Fages produced a bit of magic on 75 minutes before Makinson's chip over the top saw Ryan Morgan collect for his second.
Kris Welham crossed at the end for the Devils but it always was Saints night.
Match Summary:
Devils:
Tries: McCarthy, Welham
Goals: Shorrocks (1 from 2)
Saints:
Tries: Makinson, Peyroux, Barba (3), Morgan (2), Grace (2), Percival, Fages
Goals: Richardson (8 from 11)
Penalties Awarded:
Devils: 8
Saints: 6
HT: 6-32
FT: 10-60
REF: C Kendall
ATT: TBC
Teams:
Devils:
5. Niall Evalds; 2. Greg Johnson, 4. Junior Sa'u, 3. Kris Welham, 24. Jake Bibby; 28. Jake Shorrocks, 7. Jack Littlejohn; 23. Lee Mossop, 9. Logan Tomkins, 16. Luke Burgess, 10. George Griffin, 15. Ryan Lannon, 13. Mark Flanagan.
Subs: 8. Craig Kopczak, 14. Lama Tasi, 17. Tyrone McCarthy, 19. Josh Wood.
Saints:
23. Ben Barba; 2. Tommy Makinson, 3. Ryan Morgan, 4. Mark Percival, 19. Regan Grace; 1. Jonny Lomax, 18. Danny Richardson; 10. Kyle Amor, 7. Matty Smith, 16. Luke Thompson, 11. Zeb Taia, 17. Dom Peyroux, 12. Jon Wilkin.
Subs: 6. Theo Fages, 13. Louie McCarthy-Scarsbrook, 15. Morgan Knowles, 20. Matty Lees.
Saints Line up
| | |
| --- | --- |
| 23 | Ben Barba |
| 2 | Tommy Makinson |
| | Ryan Morgan |
| 4 | Mark Percival |
| 5 | Regan Grace |
| 6 | Jonny Lomax |
| 7 | Danny Richardson |
| 18 | Kyle Amor |
| 7 | Matty Smith |
| 10 | Luke Thompson |
| 12 | Dominique Peyroux |
| 11 | Zeb Taia |
| 12 | Jon Wilkin |
| 7 | Theo Fages |
| 15 | Louie McCarthy-Scarsbrook |
| 13 | Morgan Knowles |
| 10 | Matty Lees |
Salford Red Devils Line up
| | |
| --- | --- |
| 1 | Niall Evalds |
| 2 | Greg Johnson |
| 3 | Junior Sa'u |
| 4 | Kris Welham |
| 5 | Jake Bibby |
| 6 | Jake Shorrocks |
| 7 | Jack Littlejohn |
| 8 | Lee Mossop |
| 9 | Logan Tomkins |
| 10 | Luke Burgess |
| 11 | George Griffin |
| 12 | Ryan Lannon |
| 13 | Mark Flanagan |
| 14 | Craig Kopczak |
| 15 | Lama Tasi |
| 16 | Tyrone McCarthy |
| 17 | Josh Wood |
Last updated 26 Apr 18 21:50:31
Try
Kris Welham for Salford Red Devils
Heading upstairs for a salford try.
Goal
Danny Richardson for Saints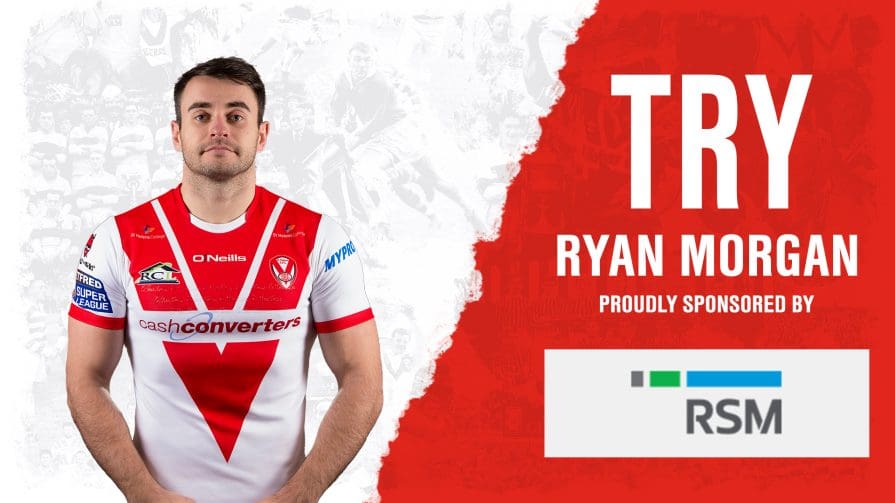 Try
Ryan Morgan for Saints
Lovely chip over and Morgan grabs a second!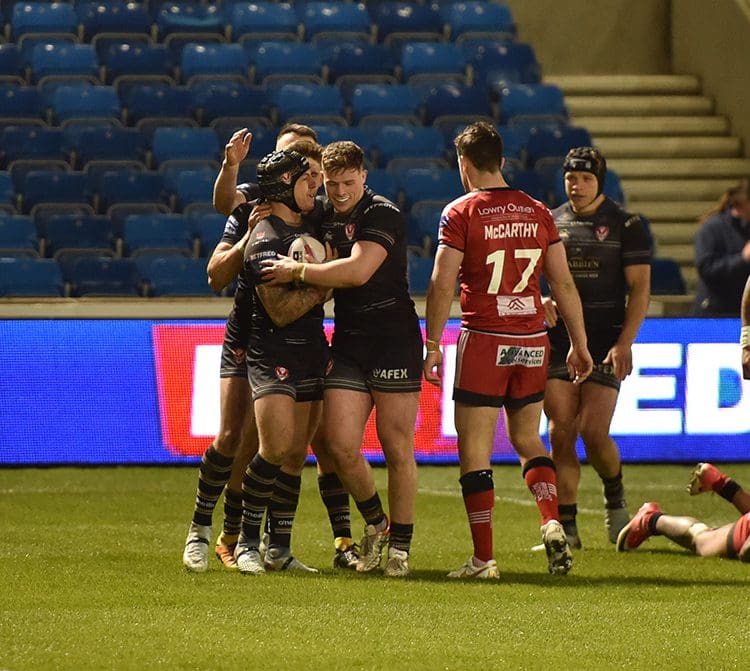 Goal
Danny Richardson for Saints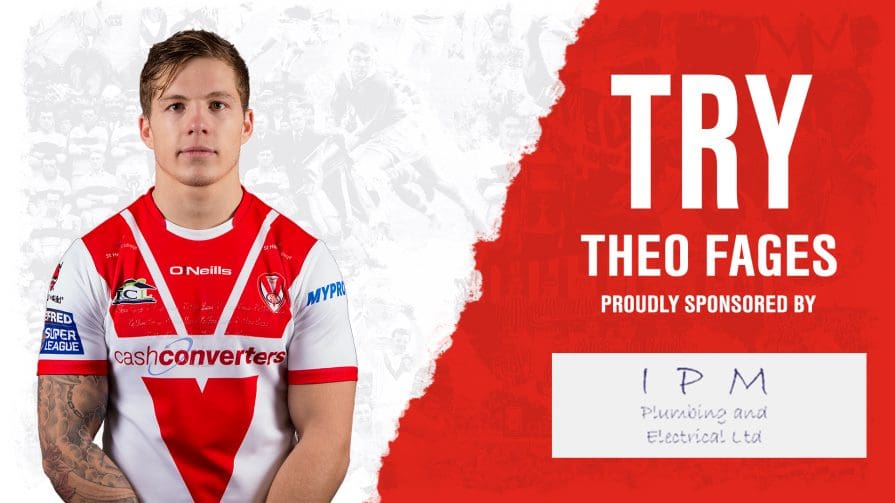 Try
Theo Fages for Saints
Lovely try there for Saints as Fages finds a gap!
Benny down on the pitch at the moment and there's a stretcher out. Fingers crossed he is ok.
And then Regan forces them into touch!
Saints halt a Salford break down the right – great tackle from Lomax but are done for offside and Salford have another set.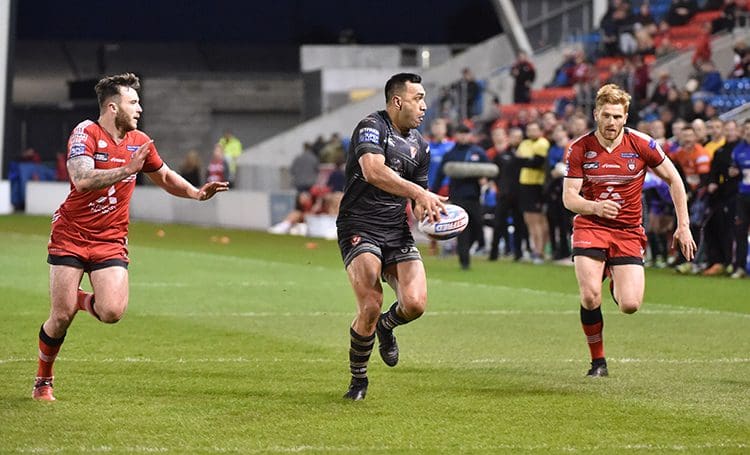 Regan takes a chip over the top – but is bundled into the in goal area for a drop out.
Yellow Card
Junior Sa'u for Salford Red Devils
Goal
Danny Richardson for Saints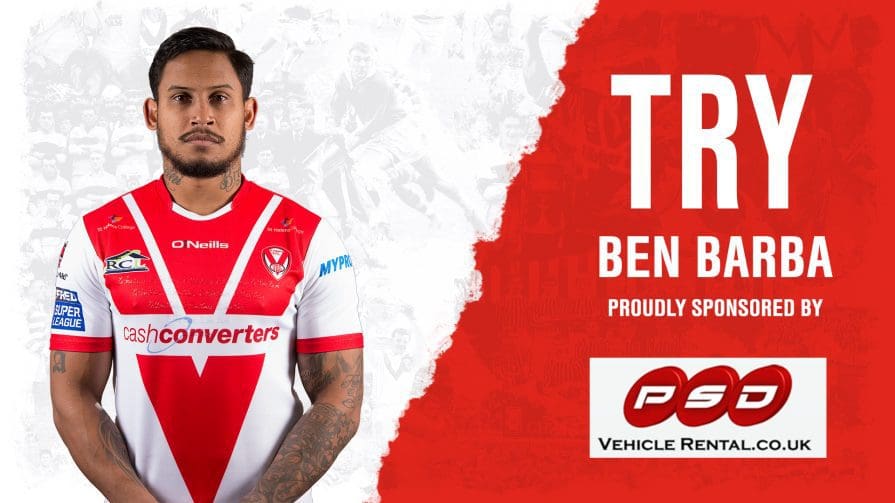 Try
Ben Barba for Saints
Richardson grubbers it – Barba collects and that's a hat-trick
Salford break – Saints bundle them into touch. Working hard tonight.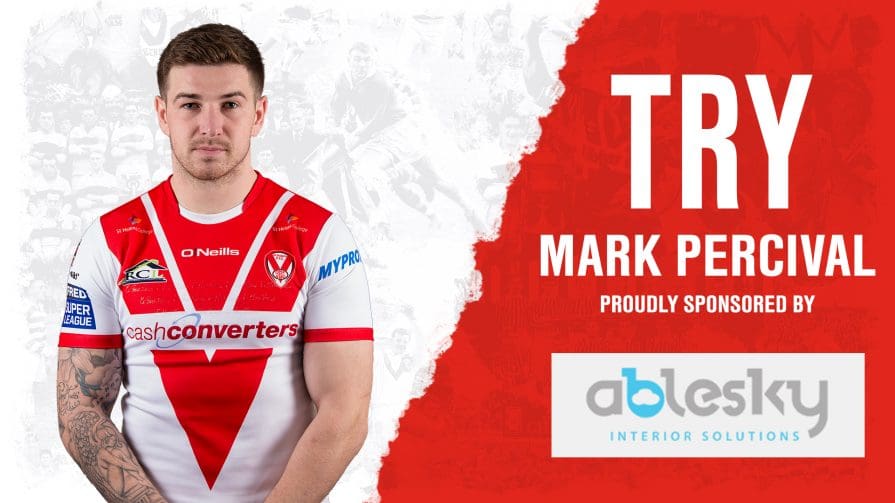 Try
Mark Percival for Saints
Storming run from LMS sets it up, Saints find numbers on the left hand side and Percy is over.
Heading upstairs for another Saints try… LMS with the storming run to set this up.
Goal
Danny Richardson for Saints
Richardson off the touchline for 38-6
Try
Regan Grace for Saints
And from the mistake Saints pounce – Barba to Grace and it's another lovely finish.
Towering bomb from Richardson and Salford knock on – big chance for Saints right on the Devils' line.
Salford knock the ball on right on Saints line, great D from the boys once more. Remains 32-6
Peyroux pulled for a shoulder charge – more chances for Salford here.
Saints stop Tasi right on their line – another big D set there.
Both teams back out on the field. Saints lead 32-6 but they're down to 12 men. Big effort here boys.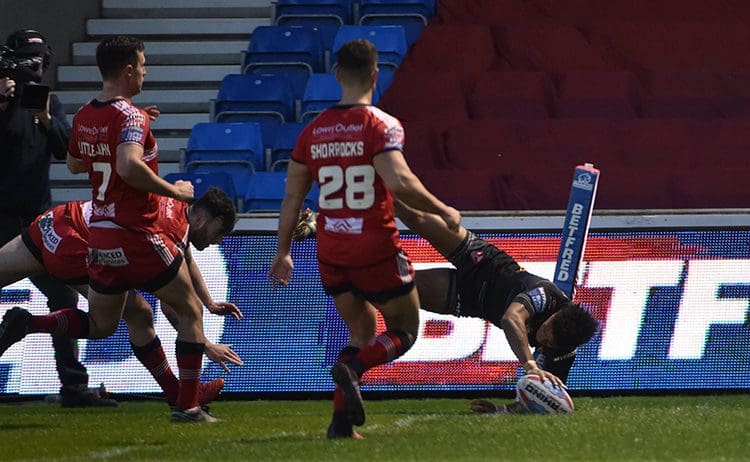 Try
Regan Grace for Saints
Classy finish from Grace! Flowing move on the left!
Grace over in the corner – flowing move – but we're heading upstairs!
Red Card
Matty Lees for Saints
And Lees has been sent off.
Lees flies in, hits the Salford defender – ball is put down over the line. Video ref has chalked it off.
Heading upstairs for a Saints try…
Goal
Danny Richardson for Saints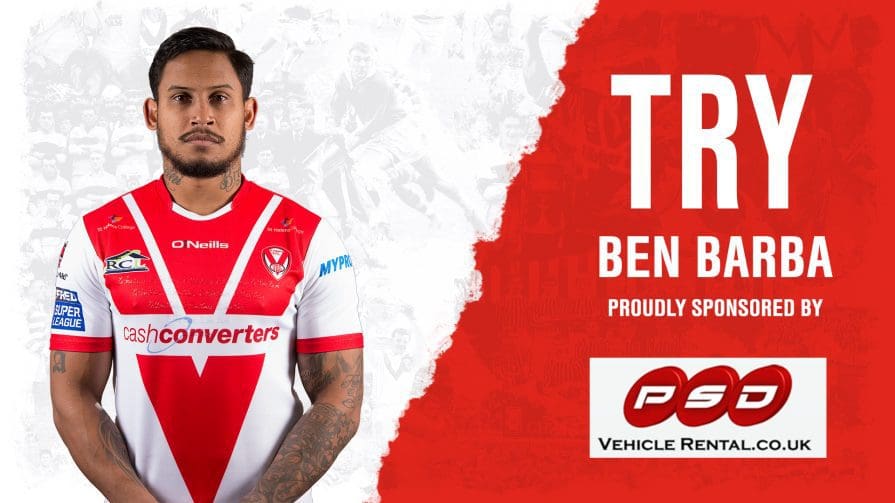 Try
Ben Barba for Saints
Salford on the attack, look like scoring – then Barba intercepts and goes the length!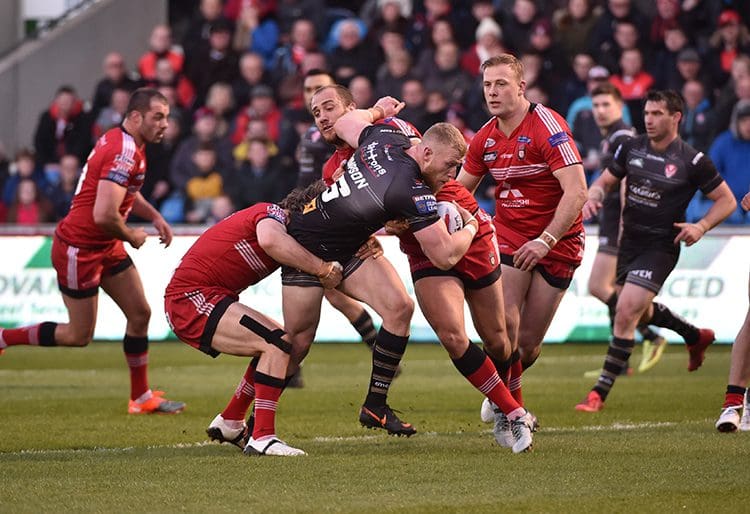 Replay shows Lomax knocked it on – let off for the hosts!
Heading upstairs for a potential Lomax try from Fages' kick. Not sure on this one… what about you?
Goal
Jake Shorrocks for Salford Red Devils
Try
Tyrone McCarthy for Salford Red Devils
And they make it pay as McCarthy goes over from close range.
Chance for Salford to put some pressure on Saints now – 30 out, tackles in hand.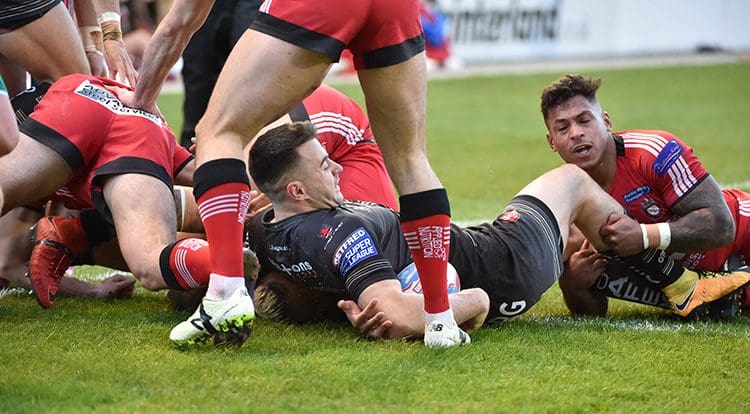 Goal
Ben Barba for Saints
Touchline beaut from Richardson for 22-0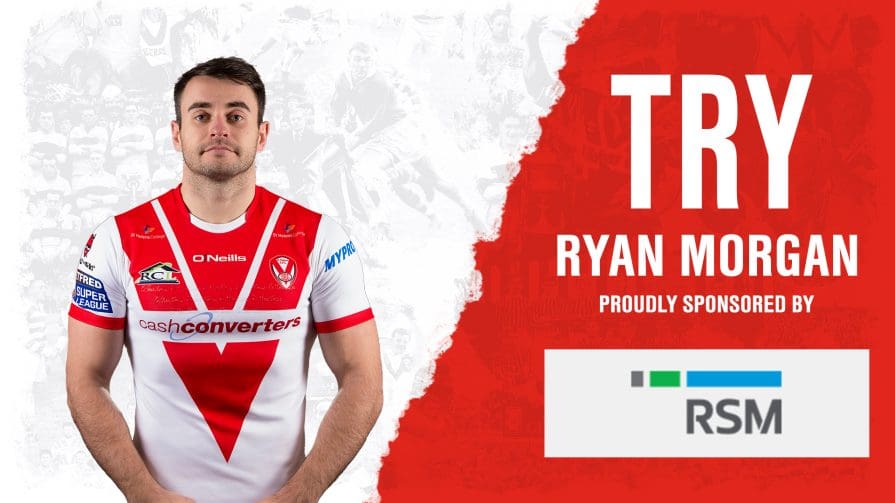 Try
Ryan Morgan for Saints
Barba picks out Morgan on a great line and he shows great strength to plough over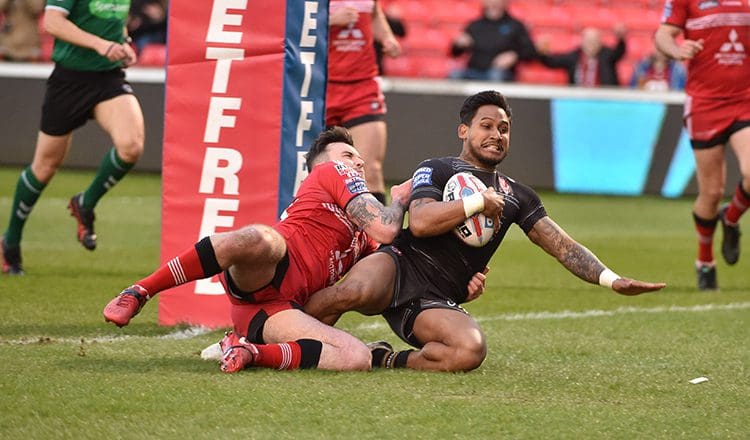 Peyroux held up over the line.
Saints turning the screw – bobbling ball knocked on by Evalds on his own line
Goal
Danny Richardson for Saints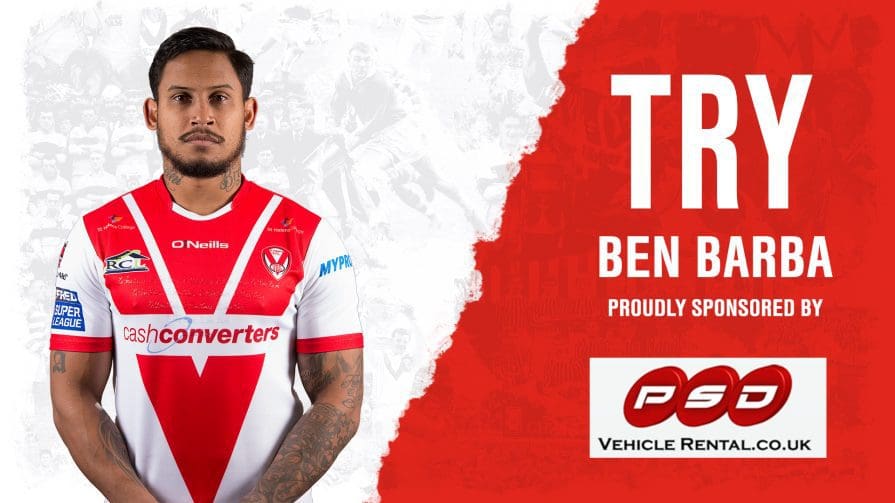 Try
Ben Barba for Saints
Breathtaking stuff from the full back – lovely pass from Grace to put him over after a break down the left hand side.
Saints down the left, comes back inside, Barba with the side-step and he's under the sticks. Wow. We're heading upstairs though…
Goal
Danny Richardson for Saints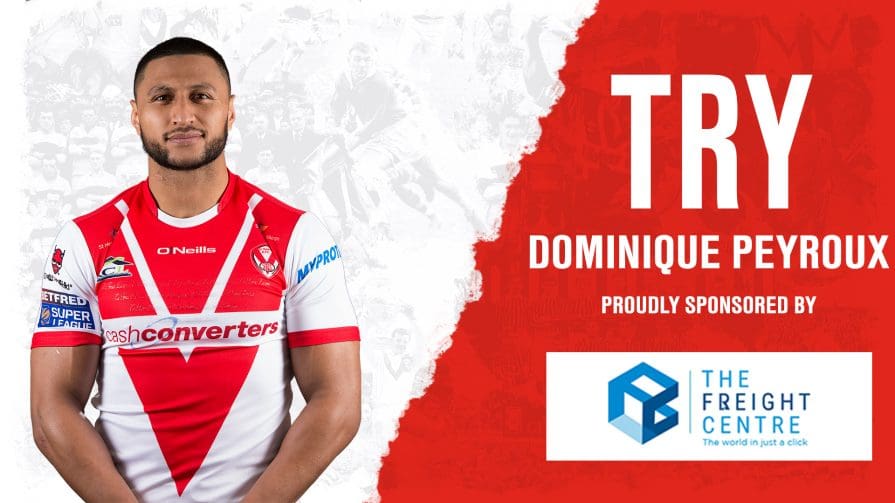 Try
Dominique Peyroux for Saints
Bomb from Richardson, what a take and offload from Makinson to put Dom over.
High take from Makinson is phenomenal – as is the offload to Peyroux, heading upstairs for a Saints try.
Lomax with the clearing kick on the last – both sides struggling to make metres at the moment.
Solid defensive set from Saints – they are now coming out of their own 30. And then win a penalty.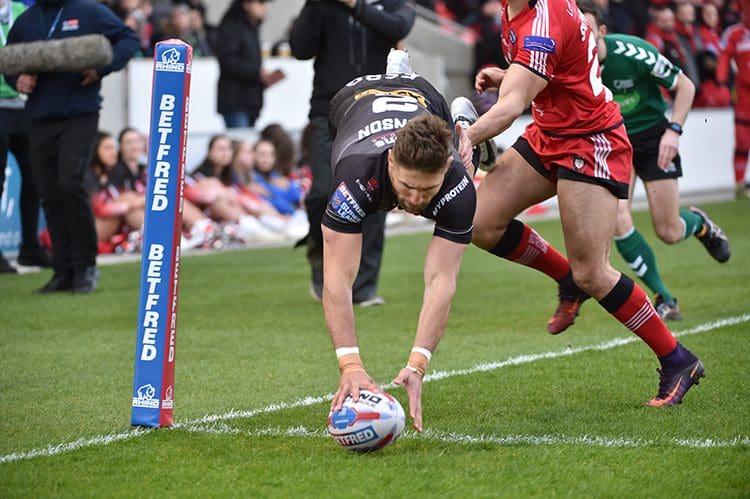 Richardson's conversion is hooked – Saints lead 4-0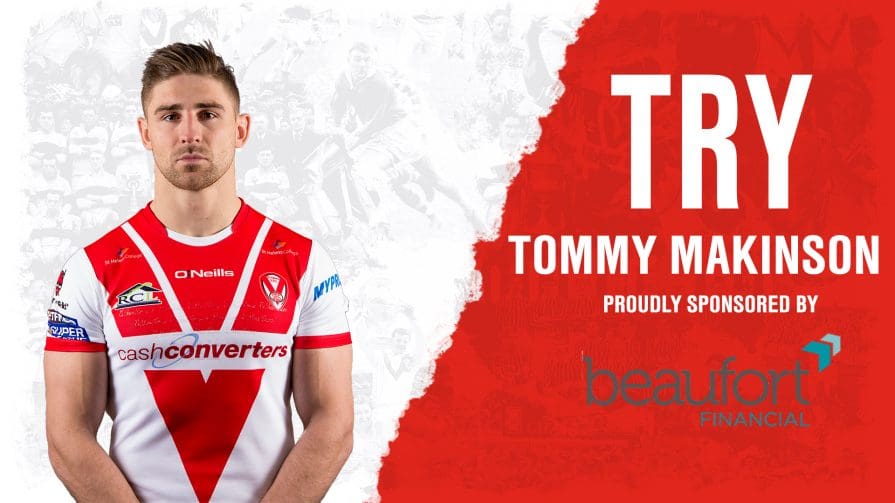 Try
Tommy Makinson for Saints
Richardson links up with Barba and the full back puts the winger over. Lovely start
And Saints get us underway!