Wakefield Trinity v Saints
Mark Percival's brace wasn't enough as Saints went down 24-20 at Wakefield.
The centre took his season's tally to 12, and saw yellow, in an eventful clash that halted Trinity's losing run.
Saints had battled back from 22-6 down to be within two points early in the second half.
But they couldn't find that killer touch to grab the spoils despite a number of chances.
It could have been all so different if Saints had made the best of their rampant start.
Mark Percival crossed in the second minute when he polished off a sweeping move following Jon Wilkin's break.
But within a couple of sets, back to back penalties gave Wakefield the field position for Ben Jones-Bishop to cross in the corner.
Liam Finn nailing the conversion from the touchline to make it all square.
On 15 minutes that ill-discipline cost Saints again.
Zeb Taia was pinged for interference as Wakefield hacked ahead on a free play and from the resultant set, Reece Lyne ghosted through the defence.
And moments later, after a poor last tackle play, Justin Horo went over to the left of the posts to put Trinity in complete control.
Bill Tupou adding to the torment after breaking free of some lack-lustre tackling.
At 22-6, Saints needed to hit back quickly and they did just that when Ryan Morgan took Lomax' pass to send Tommy Makinson over on 26 minutes.
Buoyed by the try, the visitors went close as the half progressed.
Morgan Knowles was held up with two minutes to go and then a short pass from Theo Fages saw Taia halted right on the line.
Saints weren't going to pass up their third opportunity though and, as the hooter sounded, Lomax found Percival for his second of the game.
Wakefield 22 Saints 14 the scoreline at the break.
Six minutes into the second half Danny Richardson's 40:20 got Saints on the front foot – and they took full advantage as a short ball from dummy half saw Luke Douglas crash over.
Richardson goaled to bring the visitors within two points and they should have gone ahead when the young scrum half picked up a stray Trinity ball on the right hand side.
But, as his pass came inside, Ryan Morgan was tackled off the ball and the chance was gone.
Jacob Miller was lucky to not see yellow for the challenge, but Saints couldn't take advantage of the penalty and repeat set after they forced a drop out.
Saints invited Wakefield back on to them with back to back penalties before Morgan almost crossed in the corner.
But Bill Tupou ripped the ball out and then raced down the other end of the field.
Liam Finn added a penalty to take it out to 24-20 before a chaotic final ten minutes almost brought the points home for Saints.
A fantastic flowing move saw Jonny Lomax race away for a certain try but Tyler Randell hit the stand-off high and from behind to halt the chance.
He was given a yellow card for the tackle; Saints unfortunate not to be given a penalty try as a result.
Saints came again in search of points but were penalised in succession – once for moving off the mark and another for interference after a short kick.
That last one saw Mark Percival take 'yellow' for disagreeing with the decision.
It left Saints with one last flurry at the line in the final minute but in all fairness the chance had already gone and Trinity held on for the win.
Match Summary:
Trinity:
Tries: Jones-Bishop, Lyne, Horo, Tupou
Goals: Finn (4 from 5)
Saints:
Tries: Percival (2), Makinson, Douglas
Goals: Richardson (2 from 4)
Penalties Awarded:
Trinity: 10
Saints: 7
HT: 22-14
FT: 24-20
REF: G Hewer
ATT: TBC
Teams:
Trinity:
1. Scott Grix; 5. Ben Jones-Bishop, 4. Reece Lyne,18. Joseph Arundel, 3. Bill Tupou; 6. Jacob Miller, 7. Liam Finn; 17. Craig Huby, 13. Tyler Randell, 20. Keegan Hirst, 11. Maty Ashurst, 12. Daniel Kirmond, 14. Justin Horo.
Subs: 8. Anthony England, 9. Kyle Wood, 16. Tinirau Arona, 22. Jordan Baldwinson.
Saints:
23. Ben Barba; 2. Tommy Makinson, 3. Ryan Morgan, 4. Mark Percival, 19. Regan Grace; 1. Jonny Lomax, 18. Danny Richardson; 10. Kyle Amor, 7. Matty Smith, 16. Luke Thompson, 17. Dom Peyroux, 11. Zeb Taia, 12. Jon Wilkin.
Subs: 6. Theo Fages, 13. Louie McCarthy-Scarsbrook, 14. Luke Douglas, 15. Morgan Knowles.
Saints Line up
| | |
| --- | --- |
| 23 | Ben Barba |
| 2 | Tommy Makinson |
| | Ryan Morgan |
| 4 | Mark Percival |
| 5 | Regan Grace |
| 6 | Jonny Lomax |
| 7 | Danny Richardson |
| 18 | Kyle Amor |
| 7 | Matty Smith |
| 10 | Luke Thompson |
| 11 | Zeb Taia |
| 12 | Dominique Peyroux |
| 12 | Jon Wilkin |
| 7 | Theo Fages |
| 15 | Louie McCarthy-Scarsbrook |
| 14 | Luke Douglas |
| 13 | Morgan Knowles |
Wakefield Trinity Line up
| | |
| --- | --- |
| 1 | Scott Grix |
| 2 | Ben Jones-Bishop |
| 3 | Reece Lyne |
| 4 | Joseph Arundel |
| 5 | Bill Tupou |
| 6 | Jacob Miller |
| 7 | Liam Finn |
| 8 | Craig Huby |
| 9 | Tyler Randell |
| 10 | Keegan Hirst |
| 11 | Matthew Ashurst |
| 12 | Daniel Kirmond |
| 13 | Justin Horo |
| 14 | Anthony England |
| 15 | Kyle Wood |
| 16 | Tinirau Arona |
| 17 | Jordan Baldwinson |
Last updated 15 Apr 18 16:52:27
64 seconds, Saints penalty inside their own half.
89 seconds left in this one… Saints have the ball on their own 20.
Yellow Card
Mark Percival for Saints
Sees Yellow for, we think, disagreeing with a decision.
Yellow Card
Tyler Randell for Wakefield Trinity
High shot from Randell as Lomax breaks away and he gets 10 minutes.
Goal
Liam Finn for Wakefield Trinity
Another high shot from Saints – Finn will take the two this time.
Ryan Morgan set to go over in the corner – but Tupou stops the ball and races down the field.
Another high shot from Saints… Wakefield piling on the pressure.
Penalty to Wakefield after a high shot flies in. Then plenty of bodies too!
Wakefield break and have an overlap but Saints, somehow, cover the danger and the resultant set.
Ball hits the deck and the chance is gone.
And then they force a drop out.
Another opportunity for Saints then… they are camped on Wakefield's line.
Richardson picks up a loose ball – Ryan Morgan is tackled off the ball on his way to the line. Miller lucky not to see yellow there.
Saints hunting in numbers in defence now. It's a tense one.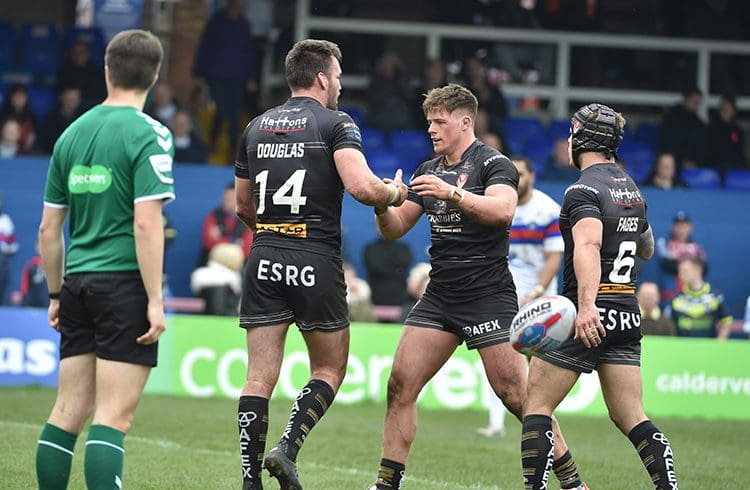 Goal
Danny Richardson for Saints
Richardson makes it a two point game. 22-20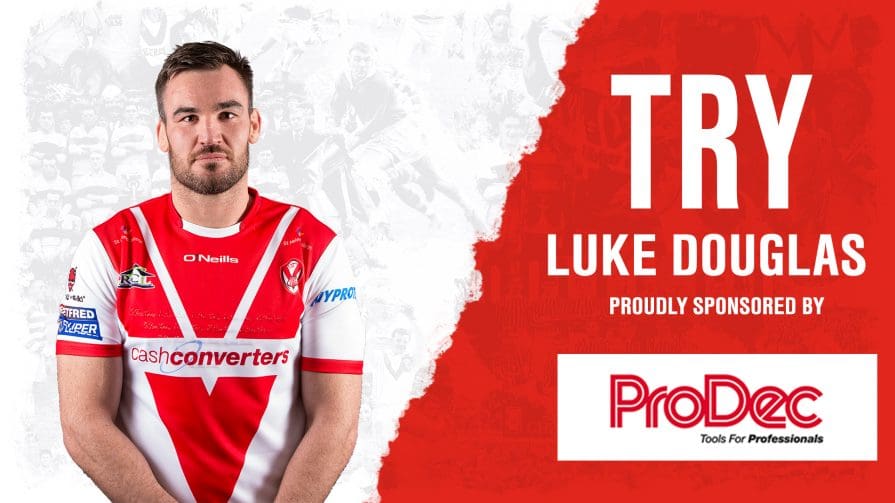 Try
Luke Douglas for Saints
Douglas takes a short ball and Saints are right back in it!
40:20 from Danny Richardson – opportunity knocks for Saints
Saints back out for the second half – they'll get the game underway 22-14 down.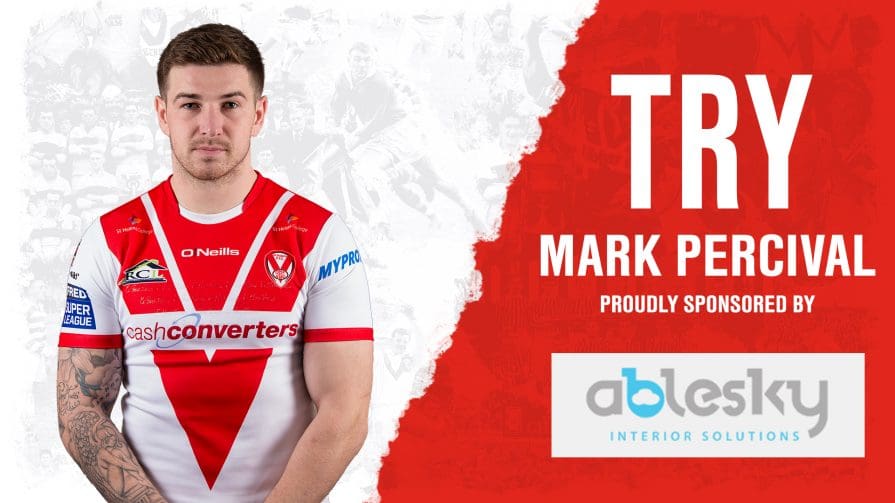 Try
Mark Percival for Saints
Saints get a lifeline – Lomax with the pass and Percival finds his way over for his second.
Knowles held up over the line.
Another chance for Saints to have some pressure on Wakefield's line.
But the ball comes loose and that's a let off for Trinity.
Mistake from Wakefield about 30 out to the right of the posts. Saints have a big chance here.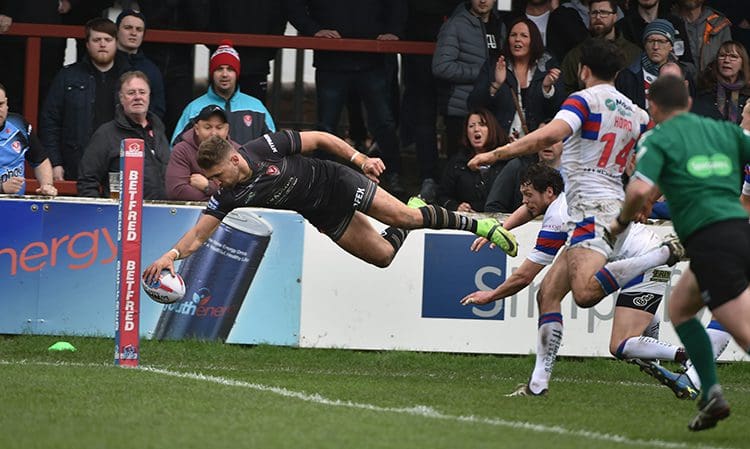 Saints through again on the left hand side – but are called back for a forward pass.
Richardson left with the extras. It's 22-10 here.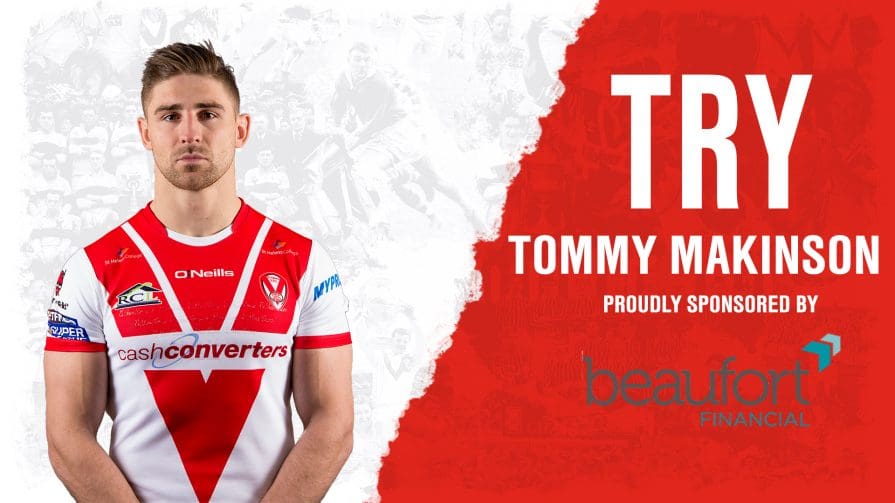 Try
Tommy Makinson for Saints
Ball swept to the right and Makinson is over on the corner after Morgan's pass.
Try
Bill Tupou for Wakefield Trinity
Tupou looks wrapped up but he breaks free down the left hand side and powers over.
Chance down the left hand side but the pass drifts forwards.
Goal
Liam Finn for Wakefield Trinity
Finn gives the hosts an 18-6 lead.
Try
Justin Horo for Wakefield Trinity
Horo goes through the middle and Saints have a big job to do here.
Goal
Liam Finn for Wakefield Trinity
Finn gives Wakefield a 12-6 lead.
Try
Reece Lyne for Wakefield Trinity
Mistake is punished as Reece Lynne crosses for Wakefield's second. They lead 10-6
Lovely run from Percival, but he loses the ball. Wakefield kick ahead and Taia is pinged for interference. Good chance for Wakefield here.
Saints coming out of their own 20 now… game has settled down since those early tries. Remains 6-6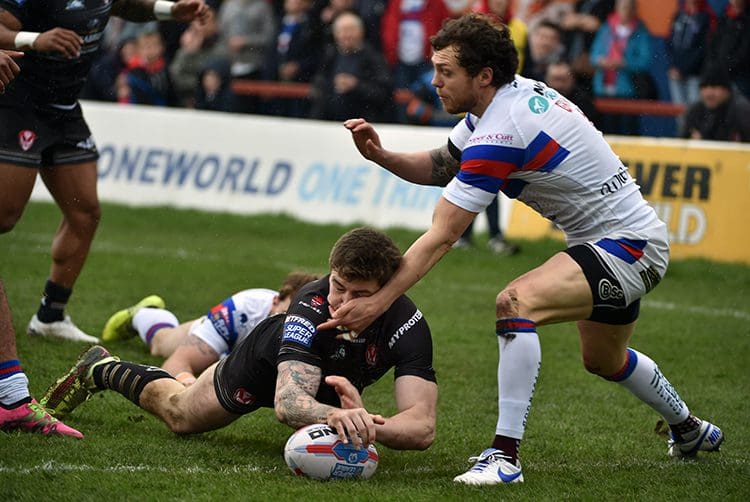 Goal
Liam Finn for Wakefield Trinity
Try
Ben Jones-Bishop for Wakefield Trinity
Back to back penalties give Wakefield field position – sweeping move sees Jones-Bishop over in the corner.
Goal
Danny Richardson for Saints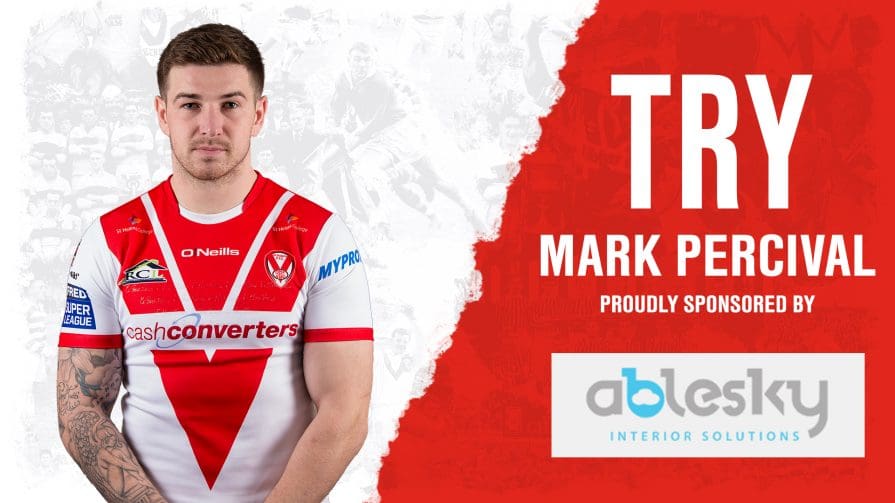 Try
Mark Percival for Saints
Great start for Saints. Break in the middle of the field – Richardson held up short. Ball comes left and Barba finds Percy!
Wakefield will get us underway at the Mobile Rocket Stadium.