Warrington Wolves v Saints
Mark Percival grabbed a hat-trick as Saints turned in an impressive performance to beat Warrington 30-12.
The centre took his season's tally to seven as Saints kept up their 100 per cent record to top the Betfred Super League table.
Danny Richardson lay on two of Percy's scores in a show that belied his 21 years, whilst James Roby was also stellar as he reached 99 tries for the club.
Whilst the scoreline blew out towards the end of the contest, this game was a tight tussle throughout.
Both sides ripped into each other from the off but it was Saints who stuck first in the fifth minute, thanks to a piece of brilliance from Percival and Richardson.
On the last, the scrum half shaped to kick it right, but instead opted to dip his shoulder, go left and catch Percival on a class line to go over.
Richardson slotted the first of his five goals for 6-0 but from the restart, Saints lost the ball and had to defend a number of sets on their own line.
They did that, but were powerless to stop Toby King on 15 minutes when he pounced on Tyrone Robert's chip to the corner.
Stefan Ratchford tagged the conversion from the touchline but Richardson put Saints back in front with a penalty on 30 minutes.
8-6 to Holbrook's men at the break.
It didn't take Saints long to extend that lead as within minutes of the second half, Roby darted over for his 99th in the Red Vee.
It came after an error from the restart; Roberts turning his back only for Saints to grab it and the number 9 doing what he does best.
Richardson made it 14-6 with the boot, but Warrington got back in the contest thanks to another kick to the corner.
This time, Tom Lineham caught the high ball and offloaded superbly to put Harvey Livett in.
Ratchford tagging another tricky conversion from the touchline.
Saints weren't going to crumble though and replied with style.
Ben Barba won a drop out with a cute chip and then, on the next set, fired a wonder pass for the Percival to grab his second of the night.
Then followed more magic from the boot of Richardson.
On the last and in his own half, the youngster 'showed and goed', broke through and then displayed great awareness to chip into the left hand corner for Percy to grab his hat-trick.
A try that was world class.
Warrington tried to get back into it but the game was gone and it was left for Richardson to grab a try of his own right at the death.
Barba went away down the left hand side, found Percival who then chipped it ahead for Danny to chase.
And he did, putting down under the sticks in front of 3,000 delirious travelling supporters.
A magnificent end to a great performance.
Match Summary:
Wolves:
Tries: King. T, Livett,
Goals: Ratchford (2 from 2)
Saints:
Tries: Percival (3), Roby, Richardson
Goals: Richardson (5 from 6)
Penalties Awarded:
Wolves: 6
Saints: 12
HT: 6-8
FT: 12-30
REF: J Child
ATT: 12,268
Teams:
Wolves:
1. Stefan Ratchford; 2. Tom Lineham, 18. Toby King, 4. Ryan Atkins, 21. Mitch Brown; 6. Kevin Brown, 7. Tyrone Roberts; 8. Chris Hill, 9. Daryl Clark, 10. Mike Cooper, 13. Ben Murdoch-Masila, 12. Jack Hughes, 34. Ben Westwood.
Subs: 14. Dominic Crosby, 17. Joe Philbin, 19. George King, 20. Harvey Livett.
Saints:
23. Ben Barba; 5. Adam Swift, 2. Tommy Makinson, 4. Mark Percival, 19. Regan Grace; 1. Jonny Lomax, 18. Danny Richardson; 10. Kyle Amor, 9. James Roby, 16. Luke Thompson, 17. Dom Peyroux, 11. Zeb Taia, 13. Louie McCarthy-Scarsbrook.
Subs: 6. Theo Fages, 8. Alex Walmsley, 14. Luke Douglas, 20. Matty Lees.
Saints Line up
| | |
| --- | --- |
| 23 | Ben Barba |
| 18 | Adam Swift |
| 2 | Tommy Makinson |
| 4 | Mark Percival |
| 5 | Regan Grace |
| 6 | Jonny Lomax |
| 7 | Danny Richardson |
| 18 | Kyle Amor |
| 9 | James Roby |
| 10 | Luke Thompson |
| 11 | Zeb Taia |
| 12 | Dominique Peyroux |
| 15 | Louie McCarthy-Scarsbrook |
| 7 | Theo Fages |
| 8 | Alex Walmsley |
| 14 | Luke Douglas |
| 10 | Matty Lees |
Warrington Wolves Line up
| | |
| --- | --- |
| 1 | Stefan Ratchford |
| 2 | Tom Lineham |
| 3 | Toby King |
| 4 | Ryan Atkins |
| 5 | Mitch Brown |
| 6 | Kevin Brown |
| 7 | Tyrone Roberts |
| 8 | Chris Hill |
| 9 | Daryl Clark |
| 10 | Mike Cooper |
| 11 | Ben Murdoch-Masila |
| 12 | Jack Hughes |
| 13 | Ben Westwood |
| 14 | Dominic Crosby |
| 15 | Joe Philbin |
| 16 | George King |
| 17 | Harvey Livett |
Last updated 9 Mar 18 21:43:01
Goal
Danny Richardson for Saints
Richardson with the boot and we lead 30-12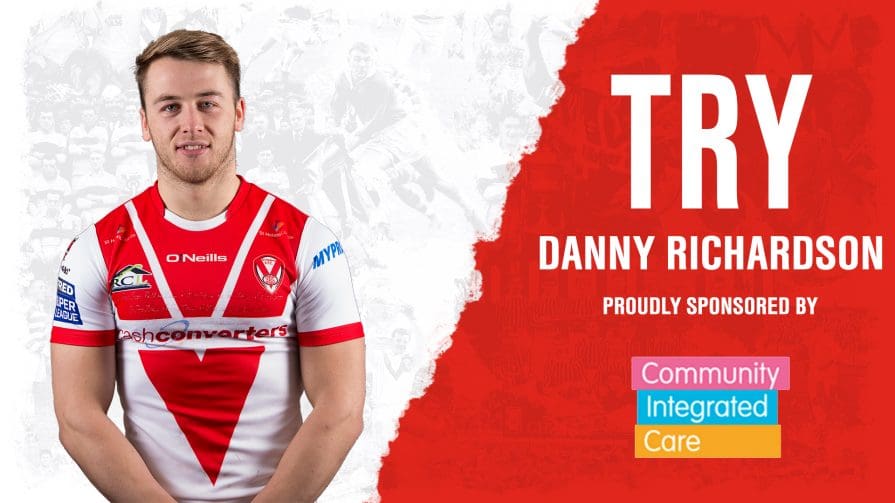 Try
Danny Richardson for Saints
OH DANNY BOY! On the last once again, Percy's kick comes in and this time it's Danny's turn to score
Saints with defending to do here.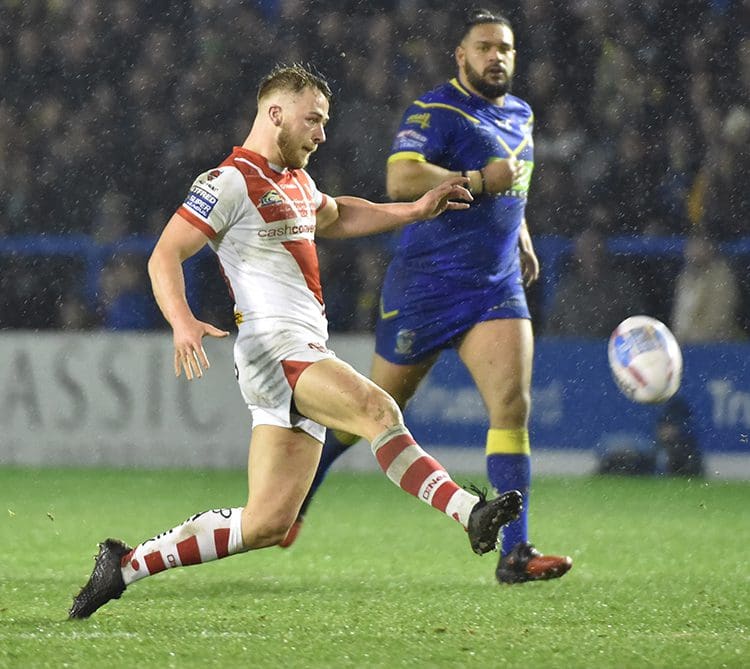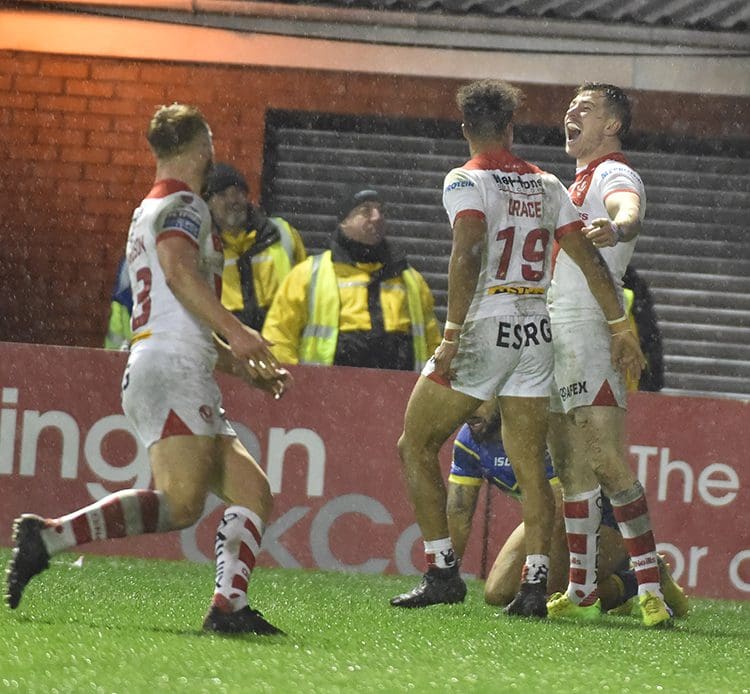 Goal
Danny Richardson for Saints
And a conversion to match. Saints lead 24-12
Try
Mark Percival for Saints
Absolute sheer class from Saints. Richardson goes on the last, inside his half, and chips to the corner for Percy's hat-trick. Just wow!
Chance gone! Warrington come away with it.
Saints penalty, prime position…
Richardson shy with the extras so Saints lead 18-12
Try
Mark Percival for Saints
Barba with a fantastic pass for Percy's second of the night!
Barba's kick wins a drop out for Saints.
Goal
Stefan Ratchford for Warrington Wolves
Try
Harvey Livett for Warrington Wolves
Lineham offload following that high kick and Livett scores under pressure.
Heading upstairs for a Warrington try from a high kick
Kick causes panic in the Saints defence, but thankfully it's knocked out for a drop out.
Richardson tries a grubber to the try line but it's well taken. Saints remain 14-6 up.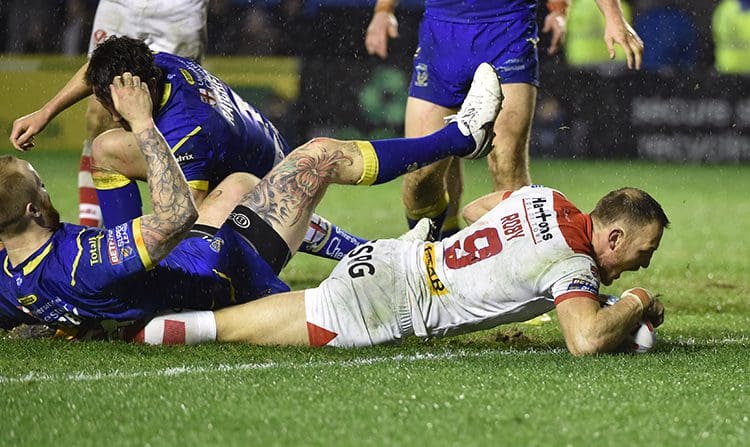 Saints force a drop out..
Saints return the knock on favour and seconds later so do Warrington. Saints ball in prime territory.
Another knock on from Warrington – great chance for Saints coming up!
Goal
Danny Richardson for Saints
Richardson knocks it over and Saints lead 14-6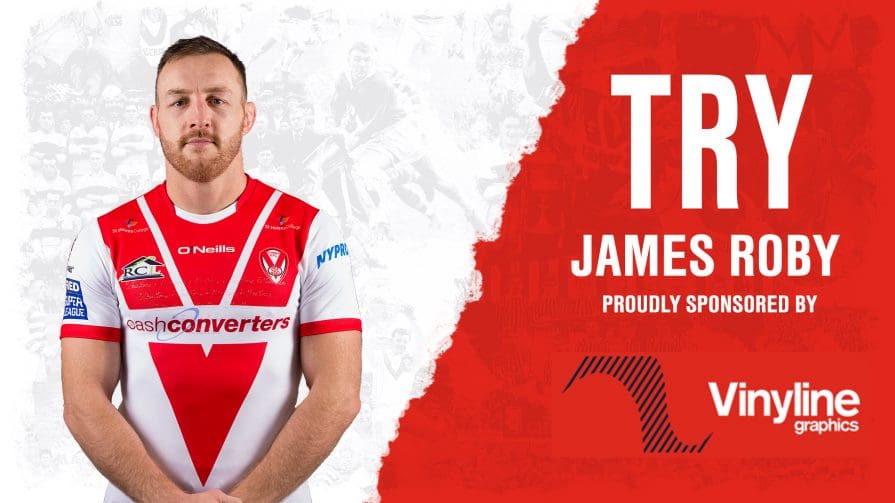 Try
James Roby for Saints
Great start! Roberts can't take the kick off. Saints ball and Roby does what he does best!
Saints will get this second half underway – they lead Warrington 8-6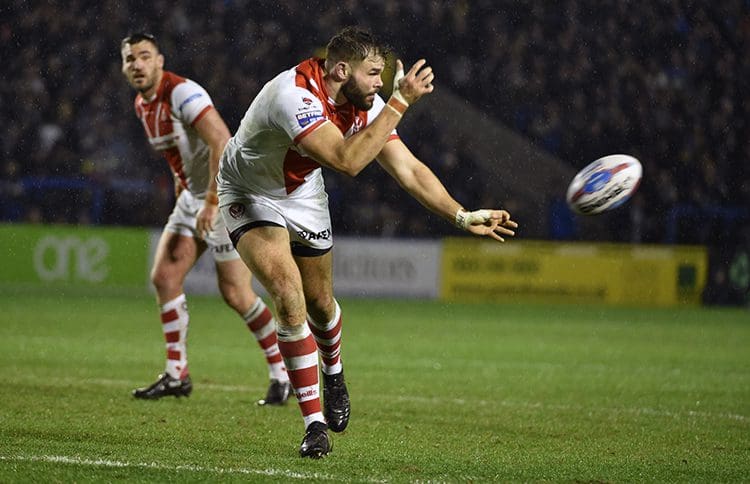 50 seconds to go in the half, Saints pack down on Warrington's 40.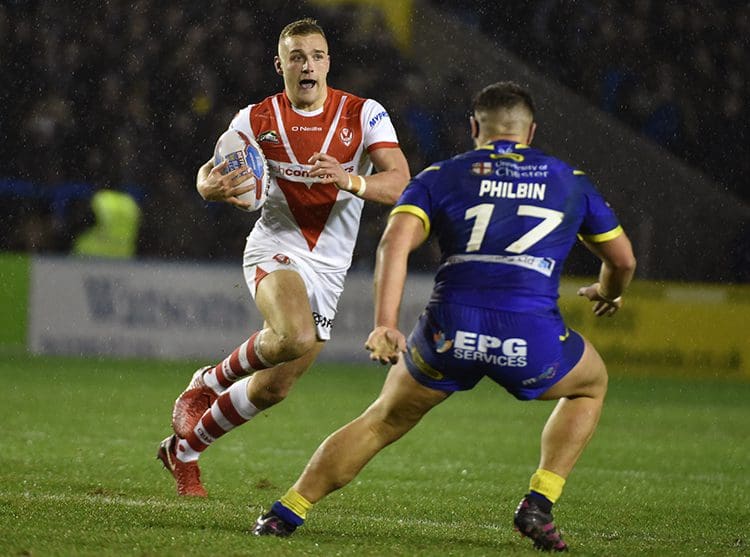 Saints snaffle Brown's bouncing kick – D doing the job again.
Warrington now on the attack as Saints give a penalty away.
Goal
Danny Richardson for Saints
Danny slots it over. Saints lead 8-6
And other as Alex Walmsley is pushed over. Richardson will opt for the 2 here.
Saints coming away from their line… and win a penalty. Much needed too. They will have a set just in front of the Wolves' 40.
Warrington have their tails up at present – Saints have to respond.
Try
Toby King for Warrington Wolves
Kick to corner, ball is tipped back and King pounces. 6-6
But LMS knocks on and the chance is gone. Both sides forcing errors here.
Saints have another set as Lomax pass comes off Roberts. They are right on Wire's line here.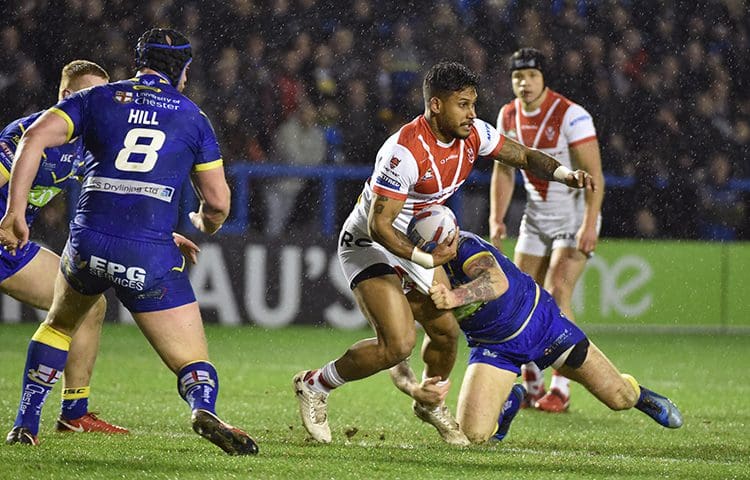 Warrington put the ball down right on Saints line. Big defensive set once again from the visitors
Saints have to drop out once again. Their third of the game
Chance gone as the attack miscues. Home side then win a penalty.
Penalty to Saints, they'll attack on Warrington's 40. They lead 6-0.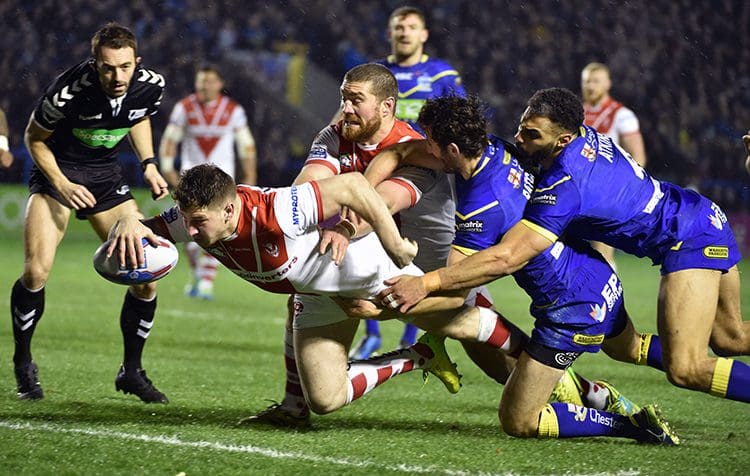 Saint defend another set – and then win a penalty right on their line after Westwood comes in late.
Saints have to drop out again.
Saints lose the ball on the next set… and then Grace is on hand to knock it out for a drop out.
Goal
Danny Richardson for Saints
And Richardson makes it 6-0 to Saints.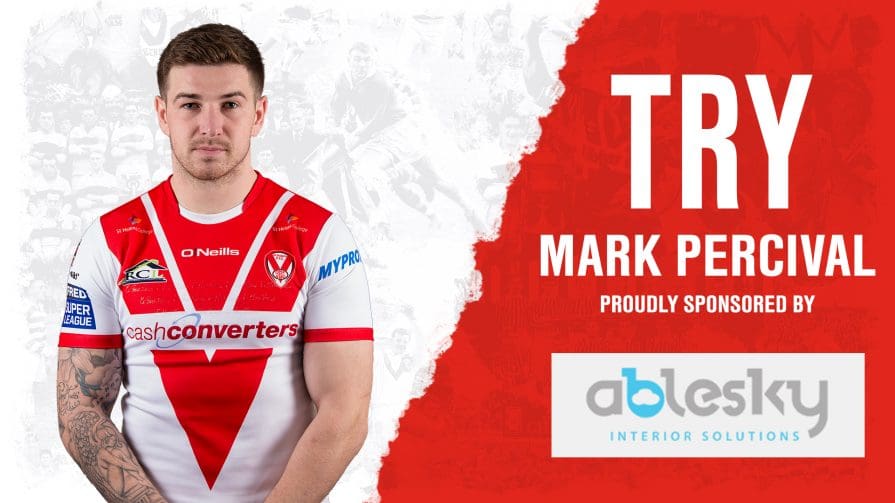 Try
Mark Percival for Saints
Saints push it on the last, Richardson dips his shoulder and puts in Percy who is running a class line!
Warrington knock on again… Saints on the attack. Remains 0-0
Saints penalised for obstruction right on Warrington's line
Thompson taken high in front of the sticks – looks a simple kick but Saints run it.
But Warrington knock on immediately!
Ball out on the full after Saints first set – Warrington have the ball 40 out.
Warrington will get this game underway!