Saints continued their good form as they defeated Widnes 38-18 at the Magic Weekend.
Regan Grace took his try tally to eight in five matches with a brace whilst Ryan Morgan also grabbed a double in a solid win.
But they were pushed all the way by a Widnes side that scored early and kept on fighting throughout.
Matt Whitley had given the Vikings a fifth minute lead before Saints turned the screw and took their chances.
Firstly, Danny Richardson finished off a Dom Peyroux break and then Ben Barba chipped for Mark Percival to put down.
The mercurial full back was called upon to make try-saving tackle on Sam Wilde – before Saints turned defence into attack and Barba found Grace for his first.
Saints were 18-6 up but any thoughts they could take the game away from Widnes were halted when Wellington Albert pulled one back on 25 minutes.
Barba crossed for his 19th of the season shortly afterwards but when Peyroux was sinbinned for holding back Aaron Heremaia on a kick through just before half time, Jimmy Keinhorst went through a gap.
Saints extended their lead five minutes into the second half with a Richardson penalty – before Ryan Morgan scored his brace.
The first came after a superb Percival break; the centre stepping multiple defenders and finding Richardson on his right.
The scrum half then linked with Makinson to pop Morgan over.
His second came from another sweeping move to the right; Barba and Richardson both involved.
Widnes tried their luck as the game came to an end – but found Saints a tough nut to crack – and eventually a loose pass was scooped up and returned 50 metres for Grace's second.
Match Summary:
Vikings:
Tries: Whitley, Albert, Keinhorst
Goals: Marsh (3 from 3)
Saints:
Tries: Richardson, Percival, Grace (2), Barba, Morgan (2)
Goals: Richardson (5 from 8)
Penalties Awarded:
Vikings: 9
Saints: 6
HT: 18-22
FT: 18-38
REF: L Moore
ATT: TBC
Teams:
Vikings:
1. Rhys Hanbury; 5. Patrick Ah Van, 4. Charly Runciman, 38. Jimmy Keinhorst, 2. Stefan Marsh; 6. Joseph Mellor, 33. Aaron Heremaia; 25. James Chapelhow, 21. Jordan Johnstone, 19. Greg Burke, 12. Matt Whitley, 17. Samuel Wilde, 13. Hep Cahill.
Subs: 16. Thomas Olbison, 20. Macgraff Leuluai, 23. Danny Walker, 36. Wellington Albert.
Saints:
23. Ben Barba; 2. Tommy Makinson, 3. Ryan Morgan, 4. Mark Percival, 19. Regan Grace; 1. Jonny Lomax, 18. Danny Richardson; 14. Luke Douglas, 9. James Roby, 16. Luke Thompson, 17. Dom Peyroux, 11. Zeb Taia, 12. Jon Wilkin.
Subs: 6. Theo Fages, 13. Louie McCarthy-Scarsbrook, 15. Morgan Knowles, 20. Matty Lees.
Saints Line up
| | |
| --- | --- |
| 23 | Ben Barba |
| 2 | Tommy Makinson |
| | Ryan Morgan |
| 4 | Mark Percival |
| 5 | Regan Grace |
| 6 | Jonny Lomax |
| 7 | Danny Richardson |
| 14 | Luke Douglas |
| 9 | James Roby |
| 10 | Luke Thompson |
| 12 | Dominique Peyroux |
| 11 | Zeb Taia |
| 12 | Jon Wilkin |
| 7 | Theo Fages |
| 15 | Louie McCarthy-Scarsbrook |
| 13 | Morgan Knowles |
| 10 | Matty Lees |
Widnes Vikings Line up
| | |
| --- | --- |
| 1 | Rhys Hanbury |
| 2 | Patrick Ah Van |
| 3 | Charly Runciman |
| 4 | Jimmy Keinhorst |
| 5 | Stefan Marsh |
| 6 | Joseph Mellor |
| 7 | Aaron Heremaia |
| 8 | James Chapelhow |
| 9 | Jordan Johnstone |
| 10 | Greg Burke |
| 11 | Matt Whitley |
| 12 | Samuel Wilde |
| 13 | Hep Cahill |
| 14 | Thomas Olbison |
| 15 | Macgraff Leuluai |
| 16 | Danny Walker |
| 17 | Wellington Albert |
Last updated 19 May 18 17:04:12
Goal
Danny Richardson for Saints
Try
Regan Grace for Saints
number two for Reegs! Eighth in five games!
Loose ball, 50 out. Not going to catch Regan from there… heading upstairs
Final five minutes here, Saints lead 32-18
Widnes called for Obstruction
Widnes on the front foot once again.
Try
Ryan Morgan for Saints
Heading upstairs for a Ryan Morgan try as the ball is swept right
Percival loses the ball under his own posts – Saints having to defend. Fages then forces a knock on right on his try-line.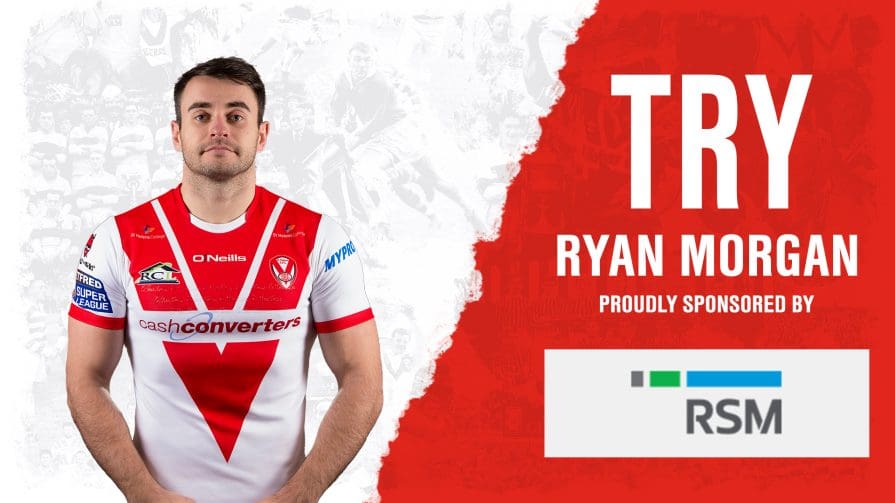 Try
Ryan Morgan for Saints
Great stuff from Saints. Break comes from Mark Percival. Richardson then finds Makinson who puts Morgan over.
repeat set for widnes – top tackle from Makinson on Ah Van and then Saints see the kick go dead later in the set.
Grace comes up with the ball from a high kick – and takes a whack around the head for his troubles. Saints penalty.
Goal
Danny Richardson for Saints
Richardson makes it 24-18
Nice sidestep from Knowles draws a penalty and Richardson will take the two.
Ah Van knocks on in his own 40 – Saints with a good chance here.
High ball from Richardson, nice take from Ah Van.
Saints will get the second half underway, they lead 22-18
Goal
Stefan Marsh for Widnes Vikings
Try
Jimmy Keinhorst for Widnes Vikings
Great hands from Widnes sees Keinhorst over as the hooter sounds. etc
Yellow Card
Dominique Peyroux for Saints
Dom is sinbinned after a chip through by Widnes. He's adjudged to have interfered on the kick through.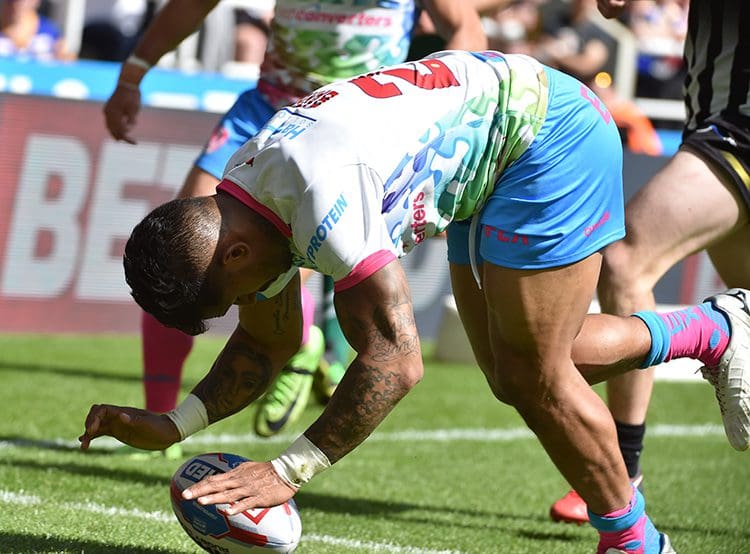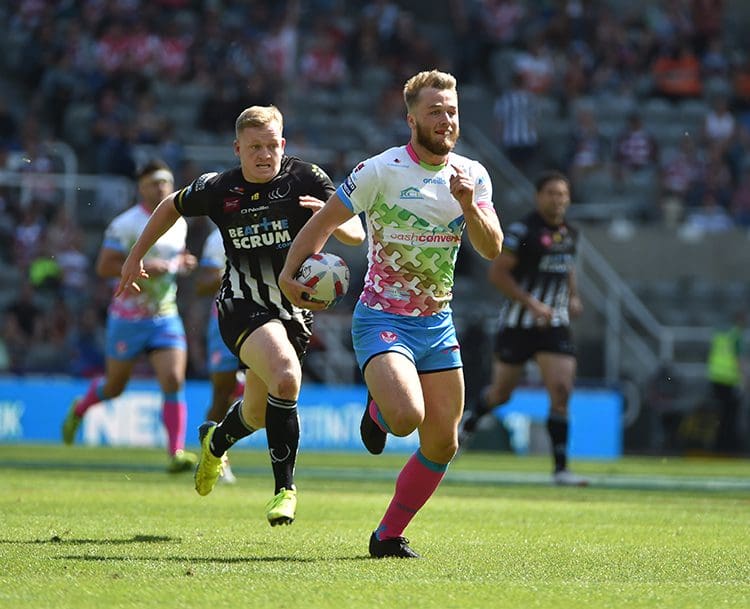 Only Ben's 19 of the season that…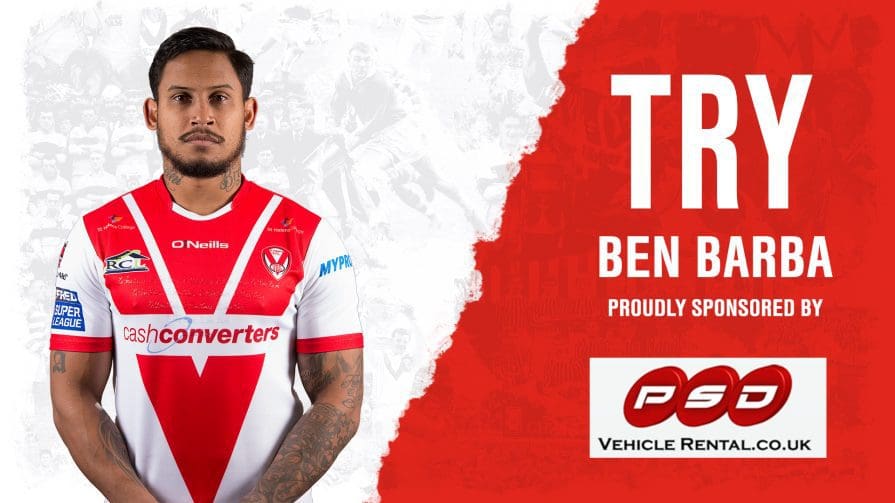 Try
Ben Barba for Saints
Defence into attack. Richardson finds Barba close to the line and he ghosts through.
Goal
Stefan Marsh for Widnes Vikings
Marsh pulls it to within six. Saints lead 18-12
Try
Wellington Albert for Widnes Vikings
Albert takes the perfect pass and Widnes are over.
Ryan Morgan does well to get it away on the last – but Widnes mop it up. Saints lead 18-6
Goal
Danny Richardson for Saints
Try
Regan Grace for Saints
Try saver then try assister. Chip from Barba, Grace puts it down via the hands of Percival.
No try – great tackle from Barba on Wilde there.
Heading upstairs for a Widnes try – Ben Barba looks to have pulled off a great tackle here.
Goal
Danny Richardson for Saints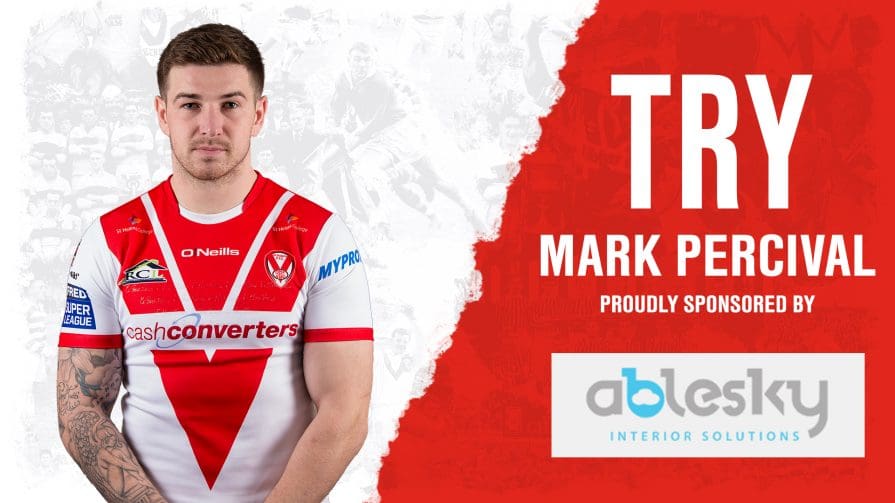 Try
Mark Percival for Saints
Has Percy scored? We're heading upstairs. Bit of last tackle inspiration from Barba, kick over the top and Percy ends up touching down.
Goal
Danny Richardson for Saints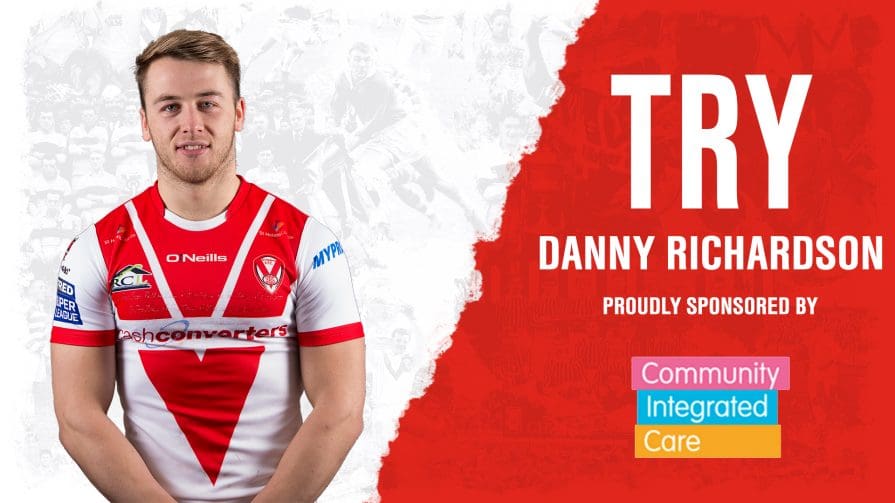 Try
Danny Richardson for Saints
Try
Danny Richardson for Saints
Lovely break from Peyroux well within his own half – offloads to Danny and Saints are back in it
Goal
Stefan Marsh for Widnes Vikings
Try
Matt Whitley for Widnes Vikings
Short ball and Widnes are ahead
Douglas with a loose carry – Widnes outside Saints 40.
Percival tries to offload as the ball comes left but the ball goes to ground.
We're under way here – and Widnes have put it out on the full