Don't know where to stand or sit? Or how to get here? Check out our guide below.
I want to stand with the home fans and be in the heart of the action behind the posts…
Try the West Stand.

–
I want to sit on the sidelines with the home fans, near the half-way line and get a great view of the action…
The best places are the Totally Wicked North Gold/Silver & South Gold/Silver sections.

–
I want to sit, but would like to have the freedom to choose my seat on gameday…
Buy a Totally Wicked North or South unallocated ticket.

–
I have young children and we'd like to sit and enjoy a family atmosphere…
Head for the family stand and enjoy discounts on your ticket package.

–
I want the best seats in the house…
That would be the Gold section of the South Stand.

–
I am in a wheelchair, what would you recommend?
West Stand Platform, North Stand Platform, South East Platform, North and South pitchside – give the Ticket Office a call to book…
How do I get to the ground?

St Helens Central rail station is only a ten minute walk to The Totally Wicked Stadium. Northern run frequent services from Liverpool, Wigan and Preston.
The Totally Wicked Stadium can be reached via the Steve Prescott Bridge, which is constructed over the linkway to the North of The Totally Wicked Stadium; the bridge can be reached by following Shaw Street and then Chalon Way East past the St Helens Chamber of Commerce.
To plan your journey and buy your train tickets online at the Northern website or download the mobile app.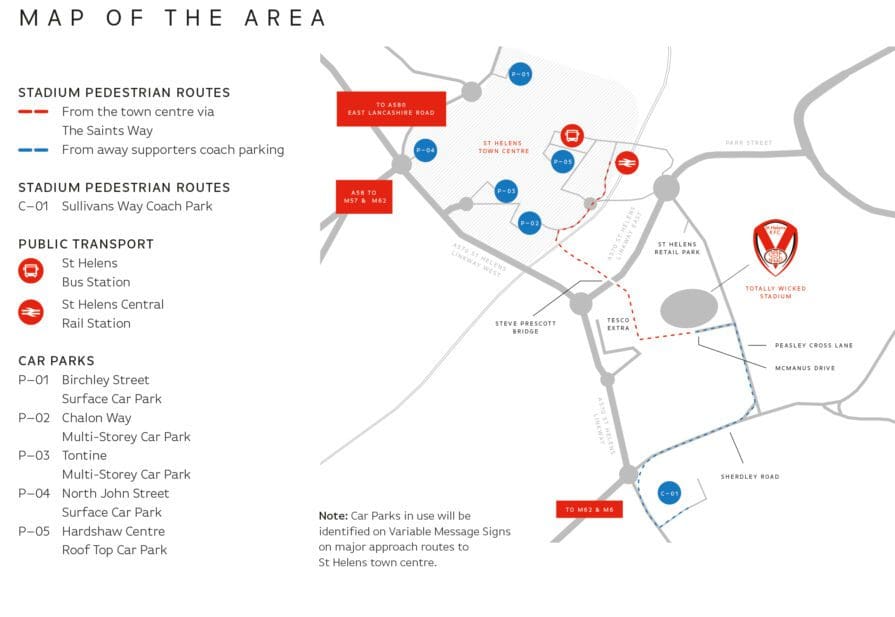 For more information contact us in 01744 455 052.