As we approach the start of the 2021 Betfred Super League season this Friday, we wanted to update Members on some key info ahead of the season....
STREAMING OF GAMES
We don't want you to miss a moment of the action as the Betfred Super League returns. 2021 Members can access free streaming to all behind closed door matches – currently scheduled to be Rounds 1-5. All information in relation to streaming can be found here.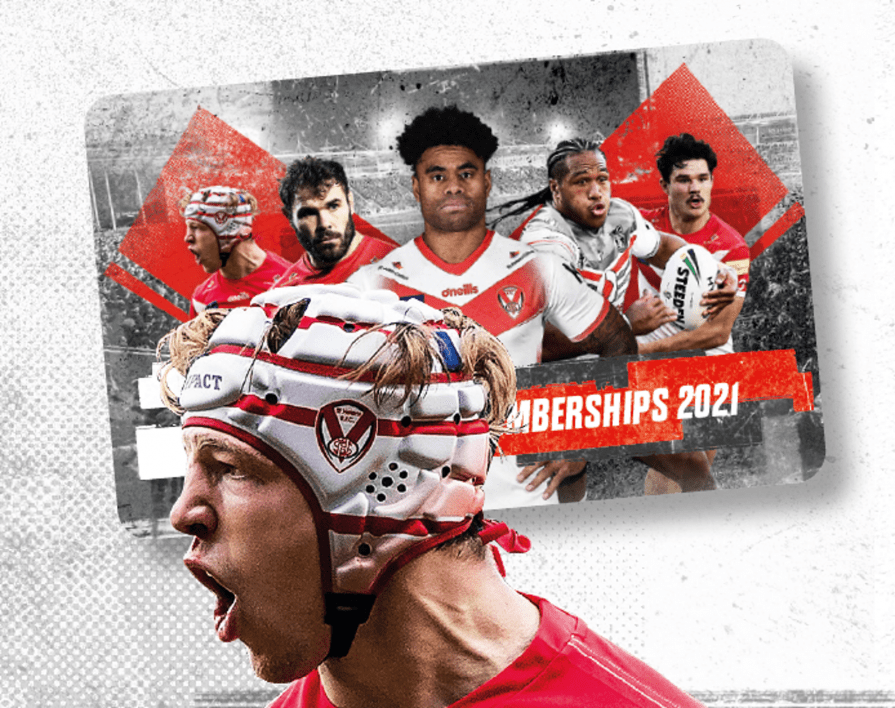 MEMBERSHIP CARDS
At present 2021 Membership cards won't be distributed until more detailed information around the actual seating/area allocations that the Club is able to provide to Members under social distancing guidelines, is finalised. As detailed in the 2021 Membership info in italics below, this is likely to mean that fans will be alloacted positions in the stadium in-line with socially distanced criteria and within capacity restrictions in place at the time of each fixture.
Detailed planning around this is currently being undertaken by the Club and once information is finalised we will alert Members around the collection of their Membership cards and the process for them to be given their allocation information for their return to the Totally Wicked Stadium.
Please be aware that to comply with Government mandated social distancing measures and to ensure compliance with safety and legal guidelines, you may not be seated or stood in the exact location as reserved in your renewed Membership. We may be required to re-allocate seats or positions to each 2021 Member until these restrictions are lifted, after which you can revert back to your exact chosen place. We will endeavour to designate locations as close as possible to your normal renewal and ticket category, whilst best endeavouring to allow 'bubbles' of fans who purchase their tickets together on one booking, to be located with each other. This may however mean that fans can only renew tickets together from within their own 'bubble' in which they have to provide evidence of to secure their Membership.
Please note that 2021 Memberships are sold subject to updated terms and conditions which can be viewed below: T&Cs
MEMBERSHIP BALLOT
As detailed in our terms and conditions of Membership for 2021, should our total Membership numbers exceed the limited stadium capacity at a particular match a ballot process will be undertaken to randomly select those Members who can attend each match. At present, unless Government guidelines change, a ballot will be required for at least one home match in 2021 (subject to change)
Members not drawn in the ballot will be refunded for the fixture in question, as per behind closed doors matches.
As with socially distanced stadium allocations mentioned above, the Club is working through the ballot process and will advise on this in more detail in the run-up to the proposed returns of fans that Government is working towards – 17th May.
ADDITIONAL INFO FOR DONATING MEMBERS FROM THE 2020 SEASON
As published here, the 2021 warm-up shirt proudly featuring the names of those Members that completed our Rebate process and kindly were able to donate the costs of their Membership back to Club will be worn for the first time in the Betfred Super League opener this Friday, 26th March.
The same Member's names featured on the shirt will also feature in a special plaque in the Totally Wicked Stadium tunnel that will be revealed before the players return to play at the stadium in Round 2.
Donating Members can also collect their special 'THANK YOU' pin badge on collection of their Membership card (dates to be confirmed as detailed above)
Once 2021 Membership cards have been distributed and once the Saints Superstore at the Totally Wicked Stadium re-opens (scheduled to be the 12th April for the latter) donating Members will be able to show their 2021 Membership card to take advantage of 10% off everything (t&cs apply) in-store for the duration of the 2021 season.
We will also shortly reveal the winner of our first prize draw – the winner of our Membership For Life prize that was postponed from October 2020.