After two weeks on the road, St Helens return to home match action against local neighbours Warrington Wolves, with kick-off scheduled for 8pm!
SEE OUR NEXT-GEN UP FIRST…
There is an old-school curtain raiser with our Under 18's taking to the field first also against Warrington! The Saints Academy are looking to keep their good start to the season going, three wins from three has seen them start the 2023 Academy Championship season strongly.
Thursday night's game is a great reason to get down to the Totally Wicked Stadium early and make even more of your night! Kick-off is at 5:15pm, with the stadium open from 4:45pm!
IMPORTANT TICKET INFORMATION
The quickest and easiest method of securing your spot at the Totally Wicked Stadium is by purchasing your ticket online by visiting eticketing.co.uk/saintsrlfc. You can secure a digital or 'Print at Home' ticket which would not require you to visit the Ticket Office.
Find out more about our stands, ticket prices and Ticket Office hours by clicking here.
SUPPORTER SAFETY
St Helens R.F.C. want to ensure that everyone who comes to enjoy game days at the Totally Wicked Stadium can do so in a safe and friendly environment!
The Club would like to reiterate to supporters that it operates a zero-tolerance approach to any anti-social behaviour, at both our own home ground and when visiting other clubs' stadiums. Misbehaviours that will not be tolerated include, but are not limited to; physical or verbal abuse, violent conduct, missile throwing, excessive alcohol misuse, and any drug misuse.
Furthermore, the use of pyrotechnics is strictly prohibited under both rugby and football ground regulations. They can cause serious injuries to those who carry them as well as fellow spectators, as well as damage to surfaces such as the playing pitch which can cost clubs thousands of pounds.
The Club during last season and this season has taken preventative actions for home fixtures, with additional stewarding and 'sniffer' dog patrols around the stadium. Supporters may encounter these dog patrols when approaching the stadium.
SQUAD NEWS
Paul Wellens' squad receive a boost with the addition of Joe Batchelor for the first time in Super League 2023. Back in February, the England international back-rower picked up an ankle injury in St Helens' game against St George Illawarra Dragons, which required surgery. Following his rehab, Batchelor could be in line to make his first league game of the year.
Batchelor coming in for Jake Wingfield is the only change to the squad that was declared for last week's game. The young forward, unfortunately, misses out due to head injury protocols following a knock picked up in last Friday's fixture.
Click on the image below to read more about our Squad News!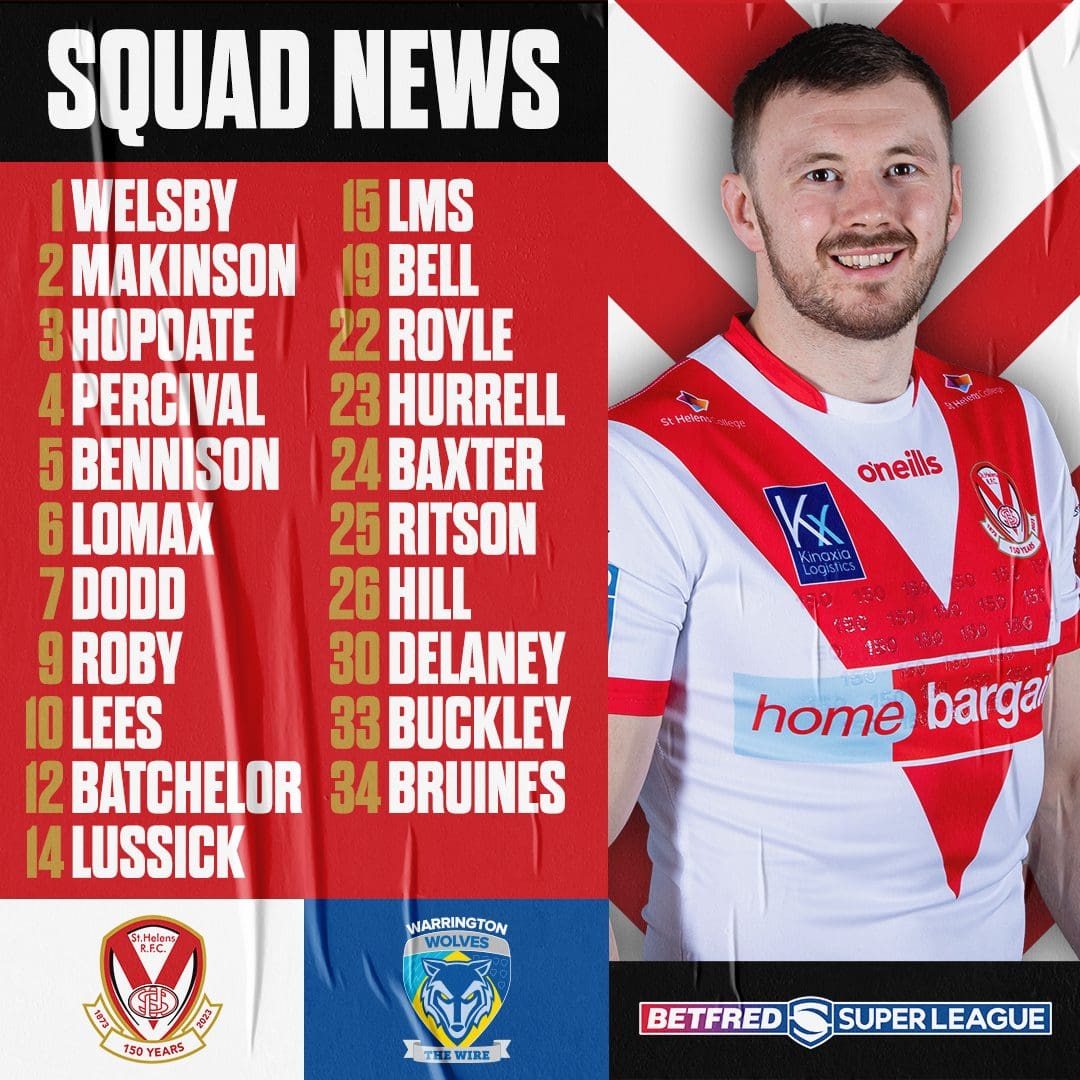 The Wire will be without one of their big prop signings for 2023 Paul Vaughn following a one-match suspension but have James Harrison step back in following a knee injury. Much like Saints the Wolves have a depleted pack with Gil Dudson and Joe Philbin also missing due to suspensions, and Joe Bullock suffering a thumb injury.
Warrington Wolves 21-man squad
1. Matt Dufty, 2. Josh Thewlis, 3. Peter Mata'utia, 4. Stefan Ratchford, 5. Matty Ashton, 6. George Williams, 7. Josh Drinkwater, 8. James Harrison, 9. Daryl Clark, 11. Ben Currie, 12. Matty Nicholson, 13. Josh McGuire, 14. Sam Kasiano, 16. Danny Walker, 21. Greg Minikin, 23. Tom Whitehead, 24. Luke Thomas, 25. Leon Hayes, 29. Josh Lynch, 34. Matty Russell, 35. Lucas Green.
LE MND 24: WORLD RECORD ATTEMPT
On Thursday night you will see a golf buggy in the North West corner of the Totally Wicked Stadium, that is because on Saturday, 29th April Ian Cummings and his friends will be trying to break the world record for the furthest distance travelled in a golf buggy over 24 hours at our home ground!
But why this challenge? Well, it is to raise funds for the MND Association.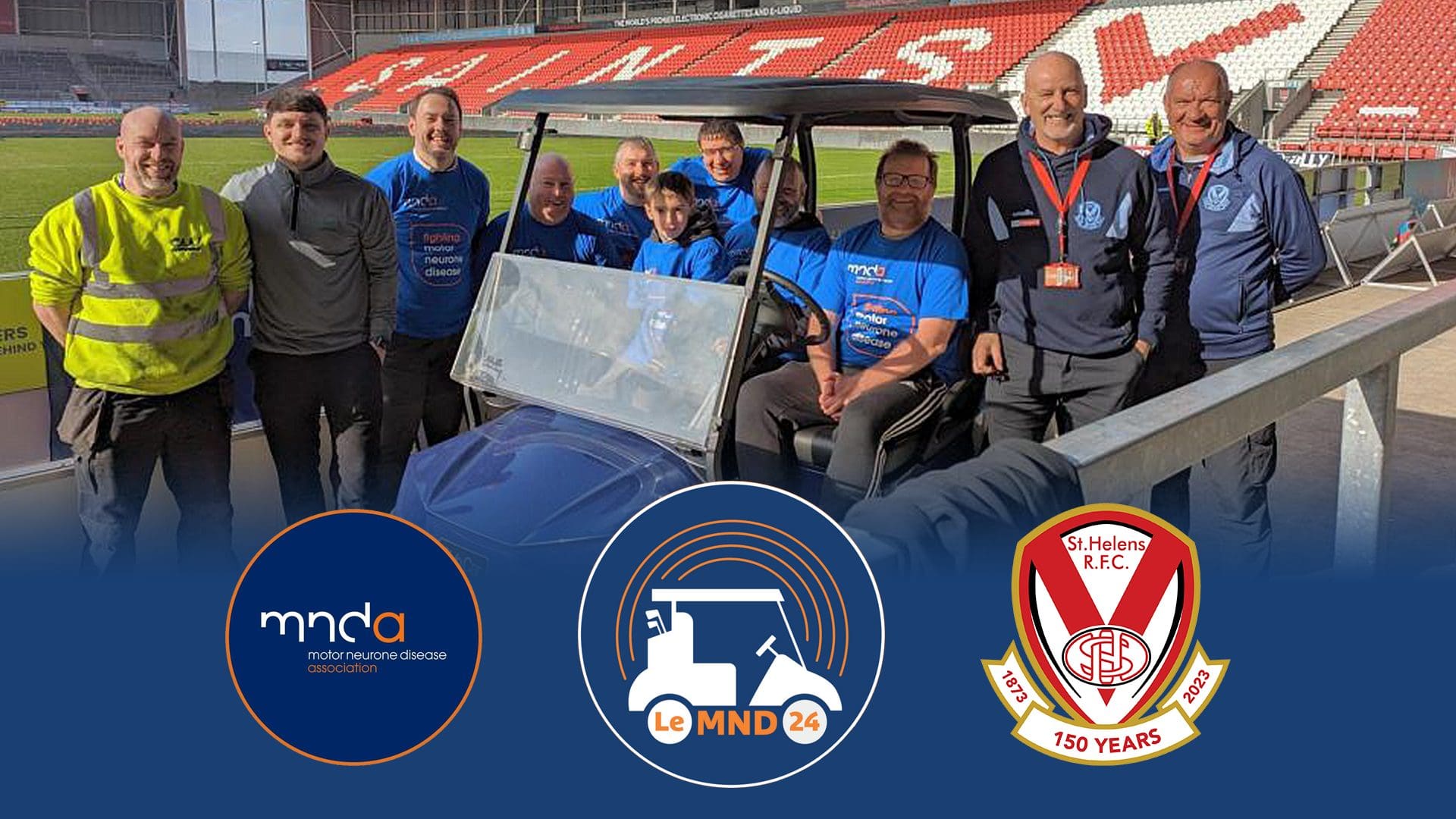 Saints fan Ian was sadly diagnosed with MND back in May 2022. Alongside his friends, Ian is embarking on this world record attempt and 24 hour challenge to raise funds for the MNDA. The current record for the furthest distance travelled in an electric golf over 24 hours is 193.12km (120 miles). Ian and the team are aiming to break that record by doing laps around the concourse of the Totally Wicked Stadium!
If you can spare some money and would like to donate to Ian and the team's efforts for the MND
Association

, you can do so online by visiting their Just Giving page – CLICK HERE.

All donations are greatly appreciated, thank you.
WELLENS ON SAINTS VERSUS WIRE
With the Wolves top of the table, the Saints boss gives his verdict on how their season start has been knowing full well how full blooded this derby has become especially in recent years.
Saints TV subscribers can watch Paul Wellens' preview in full!
32 TENS PERFORMING LIVE!
Ahead of the game to get the atmosphere absolutely pumping for a HUGE Super League game, we are thrilled to welcome local indie outfit 32 tens!
Bringing their authentic, gritty, indie energy to the Totally Wickes Stadium, 32 tens are a band to keep an eye on for sure.
You can catch the band begin their set just ahead of the Saints coming out for the warm up from 7.25pm in the heart of the West Stand on our entertainment platform.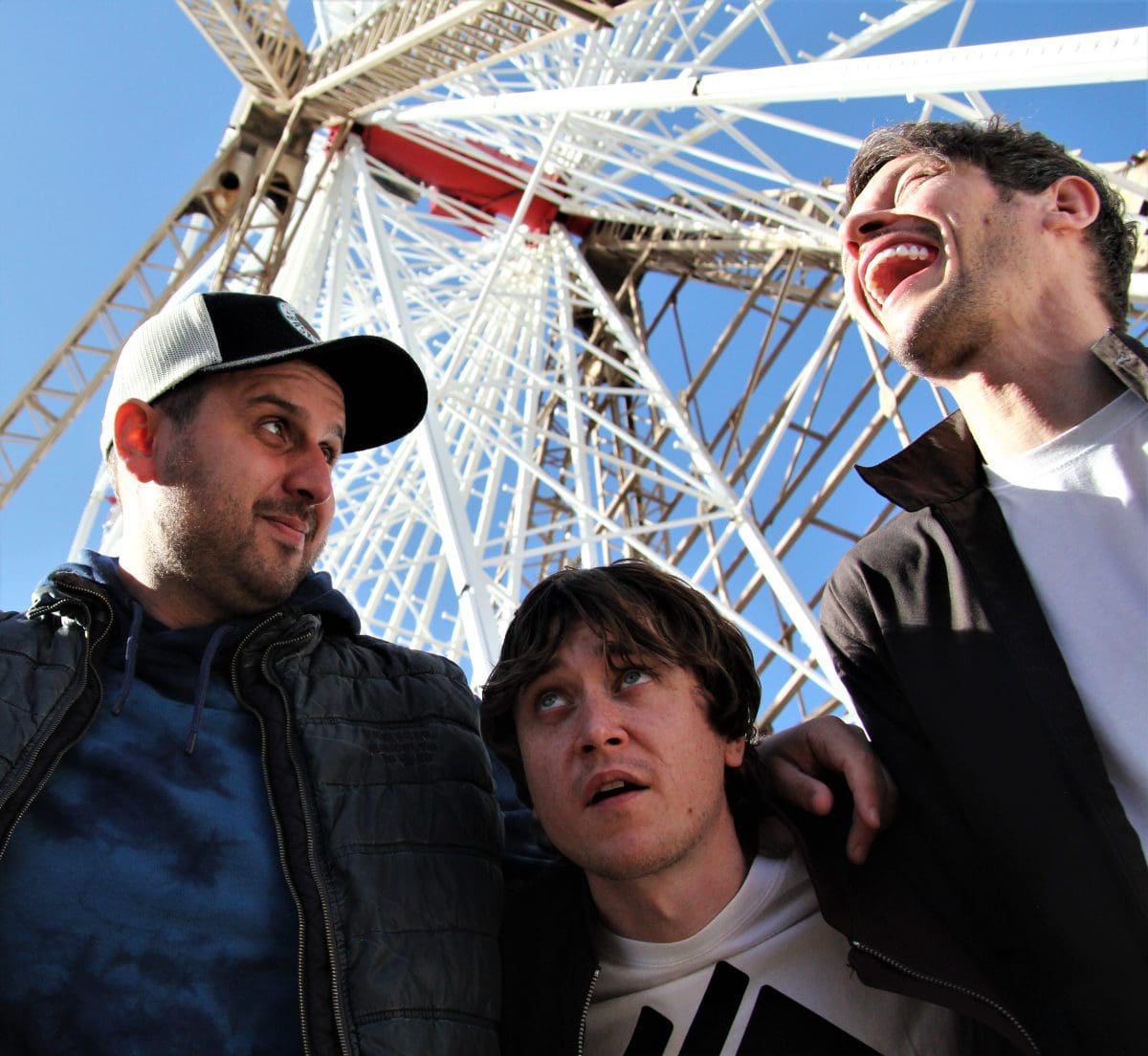 Listen to 32 tens on Spotify below!
A LOOK AT WARRINGTON…
After a dismal 2022, the Wolves are enjoying a change of fortunes this year and currently sit top of the table after nine rounds. Daryl Powell has consistently talked about changing the 'culture' of the Wolves and that has seen the Club make wholesale changes.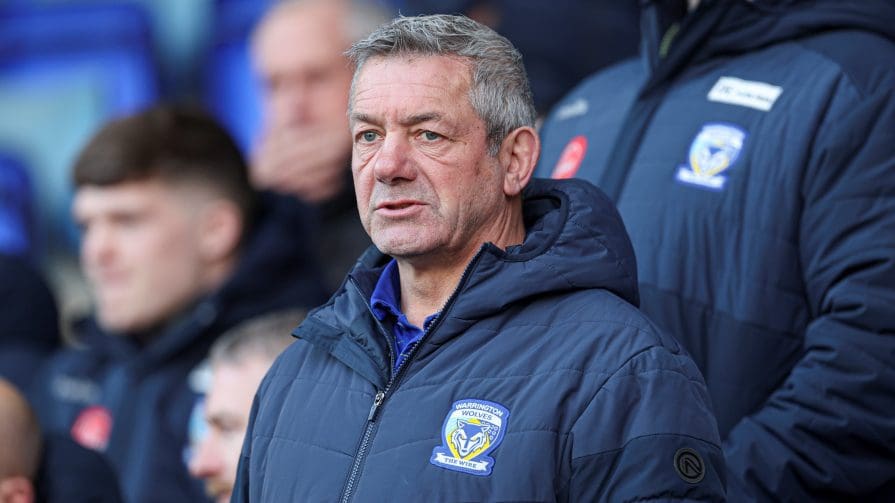 During 2022 they brought in talent such as Tom Mikaele, Kyle Amor, Matt Dufty, Jake Wardle and Matty Nicholson, whilst players like Mike Cooper, Josh Charnley and Toby King exited during the year. Those changes did not prevent them falling to their worst finish in the summer era, second from bottom in eleventh place. The end of the year could not come soon enough for the Wire, who added big names for 2023 during this period of change. Paul Vaughn, Josh McGuire, Gil Dudson, Sam Kasiano and Josh Drinkwater have made their squad stronger.
Powell's philosophy appears to have landed now with this squad he has built, with a highly impressive start seeing them win their first eight games of the season. That run came to an end last Friday at the Halliwell Jones Stadium against Wigan.
Saints and Wire met just twice in 2022, with the Red V getting the better of Warrington on both ocassions.
Last ten meetings
Warrington 10, St Helens 12 (SLR13, 19/5/22)
St Helens 28, Warrington 2 (SLR5, 11/3/22)
Warrington 14, St Helens 24 (SLR22, 30/8/21)
St Helens 2, Warrington 6 (SLR10, 17/6/21)
St Helens 18, Warrington 20 (CCQF, 19/9/20) (at AJ Bell Stadium, Salford)
Warrington 19, St Helens 0 (SLR2, 6/2/20)
St Helens 4, Warrington 18 (CCF, 24/8/19) (at Wembley Stadium)
Warrington 12, St Helens 30 (SLR25, 8/8/19)
Warrington 10, St Helens 21 (SLR20, 28/6/19)
St Helens 38, Warrington 12 (SLR10, 12/4/19)
Super League summary
The Saints have a strong foothold in the head-to-head record against Warrington, winning 54 of the meetings (including wins in 2010 and 2012 play-offs), whilst Wolves have won 16, and honours have been shared in a draw only twice.
Our highest score and widest winning margin over Warrington came in a 2022 home victory, 72-2.
SAINTS SUPERSTORE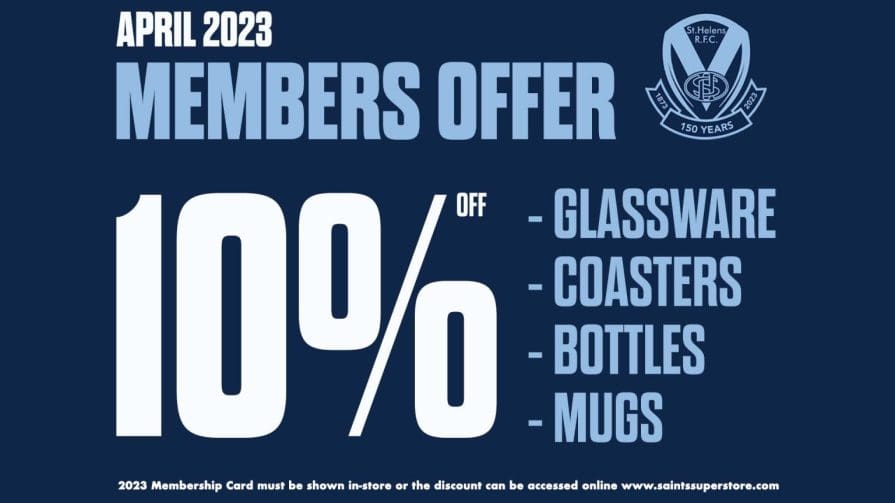 Throughout this month 2023 Members can take advantage of 10% off all Glassware, Coasters, Bottles and Mugs!
Members can use their discount in-store and online through www.saintssuperstore.com if they log into the account linked to their 2023 Membership.
WHAT KIT WILL SAINTS BE WEARING?
Saints will be wearing the hugely popular 2023 Home Kit, which features our 150th year crest, along with an old-school, traditional Red-V.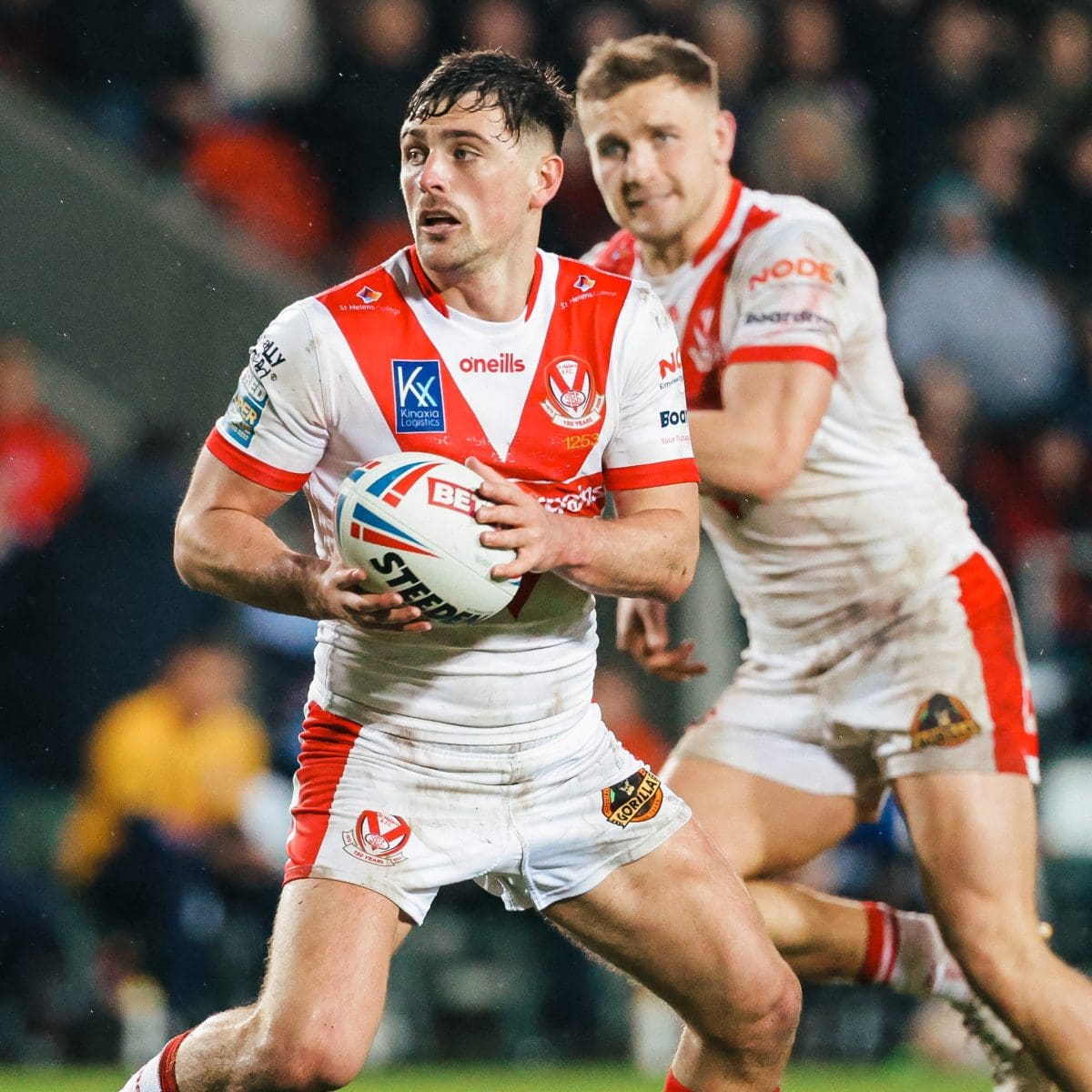 You can get yours online by visiting saintssuperstore.com.
WHO WILL BE THE MAN IN THE MIDDLE?
Jack Smith will be the referee for Thursday night's fixture, and he will be supported by Touch Judges T. Grant and J. Roberts, plus Video Referee Ben Thaler.
JOHN K. PHILLIPS RAISING FUNDS
Supporters who attend games at the Totally Wicked Stadium will no doubt know that one of our neighbouring businesses is John K. Phillips, the transport and distribution company.
At the game on Thursday night members of staff from John K. Phillips will be around the ground with collections buckets as they seek to raise funds for their colleagues Kate & Gavin who's son Charlie has had major surgery for a brain tumour. Charlie sadly has a long journey ahead with extensive radiotherapy followed by chemotherapy.
Whilst the Totally Wicked Stadium is a cashless venue – if you have or can bring some money to donate and see the staff of John K. Phillips as they are collecting, then please do.
The entire club of St Helens R.F.C. would like to wish Charlie the very best with his treatment and rehabilitation, and send our best wishes too go out to his mum and dad, and all at John K. Phillips as they go about their fundraising efforts.
CAREER GAME 💯 FOR SUPER JACK
Fullback Jack Welsby is in line to make his 100th career appearance!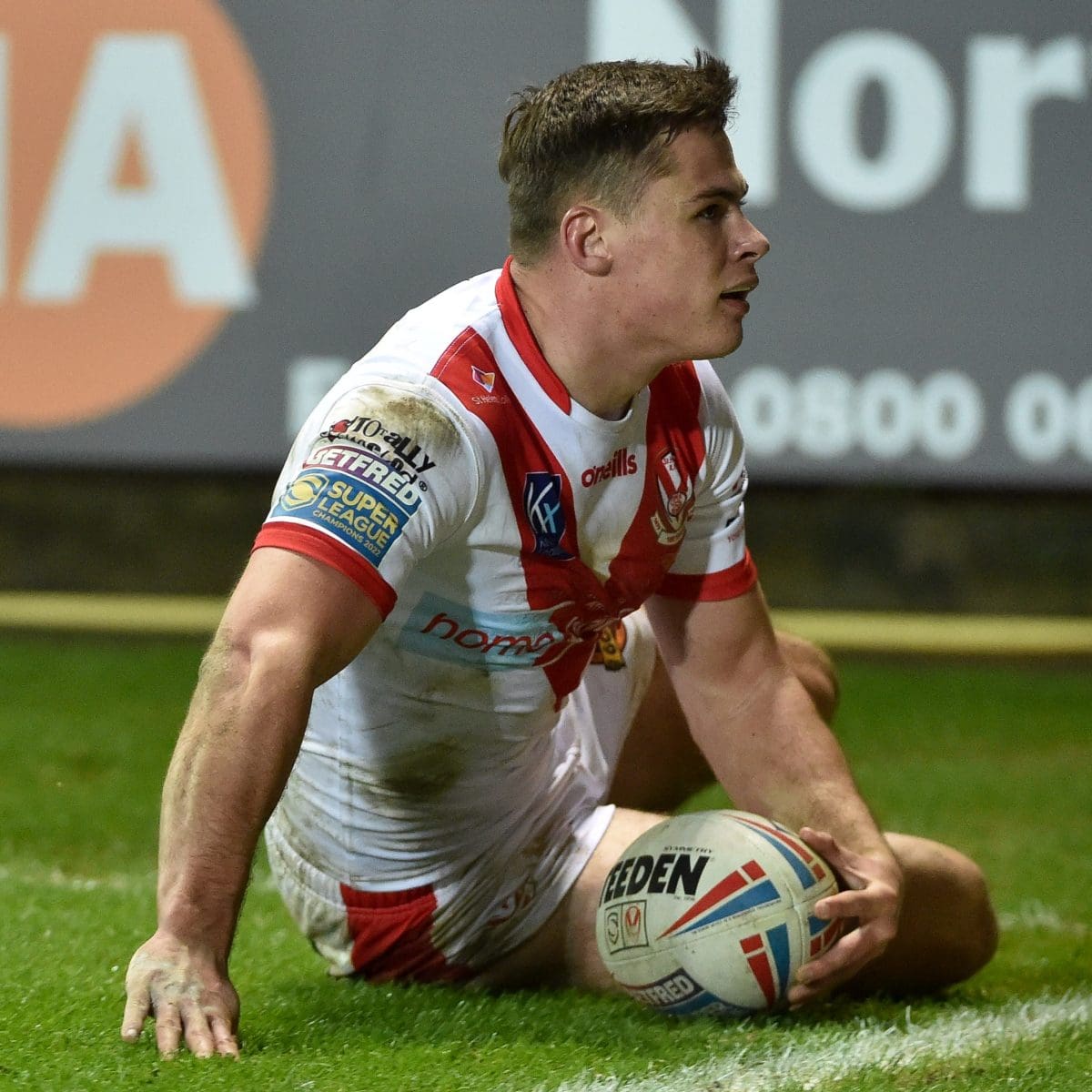 If selected it will be the 22-year-old's 94th game in the famous Red V shirt, and with six appearances for England it would bring him up to the milestone.
HURRELL WANTING TO BOUNCE BACK
Our Tongan centre chats about how he knows we have it in us to bounce back and he is hopeful the Saints will do it in style against the table toppping Wolves, in what is bound to be an intense local affair!
Watch the full player preview with Konrad Hurrell on Saints TV!
GRAB SOME TASTY FOOD & TOP QUALITY DRINKS AT THE TOTALLY WICKED STADIUM
Find out much more about what there is to eat and drink by clicking here or on the map below!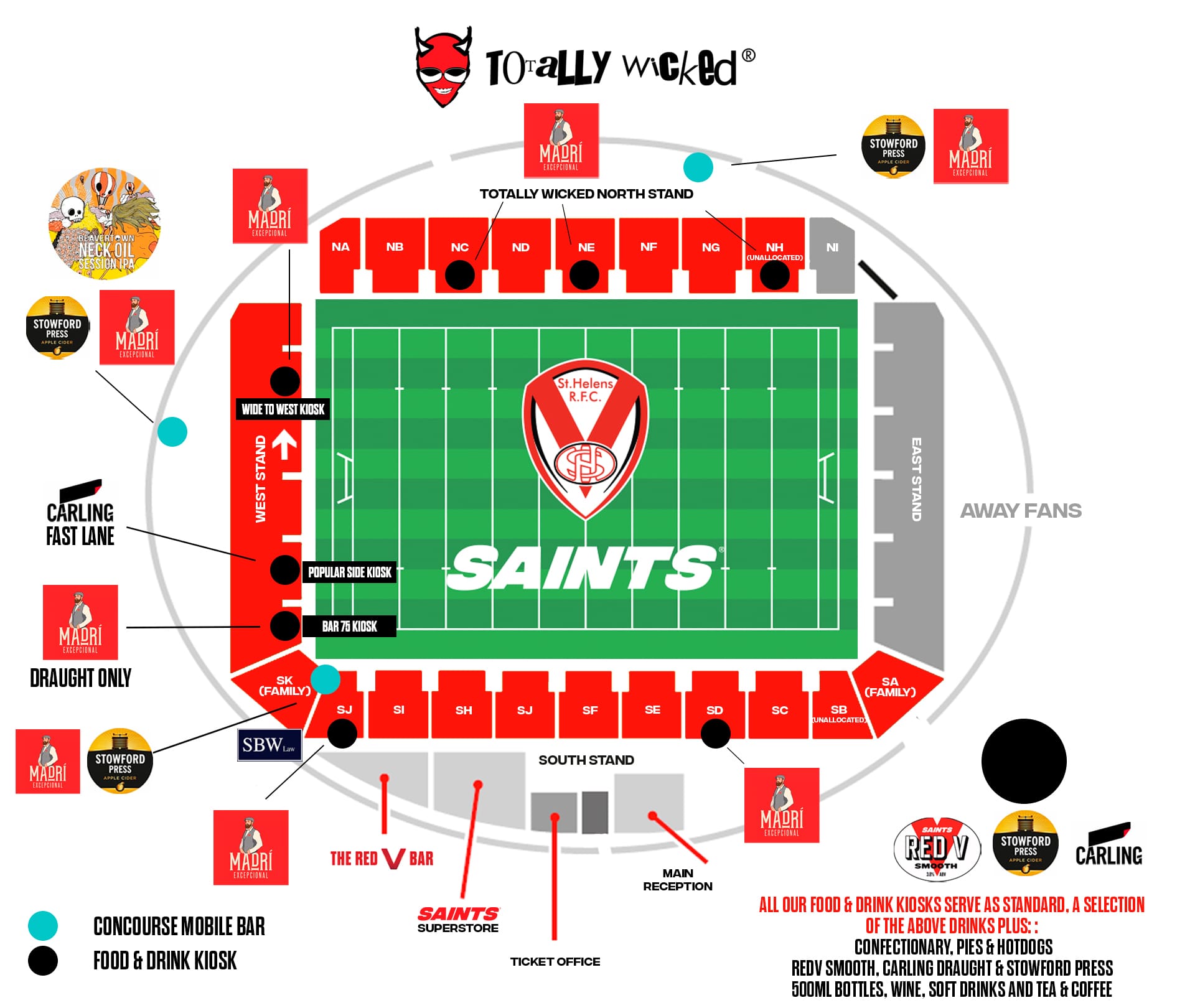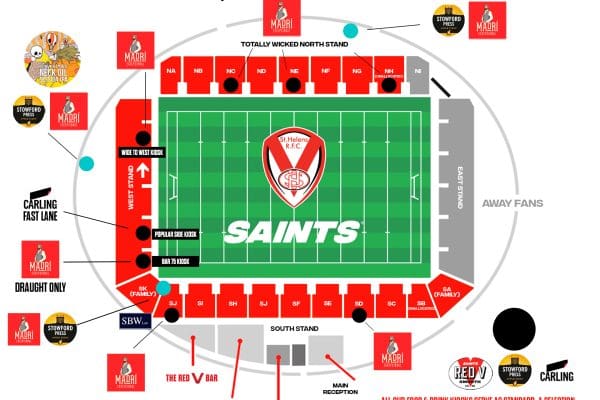 HOW CAN I FOLLOW THE GAME?
Saints will be covering the match in full across our live Match Centre where you can find out the team news, follow live game updates, get behind the scenes photos and catch up on all the stories of the game.
Our club social media accounts will also keep supporters updated. Follow us on: Twitter | Facebook | Instagram
Highlights and the full match replay will be available for Saints TV subscribers.
THE REST OF ROUND 10 IN SUPER LEAGUE
Friday
Castleford Tigers vs Hull KR – 8pm
Leigh Leopards vs Leeds Rhinos – 8pm
Sunday
Hull FC vs Huddersfield Giants – 3pm
Salford Red Devils vs Catalans Dragons – 3pm
Wigan Warriors vs Wakefield Trinity – 3pm