Huddersfield Giants v Saints
Saints lost another close one as they produced an error strewn performance at Huddersfield.
The Giants capitalised to cement their position in the top eight with a 24-16 win at the John Smith's Stadium.
Saints were second best throughout as they failed to recover from a scratchy start.
A few nervous moments in the opening stages saw them kick the ball out on the full and then have to field number of tricky last tackle kicks on their own line.
Errors compounded their lack of field position too and it was therefore no surprise when Leroy Cudjoe took advantage in the 12th minute.
In fact, Saints struggled to match their hosts set for set until the introduction of Luke Thompson.
He won his side a penalty and then the visitors enjoyed some time on Huddersfield's line.
Nothing came of it but it was a welcome respite from defence.
Giants continued to dominate in terms of possession and with five minutes to go in the half Martin Ridyard collected a bobbling ball in Saints in-goal area for 12-0.
But Saints did make a crucial breakthrough as the hooter sounded; Morgan Knowles finding a gap and offloading for Thompson to storm under the posts.
And it proved to be a timely four-pointer as within two minutes of the second half it was game on.
After Tommy Lee forced an error in the Giants' 35, Zeb Taia took on the line, found Jonny Lomax out of the back and he duly put Mark Percival over in the corner.
Class from Saints' potent left edge.
Saints continued to press with Taia and Percival combining to fashion another couple of line breaks but it was the Giants who struck next through Adam O'Brien following a harsh Danny Brough penalty.
It was a blow but Saints once again worked their way back into it and had a couple of chances to score before they forced a drop out with 15 remaining.
LMS went close and then Kyle Amor steamed onto a flat Jon Wilkin pass to make it game on.
Percival making it a two point game with the boot.
More pressure followed but the visitors couldn't punch it home – and the game breaker duly came five minutes from time.
Huddersfield grabbed a drop out and Lee Gaskell took an iffy looking pass to dive under the posts.
Saints protested that their former teammate was held up in the act of the scoring, but James Child waved away their appeals and the match was gone.
Saints Line up
| | |
| --- | --- |
| 6 | Jonny Lomax |
| 2 | Tommy Makinson |
| | Ryan Morgan |
| 4 | Mark Percival |
| 5 | Regan Grace |
| 7 | Theo Fages |
| 7 | Matty Smith |
| 8 | Alex Walmsley |
| 9 | James Roby |
| 18 | Kyle Amor |
| 11 | Zeb Taia |
| 12 | Jon Wilkin |
| 15 | Louie McCarthy-Scarsbrook |
| 14 | Luke Douglas |
| 10 | Luke Thompson |
| | |
| 13 | Morgan Knowles |
Huddersfield Giants Line up
| | |
| --- | --- |
| 1 | Jake Mamo |
| 2 | Jermaine McGillvary |
| 3 | Leroy Cudjoe |
| 4 | Lee Gaskell |
| 5 | Aaron Murphy |
| 6 | Danny Brough |
| 7 | Martyn Ridyard |
| 8 | Shannon Wakeman |
| 9 | Kruise Leeming |
| 10 | Sebastine Ikahihifo |
| 11 | Dale Ferguson |
| 12 | Oliver Roberts |
| 13 | Ryan Hinchcliffe |
| 14 | Sam Rapira |
| 15 | Paul Clough |
| 16 | Alex Mellor |
| 17 | Adam O'Brien |
Last updated 16 Jun 17 21:46:13
Goal
Martyn Ridyard for Huddersfield Giants
Try
Lee Gaskell for Huddersfield Giants
Saints now have to drop out.
Saints can't make the pressure count. Still a two-point game. 18-16
Giants knock-on on their 20.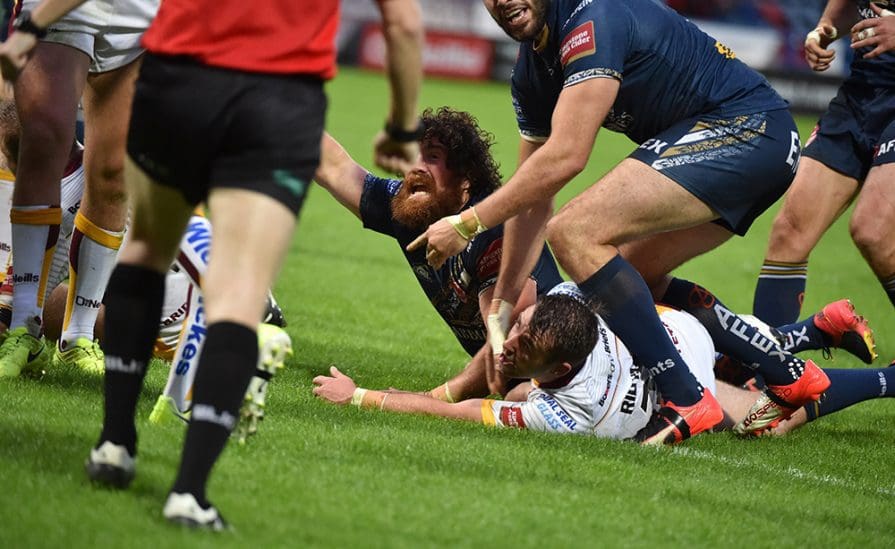 Goal
Mark Percival for Saints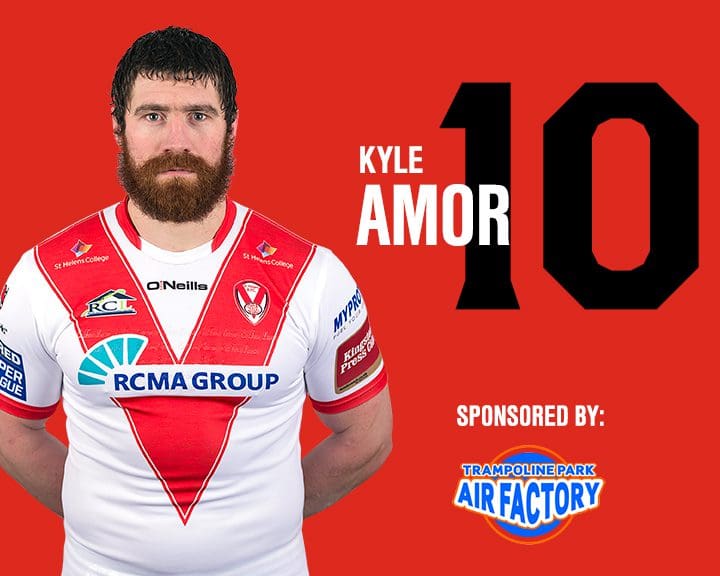 Try
Kyle Amor for Saints
Wilkin to Amor under the posts. 18-14
Saints go close with a kick to the corner but can't put it down.
Penalty heads to the Giants after a high tackle. They're on the front foot again.
Try
Adam O'Brien for Huddersfield Giants
From the penalty Adam O'Brien goes under the posts
Danny Brough shuffles forward off his mark, gets a penalty.
Lovely kick from Fages has the Giants coming off their line.
Taia and Percy combining again – pressure back on the Giants now.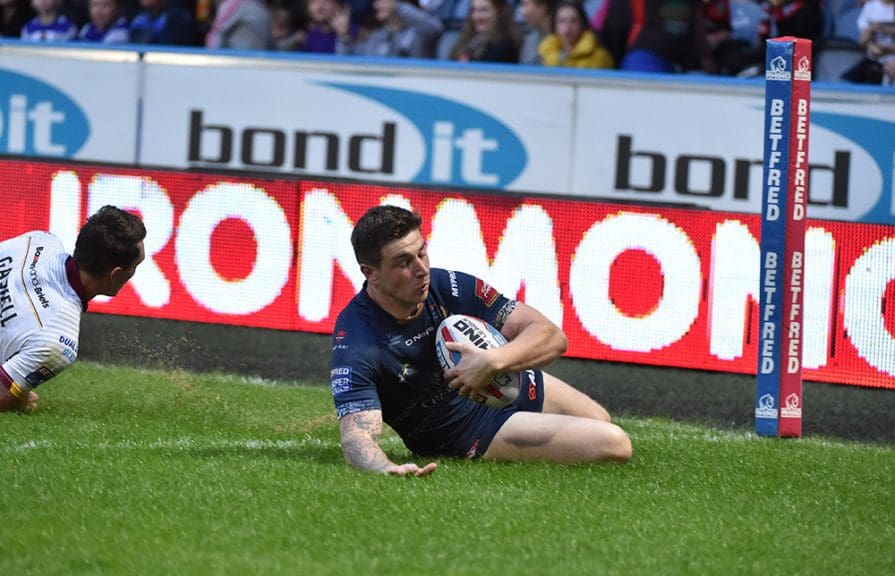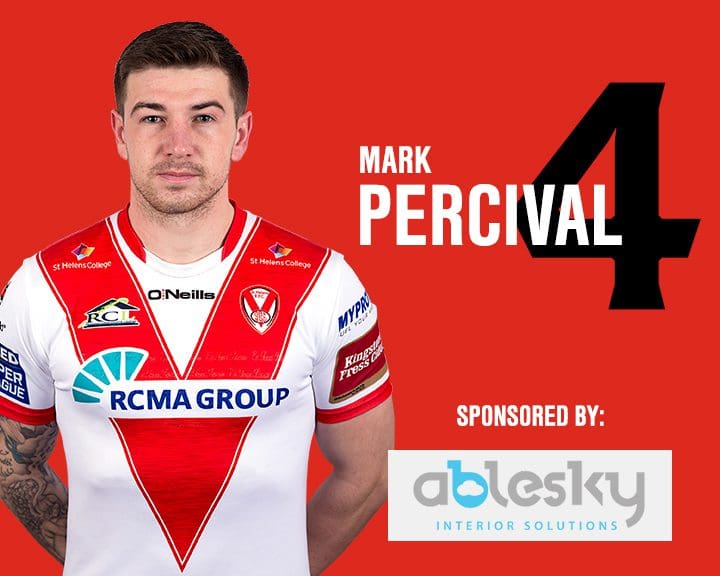 Try
Mark Percival for Saints
Zeb to Jonny to Percy…. 12-10
Giants knock on. Big chance for Saints on their host's 35
Kick Off
Giants will get us underway in this second half. They lead 12-6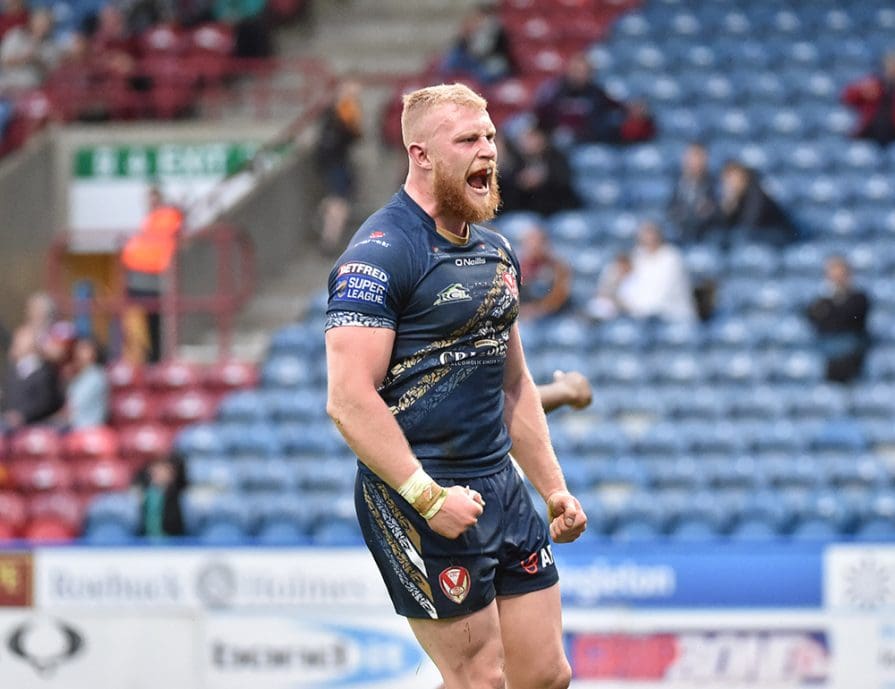 HT
Half Time and it's 12-6 to the Giants
Goal
Mark Percival for Saints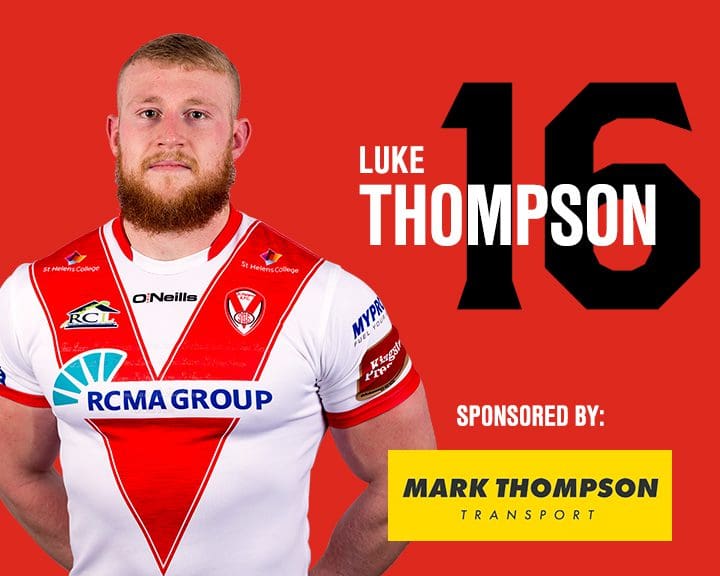 Try
Luke Thompson for Saints
Morgan Knowles goes through a gap and puts Thommo over. Huge try for Saints.
Try
Martyn Ridyard for Huddersfield Giants
Roberts close and then Giants take advantage of a bobbling kick. Giants lead 12-0
Ball out on the full again from Saints. More pressure coming.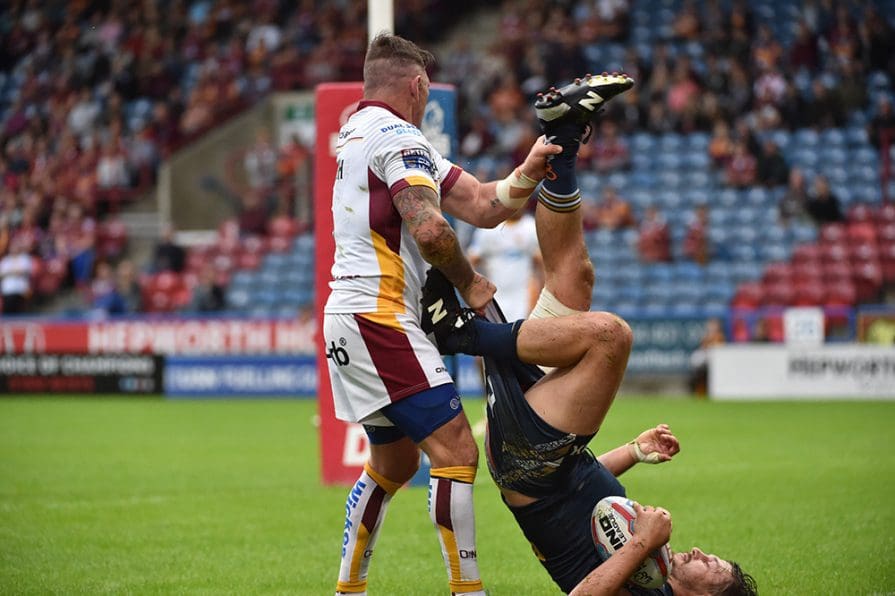 Penalty to Saints in their own 30.
Giants have the dropsy now. Saints coming out of their own half.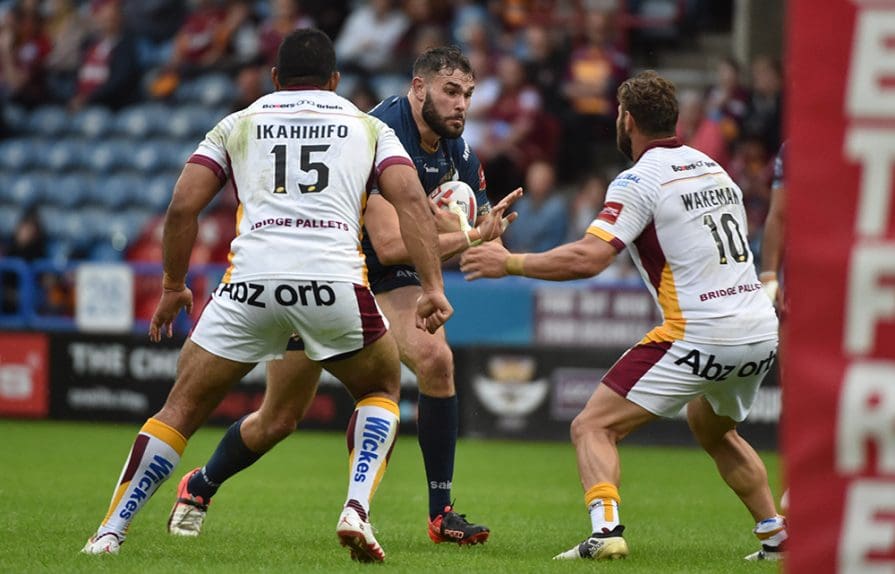 Ball to ground again – Giants have it on half way and they lead 6-0
Percy snaffles it out of the air from Brough's kick. Class from the centre.
Penalty to the Giants. Big set for Saints to defend here.
Thompson on for Amor and he immediately wins a penalty
Huddersfield coming again – they have certainly started the brightest
Goal
Martyn Ridyard for Huddersfield Giants
Try
Leroy Cudjoe for Huddersfield Giants
The centre takes advantage of numerous attacking sets. Giants lead 6-0
Another set defended by the visitors. It remains 0-0
Saints knock on. Giants ball within Saints' 30.
Lomax the man this time to collect Brough's kick. Saints not out of their own half so far.
Fages up to Brough's last tackle kick. Saints out of danger there.
Saints put it out on the full. Set for Giants here within Saints' half.
Great run from Makinson gets himself out of danger after Brough's kick
Makinson the next player with a simple kick take. Both sides testing each other out here
Regan Grace takes a spiralling high ball
Saints will get this one underway!