Salford Red Devils v Saints
Saints are now all but assured of a Betfred Super League Semi Final following a 30-4 win over Salford Red Devils.
Alex Walmsley grabbed a brace whilst Mark Percival tallied 14 points in a victory that takes Justin Holbrook's men into third.
But they were pushed all the way by a Salford side that ended the game with 12 men after Ryan Lannon's rash challenge on Theo Fages in the first half.
Up until that moment the Devils had been a real thorn in Saints' playoff hopes.
Within the first couple of minutes Tommy Makinson had produced an important tackle on Manu Vatuvei to stop a certain try.
But on the very next set, Niall Evalds profited from a sweeping move.
Saints almost replied immediately through Jon Wilkin and James Roby but had to wait until around the 15th minute to finally get on the board.
Fages found Ben Barba on the left hand side, and the fullback unlocked the defence to put Percival over.
The game was end to end, and physical too, with Salford shading the main scoring chances.
They had one chalked off for a Vatuvei knock on in the build up on the half hour mark – but three minutes later Saints took the lead.
Barba did the damage once again, getting Saints into great field position before Roby found Walmsley on the burst for his 10th of the season.
Saints were buoyed and gained a further numerical advantage when Lannon was sent off for a late and high hit on Fages after he had kicked the ball.
Salford were incensed at the decision as on the tackle previous, Jordan Walne had left the field following a forearm from Walmsley as the big prop charged up the ball.
Percival knocked over a penalty to calm it down and take it out to 12-4 – but missed another shot at the end of the half after Junior Sa'u had gone in high on Barba – and then hit him on the floor.
Salford came out in the second half throwing big hits on Saints' charges – and it worked as they rattled the visitors and forced a number of errors.
But Saints steadied the ship, going close on 48 minutes through LMS before Regan Grace polished off a fine move involving Matty Smith, Barba and Percival; only for it to be called back as the winger had his foot in touch.
Saints did finally cross and take the game away from Salford with 15 minutes to go.
After shunning the opportunity to take a simple penalty in front of the sticks, a lovely short ball from Fages saw Zeb Taia increase the lead.
Walmsley then crossed for his second after Smith's short pass.
The double underlined Saints' dominance in the second half and that was further cemented when, at the death, Barba sidestepped and handed off a would be tackler to dance his way under the posts.
Match Summary:
Devils:
Tries: Evalds
Goals: O'Brien (0 from 1)
Saints:
Tries: Percival, Walmsley (2), Taia, Barba
Goals: Percival (5 from 7)
Penalties Awarded:
Devils: 4
Saints: 12
HT: 4-12
FT: 4-30
REF: J Child
ATT: TBC
Teams:
Devils:
5. Niall Evalds; 24. Jake Bibby, 22. Kris Welham, 4. Junior Sa'u, 31. Manu Vatuvei; 6. Robert Lui, 1. Gareth O'Brien; 26. Daniel Murray, 9. Logan Tomkins, 12. Weller Hauraki, 11. Ben Murdoch-Masila, 3. Josh Jones, 32. Tyrone McCarthy.
Subs: 8. Craig Kopczak, 15. Ryan Lannon, 18. Jordan Walne, 20. Kris Brinning.
Saints:
37. Ben Barba; 2. Tommy Makinson, 3. Ryan Morgan, 4. Mark Percival, 28. Regan Grace; 6. Theo Fages, 24. Danny Richardson; 14. Luke Douglas, 9. James Roby, 16. Luke Thompson, 36. Zeb Taia, 20. Morgan Knowles, 12. Jon Wilkin.
Subs: 7. Matty Smith, 8. Alex Walmsley, 13. Louie McCarthy-Scarsbrook, 18. Dominique Peyroux.
Saints Line up
| | |
| --- | --- |
| 23 | Ben Barba |
| 2 | Tommy Makinson |
| | Ryan Morgan |
| 4 | Mark Percival |
| 5 | Regan Grace |
| 7 | Theo Fages |
| 7 | Danny Richardson |
| 14 | Luke Douglas |
| 9 | James Roby |
| 10 | Luke Thompson |
| 11 | Zeb Taia |
| 13 | Morgan Knowles |
| 12 | Jon Wilkin |
| 7 | Matty Smith |
| 8 | Alex Walmsley |
| 15 | Louie McCarthy-Scarsbrook |
| 12 | Dominique Peyroux |
Salford Red Devils Line up
| | |
| --- | --- |
| 1 | Niall Evalds |
| 2 | Jake Bibby |
| 3 | Kris Welham |
| 4 | Junior Sa'u |
| 5 | Manu Vatuvei |
| 6 | Robert Lui |
| 7 | Gareth O'Brien |
| 8 | Daniel Murray |
| 9 | Logan Tomkins |
| 10 | Weller Hauraki |
| 11 | Ben Murdoch-Masila |
| 12 | Josh Jones |
| 13 | Tyrone McCarthy |
| 14 | Craig Kopczak |
| 15 | Ryan Lannon |
| 16 | Jordan Walne |
| 17 | Kris Brinning |
Last updated 21 Sep 17 22:01:27
Goal
Mark Percival for Saints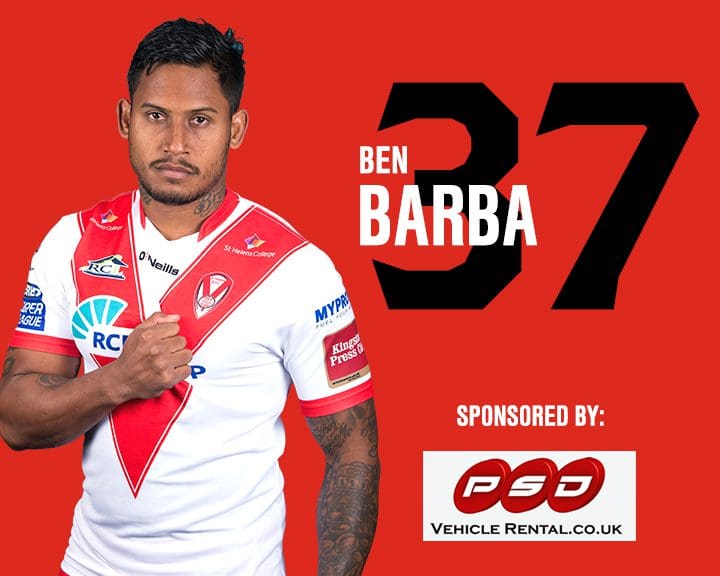 Try
Ben Barba for Saints
Lovely from Barba! Sidestepping and showing some pace. Great feet and Great handoff too!
And they'll have another set right on Salford's line.
Saints in search of more points, 12 out from Salford's line.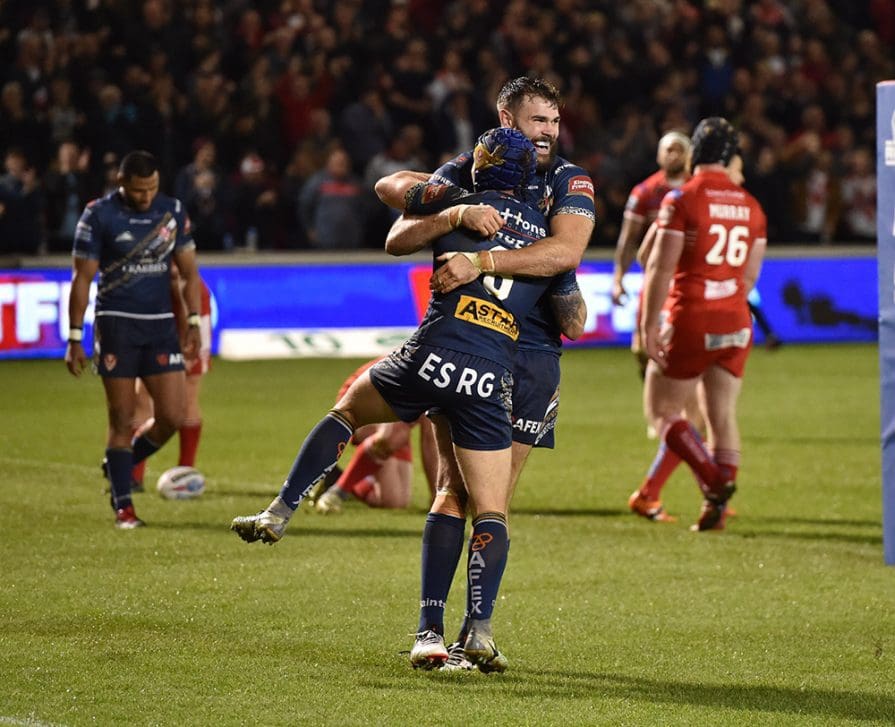 Goal
Mark Percival for Saints
Try
Alex Walmsley for Saints
Short pass from Smith and the big man is over again!
Saints penalty under the sticks after Roby makes a break – Saints run it.
Walmsley run and offload, Smith kicks it for the right hand side to chase and wins a drop out.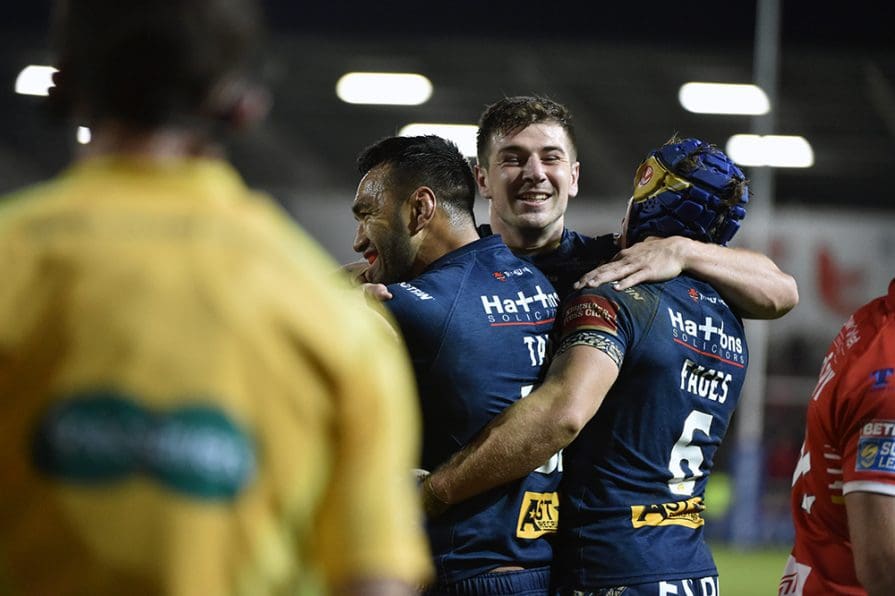 Goal
Mark Percival for Saints
Percy takes it out to 18-4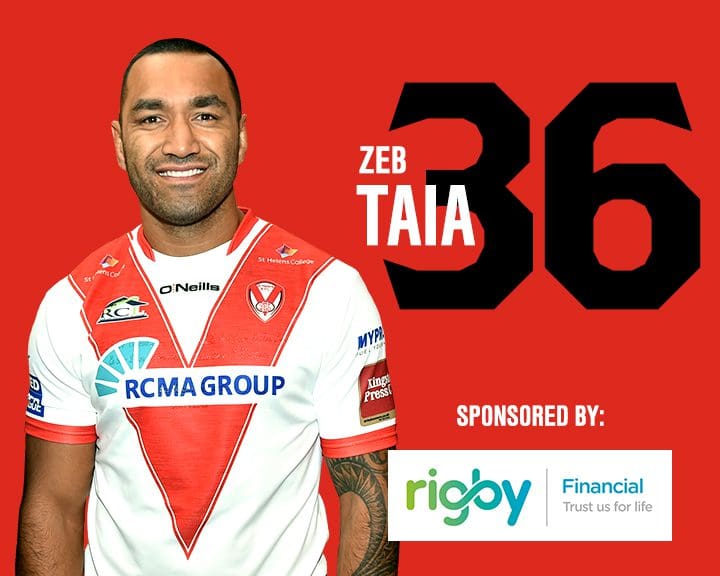 Try
Zeb Taia for Saints
Lovely short ball from Fages and Taia increases the lead
Saints penalty in front of the sticks but they opt to run it.
Great kick from Smith has Salford coming off their own line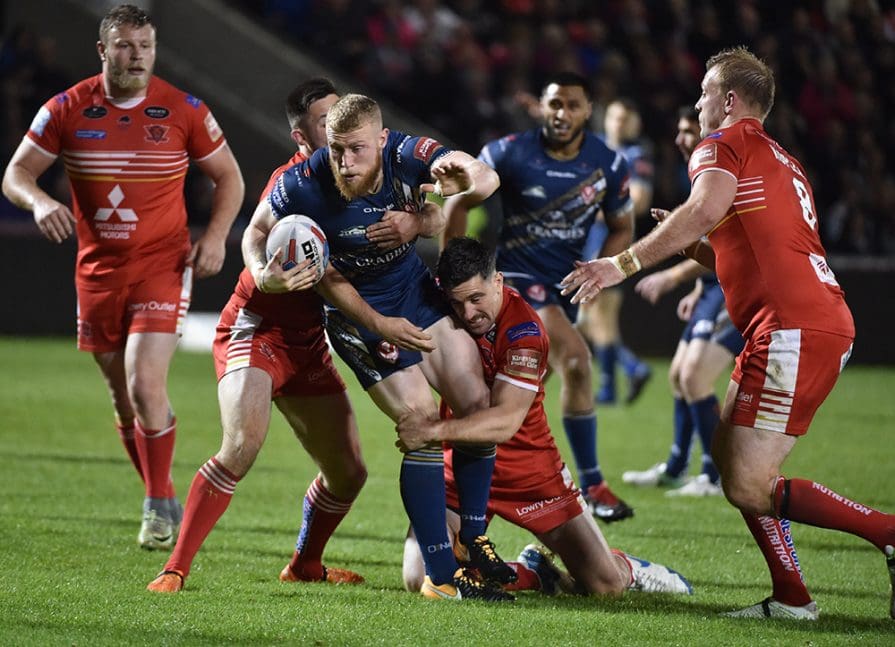 Simple kick through collected by Barba and it remains 12-4
But he's in touch and it's chalked off.
Has Regan scored? Ball goes left from Smith, Barba and Percy and he looks to have put down.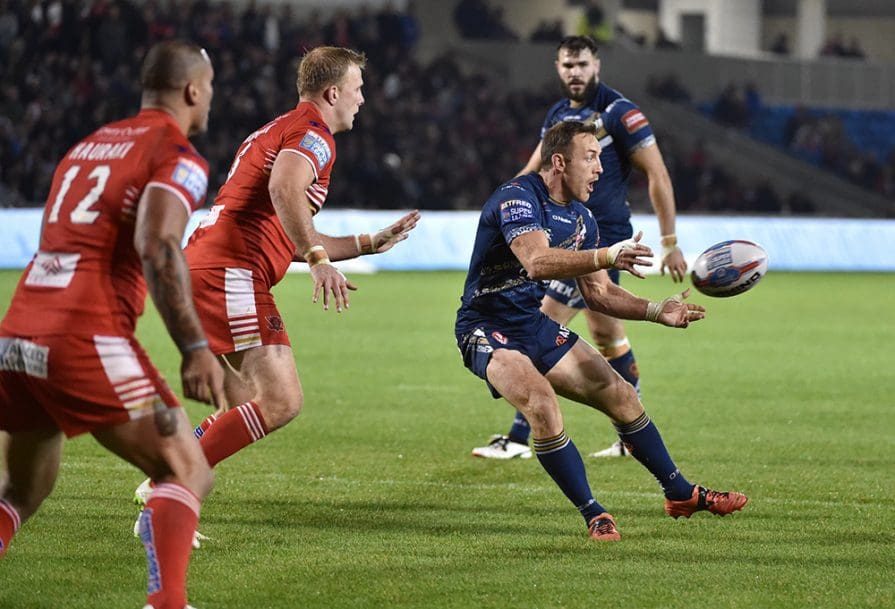 Salford with a 40:20 – big set for Saints to defend.
LMS goes close then a kick to the corner goes dead. Ref sends it upstairs to check.
Saints push it on the last – ball comes off Lui and Saints get another set.
Tackles flying in from Salford – and they get the ball back.
Salford knock on – Saints coming away from their 40 with it… but then return the favour.
Saints caught offside and Salford have a penalty
Saints back out on the field and they will get the second half underway leading 12-4
Upshot is Saints have a penalty, right on the touchline and Percy will attempt the two.
Sa'u takes a swing at Barba in the tackle – and then drops on him. Cue everyone in again!
Goal
Mark Percival for Saints
Calms it down with a two-pointer to take it out to 12-4 to Saints.
Red Card
Ryan Lannon for Salford Red Devils
Sent off for a late and high shot on Fages.
Fages hit late as he kicks the ball – and it's all in and all on.
Big Al fends off Jordan Walne who goes off the field for a concussion check – home fans not happy.
Goal
Mark Percival for Saints
Percy makes it 10-4 to the Saints.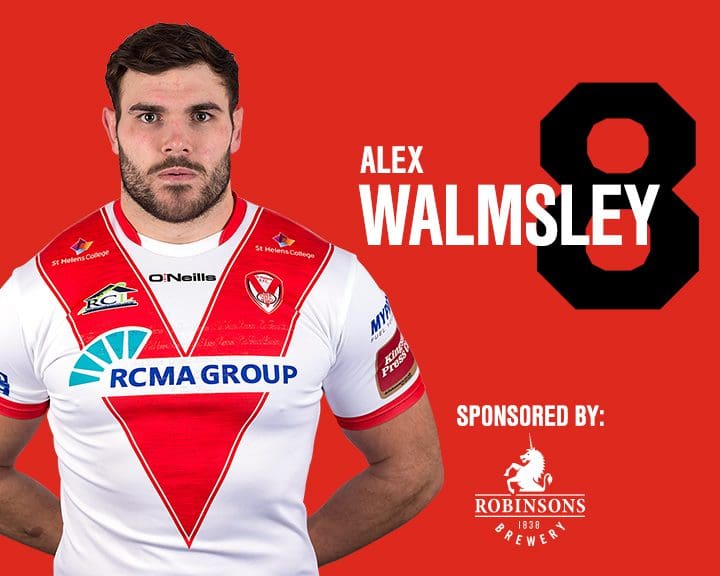 Try
Alex Walmsley for Saints
And the big man is over! 10th of the season.
Alex Walmsley on the burst after Ben Barba run… we're heading upstairs!
Another penalty for Saints – Salford on a team warning.
Chalked off for a knock on. Remains 4-4
And we head upstairs for a Salford try… suggestion of a knock on in build up perhaps?
High ball goes up – goes backwards from Makinson, comes off a Salford's player into touch but ball back with hosts.
Saints playing some nice stuff but not unlocking the defence.
Another penalty heads the way of the Saints
Salford hold fir and are now camped right on their own line.
And another penalty follows on the 20 metre mark.
Saints penalty on Salford's 40 metre line.
Saints survive and then play out their set to return Salford back to their own 20.
Salford break and they'll get a repeat set after they win their first penalty of the night.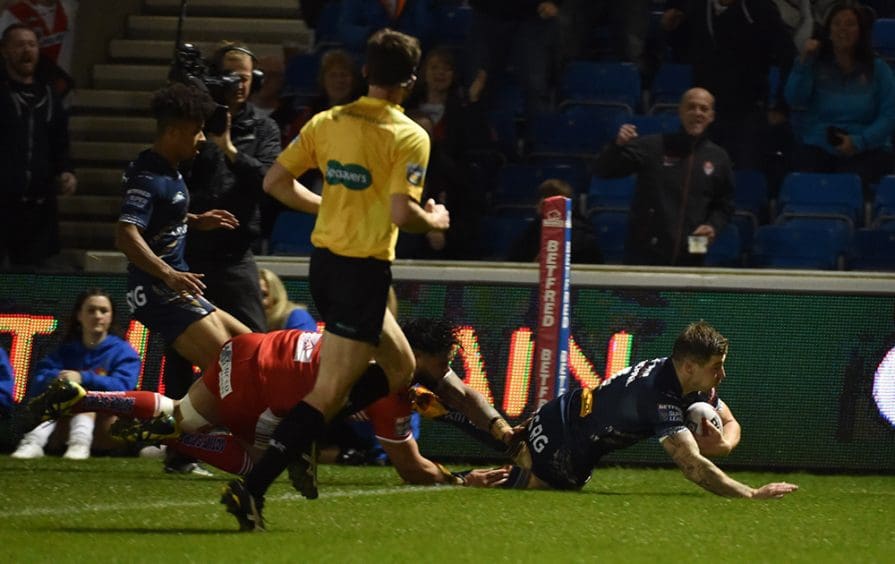 Percy doesn't land the conversion – it's 4-4 at the AJ Bell Stadium.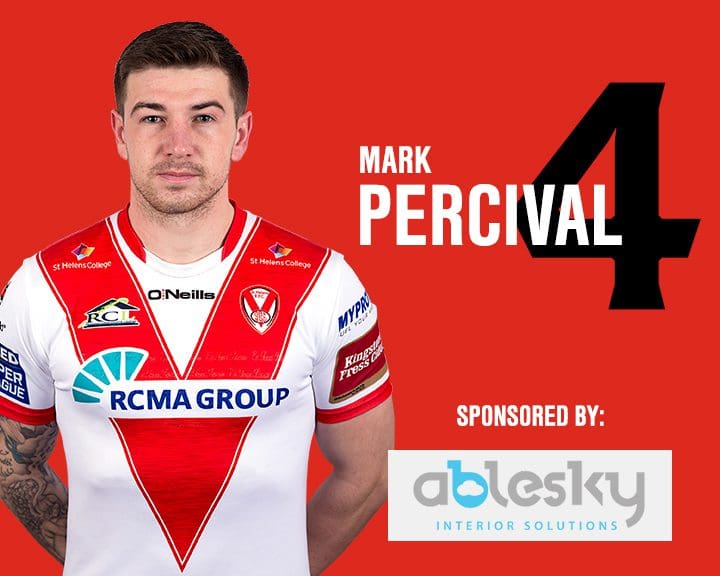 Try
Mark Percival for Saints
Fages finds Barba, he darts through a gap and puts in the centre
Salford hand in a Saints' pass – repeat set for the visitors from the knock on.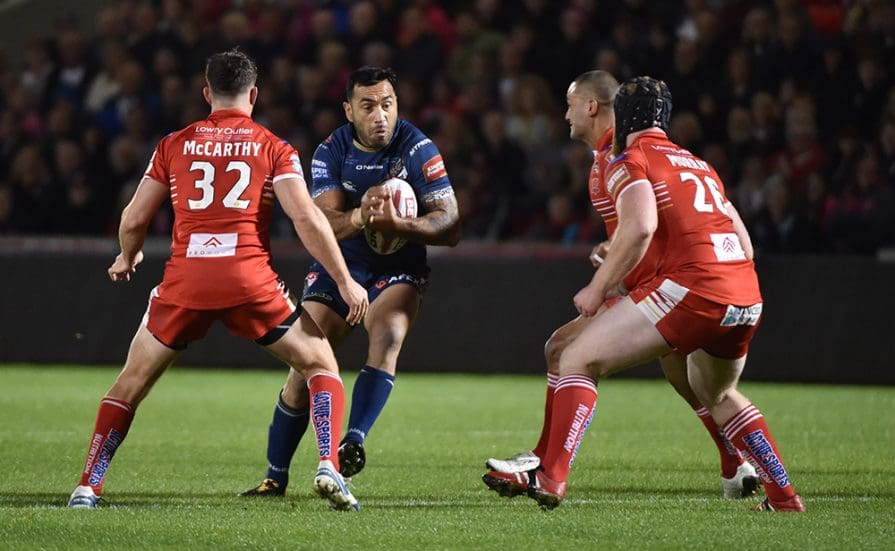 Another knock on from Salford
Richardson's last tackle kick is too strong
But Salford knock on and hand it back to Saints.
Good drives from Wilkin, Douglas and Roby but the last tackle kick is too strong.
Saints penalty for interference – and then they get another for backchat.
Barba finds Grace on the left but the youngster can't keep hold of the ball.
Big tackle from Wilkin forces a knock on – Saints ball 30 out from Salford's line.
Percy attacks down the left hand side – his pass his forward and Grace is put into touch.
Barba takes a high ball and brings the ball away from Saints try-line
O'Brien misses the kick but Salford lead 4-0
Try
Niall Evalds for Salford Red Devils
Evalds gets Salford off to a perfect start as the ball comes left from the scrum
Lui chip on the last – comes off Barba and Salford will have a repeat set.
Clearing kick from Richardson – Saints under the pump early doors.
Break from Vatuvei – and a really important tackle from Makinson
High ball from Fages, easy take from Evalds
Salford will get this one underway
Boys out to warm up – in front of a healthy away following on the East Stand.