Catalans Dragons v Saints
12-man Saints produced a backs to the wall performance on Saturday to beat Catalans 21-12 in Perpignan.
Morgan Knowles saw red for a tackle on Thibaud Margalet in the second half but a try from Adam Swift, alongside a cooly taken one-pointer from the maturing Danny Richardson, saw them home.
Saints were full value for their 12-0 half time lead thanks to their goal line defence which was nothing short of sensational in the freezing temperatures.
Catalans didn't go away though and after hitting back early in the second half through David Mead and then Alrix Da Costa, threatened to take advantage.
But as soon as Knowles left the field, Benjamin Jullien joined him for ten minutes and Swift pounced to maintain Saints good start to the new season.
This was a performance full of vigour and endeavour which began in the first few minutes.
Saints got off to another flying start when Ben Barba created the space for Jonny Lomax to score to the left of the posts in the first couple of minutes.
Richardson made it 6-0 with the boot before Luke Douglas and Tommy Makinson came up with vital defensive contributions as the home side turned up the pressure.
But Saints then doubled their lead.
LMS won a penalty after being up-ended on the half way line and from there, Barba attacked down the left and fired a cut out pass for Regan Grace to score his first of the season.
It was some finish too and equalled in no small part by Richardson's conversion from the touchline into a swirling wind.
That's how it stayed until Dragons' David Mead came on to the ball at pace and burrowed over early in the second half.
It then got worse for the visitors as on the very next set Morgan Knowles lifted Thibaud Margalet and was sent off.
Parity in numbers came shortly afterwards as Benjamin Jullien was sinbinned for what looked like a 'crusher' tackle on Lomax.
Saints duly took control and landed what proved to be the winner. Back in the side because of an injury to Ryan Morgan, Adam Swift took a pass from his centre, went right, and then cut back inside to break two tackles and score.
Richardson nailed the extras and then added a drop goal in the 72nd minute after Da Costa had dove over from dummy half.
The game was then put to bed, as the hooter sounded, with another Richardson kick – this time a penalty as Theo Fages was hit late.
Saints now have a blank weekend before they take on Huddersfield.
There's no rest though as they will train throughout and get themselves ready for the tests that lie ahead.
Match Summary:
Dragons:
Tries: Mead, Da Costa,
Goals: Albert (2 from 2)
Saints:
Tries: Lomax, Grace, Swift
Goals: Richardson (4 from 5)
Drop: Richardson
Penalties Awarded:
Dragons: 8
Saints: 7
HT: 0-12
FT: 12-21
REF: P Bentham
ATT: TBC
Teams:
Dragons:
1. David Mead; 2. Jodie Broughton, 3. Iain Thornley, 4. Brayden Wiliame, 20. Lewis Tierney; 13. Greg Bird, 22. Lucas Albert; 8. Remi Casty, 19. Michael McIlorum, 15. Mickael Simon, 21. Benjamin Jullien, 12. Benjamin Garcia, 17. Jason Baitieri.
Subs: 14. Julian Bousquet, 18. Thibaud v, 23. Antoni Maria, 24. Alrix Da Costa.
Saints:
23. Ben Barba; 5. Adam Swift, 2. Tommy Makinson, 4. Mark Percival, 19. Regan Grace; 1. Jonny Lomax, 18. Danny Richardson; 14. Luke Douglas, 9. James Roby, 16. Luke Thompson, 17. Dom Peyroux, 11. Zeb Taia, 12. Jon Wilkin.
Subs: 6. Theo Fages, 8. Alex Walmsley, 13. Louie McCarthy-Scarsbrook, 15. Morgan Knowles.
Saints Line up
| | |
| --- | --- |
| 23 | Ben Barba |
| 18 | Adam Swift |
| 2 | Tommy Makinson |
| 4 | Mark Percival |
| 5 | Regan Grace |
| 6 | Jonny Lomax |
| 7 | Danny Richardson |
| 14 | Luke Douglas |
| 9 | James Roby |
| 10 | Luke Thompson |
| 12 | Dominique Peyroux |
| 11 | Zeb Taia |
| 12 | Jon Wilkin |
| 7 | Theo Fages |
| 8 | Alex Walmsley |
| 15 | Louie McCarthy-Scarsbrook |
| 13 | Morgan Knowles |
Catalans Dragons Line up
| | |
| --- | --- |
| 1 | David Mead |
| 2 | Jodie Broughton |
| 3 | Iain Thornley |
| 4 | Brayden Wiliame |
| 5 | Lewis Tierney |
| 6 | Greg Bird |
| 7 | Lucas Albert |
| 8 | Rémi Casty |
| 9 | Michael McIlorum |
| 10 | Mickael Simon |
| 11 | Benjamin Jullien |
| 12 | Benjamin Garcia |
| 13 | Jason Baitieri |
| 14 | Julian Bousquet |
| 15 | Thibaud Margalet |
| 16 | Antoni Maria |
| 17 | Alrix Da Costa |
Last updated 10 Feb 18 18:52:51
Goal
Danny Richardson for Saints
Danny with the conversion!
High tackle on Theo after some wonder stuff from Benny B once again. Danny will take the two here.
Great tackle from Mark Percival and then a great take from Swift from a high ball. Saints have 90 or so seconds to hold on here.
Saints close down the left hand side – Barba finds Taia but he is stopped just short.
Drop Goal
Danny Richardson for Saints
Clever! Danny Richardson takes the score to 19-12
Lomax taken out after he chips over the top. Penalty to Saints. Danny will go for goal… it's a tricky one.
Back with Catalan following Lomax' grubber. End to end stuff this.
… and knock on! Saints then get a rare penalty.
Saints knock on, Catalan – back to 13 men – have the ball on our try line…
Goal
Lucas Albert for Catalans Dragons
converted… back to a six point lead for Saints. 18-12
Try
Alrix Da Costa for Catalans Dragons
Saints penalised and Catalans go from dummy half
Lovely skillage from Ben Barba there to Percy, but the return pass is forward.
Goal
Danny Richardson for Saints
Richardson nails a tricky kick and Saints lead 18-6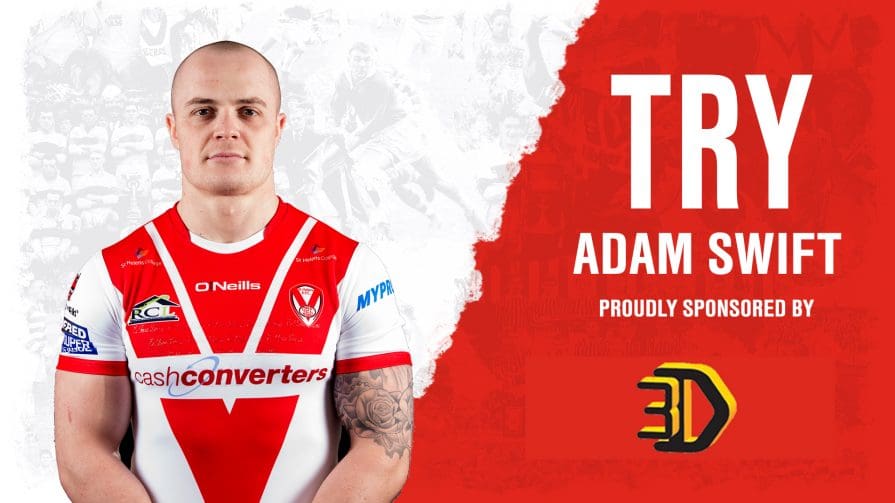 Try
Adam Swift for Saints
Great strength from Adam Swift! What a try that was!
Yellow Card
Benjamin Jullien for Catalans Dragons
Sinbinned for what looks like a 'crusher' tackle on Lomax.
Red Card
Morgan Knowles for Saints
Morgan Knowles with a tackle on Margalet and he's been sent off.
Goal
Lucas Albert for Catalans Dragons
Albert converts. Saints lead 12-6.
Try
David Mead for Catalans Dragons
Replay pretty inconclusive we think? Can't see the ball down for sure.
Heading upstairs for a Catalan try…
Grace collects the chip through and Saints will drop out again.
Another set for the Dragons
Another last gasp tackle from this Saints side – and then Barba knocks it dead. Saints will drop out.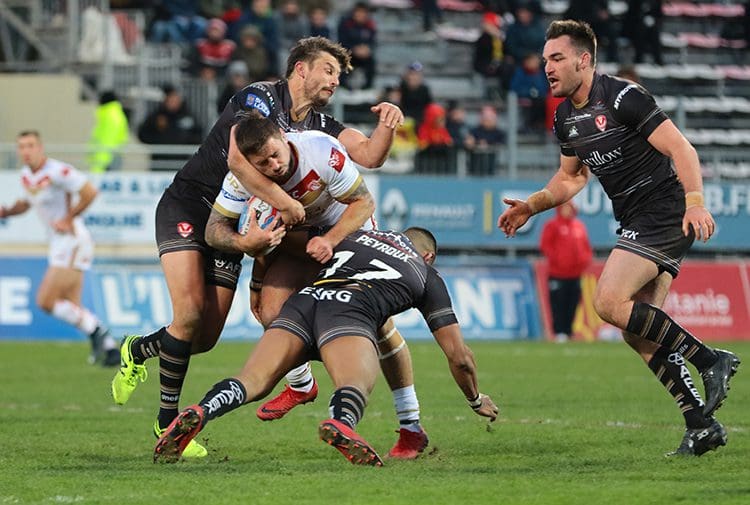 Saints will get this game back underway, they lead 12-0
D does it again after an error close to the line. Another let off.
More good D from the Saints!
Back to back penalties for the home side.
Comes to nothing as Saints knock on. They remain 12-0 up.
Saints have a penalty on Catalans' 40
Goal
Danny Richardson for Saints
Some kick in the wind that! Richardson off the touchline for 12-0
Try
Regan Grace for Saints
Cut out pass from Barba and Saints are in again. Regan Grace with a fine finish in the corner. Saints lead 10-0
Penalty to Saints, first one of the game for either side.
Let off for Saints as Catalans are pulled back for a forward pass. Saints remain 6-0 up.
Tommy Makinson with the crucial play that time – Saints have to drop out again.
Douglas with a crucial ankle tap and then Saints get it dead and have to drop out. D being tested here.
And now Swift is safe under the high ball.
Grace traps a chip along the floor and Saints' line stays intact. Fair to say it's Catalan applying all the pressure at the moment.
Repeat set for Catalans… Dragons close to the line and then Saints get the ball back.
Lomax with the chip forward into the corner. Catalans have a scrum around 10 metres out.
Richardson clears his lines with a kick that has Catalan coming out of its own 20.
Defence does its job and Saints come away with the ball
Saints knock on from the kick off – the wind is swirling so we'll have to adapt to that. Catalans on the attack.
Goal
Danny Richardson for Saints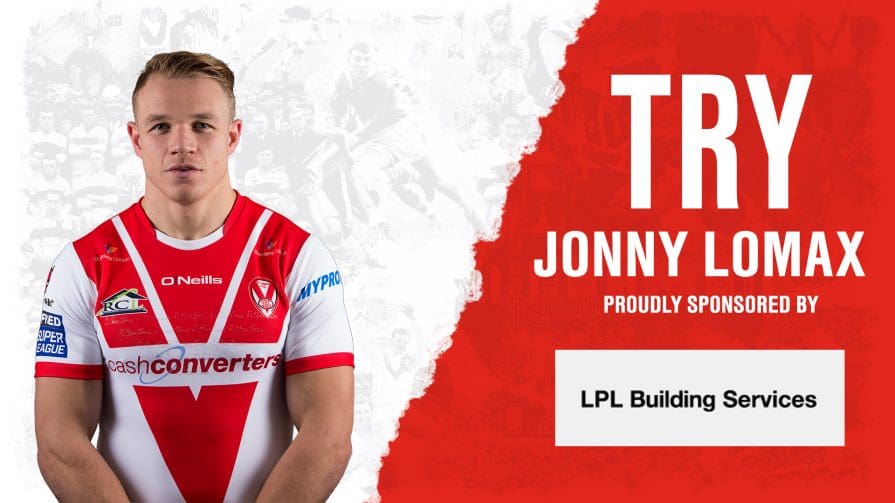 Try
Jonny Lomax for Saints
What a start! Saints send the ball left, Barba dances through a gap and puts Lomax over!
Catalans will get this one underway!