Saints stretched their lead at the top of the table to eight points with a 34-18 win at Hull FC.
Jonny Lomax and Ben Barba each grabbed braces as Justin Holbrook's men fought back from 18-10 down in the second half.
James Roby inspired two of those Lomax' finishes in a 15 minute burst that saw them score four tries to flip the game right on its head.
Luke Thompson then powered over from distance to seal the win.
Whilst the margin of victory was comfortable, Saints were pushed all the way by their hosts.
Lee Radford had his team charged up from the off and they scored after just 50 seconds.
Albert Kelly found a gap on the right hand side and worked space for Bureta Faraimo to power over.
More chances followed but Saints weathered the pressure and hit back through Tommy Makinson.
Barba linking up with Danny Richardson to send the centre through a gap.
Hull had one chalked off for a knock on shortly afterwards – whist at the other end Lomax was unlucky not to haul in Dom Peyroux's acrobatic offload on the last tackle.
Saints weren't going to let any more opportunities go through and in the 28th minute they took the lead through Barba.
After forcing a knock on from Richardson's high ball a blind side move from the scrum saw the full back glide over for his 24th of the season.
Hull hit back as Faraimo stretched high to catch a lofted pass just before half time – and they almost took the lead as the hooter sounded too but Regan Grace was alert to a chip to the corner.
HT: Hull FC 8 Saints 10.
Like the first half, Hull came out of the blocks fired up and wiped out Saints' slender advantage eight minutes in.
Barba was firstly trapped in goal to hand FC a repeat set and then the visitors broke up another move.
But when it came back a third time, sweet passing saw defenders committing themselves and Jansin Turgut having a clear run to the line.
And it got worse as on the very next set Albert Kelly stepped his way over for 18-10.
This Saints side are made of stronger stuff though and they got back into it within seconds before the floodgates opened.
Firstly, a classy offload from James Roby sent Lomax away, creating the space for Barba to drift through the defence for his second.
Our Captain fantastic then found Lomax with a superb ball to put his side ahead.
Saints were rampant and the third came quickly afterwards; Lomax breaking two tackles and dummying twice before going over.
And in the 70th minute they crossed for their fourth as Richardson picked up a loose ball to send Adam Swift in from 30 metres out.
The damage done, Saints simply had to play out their sets and take home the points.
So it was left to Luke Thompson to cap a fine display with a try of his own – Lomax' flat ball sending on his way on a 40 metre effort.
Match Summary:
Hull FC:
Tries: Faraimo (2), Turgut, Kelly
Goals: Connor (0 from 1), Miloudi (1 from 3)
Saints:
Tries: Makinson, Barba (2), Lomax (2), Swift, Thompson
Goals: Richardson (3 from 7)
Penalties Awarded:
Hull FC: 5
Saints: 3
HT: 8-10
FT: 18-34
REF: Liam Moore
ATT: 11,130
Teams:
Hull FC:
28. Hakim Miloudi; 2. Bureta Faraimo, 14. Jake Connor, 3. Carlos Tuimavave, 24. Jack Logan; 6. Albert Kelly, 16. Jordan Abdul; 15. Chris Green, 9. Danny Houghton, 8. Scott Taylor, 25. Jansin Turgut, 12. Mark Minichiello, 11. Dean Hadley.
Subs: 23. Mickey Paea, 26. Jordan Lane, 27. Jack Downs, 29. Masimbaashe Matongo.
Saints:
23. Ben Barba; 5. Adam Swift, 2. Tommy Makinson, 4. Mark Percival, 19. Regan Grace; 1. Jonny Lomax, 18. Danny Richardson; 10. Kyle Amor, 9. James Roby, 16. Luke Thompson, 17. Dom Peyroux, 11. Zeb Taia, 12. Jon Wilkin.
Subs: 6. Theo Fages, 13. Louie McCarthy-Scarsbrook, 14. Luke Douglas, 15. Morgan Knowles.
Saints Line up
| | |
| --- | --- |
| 23 | Ben Barba |
| 18 | Adam Swift |
| 2 | Tommy Makinson |
| 4 | Mark Percival |
| 5 | Regan Grace |
| 6 | Jonny Lomax |
| 7 | Danny Richardson |
| 18 | Kyle Amor |
| 9 | James Roby |
| 10 | Luke Thompson |
| 12 | Dominique Peyroux |
| 11 | Zeb Taia |
| 12 | Jon Wilkin |
| 7 | Theo Fages |
| 15 | Louie McCarthy-Scarsbrook |
| 14 | Luke Douglas |
| 13 | Morgan Knowles |
Hull FC Line up
| | |
| --- | --- |
| 1 | Hakim Miloudi |
| 2 | Bureta Faraimo |
| 3 | Jake Connor |
| 4 | Carlos Tuimavave |
| 5 | Jack Logan |
| 6 | Albert Kelly |
| 7 | Jordan Abdul |
| 8 | Chris Green |
| 9 | Danny Houghton |
| 10 | Scott Taylor |
| 11 | Jansin Turgut |
| 12 | Mark Minichiello |
| 13 | Dean Hadley |
| 14 | Mickey Paea |
| 15 | Jordan Lane |
| 16 | Jack Downs |
| 17 | Masimbaashe Matongo |
Last updated 13 Jul 18 21:39:23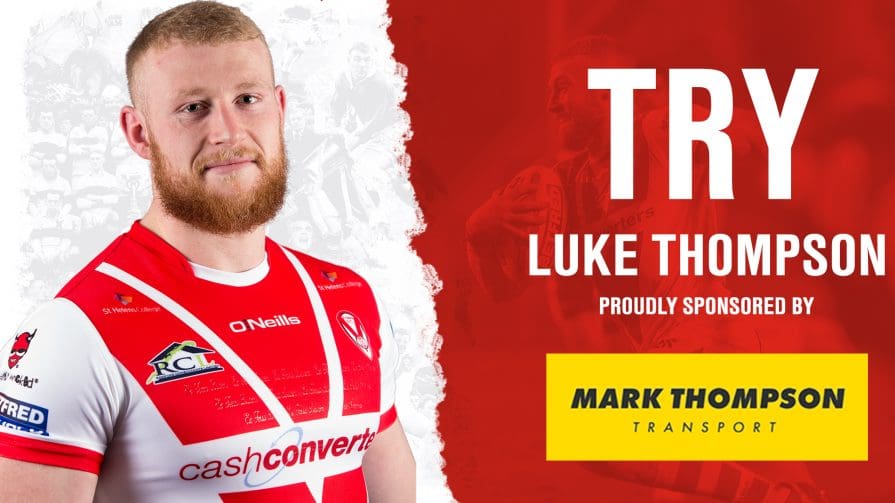 Try
Luke Thompson for Saints
That's great from Thompson – hit a great line and goes 35 metres at least! It will be 50 tomorrow… and 60 on Monday!
Hull have a penalty – but they knock on!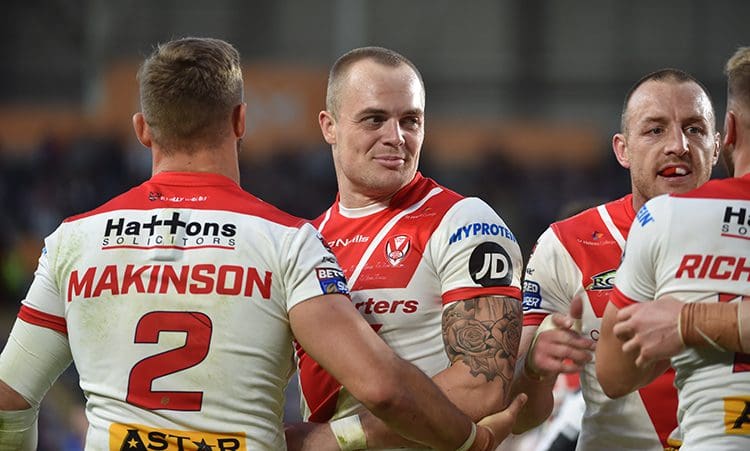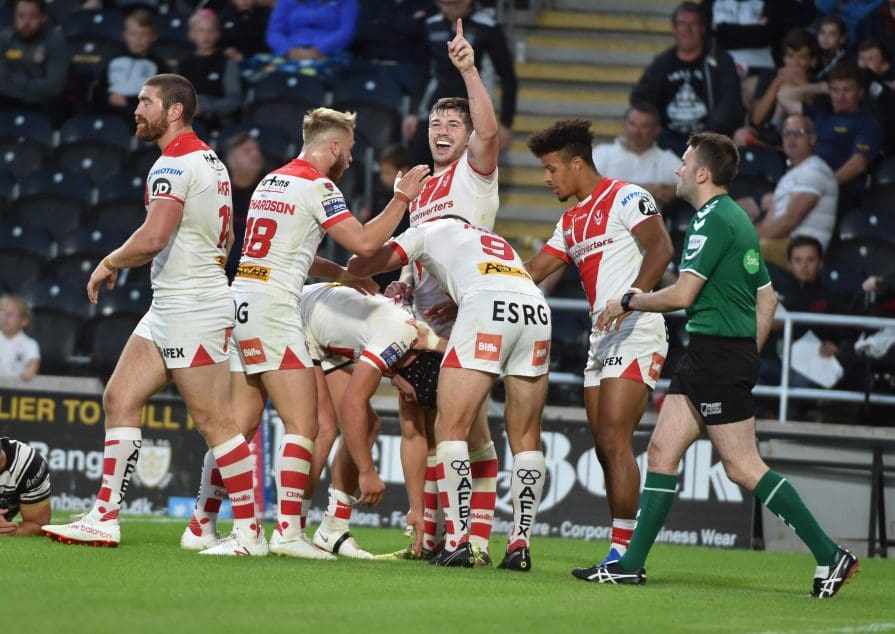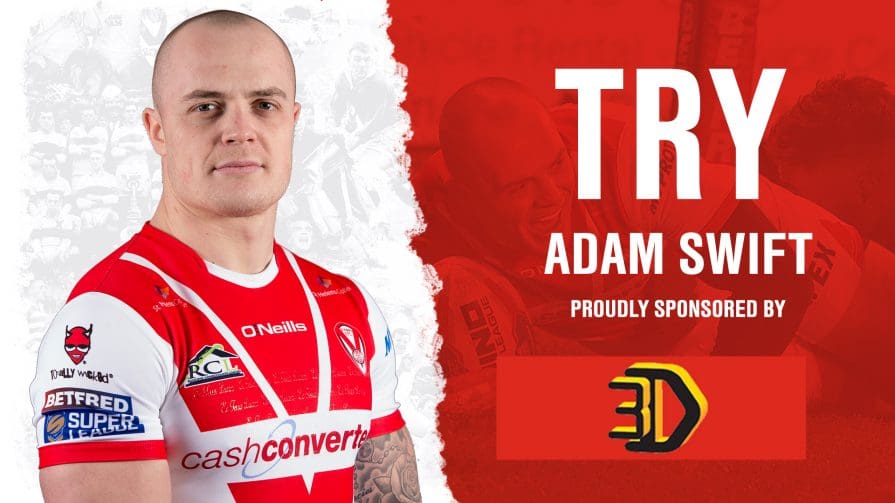 Try
Adam Swift for Saints
Hull offload – Richardson picks it up and Swifty flies in!
Short kick off, Hull get it back and then Percy comes up with it – one on one strip.
Goal
Danny Richardson for Saints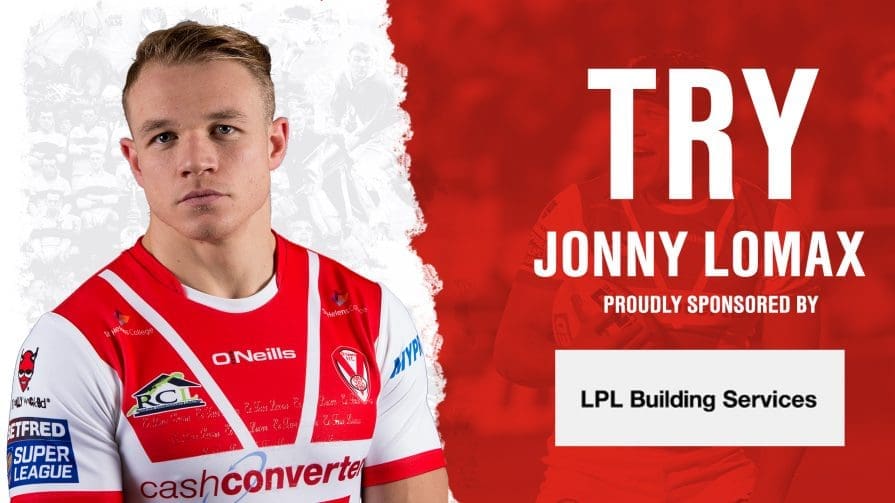 Try
Jonny Lomax for Saints
LOMAX! That's a cracker on the last as he breaks two tackles, dummies twice and shows amazing strength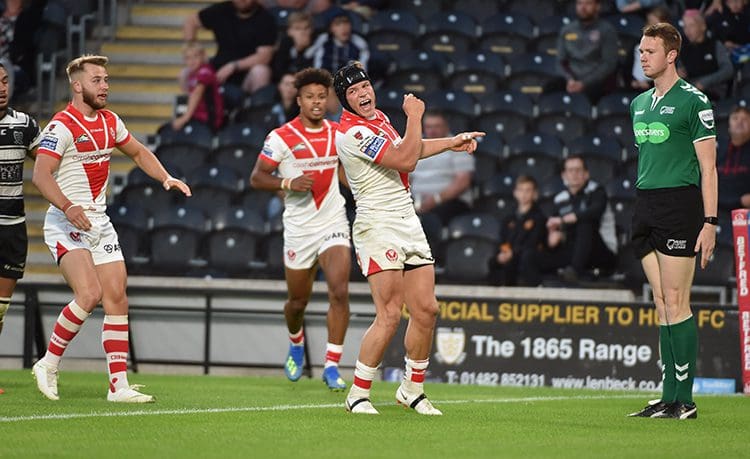 Massive defence stops Hull in their tracks and they lose the ball. Can't take your eyes off this one.
Hull now on the front foot following a penalty – they set up 40 out.
Penalty to Saints and they are right on Hull's line.
Goal
Danny Richardson for Saints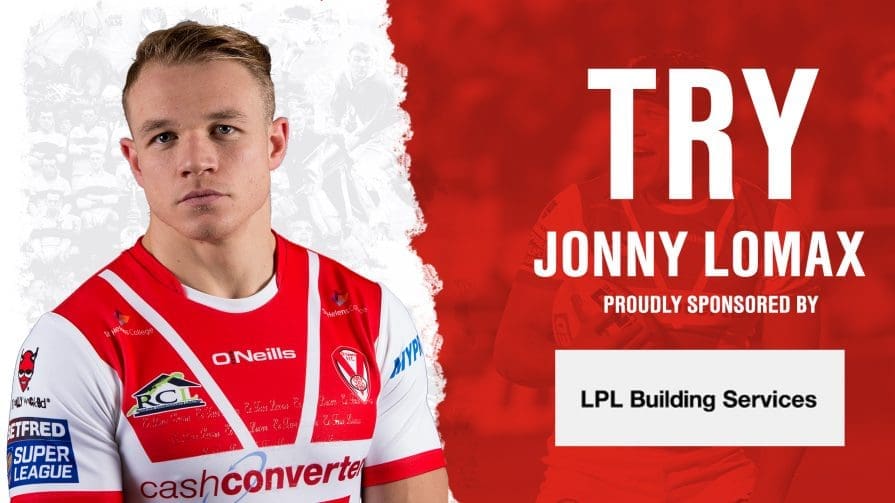 Try
Jonny Lomax for Saints
Roby with another cracker of a pass and Lomax has tied it up!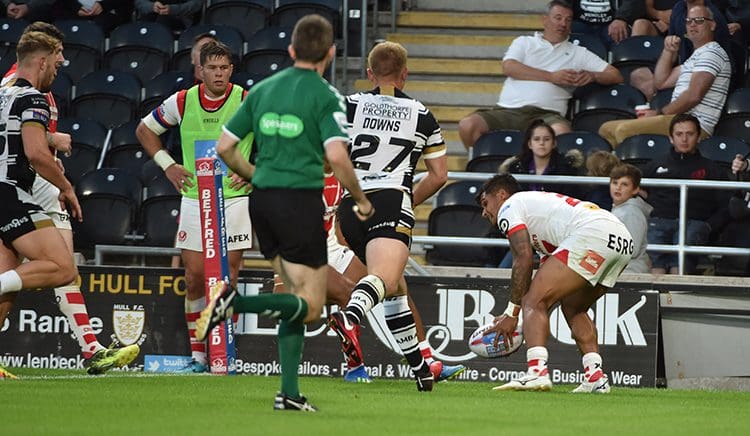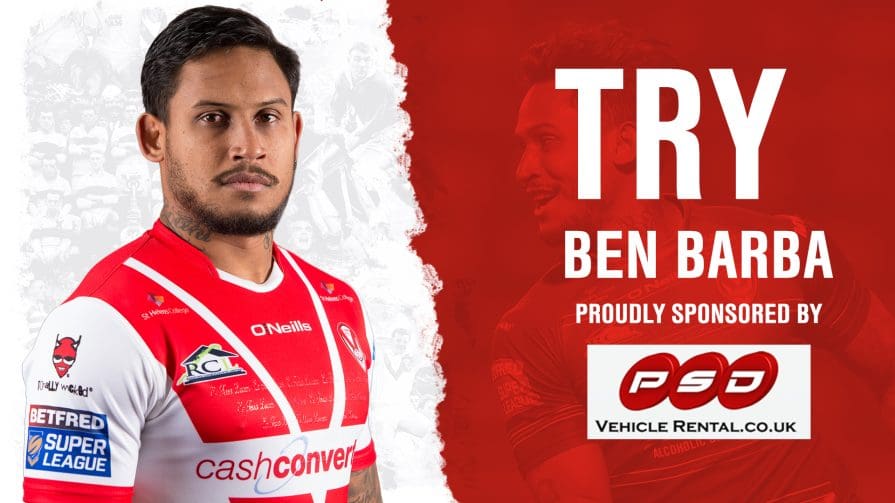 Try
Ben Barba for Saints
Barba in again! Roby with an unbelievable offload to Lomax – ball then goes left and we're back in it!
Goal
Hakim Miloudi for Hull FC
Try
Albert Kelly for Hull FC
Saints have it all to do – Kelly steps the defence and puts the hosts in charge.
Repeat set for the home side who have their tails up
Try
Jansin Turgut for Hull FC
Ball comes left – passes draw in defenders and Turgut has a clear run to the line.
Saints stop an attack down the left hand side by breaking up a pass – but Hull will have another set.
Barba trapped in-goal and Saints have to drop out.
Both sides exchanging high kicks at present – both sides more than up to them.
Richardson goes on the last close to Hull's line but is pulled down just short.
Great high take from Swift and we're on the front foot.
Hull will get the second half underway – Saints lead 10-8
Hull almost in as the hooter sounds – keep the ball alive but Grace just about does the job as the chip over comes.
Miloudi misses the conversion – Saints lead 10-8
Try
Bureta Faraimo for Hull FC
Have to take your hat off to Hull there – ball is swung right and Faraimo stretches to collect it high
Some defending to do here as Barba is bundled into touch after collecting a chipped ball.
Barba's 24th of the season that!
Goal
Danny Richardson for Saints
Right off the touchline – that's a cracker for 10-4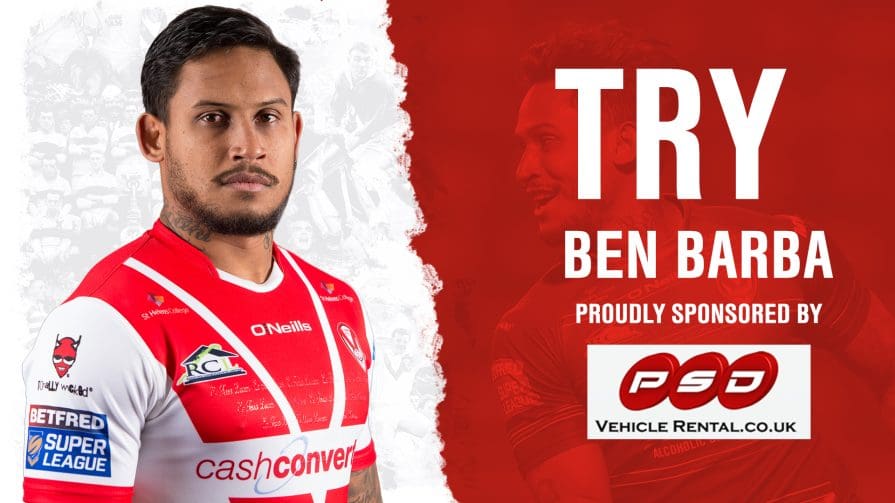 Try
Ben Barba for Saints
Blind side move from the scrum, Barba takes the ball and ghosts over!
Spiralling bomb from Richardson – chase is very good and Hull knock on. Saints have the ball 20 out.
Richardson to Peyroux on the last – Dom tries to offload but Lomax can't haul it in. Industrious play from Saints
Hull on the front foot again after they get their third penalty of the afternoon – but they lose the ball.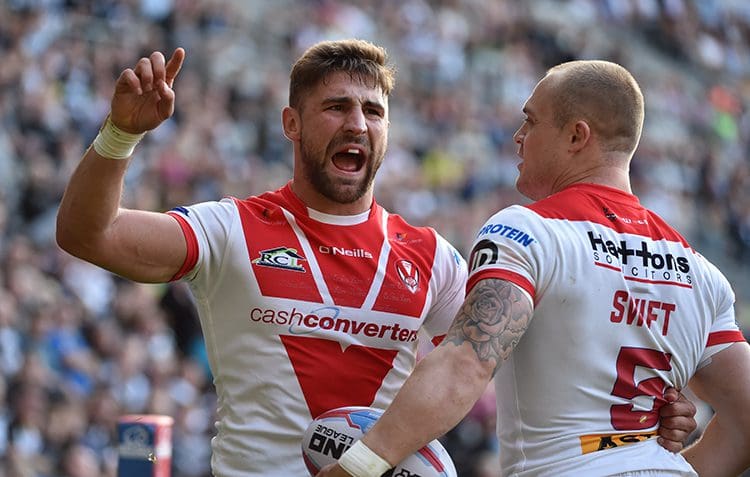 Kick goes wide left – it's 4-4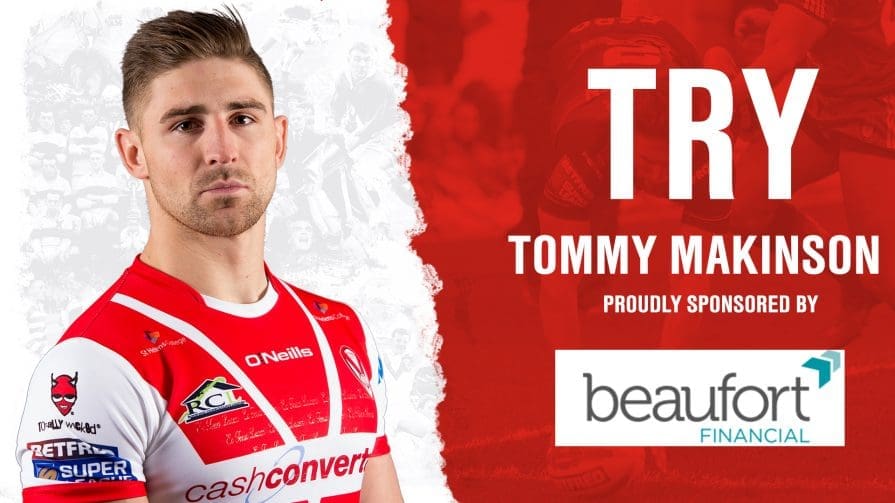 Try
Tommy Makinson for Saints
Ball comes right and Barba catches Tommy on a great line.
Another set for Saints… knocking on the door.
Amor forces the knock on and Saints have a scrum – big defence from Marra!
Another set for Hull on Saints line – home side on top at the moment.
Saints on the attack – but they are penalised as Richardson puts the ball up.
But Saints lose the ball in the first hit up. Hull remain 4-0.
Richardson with the 40:20
Percival with a great high take in defence – Saints coming off their own line.
Penalty in a promising position for Hull as Saints impede on the last.
Percival can't haul in Kelly's high kick and Hull come away with it.
Roby has a look – still tackles in the bag here.
High ball from Richardson – Hull knock it on, big chance for Saints to get back on terms.
Connor hits the posts with his conversion attempt – Hull lead 4-0
Try
Bureta Faraimo for Hull FC
Perfect start for Hull as they take advantage down the right hand side through Albert Kelly and Bureta Faraimo scores
Saints get the game underway