Saints v Castleford Tigers
Saints got their Betfred Super League campaign off to a flyer with a 46-6 win over Castleford Tigers.
Mark Percival bagged a hat-trick whilst Ben Barba took the headlines with a superb performance.
He scored two and had a hand in several others as Saints gained some revenge for their semi-final defeat.
Saints had the job done in the first half as they led 22-0.
Barba scored within the first five minutes and then Jon Wilkin combined with the fullback to put Zeb Taia over.
And 25 minutes in it got better as Barba's kick was acrobatically tipped back on the deadball line by Alex Walmsley for Lomax to touch down.
An amazing bit of skill for a prop that stands at 6 ft 5.
Two minutes later it was 22-0.
Lomax hammered home a 40-20 and on the resultant set, the ball found its away to Mark Percival who muscled his way over.
Richardson kicking his third conversion of the night.
Castleford showed that they weren't going to go away by having a sustained period of pressure on the Saints' line early in the second half.
But the home side weathered the storm and then extended their lead on 53 minutes.
Back to back drop outs gave Holbrook's men the opportunity and Percival then showed great strength again for his second of the night.
Kyle Amor saw yellow for interference as the game reached its hour mark and Cas profited through Paul McShane.
But Saints wrestled back any sort of momentum with another try.
Firstly, Wilkin returned to the field to put in a big defensive stint and then Barba pulled off a wonder tackle on Greg Eden.
From there, Theo Fages found Taia and he duly turned it back inside for Barba's second.
A super try straight from the training field.
Taia scored his second as he ran on a fine line from Fages' ball and then Saints saved the best until last.
Saints moved the ball at speed from within their own half, Barba produced a stunning arced run and went 50 metres before he turned it back inside for Percival's hat-trick.
A memorable end to a memorable night.
Match Summary:
Saints:
Tries: Barba (2), Taia (2), Lomax, Percival (3),
Goals: Richardson (7 from 8)
Tigers:
Tries: McShane
Goals: Gale (1 from 1)
Penalties Awarded:
Saints: 9
Tigers: 5
HT: 22-0
FT: 46-6
REF: J Child
ATT: 13,108
Teams:
Saints:
23. Ben Barba; 2. Tommy Makinson, 3, Ryan Morgan, 4. Mark Percival, 19. Regan Grace; 1. Jonny Lomax, 18. Danny Richardson; 10. Kyle Amor, 9. James Roby, 16. Luke Thompson, 17. Dom Peyroux, 11. Zeb Taia, 12. Jon Wilkin.
Subs: 6. Theo Fages, 8. Alex Walmsley, 13. Louie McCarthy-Scarsbrook, 15. Morgan Knowles.
Tigers:
1. Ben Roberts; 2. Greg Minikin, 3. Jake Webster, 4. Michael Shenton, 5. Greg Eden; 21. Jake Trueman, 7. Luke Gale; 8. Junior Moors, 9. Paul McShane, 22. James Green, 11. Oliver Holmes, 12. Mike McMeeken, 14. Nathan Massey.
Subs: 10. Grant Millington, 13. Adam Milner, 15. Jesse Sene-Lefao, 18. Matt Cook.
Saints Line up
| | |
| --- | --- |
| 23 | Ben Barba |
| 2 | Tommy Makinson |
| | Ryan Morgan |
| 4 | Mark Percival |
| 5 | Regan Grace |
| 6 | Jonny Lomax |
| 7 | Danny Richardson |
| 18 | Kyle Amor |
| 9 | James Roby |
| 10 | Luke Thompson |
| 11 | Zeb Taia |
| 12 | Dominique Peyroux |
| 12 | Jon Wilkin |
| 7 | Theo Fages |
| 8 | Alex Walmsley |
| 15 | Louie McCarthy-Scarsbrook |
| 13 | Morgan Knowles |
Castleford Tigers Line up
| | |
| --- | --- |
| 1 | Ben Roberts |
| 2 | Greg Minikin |
| 3 | Jake Webster |
| 4 | Michael Shenton |
| 5 | Greg Eden |
| 6 | Jake Trueman |
| 7 | Luke Gale |
| 8 | Junior Moors |
| 9 | Paul McShane |
| 10 | James Green |
| 11 | Oliver Holmes |
| 12 | Mike McMeeken |
| 13 | Nathan Massey |
| 14 | Grant Millington |
| 15 | Adam Milner |
| 16 | Jesse Sene-Lefao |
| 17 | Matt Cook |
Last updated 2 Feb 18 21:38:57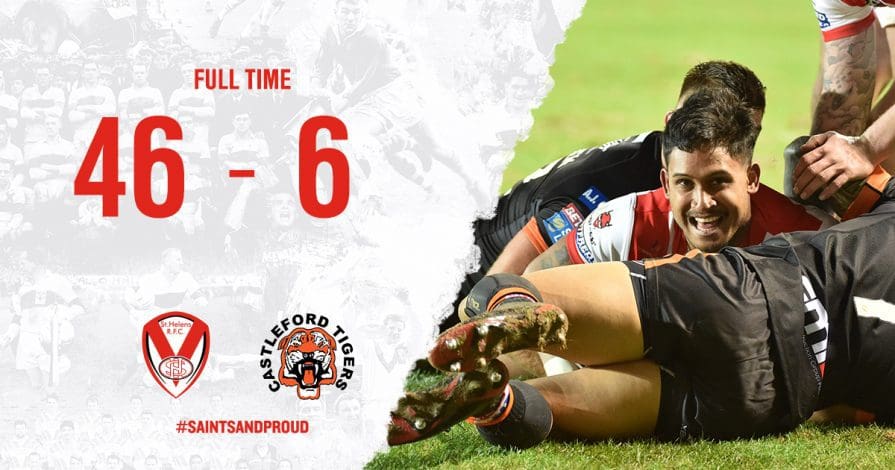 Goal
Danny Richardson for Saints
Try
Mark Percival for Saints
Hat-trick for Percy – what a break and run from Barba!
Goal
Danny Richardson for Saints
Danny Richardson makes it 40-6
Try
Zeb Taia for Saints
On the last Theo catches Taia on an angle and he ghosts through the defence.
Unlucky Reegs! Hand in touch.
Barba with a cut out pass to Grace… there's no way he's put that down! Has he?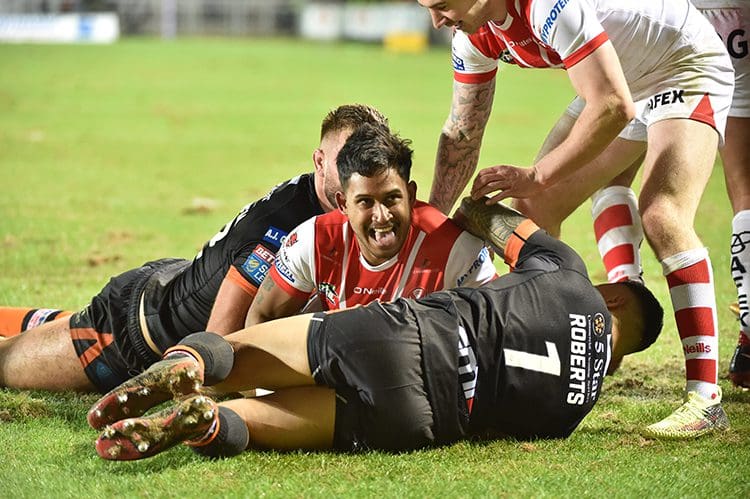 Goal
Danny Richardson for Saints
Try
Ben Barba for Saints
That's class! Theo, Taia to Barba, lovely stuff!
Cas break from Saints' kick on the last – then Barba pulls off a wonder tackle to bundle the attacker into touch!
And a penalty follows.. Saints turn to turn the screw.
Some kick that, Trueman with the error and Saints have the ball on the half way line.
Saints have to drop out, Tigers with their tails up.
Try
Paul McShane for Castleford Tigers
McShane take a nice offload. Saints lead 28-6
Yellow Card
Kyle Amor for Saints
Sinbinned for interference in the tackle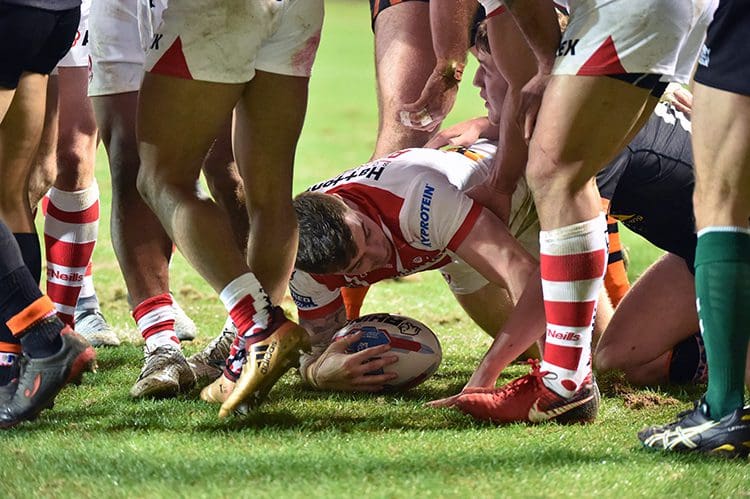 Goal
Danny Richardson for Saints
Try
Mark Percival for Saints
The right call. Great strength from Percy and Saints lead 26-0
Under the posts, penalty, Saints opt to run it.
Barba's kick – Roby chases – Cas drop out.
Theo on the hunt after a slide rule kick… Saints win a drop out.
Cas on Saints line – but they come up with an error! Saints remain 22-0 up.
Cas coming out of their own 20 now after period of Saints pressure
And Grace rips the ball one on one and scampers to the 40.
Saints penalised for obstruction following a Cas kick on the last. Big defence here boys
Kick Off
Back out for the second half, Cas will get things underway – Saints lead 22-0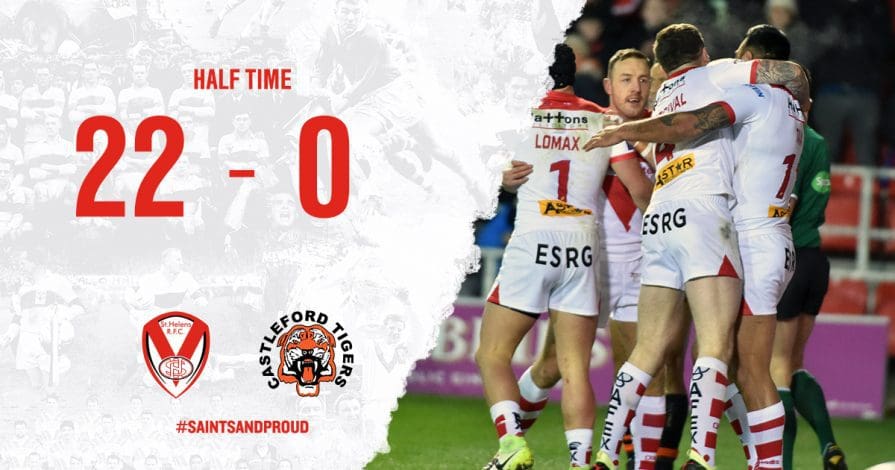 Cas penalty, important defensive set for Saints this with the half time hooter ready
Good field position for Cas now as they look to get on the board – Saints up to the task.
Kick from Barba; just a little too strong for Makinson. Saints remain 22-0 up.
Cas knock on and that's a let off for Saints
Ball comes off the post and Barba grounds it quickly. Saints will drop out.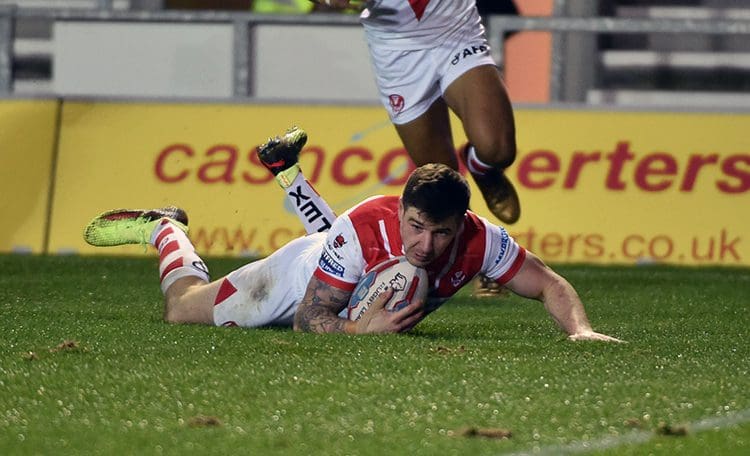 Goal
Danny Richardson for Saints
Richardson for 22-0. Breathtaking stuff from Saints so far.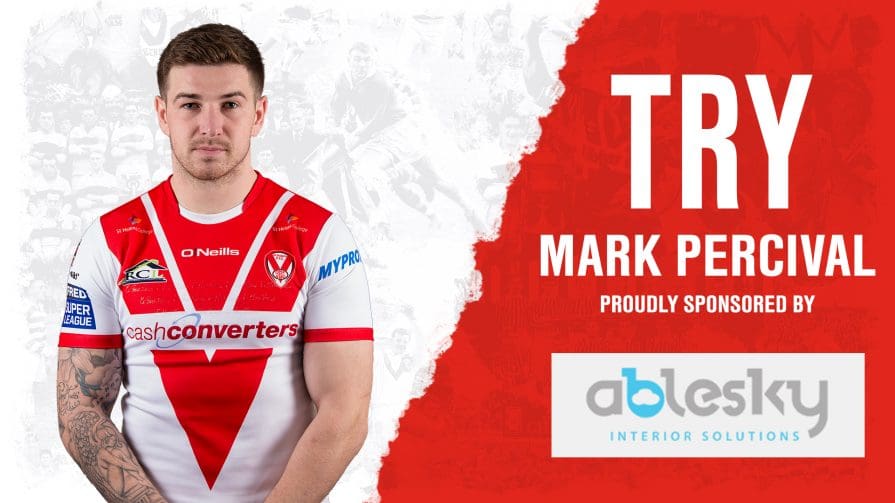 Try
Mark Percival for Saints
And another, Saints fire a 40:20 and then score in the corner through Percival 20-0
Goal
Danny Richardson for Saints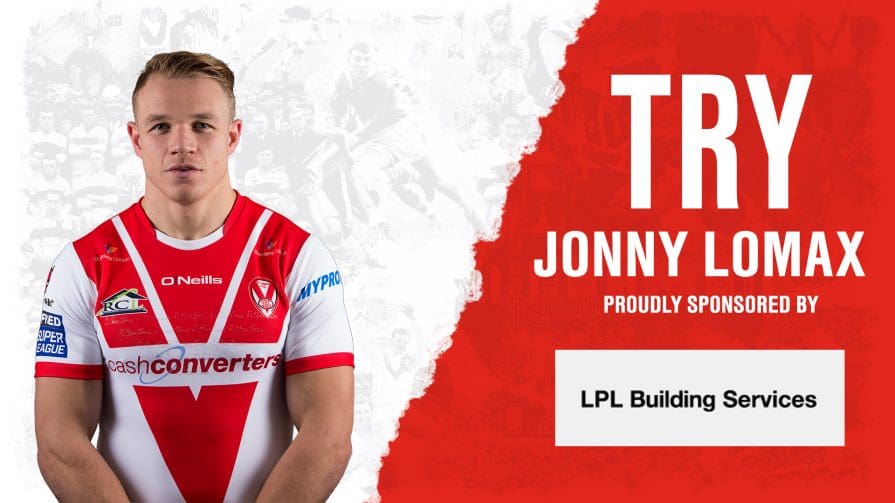 Have Saints scored? Kick by Barba, seems to come back off Walmsley and Lomax touches down… not sure here!
Sweeping move almost puts Makinson in, but Saints win another set from a penalty.
Cas knock-on on the last, Saints ball in prime territory.
Cas penalised for crossing – Saints ball on their 40. They lead 10-0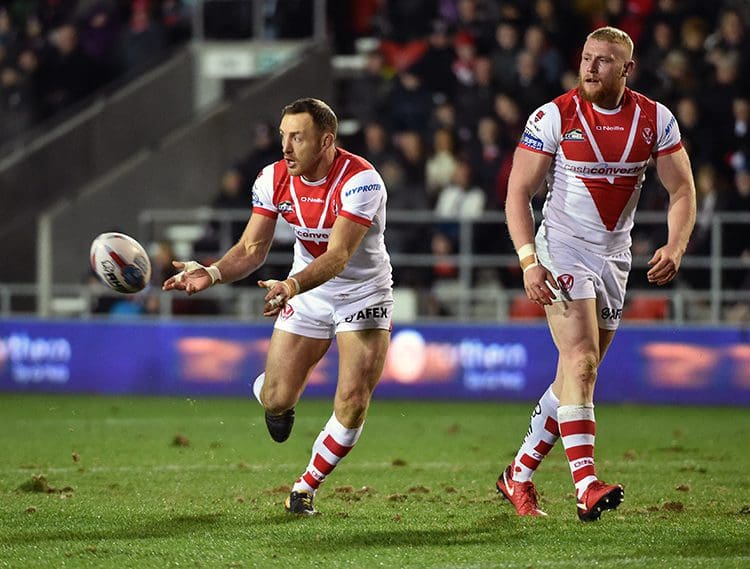 Saints kicking out their sets well, they have Castleford in their half once more.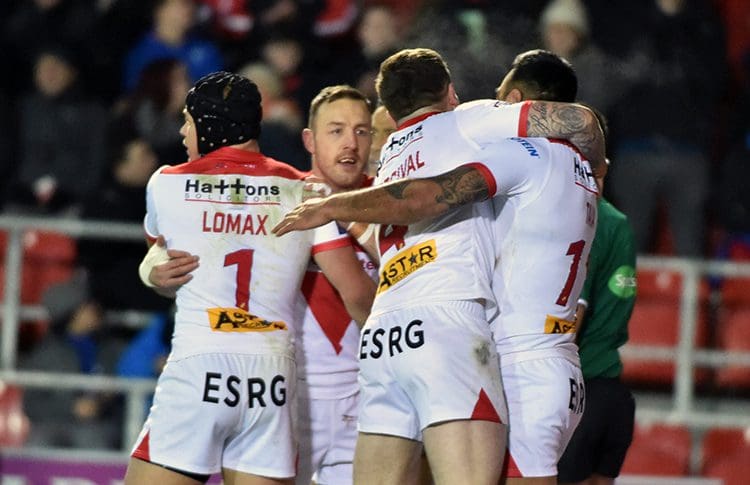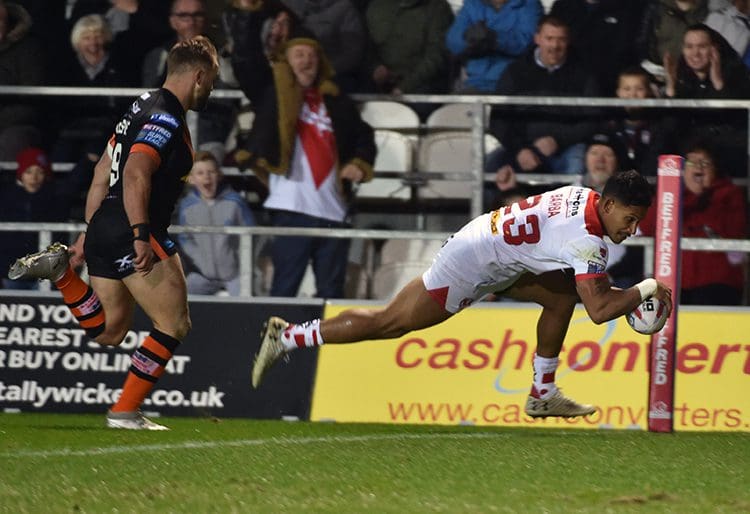 Ryan Morgan catches a high ball on Cas' line but the defence holds firm. Remains 10-0
Saints on the hunt again, they are right on Cas' line.
Try
Zeb Taia for Saints
Stunning from Saints, down the middle, offloads a plenty and Taia increases the lead. 10-0
Goal
Danny Richardson for Saints
Danny makes it 6-0 to Saints.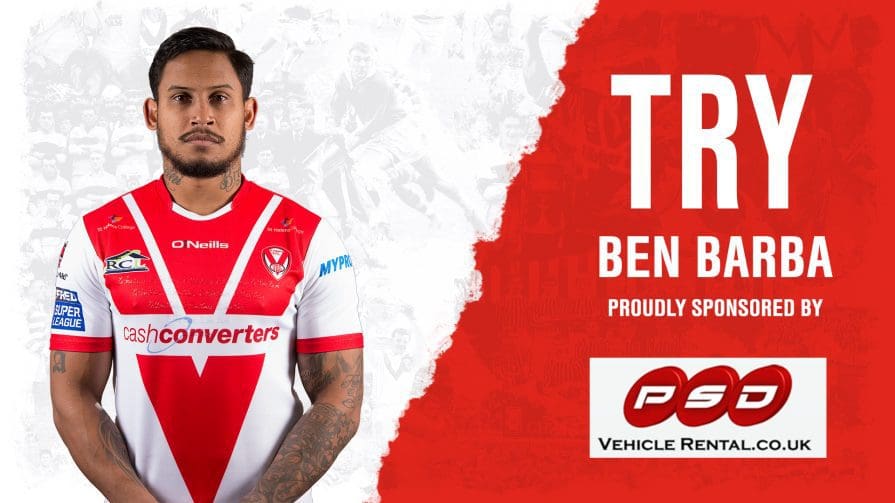 Try
Ben Barba for Saints
Break down the left hand side and Percival finds Ben Barba! Great start!
Gale with the kick on the last, Barba collects.
Saints clear their lines through Richardson. Cas have it in their own 40.
Both sides have turned over the ball in the first minute here – nervy start?