Mark Percival and Regan Grace both bagged braces as Saints beat Hull FC 38-12 to lift the League Leaders' Shield.
Saints wrapped up the trophy with two games to spare in a comfortable performance at the Totally Wicked Stadium.
Justin Holbrook's side led 12-0 after 15 minutes – and then sealed victory in the second half.
Mark Percival crossed for his 23rd try of the season in the tenth minute when Jonny Lomax took a short pass, broke through and drew the full back.
Danny Richardson converted and within a couple of minutes he was adding on another after Morgan Knowles showed great strength to plough over.
But Hull FC drew level when Jordan Lane and Brad Fash scored to make it 12-12.
Saints hit back just before half time through Luke Thompson and extended their lead early in the second half with a Richardson penalty.
That eight-point gap gave Saints some breathing space against a committed Hull FC – and they then turned the screw.
Firstly, Percival's second came after soft hands from James Bentley.
The debutant sent his centre away before Percy produced a dummy to fool the full back – and leave the whole of the Totally Wicked Stadium applauding.
Saints were rampant and on their next foray into the Hull 20 metre area Barba and Grace exchanged passes, twice, for the winger to cross.
Grace then added his second as he ran 60 metres from Percy's pass and ducked under the full back for a superb try.
Jack Ashworth went close as the game came to an end but Saints had done more than enough to secure their 24th Super League win of the season.
Match Summary:
Saints:
Tries: Percival (2), Knowles, Thompson, Grace (2)
Goals: Richardson (7 from 7)
Hull FC:
Tries: Lane, Fash
Goals: Faraimo (1 from 1), Connor (1 from 1)
Penalties Awarded:
Saints: 5
Hull FC: 9
HT: 18-12
FT: 38-12
REF: C Kendall
ATT: 9,348
Teams:
Saints:
23. Ben Barba; 2. Tommy Makinson, 30. Matty Costello, 4. Mark Percival, 19. Regan Grace; 1. Jonny Lomax, 18. Danny Richardson; 10. Kyle Amor, 15. Morgan Knowles, 16. Luke Thompson, 24. James Bentley, 21. Jack Ashworth, 12. Jon Wilkin.
Subs: 14. Luke Douglas, 20. Matty Lees, 22. Jake Spedding, 31. Jack Welsby.
Hull FC:
28. Hakim Miloudi; 2. Bureta Faraimo, 30. Cameron Scott, 4. Josh Griffin, 5. Fetuli Talanoa; 35. Liam Harris, 14. Jake Connor; 29. Masimbaashe Matongo, 17. Danny Washbrook, 8. Scott Taylor, 11. Dean Hadley, 26. Jordan Lane, 21. Sika Manu.
Subs: 16. Jordan Abdul, 20. Brad Fash, 22. Jez Litten, 36. Lewis Bienek.
Saints Line up
| | |
| --- | --- |
| 23 | Ben Barba |
| 2 | Tommy Makinson |
| 21 | Matthew Costello |
| 4 | Mark Percival |
| 5 | Regan Grace |
| 6 | Jonny Lomax |
| 7 | Danny Richardson |
| 18 | Kyle Amor |
| 13 | Morgan Knowles |
| 10 | Luke Thompson |
| 12 | James Bentley |
| 17 | Jack Ashworth |
| 12 | Jon Wilkin |
| 14 | Luke Douglas |
| 10 | Matty Lees |
| 22 | Jake Spedding |
| 1 | Jack Welsby |
Hull FC Line up
| | |
| --- | --- |
| 1 | Hakim Miloudi |
| 2 | Bureta Faraimo |
| 3 | Cameron Scott |
| 4 | Josh Griffin |
| 5 | Fetuli Talanoa |
| 6 | Liam Harris |
| 7 | Jake Connor |
| 8 | Masimbaashe Matongo |
| 9 | Danny Washbrook |
| 10 | Scott Taylor |
| 11 | Dean Hadley |
| 12 | Jordan Lane |
| 13 | Sika Manu |
| 14 | Jordan Abdul |
| 15 | Brad Fash |
| 16 | Jez Litten |
| 17 | Lewis Bienek |
Last updated 14 Sep 18 21:24:34
Ashworth steps his way through the middle but is held up inches from the line.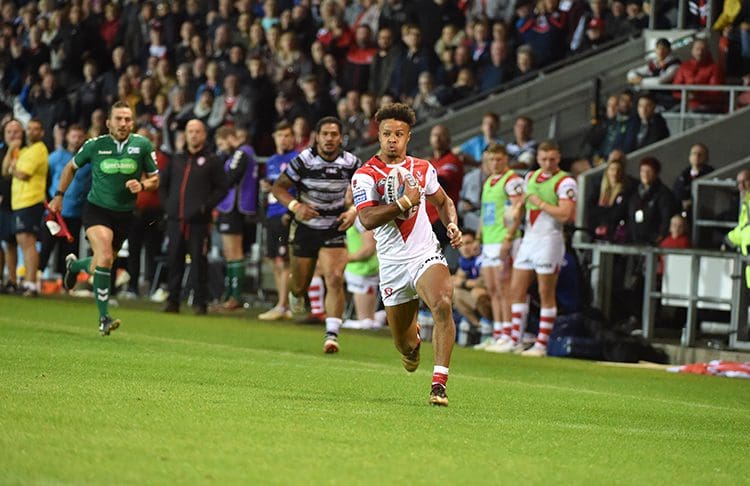 Goal
Danny Richardson for Saints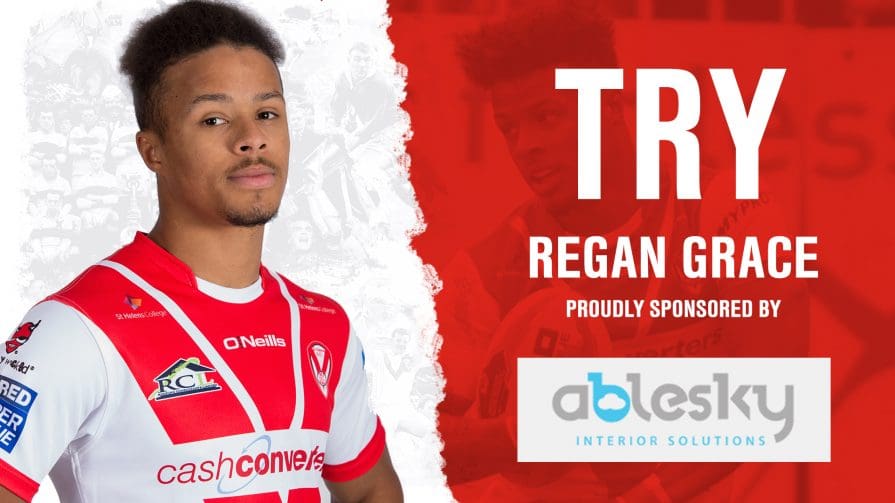 Try
Regan Grace for Saints
What a try that is – Percy finds a gap gives Regan an early ball and he finishes it off – dips under the full back on his way too!
Jake Spedding and Jack Welsby about to enter the fray. Jack is 17 and from the Blackbrook club.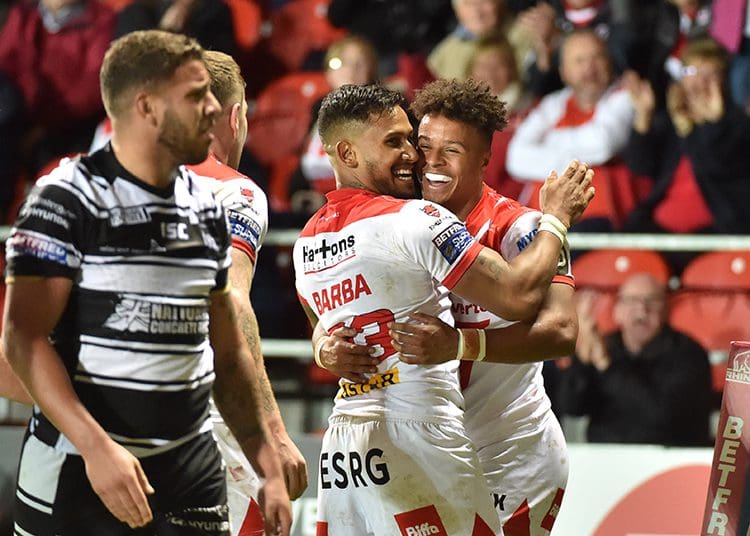 Goal
Danny Richardson for Saints
Danny makes it 32-12 from the touchline.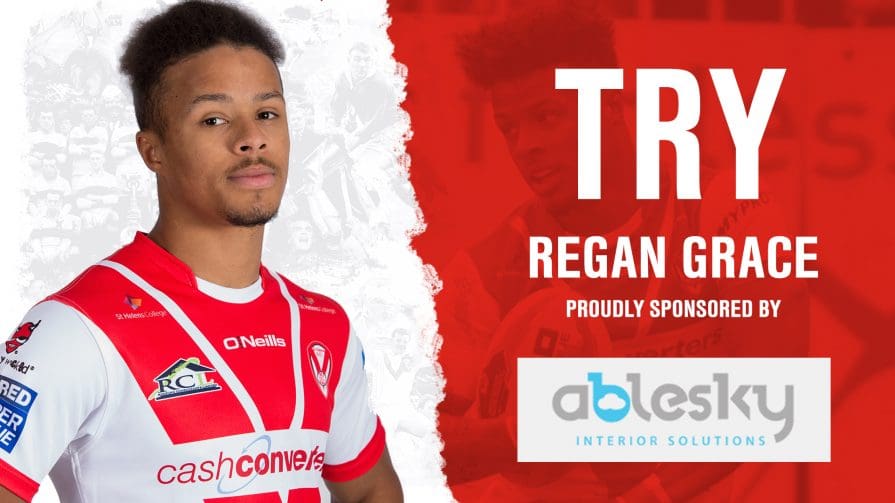 Try
Regan Grace for Saints
Barba and Regan exchange passes … twice!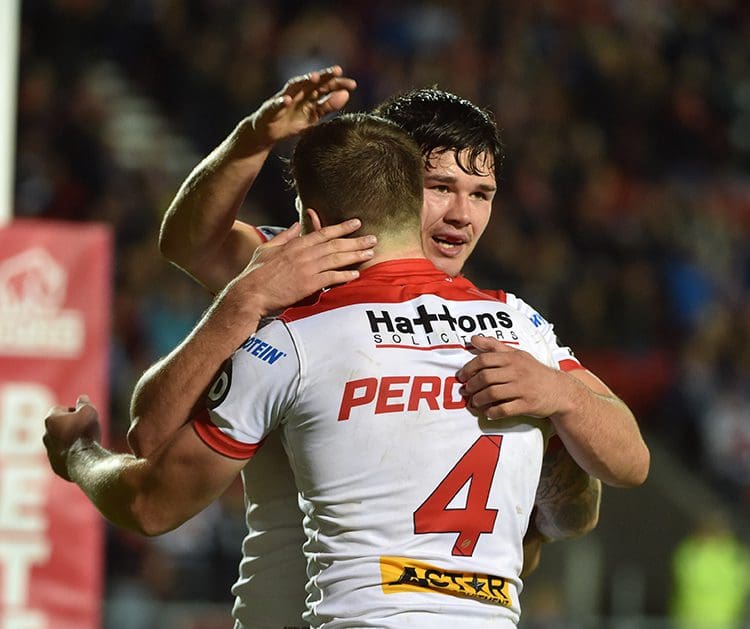 Goal
Danny Richardson for Saints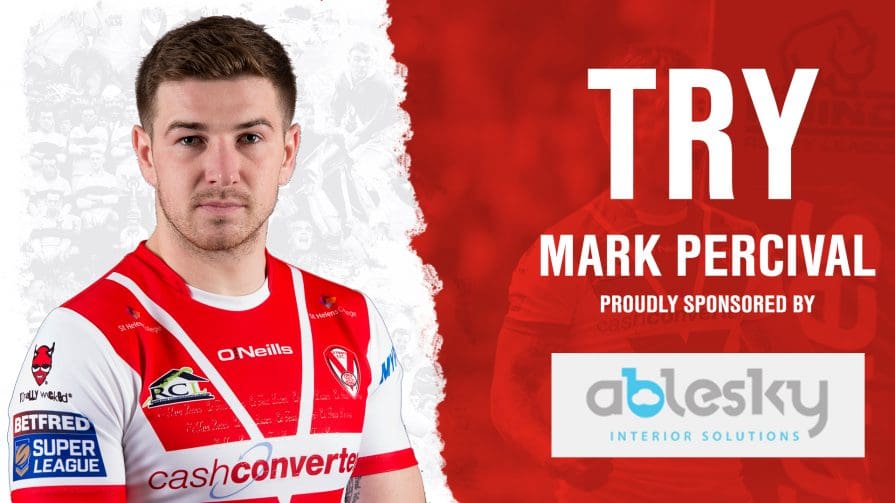 Try
Mark Percival for Saints
Percival over after a dummy that has mouths open all around the stadium! A cracker.
What a break from Thompson – charges 60 metres down the field but his pass inside goes forward. Applause from all four sides of the ground for the break.
Goal
Danny Richardson for Saints
Penalty in front of the sticks and Danny will take the two.
Tenacious defence sees Lomax force Faraimo into touch – Saints ball, 40 out from Hull's line.
Danny Rich cops a high one as he comes away from Saints' line.
Tommy Mak takes a bouncing ball in his own in-goal, rounds three players to get out of trouble and then wins a penalty.
Back out for the second half. Saints will get it underway and they lead 18-12
Under 16s player of the year – the Bill Lyon Medal – presented on the pitch to Lewis Dodd at half time. Well done to him #saintsandproud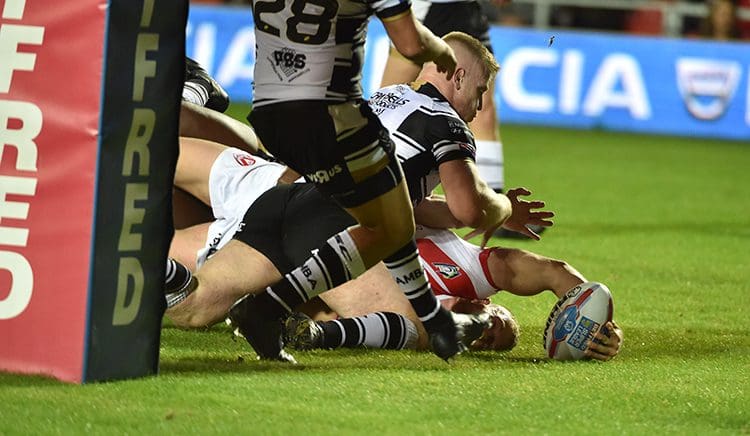 Goal
Danny Richardson for Saints
Danny makes it 18-12 at half time.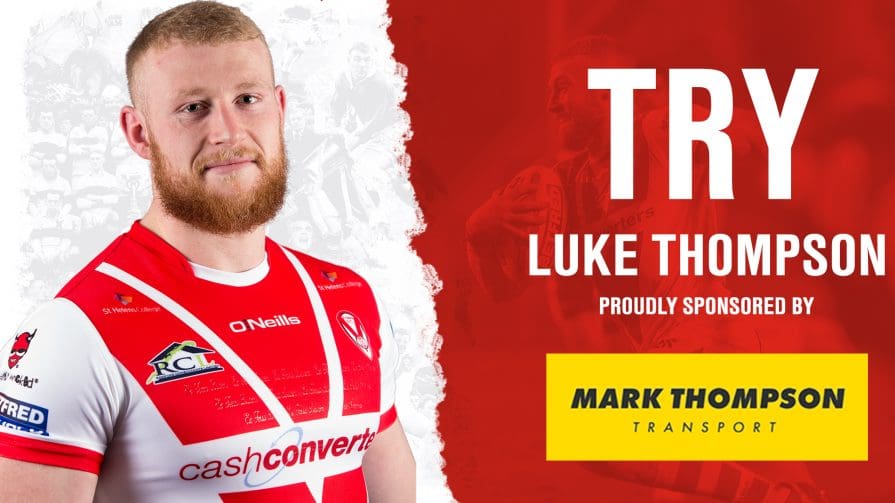 Try
Luke Thompson for Saints
No stopping the big man from close range!
Goal
Jake Connor for Hull FC
Try
Brad Fash for Hull FC
Fash stretches out to put down right at the side of the posts… this game will be tied shortly.
Knowles knocks a sliding kick dead – Saints have to drop out.
Scappy play sees Saints get a repeat set but then lose the ball on the next tackle..
Big tackle from Bentley forces the ball loose – Saints scrum, 40 out.
Hull knock on and the chance is gone.
Another penalty for Hull – they will attack from 20 out.
Saints lose the ball and Hull have a penalty. Saints lead 12-6.
Goal
Bureta Faraimo for Hull FC
Try
Hakim Miloudi for Hull FC
Finds a big gap, produces a sidestep and Hull are back in it.
Saints turning the screw here – they've forced another drop out.
Goal
Danny Richardson for Saints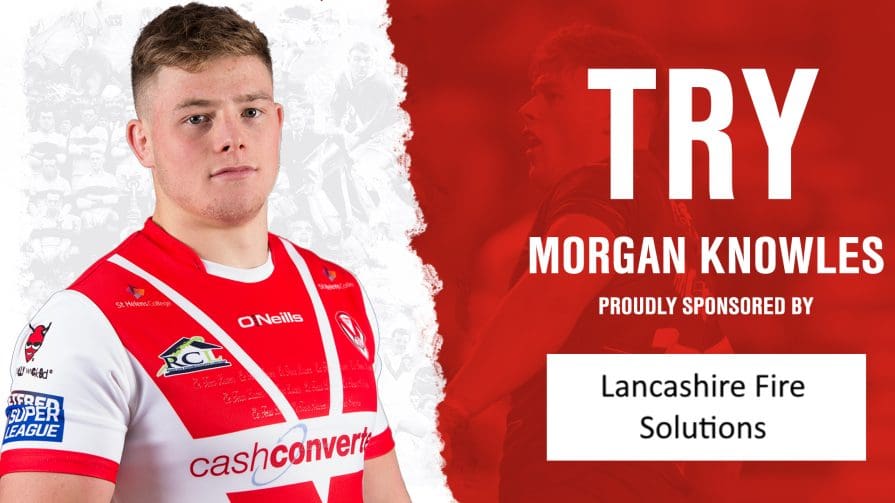 Try
Morgan Knowles for Saints
Knowles on the burst! A repeat of last week's effort and Saints lead 10-0
Barba's kick wins Saints a drop out.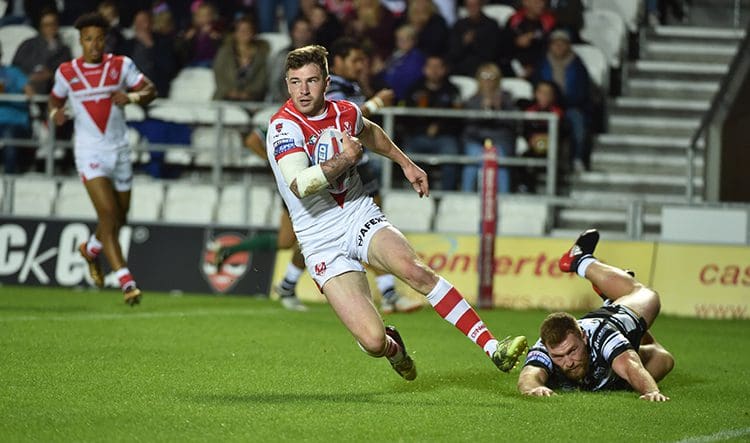 Goal
Danny Richardson for Saints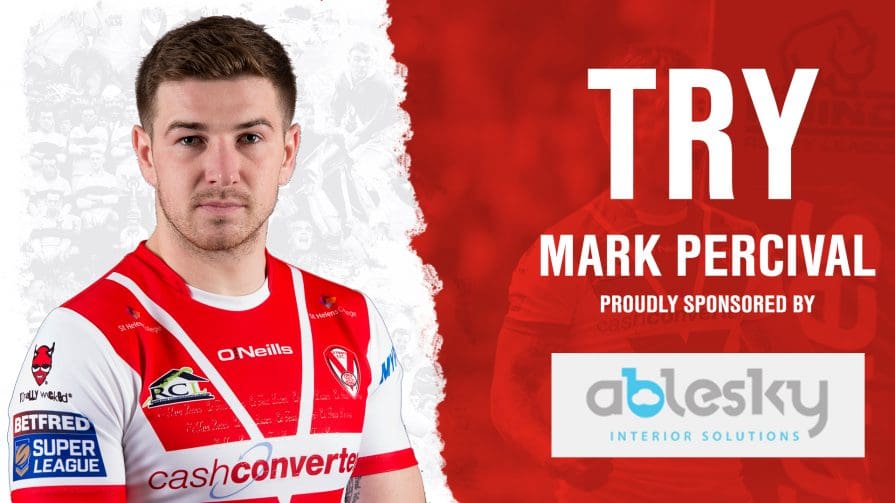 Try
Ben Barba for Saints
Lomax breaks through and finds Percy on his outside
Saints defend a set right on their line.
Nice kick from Richardson that Ashworth chases but it is a little too long.
High kick from Connor – lovely take from Makinson
Teams are out on the field – Hull will get this one underway!