Saints suffered their first loss of the season as they went down 28-20 to Leeds Rhinos.
Ben Barba grabbed a brace in the defeat with Danny Richardson kicking four goals, but Ash Handley's double proved to be the difference.
Both sides fashioned early chances before two penalties on the bounce allowed the visitors the chance to send Anthony Mullally twisting over from short range.
Saints had broken down the left hand side but when Zeb Taia was somewhat harshly caught for obstruction the Rhinos took full advantage.
It wasn't long before the home side hit back though and it was thanks to Ben Barba.
After Jon Wilkin was unlucky with a chip and chase, Saints forced an error in midfield, sent the ball through hands and the fullback dummied through a gap.
Richardson levelling it up with the boot.
Barba went close on the left hand side shortly afterwards and then Tommy Makinson had one chalked off by the video referee.
But Saints hit the front with a Richardson penalty in the 28th minute.
The half back was then instrumental in an Adam Swift try that came right out of Saints Academy.
On the last, he kicked it high and got it back after Swift out-jumped Ryan Hall.
From there, the youngster ran down the right hand side, duly turned it back inside to Makinson who then offloaded to Swift.
Wonderful.
Saints were on the up but as the half came to a close Richie Myler finished off an overlap to leave it all square the the break.
After a scrappy opening to the second half, Richardson tagged on a penalty in the 55th minute to give the hosts the lead for the second time, only for Kallum Watkins to return the favour three minutes later.
The visitors then took control.
A simple chip on the last was missed by the Saints defence and Ash Handley cleaned up.
Barba made an important tackle on 64 minutes and a minute later Jonny Lomax, Regan Grace and Mark Percival were all involved in stopping Watkins scoring a sure fire try.
But seconds later, a kick on the last took a deflection and Handley went in for his second.
Saints had a mountain to climb but they reduced the deficit with a piece of class.
Well inside his own half, with around eight minutes to go, Grace took off down the left hand side, beat two men and then turned it inside for Barba to step through and go under the posts.
It was a superb moment but Saints lost the ball on the return set and Matt Parcell scored from dummy half to seal the win.
Match Summary:
Saints:
Tries: Barba (2), Swift
Goals: Richardson (4 from 5)
Rhinos:
Tries: Mullally, Myler, Handley (2), Parcell
Goals: Watkins (3 from 4), Myler (1 from 2)
Penalties Awarded:
Saints: 7
Rhinos: 8
HT: 12-12
FT: 20-28
REF: J Child
ATT: 11,482
Teams:
Saints:
23. Ben Barba; 5. Adam Swift, 2. Tommy Makinson, 4. Mark Percival, 19. Regan Grace; 1. Jonny Lomax, 18. Danny Richardson; 10. Kyle Amor, 9. James Roby, 16. Luke Thompson, 17. Dom Peyroux, 11. Zeb Taia, 12. Jon Wilkin.
Subs: 6. Theo Fages, 13. Louie McCarthy-Scarsbrook, 14. Luke Douglas, 20. Matty Lees.
Rhinos:
1. Ashton Golding; 2. Tom Briscoe, 3. Kallum Watkins, 22. Ash Handley, 5. Ryan Hall; 6. Joel Moon, 7. Richie Myler; 16. Anthony Mullally, 9. Matt Parcell, 10. Brad Singleton, 11. Jamie Jones-Buchanan, 12. Carl Ablett, 15. Brett Delaney.
Subs: 24. Jack Walker, 27. Cameron Smith, 28. Mikolaj Oledzki, 30. Josh Walters.
Saints Line up
| | |
| --- | --- |
| 23 | Ben Barba |
| 18 | Adam Swift |
| 2 | Tommy Makinson |
| 4 | Mark Percival |
| 5 | Regan Grace |
| 6 | Jonny Lomax |
| 7 | Danny Richardson |
| 18 | Kyle Amor |
| 9 | James Roby |
| 10 | Luke Thompson |
| 12 | Dominique Peyroux |
| 11 | Zeb Taia |
| 12 | Jon Wilkin |
| 7 | Theo Fages |
| 15 | Louie McCarthy-Scarsbrook |
| 14 | Luke Douglas |
| 10 | Matty Lees |
Leeds Rhinos Line up
| | |
| --- | --- |
| 1 | Ashton Golding |
| 2 | Tom Briscoe |
| 3 | Kallum Watkins |
| 4 | Ash Handley |
| 5 | Ryan Hall |
| 6 | Joel Moon |
| 7 | Richie Myler |
| 8 | Anthony Mullally |
| 9 | Matt Parcell |
| 10 | Brad Singleton |
| 11 | Jamie Jones-Buchanan |
| 12 | Carl Ablett |
| 13 | Brett Delaney |
| 14 | Jack Walker |
| 15 | Cameron Smith |
| 16 | Mikolaj Oledzki |
| 17 | Josh Walters |
Last updated 16 Mar 18 21:40:02
Makinson steams on to a Richardson pass on the last but is tackle just short of the line.
Goal
Richie Myler for Leeds Rhinos
Try
Matt Parcell for Leeds Rhinos
Saints lose the ball on their return set – Parcell makes them pay.
Goal
Danny Richardson for Saints
Richardson converts for 20-22
Try
Ben Barba for Saints
What a try – Regan down the left hand side from well in his own half, he finds Barba on his inside and he seals the try. Class.
Leeds get another set right on Saints line.
Apologies, Handley now has two tries. Leeds lead 22-14
Try
Ash Handley for Leeds Rhinos
On the last a kick takes a deflection and Handley goes in again. Improvisation from Leeds doing the job again.
Huge tackle stops another sure fire try – Lomax, Grace and Percival all involved on Watkins
Important tackle from Ben Barba stops a Leeds try. Saints right under the pump here.
Try
Ashton Golding for Leeds Rhinos
Ball goes up in the air, Ash Handley cleans it up and Leeds are in front
Goal
Kallum Watkins for Leeds Rhinos
Penalty for Leeds in front of the sticks.. it's 14-14
Now Leeds with the chance to attack. They are on Saints line
Restart out on the full. Saints penalty
Goal
Danny Richardson for Saints
Leeds step off the mark when they have the ball – Saints will take the two.
Saints have a penalty, they're on their 40, it's all square at 12-12. Tight one this.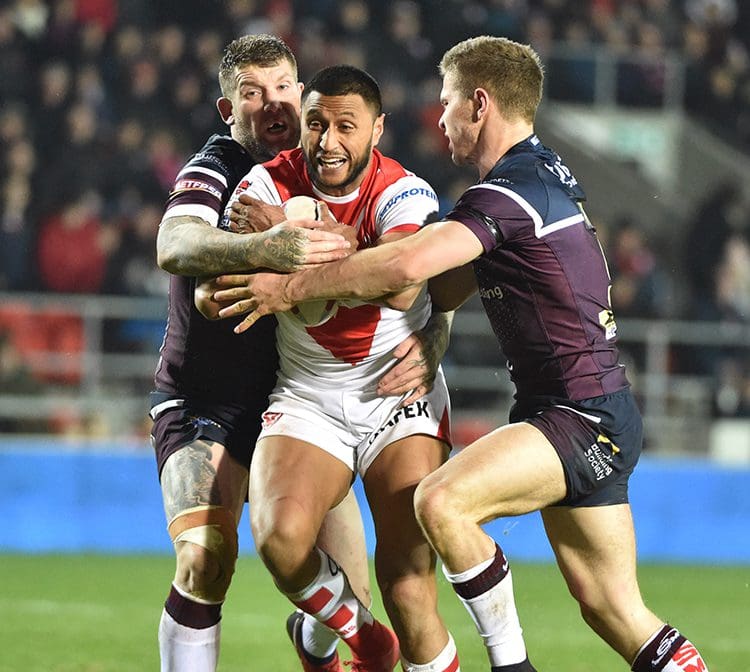 Another drop out – this time coming via Percival's kick. Saints turning the screw.
Bit of improvisation from Grace wins Saints a drop out. Good D fro Richardson too.
Leeds will get this one back underway, we're all tied at 12-12
Try
Richie Myler for Leeds Rhinos
Break on the left hand side – Saints outnumbered and it's all square at 12-12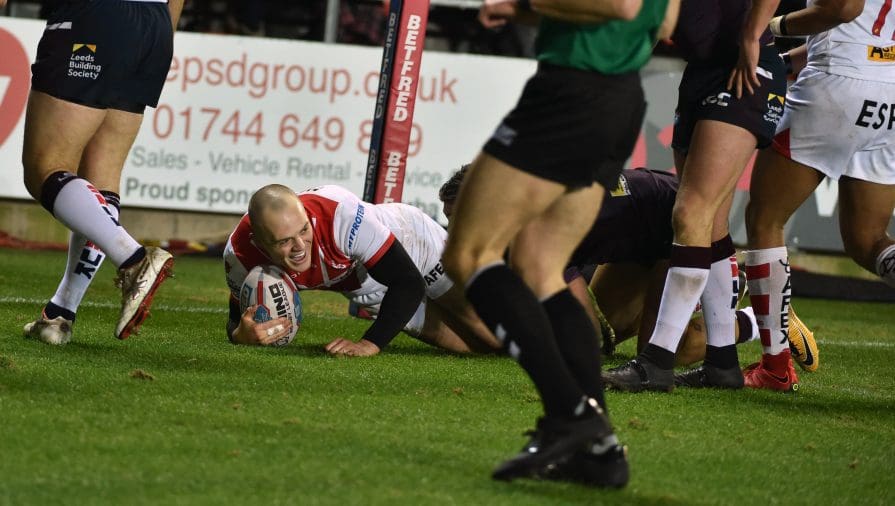 Danny wide with the kick but Saints lead 12-6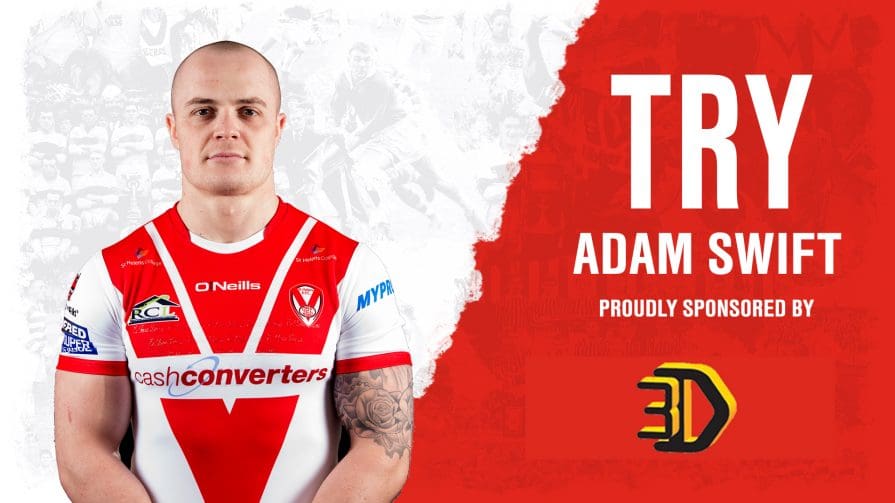 Try
Adam Swift for Saints
Richardson kicks, Swift taps back, Danny collects, gets it to Makinson who offloads back to Swift. Class.
Try made in Saints' academy!
Goal
Danny Richardson for Saints
Penalty in front of the sticks – Danny will take the two.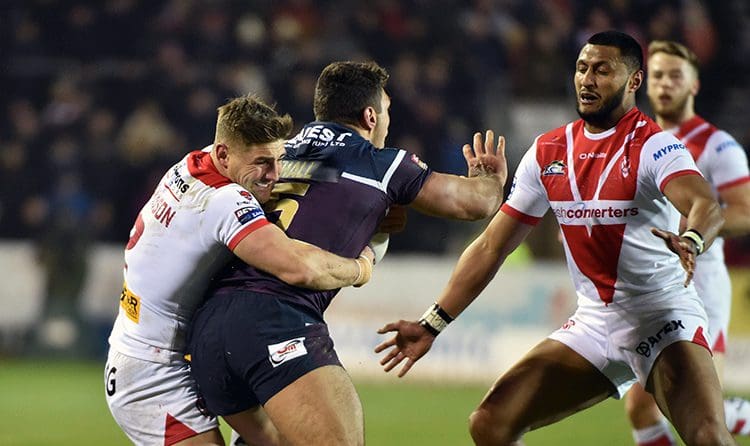 Saints force a drop out from Wilkin's kick
Barba close again on that left hand side then we head upstairs for a Makinson effort.
Saints the hunt here right on Leeds' line.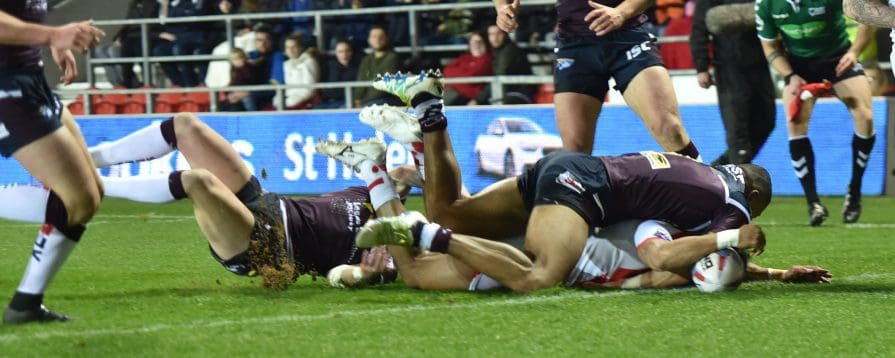 Goal
Danny Richardson for Saints
Danny levels it up at 6-6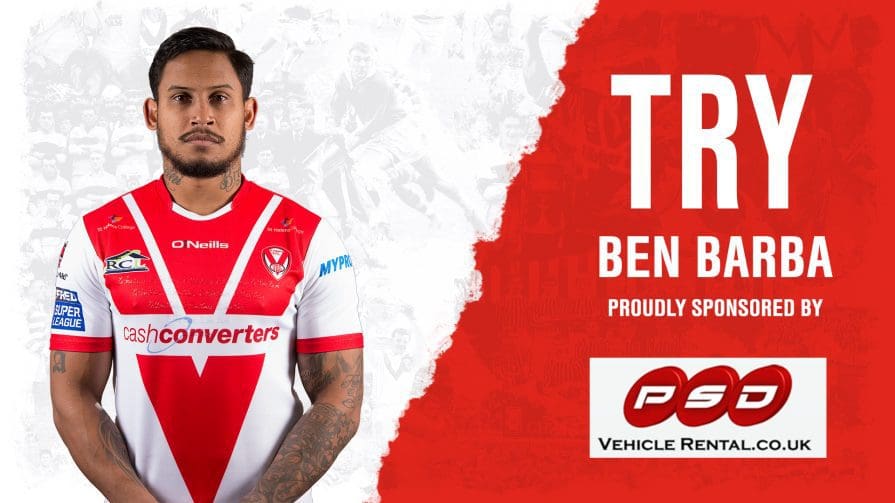 Try
Ben Barba for Saints
Class from that man once again! Goes on the left hand side, little dummy and he goes through a small gap and over.
Saints earn their first penalty of the night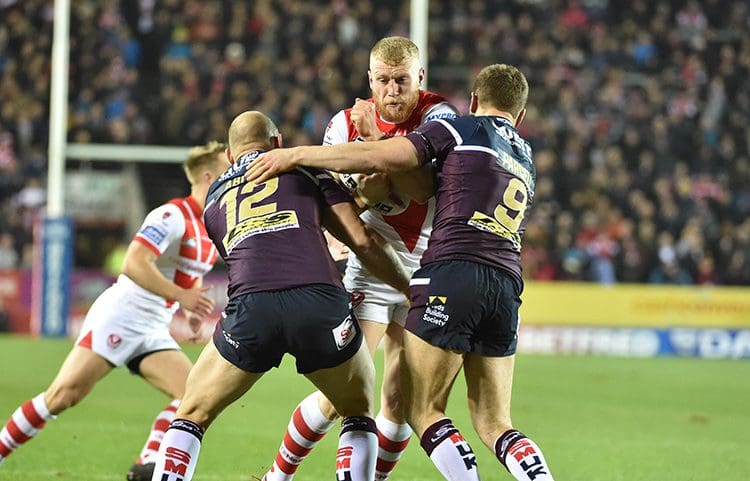 Goal
Kallum Watkins for Leeds Rhinos
Watkins makes it 6-0 to Leeds
Try
Anthony Mullally for Leeds Rhinos
Takes a short ball and goes over.
Saints look to go down the left hand side but are pulled for obstruction – and then marched a further ten for backchat. North Stand not happy with that!
D does the job and Saints will come away from their line
And another set follows after a penalty. Saints D needs to be on it here.
And now Saints have to drop out after Grace is trapped in goal.
Leeds win a penalty for a high shot, they'll attack from the half way line
Peyroux goes close but it remains 0-0
Luke Thompson pokes his head through – good opening set from Saints there.
Saints get the game underway – tricky kick for Watkins but he gathers it on the second attempt.