Saints v Salford Red Devils
Ben Barba grabbed a brace as Saints beat Salford 34-2 to top Super League.
The full back took his season tally to four with a superb display that also saw Luke Thompson cross on his 100th appearance for the club.
But they were pushed all the way by a physical Red Devils who battled throughout.
It was the visitors that opened the scoring with a penalty in the 17th minute as Saints were caught offside.
It was a turgid contest up until that point, with both sides struggling to keep hold of the ball in cold and damp conditions.
Louie McCarthy-Scarsbrook was held up over the line on 22 minutes but just a couple of minutes later Tommy Makinson won the race to Barba's deft chip into the in-goal.
Saints then piled on the pressure but couldn't find a way past resolute Salford defence until just before half time; Luke Douglas and James Roby combining to put Ben Barba away on the left hand side.
It had been a battle but Saints finally took control of the match early in the second half.
And it was Barba who did the damage, taking the ball from a standing start and finding the strength to twist over with three defenders around him.
Richardson added the extras for 14-2 and then notched over a penalty just before the 50 minute mark to take the gap to 14.
It was a gap too far for the visitors and it was made harder when former Saint Lama Tasi was sinbinned for two late and high shot.
Saints couldn't make the extra man pay, but they did secure the win with two tries in three minutes late on.
Firstly, great build up saw LMS charge onto the ball for his first of the season.
Then, great invention from Theo Fages following Dom Peyroux's break saw him get the ball away, whilst being tackled, for Lomax to win the chase.
That was game, set and match but Saints had saved the best until last.
Winning a penalty with around 15 seconds ago, Richardson kicked for field position and from the tap the ball went through several pairs of hands for Thompson to plough over on his special day.
Match Summary:
Saints:
Tries: Makinson, Barba (2), LMS, Lomax, Thompson
Goals: Richardson (5 from 7)
Devils:
Goals: O'Brien (1 from 1)
Penalties Awarded:
Saints: 13
Devils: 7
HT: 8-2
FT: 34-2
REF: S. Mikalauskas
ATT: 10,008
Teams:
Saints:
23. Ben Barba; 5. Adam Swift, 2. Tommy Makinson, 4. Mark Percival, 19. Regan Grace; 1. Jonny Lomax, 18. Danny Richardson; 10. Kyle Amor, 9. James Roby, 16. Luke Thompson, 17. Dom Peyroux, 11. Zeb Taia, 12. Jon Wilkin.
Subs: 6. Theo Fages, 8. Alex Walmsley, 13. Louie McCarthy-Scarsbrook, 14. Luke Douglas.
Salford:
1. Gareth O'Brien; 24. Jake Bibby, 3. Kris Welham, 4. Junior Sa'u, 5. Niall Evalds; 6. Robert Lui, 7. Jack Littlejohn; 23. Lee Mossop, 9. Logan Tomkins, 14. Lama Tasi, 17. Tyrone McCarthy, 11. Josh Jones, 13. Mark Flanagan.
Subs: 8. Craig Kopczak, 16. Luke Burgess, 18. Ben Nakubuwai, 19. Josh Wood.
Saints Line up
| | |
| --- | --- |
| 23 | Ben Barba |
| 18 | Adam Swift |
| 2 | Tommy Makinson |
| 4 | Mark Percival |
| 5 | Regan Grace |
| 6 | Jonny Lomax |
| 7 | Danny Richardson |
| 18 | Kyle Amor |
| 9 | James Roby |
| 10 | Luke Thompson |
| 12 | Dominique Peyroux |
| 11 | Zeb Taia |
| 12 | Jon Wilkin |
| 7 | Theo Fages |
| 8 | Alex Walmsley |
| 15 | Louie McCarthy-Scarsbrook |
| 14 | Luke Douglas |
Salford Red Devils Line up
| | |
| --- | --- |
| 1 | Gareth O'Brien |
| 2 | Jake Bibby |
| 3 | Kris Welham |
| 4 | Junior Sa'u |
| 5 | Niall Evalds |
| 6 | Robert Lui |
| 7 | Jack Littlejohn |
| 8 | Lee Mossop |
| 9 | Logan Tomkins |
| 10 | Lama Tasi |
| 11 | Tyrone McCarthy |
| 12 | Josh Jones |
| 13 | Mark Flanagan |
| 14 | Craig Kopczak |
| 15 | Luke Burgess |
| 16 | Ben Nakubuwai |
| 17 | Josh Wood |
Last updated 4 Mar 18 17:47:53
Goal
Danny Richardson for Saints
Richardson with the extras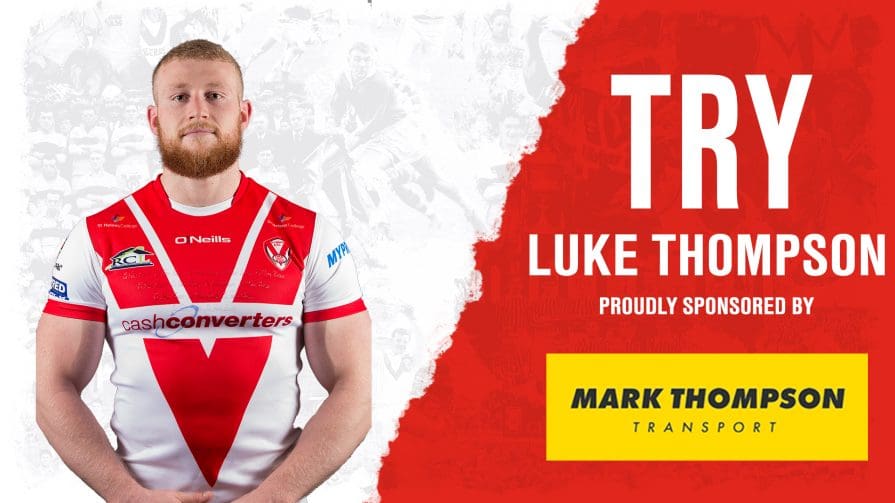 Try
Luke Thompson for Saints
On his 100th appearance, as the hooter goes, as Saints put the ball through hands. That was class!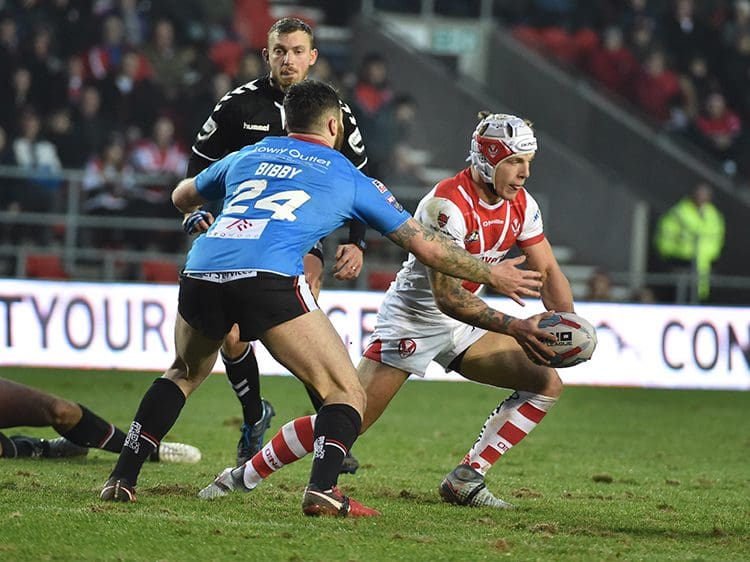 Goal
Danny Richardson for Saints
Richardson takes it out to 28-2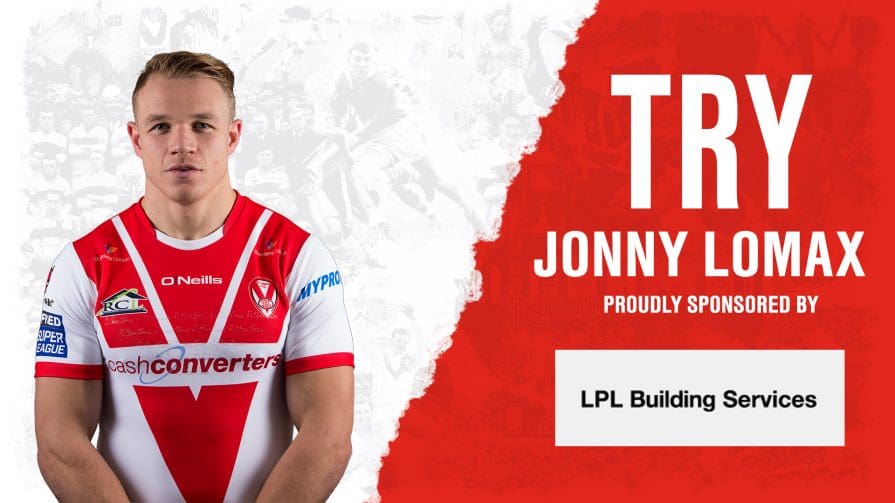 Try
Jonny Lomax for Saints
Great invention from Fages after a Peyroux break – gets the ball away whilst being tackled and Lomax wins the chase.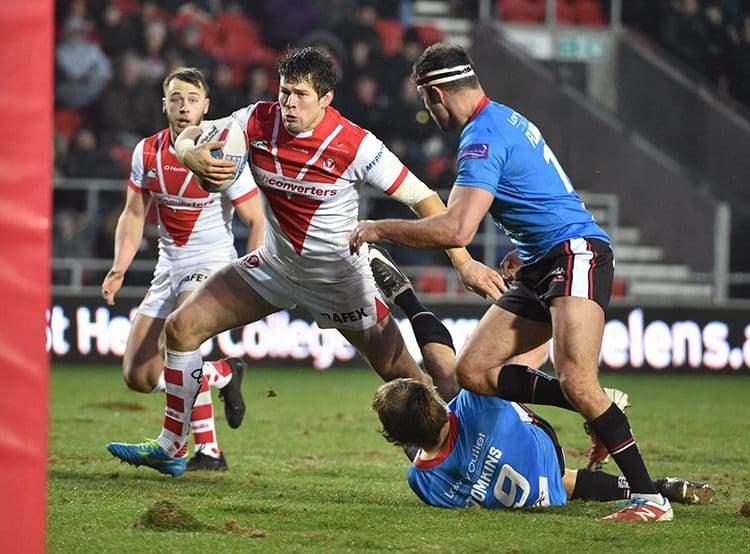 Goal
Danny Richardson for Saints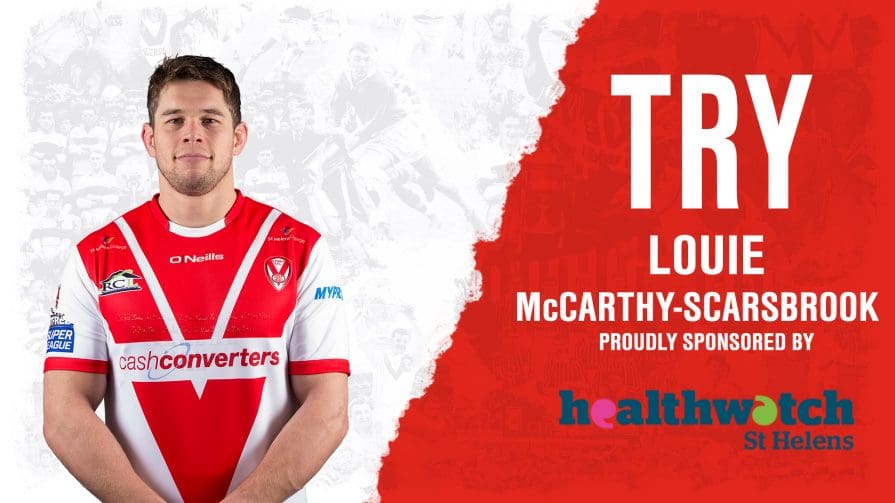 Try
Louie McCarthy-Scarsbrook for Saints
Powers his way over! Great stuff that after some superb handling in the build-up
Salford coming away from their own line – Saints still lead 16-2
Yellow Card
Lama Tasi for Salford Red Devils
Sinbinned for two late and high shots in a row.
Period of pressure now from Salford – they force Saints to drop out.
Goal
Danny Richardson for Saints
Richardson safe for 16-2.
Salford forced to drop out – and then put the ball straight into touch. Saints penalty under the sticks and Richardson will take the two.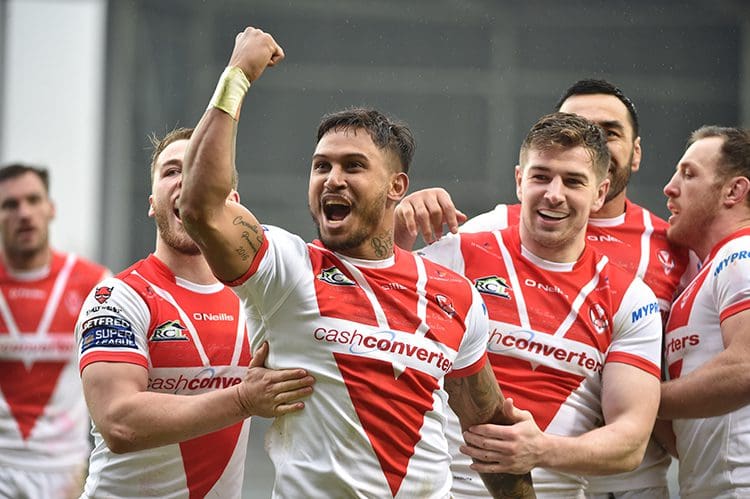 Goal
Danny Richardson for Saints
Try
Ben Barba for Saints
Barba over again! This time takes a ball at a standing start, three on him, but finds the strength to twist over.
Salford will get this one back underway. Saints lead 8-2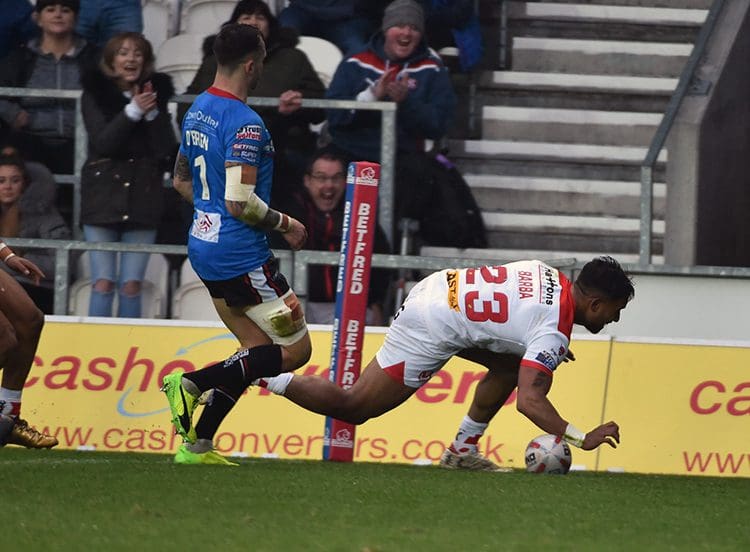 Richardson misses the conversion so Saints lead 8-2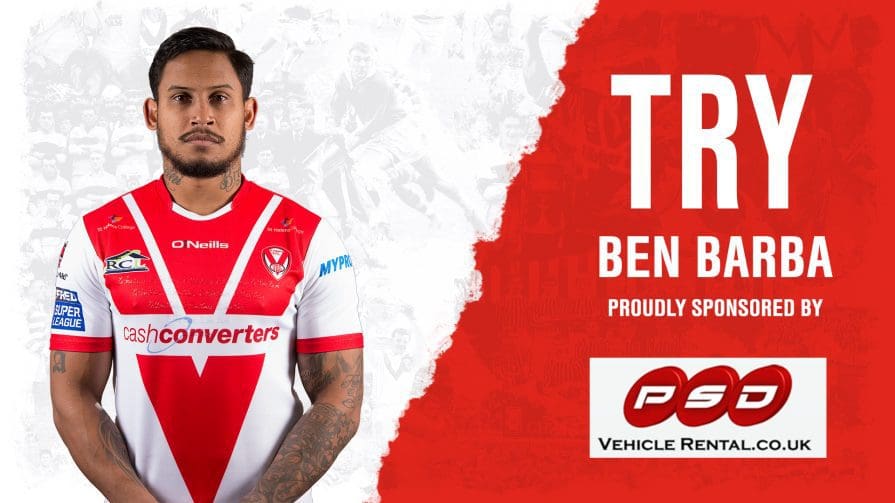 Try
Ben Barba for Saints
Lovely hands from Saints sees Barba get on the outside of the defence. Roby and Douglas both involved.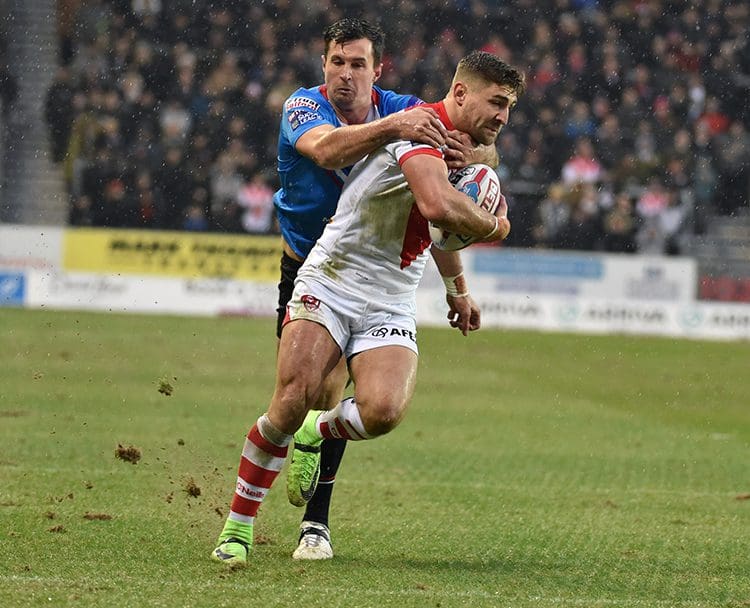 Massive hits flying in all over the place now.
Barba finds a gap and kicks early in the count – Salford have to drop out. Saints building pressure now.
Percival runs across the line to find Makinson who almost goes through. Saints then win another set as Salford knock on.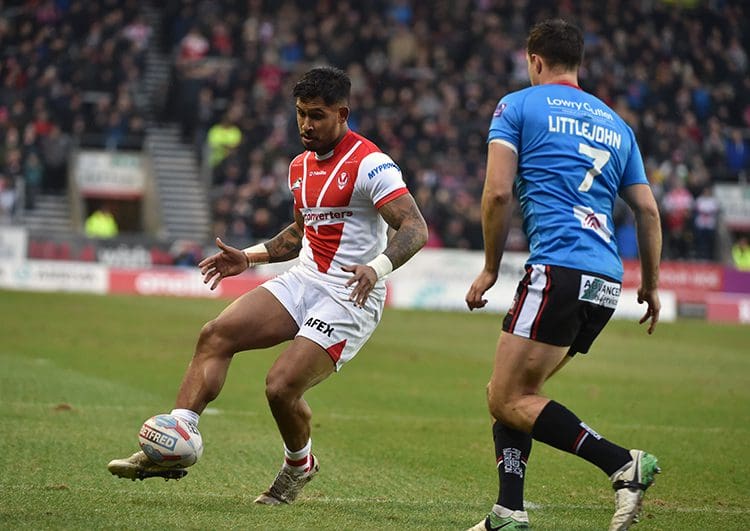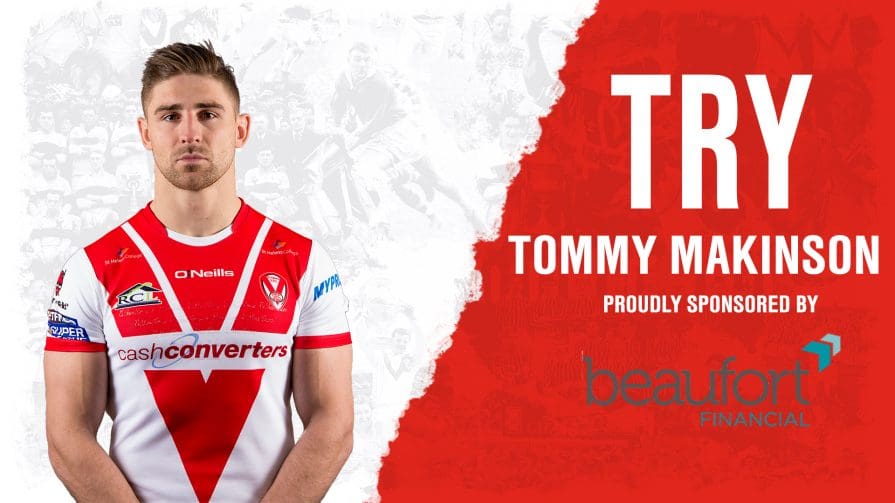 Try
Tommy Makinson for Saints
Simple chip into the in-goal and Tommy wins the race!
LMS held up over the line – looked a close one that from our vantage point!
Saints take the tap on Salford's 40 after a penalty. Chance to build some pressure here.
Goal
Gareth O'Brien for Salford Red Devils
Saints caught offside under the sticks and Salford will go for the 2.
But the ball goes to ground.
Penalty under the sticks for Saints – they take the tap.
Tommy Mak forces a Sa'u knock on on half way… neither side can get a foothold in this so far.
10 gone here and it's 0-0.
Scrappy play sees the ball head into touch. Chance lost for the hosts there.
Penalty to Saints, 40 out from the Salford line.
High ball into the corner and Saints deal with it… just.
Saints drop the ball on their 40 and Salford will attack.
Adam Swift takes a high ball and a brutal tackle from Junior Sa'u. Salford up for this one.
Saints get this one underway