Wakefield Trinity v Saints
Saints returned to winning ways thanks to a 36-16 win over Wakefield.
Tommy Makinson tallied a brace whilst Jonny Lomax, Theo Fages, Luke Douglas and Regan Grace all scored as Saints went 10 points clear at the top of the Betfred Super League table.
After a tight and tense opening quarter, Saints hit Trinity with three tries in eight minutes and never looked back.
There were some nervy moments but defensively Justin Holbrook's team were back in a groove.
It took some time but after testing the defence early they broke the deadlock in the 26th minute.
Danny Richardson had been held up over the line to fire a warning – and six minutes later Jack Ashworth made two monster runs down the centre of the field to allow Ben Barba the space to find Tommy Makinson with a wonder pass in the corner.
It was one of the winger's archetypal special finishes – and looked even better on the replay as the video referee gave it the nod.
Richardson slotted the conversion from the touchline and he was tagging on another five minutes later after Ashworth linked with James Roby to send Lomax carving his way to the left of the posts.
Makinson then collected Richardson's high kick to make it 16-0.
Saints were good for the lead but early in the second half it was game on.
Kyle Wood pegged them back as Bill Tupou got the better of the defence – and then Wakefield forced Saints to drop out following a 70 metre break from the restart.
But with the hosts getting on top Craig Huby hit Kyle Amor high and was set to the bin for 10 minutes.
A man up, Saints should have turned the screw but instead they troubled to break Wakefield's line.
And at the other end Pauli Pauli brought his side right back into it with a charge over from close range.
Saints hit back when Theo Fages crossed, thanks to good hands which saw the ball come left at speed, before Tupou went over.
But Saints restored their 10 point advantage when Luke Douglas somehow collected Richardson's chip on the last.
They then put the game to bed with a piece of opportunistic brilliance from Regan Grace.
In all honesty Richardson's kick on the last wasn't the best but the winger collected in it broken play and then showed some scintillating footwork to beat the Wakefield rearguard.
With the job done it was left to Richardson to slot over a penalty with the hooter gone to complete the performance.
Match Summary:
Trinity:
Tries: Wood, Pauli, Tupou
Goals: Hampshire (2 from 3)
Saints:
Tries: Makinson (2), Lomax, Fages, Douglas, Grace
Goals: Richardson (6 from 7)
Penalties Awarded:
Trinity: 8
Saints: 7
HT: 0-16
FT: 16-36
REF: Liam Moore
ATT: 4,295
Teams:
Trinity:
21. Max Jowitt; 5. Ben Jones-Bishop, 4. Reece Lyne, 3. Bill Tupou, 2. Tom Johnstone; 6. Jacob Miller, 25. Ryan Hampshire; 8. David Fifita, 13. Tyler Randell, 10. Anthony England, 11. Matty Ashurst, 19. James Batchelor, 14. Justin Horo.
Subs: 9. Kyle Wood, 15. Pauli Pauli, 16. Tinirau Arona, 17. Craig Huby.
Saints:
23. Ben Barba; 2. Tommy Makinson, 30. Matty Costello, 4. Mark Percival, 19. Regan Grace; 1. Jonny Lomax, 18. Danny Richardson; 10. Kyle Amor, 9. James Roby, 14. Luke Douglas, 15. Morgan Knowles, 11. Zeb Taia, 13. Louie McCarthy-Scarsbrook.
Subs: 6. Theo Fages, 12. Jon Wilkin, 20. Matty Lees, 21. Jack Ashworth.
Saints Line up
| | |
| --- | --- |
| 23 | Ben Barba |
| 2 | Tommy Makinson |
| 21 | Matthew Costello |
| 4 | Mark Percival |
| 5 | Regan Grace |
| 6 | Jonny Lomax |
| 7 | Danny Richardson |
| 18 | Kyle Amor |
| 9 | James Roby |
| 14 | Luke Douglas |
| 13 | Morgan Knowles |
| 11 | Zeb Taia |
| 15 | Louie McCarthy-Scarsbrook |
| 7 | Theo Fages |
| 12 | Jon Wilkin |
| 10 | Matty Lees |
| 17 | Jack Ashworth |
Wakefield Trinity Line up
| | |
| --- | --- |
| 1 | Max Jowitt |
| 2 | Ben Jones-Bishop |
| 3 | Reece Lyne |
| 4 | Bill Tupou |
| 5 | Tom Johnstone |
| 6 | Jacob Miller |
| 7 | Ryan Hampshire |
| 8 | David Fifita |
| 9 | Tyler Randell |
| 10 | Anthony England |
| 11 | Matty Ashurst |
| 12 | James Batchelor |
| 13 | Justin Horo |
| 14 | Kyle Wood |
| 15 | Pauli Pauli |
| 16 | Tinirau Arona |
| 17 | Craig Huby |
Last updated 16 Aug 18 21:37:19
Goal
Danny Richardson for Saints
Louie down the middle wins Saints a penalty and with a minute remaining, Danny will opt for the 2.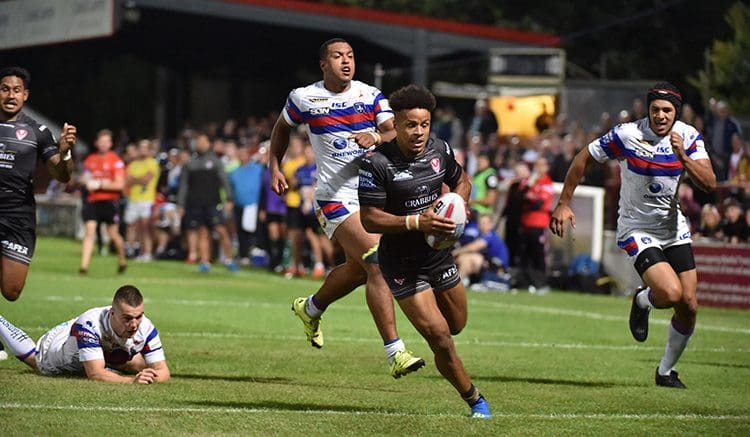 Goal
Danny Richardson for Saints
Richardson makes it 34-16.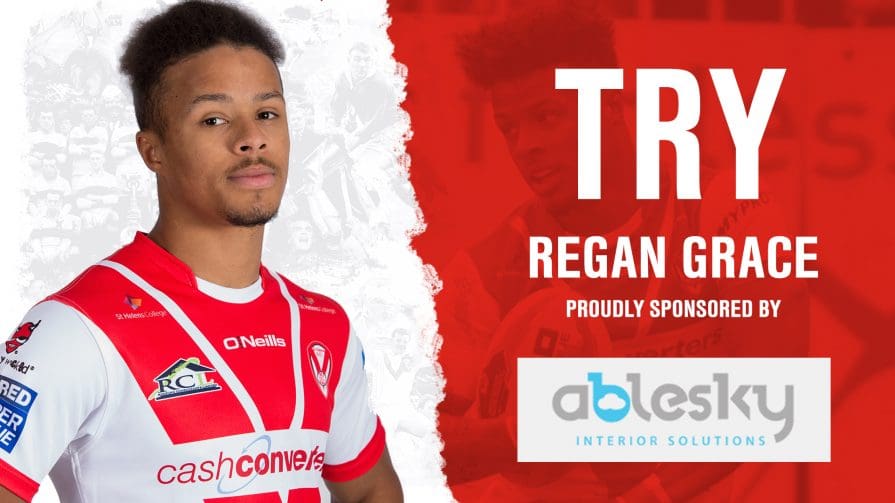 Try
Regan Grace for Saints
Special from Reegs! High kick from Richardson takes massive bounce back – Grace collects and shows great pace to dance through the defence. That's a great finish!
Wakefield regain a short kick off – but then Tupou puts it in touch.
Goal
Danny Richardson for Saints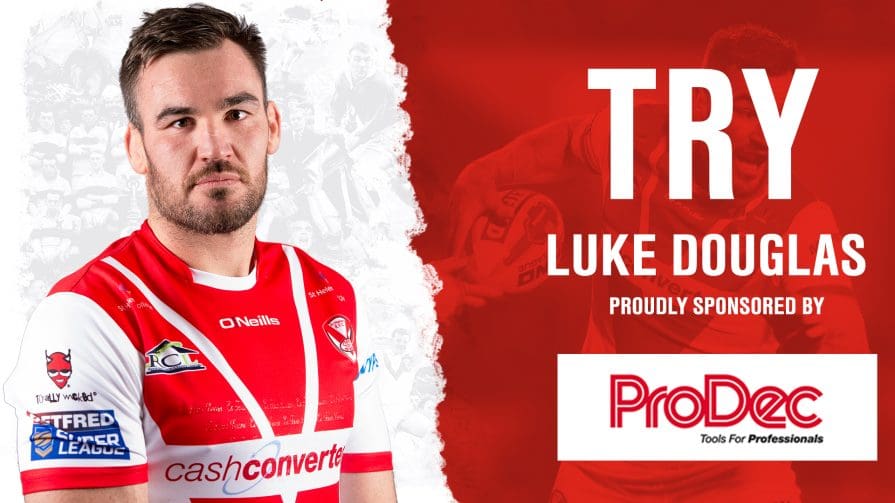 Chip on the last from Richardson… and it looks like Dougie is over! Off upstairs.
Great take under the high ball from Tommy Makinson – Saints then win a penalty.
Hampshire wide with the conversion – Saints are 22-16 ahead.
Try
Bill Tupou for Wakefield Trinity
Goal
Danny Richardson for Saints
Richardson makes it 22-12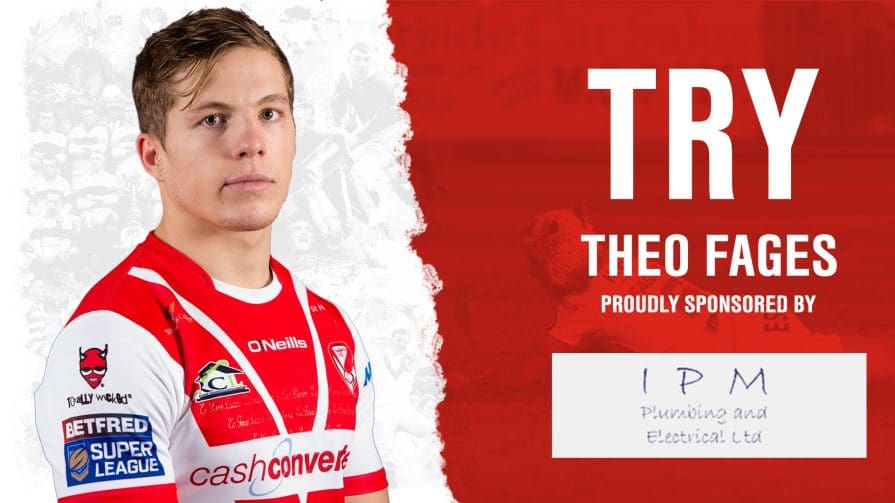 Try
Theo Fages for Saints
Big score at an important time! Good hands sees Theo cross
Goal
Ryan Hampshire for Wakefield Trinity
Hampshire makes it a four-point game.
Try
Pauli Pauli for Wakefield Trinity
It's game on as Pauli Pauli brings Wakefield right back into it.
Chance for Saints as Lomax dances through – but his pass is forward.
Apologies, it was Kyle Wood with Wakefield's try. Saints led 16-6
Yellow Card
Craig Huby for Wakefield Trinity
Huby sent to the bin for that high shot.
Amor hit high – Saints have a penalty.
Wakefield put the ball down after looking lively once again – big let off for Saints who are under the cosh.
Wakefield go a good 70 metres from the restart – massive tackle from Tommy Makinson stops a certain try.
Goal
Ryan Hampshire for Wakefield Trinity
Hampshire pegs back Saints advantage – visitors lead 16-6.
Try
Jacob Miller for Wakefield Trinity
Kyle Wood takes advantage of Tupou's break on the left hand side.
Wakefield will get the second half underway – Saints lead 16-0.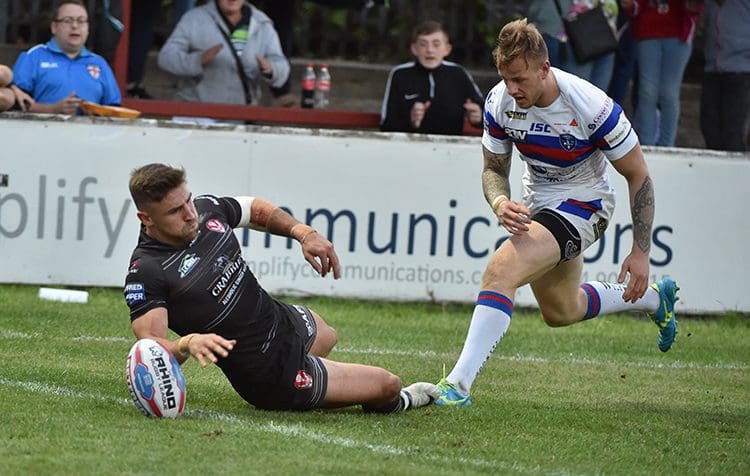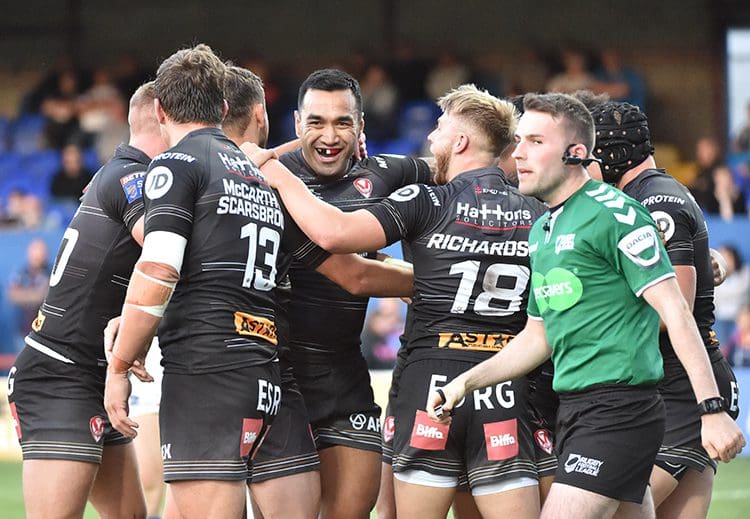 But they can't find touch and Trinity have their tails up.
Saints penalty in their own 20
Danny can't tag the extras but Saints lead 16-0.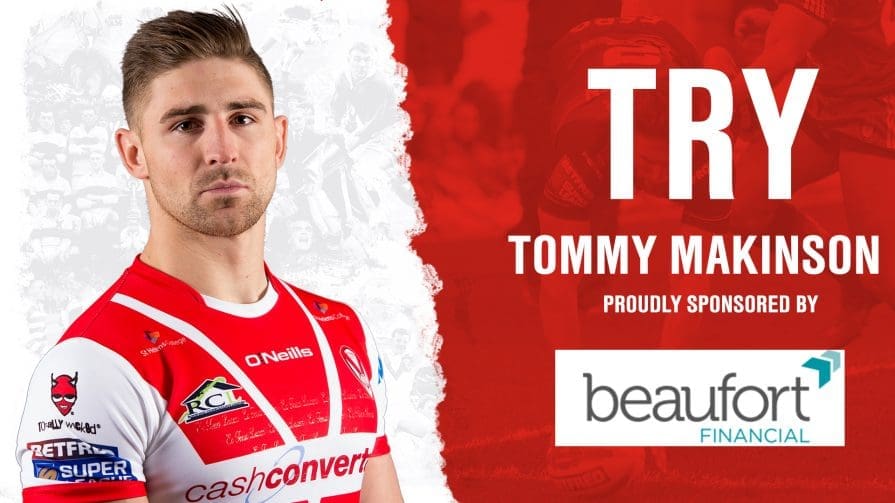 Try
Tommy Makinson for Saints
And Saints are in again – Richardson's kick and Tommy does it again!
Goal
Danny Richardson for Saints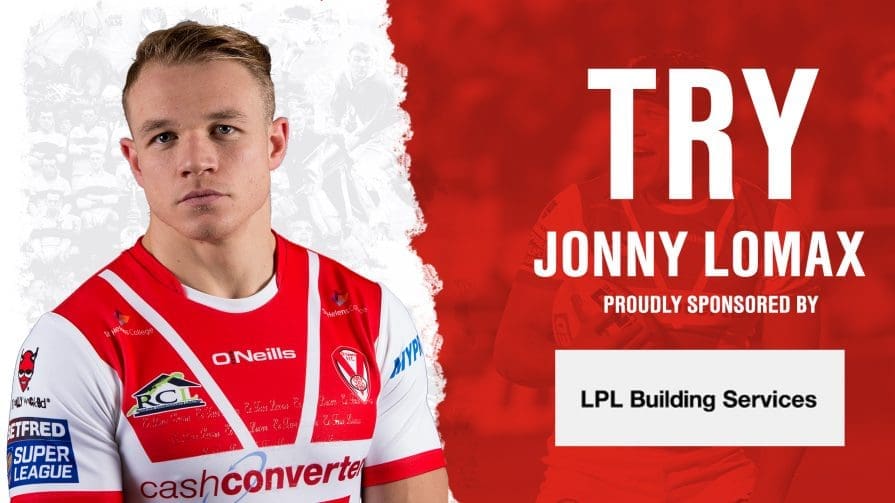 Try
Jonny Lomax for Saints
Ashworth finds Roby who slots in Lomax to go to the left the sticks. A great one!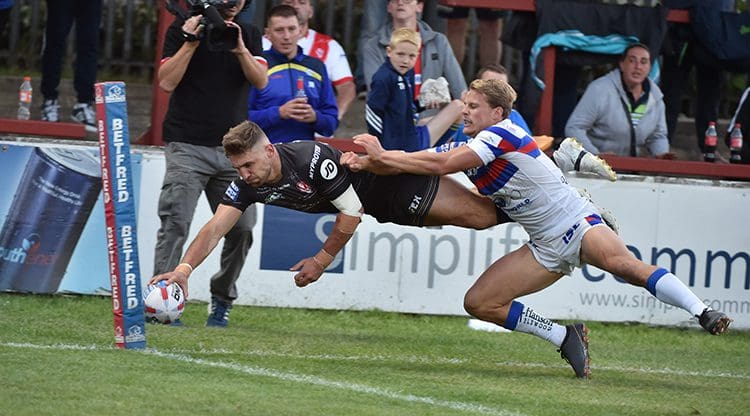 Goal
Danny Richardson for Saints
Off the touchline for 6-0.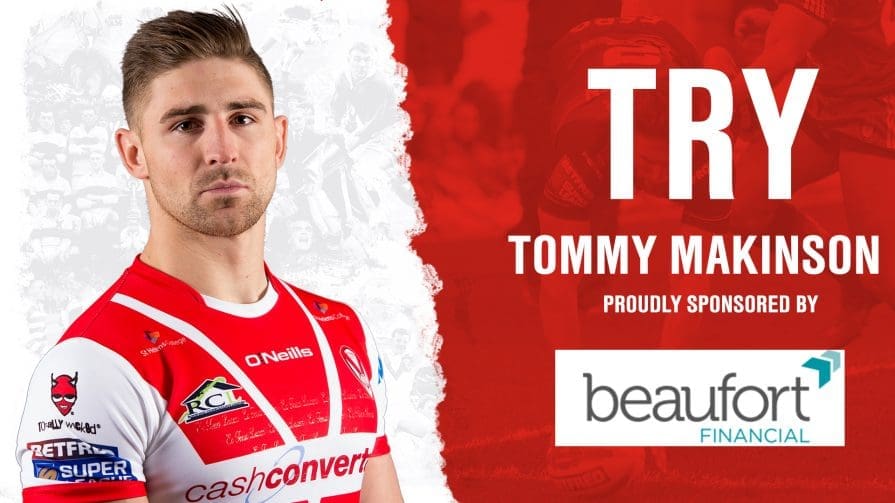 Try
Tommy Makinson for Saints
That's some finish that – and what a pass from Barba!
Lovely pass from Barba after Jack Ashworth tears it up in the middle – has Tommy Mak scored?
Huby with a kick on the last but Barba sees it go dead.
Kick from Richardson on the last, but Saints knock it forward. Remains 0-0 here.
Barba almost squeezes a pass through to Percival but Wakefield snaffle it up.
Richardson held up from Knowles' short pass.
Penalty to Saints and a chance to put some pressure on Wakefield's line.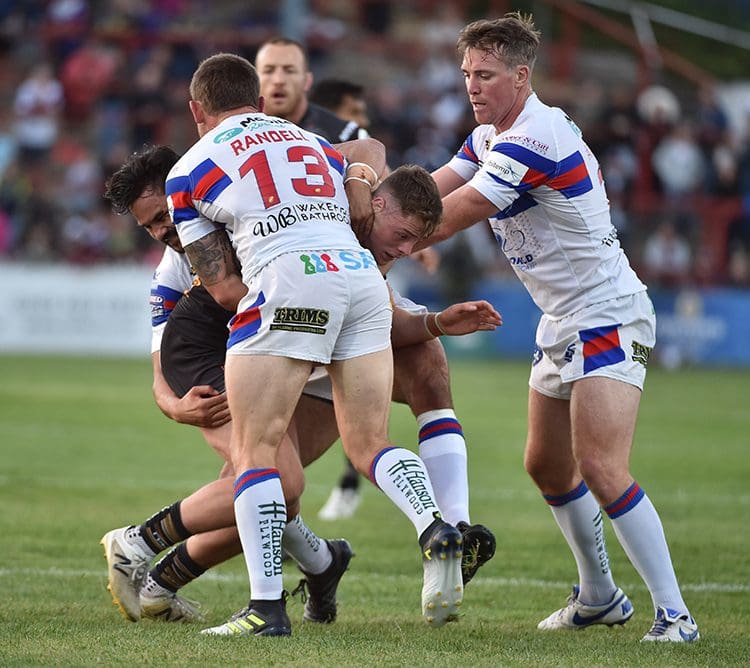 Saints win a penalty and will attack from half way.
Strong D from Saints once again stops Wakefield right on their line.
Saints penalised for interference
Barba with a kick on the last – ball takes a tough bounce, Saints wrap up the tackle and win a drop out.
Wakefield with a chance on the left hand side but Saints do enough to force an error.
High ball from Richardson – but LMS gets there before the ball and is penalised.
High ball from Richardson – LMS wraps up the tackle.
Important defence from Saints keeps Trinity at bay.
Great take from Regan Grace under pressure. Saints coming off their line … they then lose it.
Saints get the game underway!