Warrington Wolves v Saints
The real deal may be a couple of weeks ahead but if the Semi Final between Saints and Warrington is half as good as the one on Saturday then we could be in for a classic.
All the talk of a dead rubber was extinguished early in the first half when three players were sinbinned at the Halliwell Jones Stadium.
The Wolves fired ahead, albeit briefly, as a result – before Saints produced some breathtaking stuff to win 34-14.
Justin Holbrook was quick to point out that Warrington were missing players in the second half – and that they therefore lacked strike.
But there's no doubting his side were top notch throughout and put in a marker performance as the big games approach.
Saints were ahead as early as the fifth minute through Danny Richardson's boot.
He knocked over a penalty after he had been hit late by Ben Westwood.
Matty Lees then saw yellow for what looked like accidental knees on Tyrone Roberts as he cleaned up a tackle.
The incident sparked an all in melee that eventually referee Chris Kendall got control of – dispatching Mark Percival and Ryan Atkins to the bin.
A man up, Warrington had two forays into the Saints' 20 that brought out the best in their opponents.
Jonny Lomax produced a wonder tackle on Ben Murdoch-Masila to stop a certain try and then Regan Grace repeated the act on Josh Charnley.
But it was third time lucky on their next attack as Kevin Brown ghosted through a gap to hand the hosts the lead.
Saints hit back as the half came to a close.
Firstly, Luke Douglas twisted over from close range for his third of the season and then Jack Ashworth sparked a superb Grace try.
The young forward broke down the middle of the field but couldn't find a teammate on either side of him in space.
Saints had numbers though and Ben Barba drifted over to the left hand side to link with Percival who duly put Grace over in the corner.
A six point advantage at half time very nearly became ten within seconds of the second half as Danny Richardson darted through a gap and two would be tacklers.
The move came from well within his own 40 metre area but Charnley chased him down and put him in touch.
Saints then weathered a number of Warrington sets on their line before turning defence into attack by cutting upfield and scoring.
And it was lovely too, Barba and Fages moving the ball left for Percival to move back inside and offload to Jonny Lomax.
From the restart it got even better as Richardson hit Ryan Morgan on a superb line from inside his own 40 – and backed his centre up all the way to go under the sticks.
Barba was next on the sheet – taking Lomax' sweet inside pass on the last to spin and twist his way past the defence.
Toby King halted the visitor's run as he picked up a loose ball to go 50 metres but Barba restored the advantage after taking Douglas' pass.
A real twinkle toed effort for his 29th of the year.
Saints were home and done at this point but the Wolves didn't give up and Bryson Goodwin produced a cool finish in the corner at the end to leave all four stands clapping.
But the damage had been done and Saints went home happy.
Match Summary:
Warrington:
Tries: Brown, King, Goodwin
Goals: Patton (2 from 3)
Saints:
Tries: Douglas, Grace, Lomax, Richardson, Barba (2),
Goals: Richardson (5 from 7)
Penalties Awarded:
Warrington: 8
Saints: 6
HT: 6-12
FT: 14-34
REF: Chris Kendall
ATT: 10,747
Teams:
Saints:
23. Ben Barba; 2. Tommy Makinson, 3. Ryan Morgan, 4. Mark Percival, 19. Regan Grace; 1. Jonny Lomax, 18. Danny Richardson; 20. Matty Lees, 15. Morgan Knowles, 16. Luke Thompson, 11. Zeb Taia, 24. James Bentley, 12. Jon Wilkin.
Subs: 6. Theo Fages, 14. Luke Douglas, 17. Dom Peyroux, 21. Jack Ashworth.
Warrington:
1. Stefan Ratchford; 3. Bryson Goodwin, 18. Toby King, 4. Ryan Atkins, 27. Josh Charnley; 6. Kevin Brown, 7. Tyrone Roberts; 8. Chris Hill, 15. Declan Patton, 10. Mike Cooper, 13. Ben Murdoch-Masila, 30. Bodene Thompson, 34. Ben Westwood.
Subs: 17. Joe Philbin, 19. George King, 20. Harvey Livett, 22. Morgan Smith.
Saints Line up
| | |
| --- | --- |
| 23 | Ben Barba |
| 2 | Tommy Makinson |
| | Ryan Morgan |
| 4 | Mark Percival |
| 5 | Regan Grace |
| 6 | Jonny Lomax |
| 7 | Danny Richardson |
| 10 | Matty Lees |
| 13 | Morgan Knowles |
| 10 | Luke Thompson |
| 11 | Zeb Taia |
| 12 | James Bentley |
| 12 | Jon Wilkin |
| 7 | Theo Fages |
| 14 | Luke Douglas |
| 12 | Dominique Peyroux |
| 17 | Jack Ashworth |
Warrington Wolves Line up
| | |
| --- | --- |
| 1 | Stefan Ratchford |
| 2 | Bryson Goodwin |
| 3 | Toby King |
| 4 | Ryan Atkins |
| 5 | Josh Charnley |
| 6 | Kevin Brown |
| 7 | Tyrone Roberts |
| 8 | Chris Hill |
| 9 | Declan Patton |
| 10 | Mike Cooper |
| 11 | Ben Murdoch-Masila |
| 12 | Bodene Thompson |
| 13 | Ben Westwood |
| 14 | Joe Philbin |
| 15 | George King |
| 16 | Harvey Livett |
| 17 | Morgan Smith |
Last updated 22 Sep 18 17:09:19
Try
Bryson Goodwin for Warrington Wolves
Some finish that from Goodwin.
Goal
Danny Richardson for Saints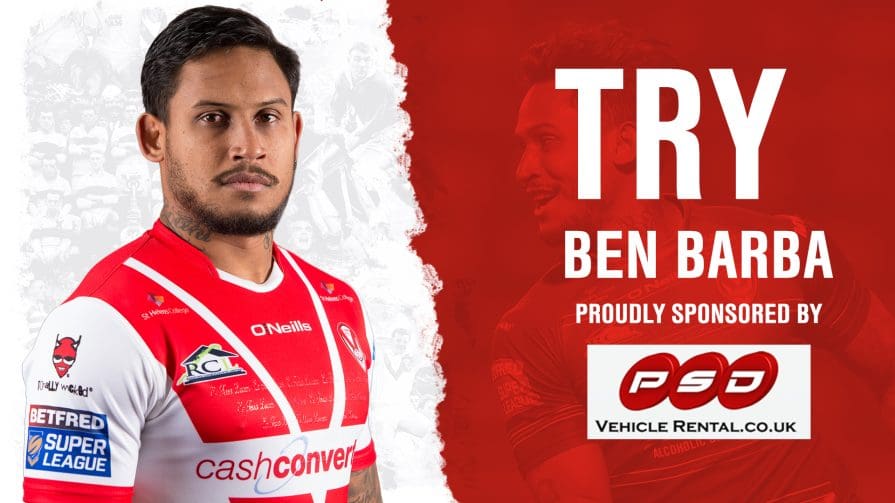 Try
Ben Barba for Saints
Great feet – and that's number 2 for Barba!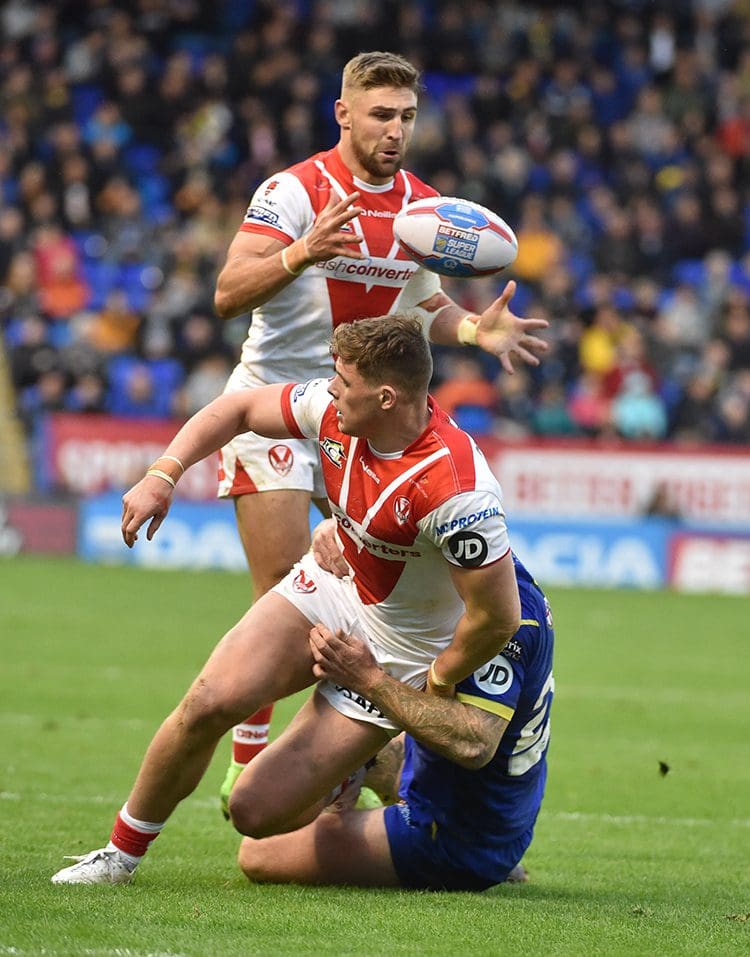 Jack Ashworth with the chip this time on the right hand side – goes dead though and Warrington come away from it.
Warrington fail to play the ball correctly – Saints get a penalty and will be on the attack.
No try, Saints lead 28-10
heading upstairs for a Warrington try.
Try
Toby King for Warrington Wolves
Saints lose the ball – King picks up and finishes it off.
Great clearing run from Tommy Mak on his 200th career appearance gets Saints on the front foot.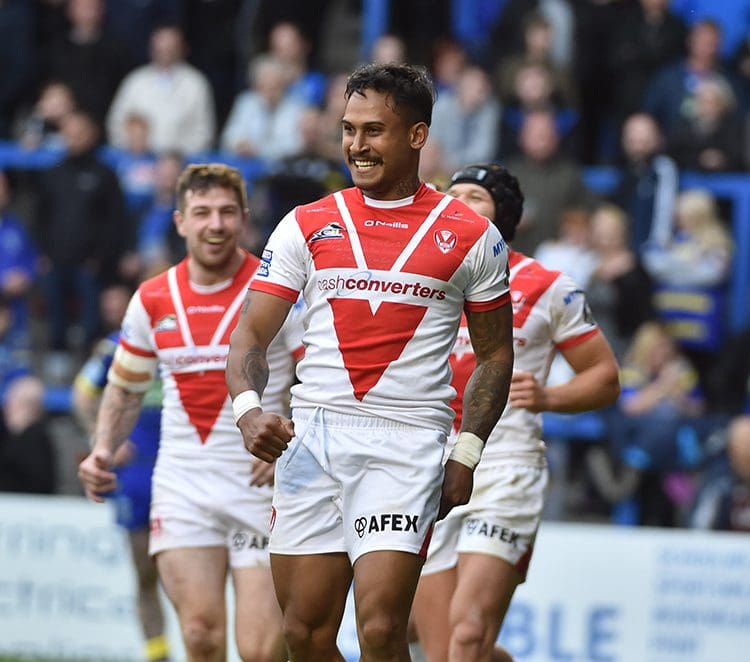 Danny misses the conversion – Saints lead 28-6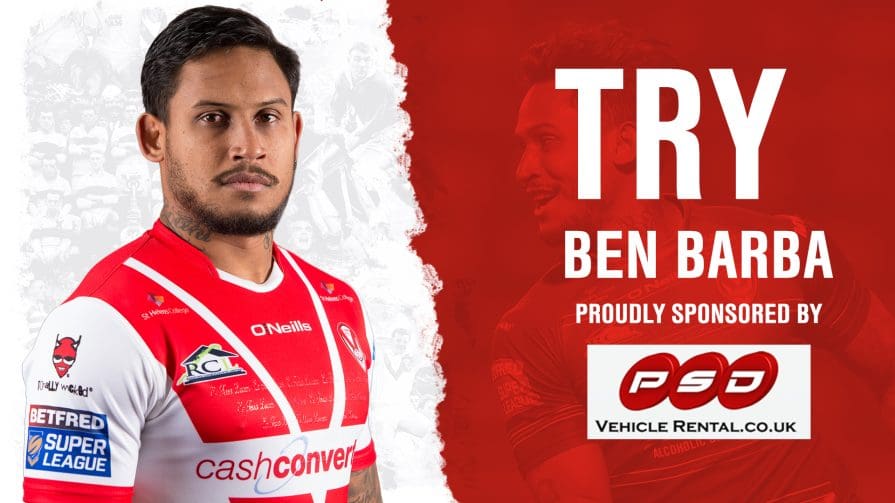 Try
Ben Barba for Saints
On the last – Lomax inside pass, spin and turn and a hand off. Class.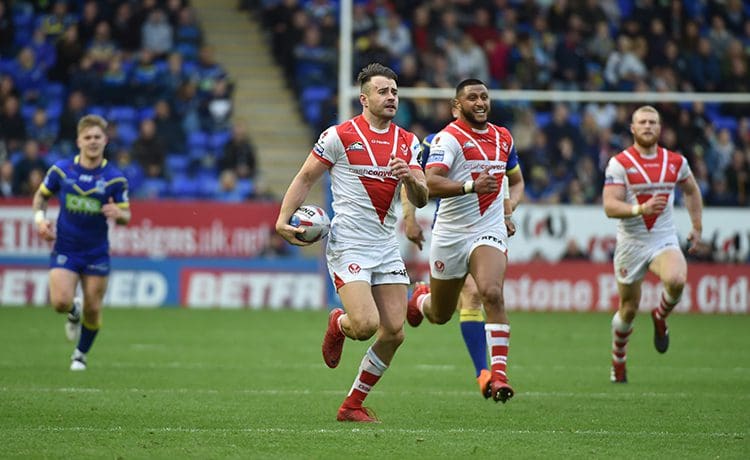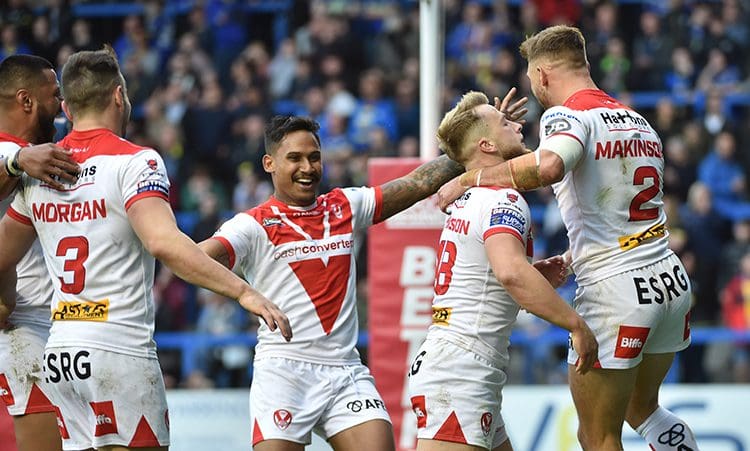 Fages going through the middle setting up another Saints attack…
Goal
Danny Richardson for Saints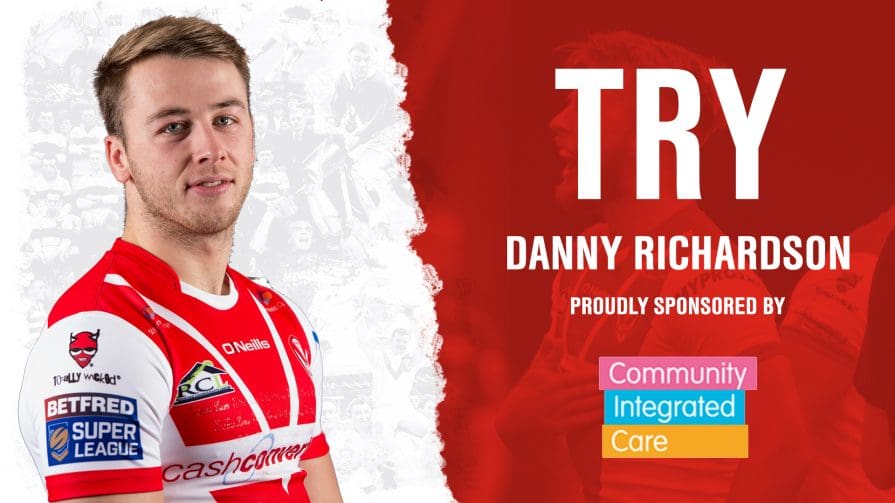 Try
Danny Richardson for Saints
Scenes! Away end goes crazy as Richardson puts Ryan Morgan through a massive gap before the centre draws the full back and turns it back inside!
Goal
Danny Richardson for Saints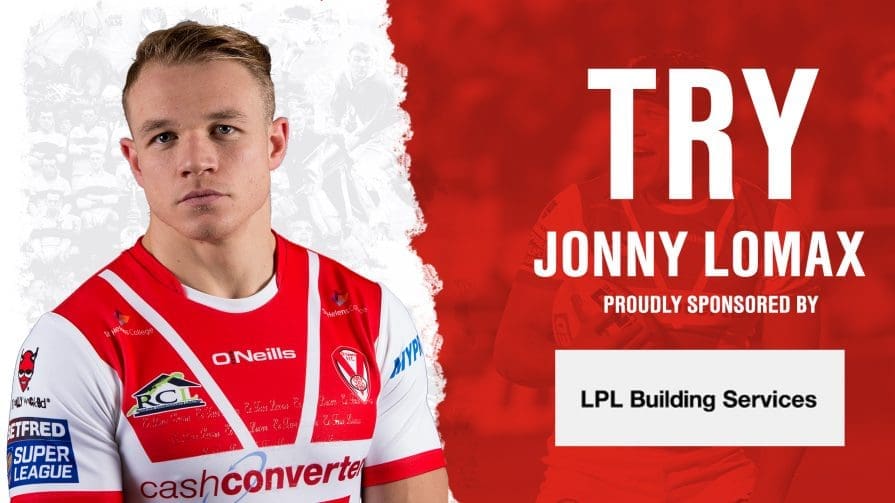 Try
Jonny Lomax for Saints
Amazing stuff from Saints – Barba finds Percy who cuts through the defence and offloads to Lomax.
Lovely kick on the last from Ryan Morgan – Ratchford comes up with the goods with Thompson lurking.
Crossfield kick – Morgan gets fingers to it but Saints have to drop out.
Zeb penalised for obstruction and then marched a further ten for backchat. Saints will have a set to defend here close in.
Warrington knock on and Saints come away with it.
Richardson takes a bouncing ball well in his own half, goes through the defence but is then hauled down by Charnley and put into touch. Great run, great tackle.
Back underway here. Saints lead 12-6 and Warrington have the ball.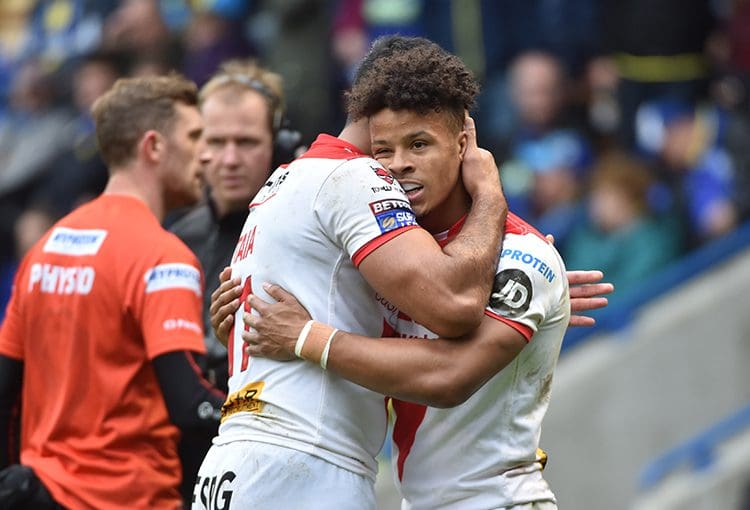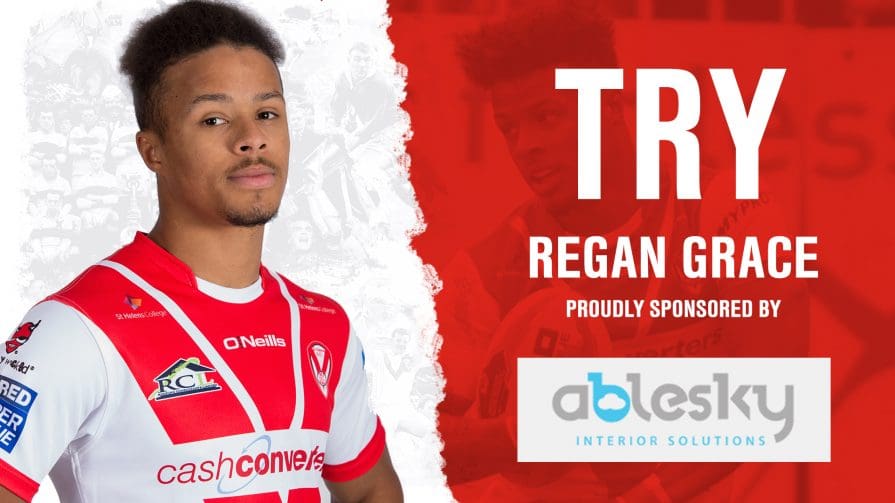 Try
Regan Grace for Saints
Ashworth makes the break. Saints then send it left and Percy and Barba combine to put Grace over in the corner.
Richardson with the high ball – good take from Goodwin.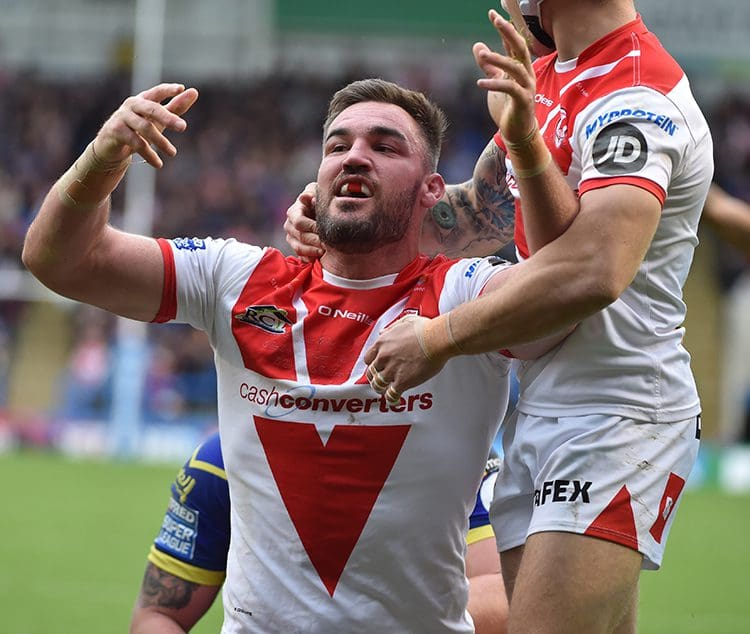 Goal
Danny Richardson for Saints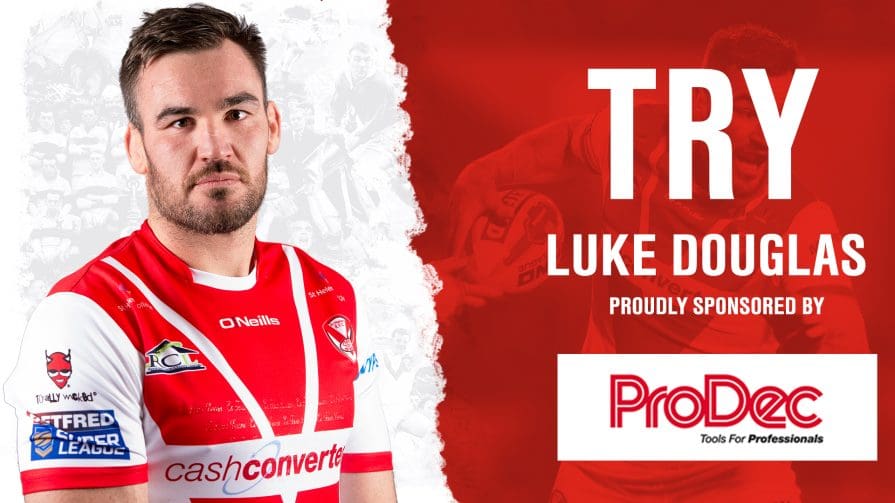 Try
Luke Douglas for Saints
Luke Douglas from close range – great strength and he's over. Heading upstairs…
Fages gets pushed over – Warrington get the penalty.
Chip from Barba, Ratchford knocks it dead, Warrington have to drop out.
Warrington caught offside – Saints penalty.
No try – Saints have to drop out.
Heading upstairs for a Warrington try…
Goal
Declan Patton for Warrington Wolves
Patton makes it 6-2 to the Wolves.
Try
Kevin Brown for Warrington Wolves
Warrington make their man advantage pay and Brown scoots through a gap.
Grace with the wonder tackle on Charnley stopped a certain try – and then Barba picks Ratchford up and dumps him in touch.
Saints come away with the ball but don't make many metres on the return set and Warrington have the ball.
Saints under the pump once more – Makinson coming up with a big tackle in the corner.
Cracking tackle on BMM from Lomax sees the Wire man lose the ball – huge tackle!
Lees is sinbinned for a dangerous tackle, whilst Atkins and Percival are sent to the bin for the melee afterwards.
Matty Lees is sinbinned alongside Mark Percival and Ryan Atkins
All on here! Everyone in.
Grace lively to a Roberts kick – but Saints will have to drop out.
Warrington have the ball near Saints line as Bentley loses it in the tackle.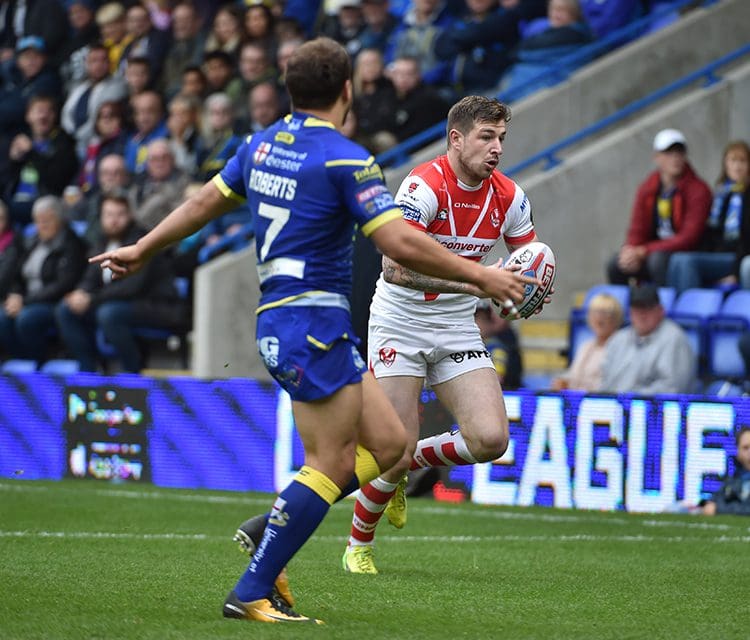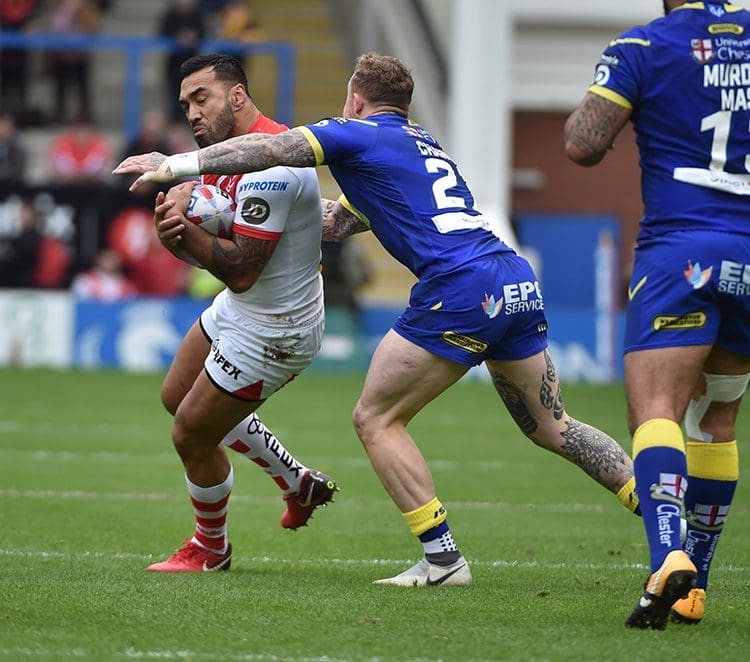 Percy taken high – Saints have another set on Warrington's line… but they lose the ball.
Great offload from Taia gets Barba scooting down the field – Saints in Warrington's 20.
Goal
Danny Richardson for Saints
Danny takes the two and Saints lead 2-0
Westwood comes through on Richardson after he kicks the ball – penalty to Saints under the sticks.
Great tackle from Tommy Makinson on Toby King stops an early break, Warrington still coming though
Warrington will get this one underway!